Abstract
Hookah, a popular form of smoking tobacco, has been commonly used in Asia and Africa. However, the widespread consumption of hookah has a major impact on human health being. In addition to health risks, discarding the waste products of hookah would be a serious potential danger for environmental resources. In this study, the waste materials of hookah consumption (water, tobacco, and charcoal) were analyzed for the determination of the metals and PAHs using inductively coupled plasma mass spectrometry (ICP-MS) and gas chromatography-mass spectrometry (GC–MS), respectively. Results showed that the average concentration of iron in different flavors of tobacco had the highest amount (3654.2 ppb). Iron had the maximum concentration among the heavy metals, particularly in the mint flavor (10,863.3 ± 4.1). The highest ƩPAHs were related to the mint flavor (47.48 ± 15.21 ppb). Results showed that the aromatic tobacco available in the Ahvaz-Iran market is polluted by heavy metals. The high consumption of hookah in Ahvaz city and the presence of pollutants in hookah waste materials, apart from health risk aspects, can be potentially regarded as sources of environmental contamination. Therefore, education and preventive measures are necessary for this concern.
This is a preview of subscription content,
to check access.
Access this article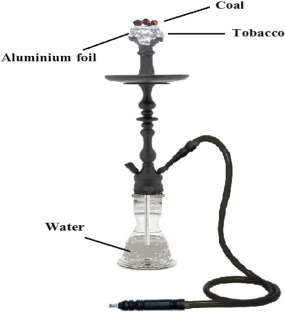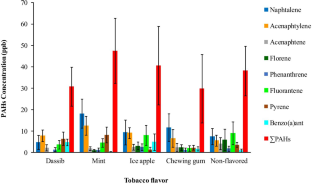 Similar content being viewed by others
Data availability
The datasets used and/or analyzed during the current study are available from the corresponding author on reasonable request.
References
Abdel-Shafy HI, Mansour MS (2016) A review on polycyclic aromatic hydrocarbons: source, environmental impact, effect on human health and remediation. Egypt J Petrol 25:107–123

Ajab H, Yaqub A, Malik SA, Junaid M, Yasmeen S, Abdullah MA (2014) Characterization of toxic metals in tobacco, tobacco smoke, and cigarette ash from selected imported and local brands in Pakistan. Sci World J 2014:1–5

Ajab H et al (2008) Evaluation of trace metals in tobacco of local and imported cigarette brands used in Pakistan by spectrophotometer through microwave digestion. J Toxicol Sci 33:415–420

Al-Kazwini A, Sdepanian S, Said AJ (2014) Determination 1 of macro and trace elements in moassl used in waterpipe in Jordan. Publ Health Res 4:39–44

Al-Kazwini AT, Said AJ, Sdepanian S (2015) Compartmental analysis of metals in waterpipe smoking technique. BMC Pub Health 15:153

Ashraf MW (2012) Levels of heavy metals in popular cigarette brands and exposure to these metals via smoking. Sci World J 2012:1–5

Bilano V et al (2015) Global trends and projections for tobacco use, 1990–2025: an analysis of smoking indicators from the WHO comprehensive information systems for tobacco control. Lancet 385:966–976

Boskabady MH, Farhang L, Mahmoodinia M, Boskabady M, Heydari GR (2014) Prevalence of water pipe smoking in the city of Mashhad (North East of Iran) and its effect on respiratory symptoms and pulmonary function tests. Lung India 31:237–243

Chaouachi K (2009) Hookah (Shisha, Narghile) Smoking and environmental tobacco smoke (ETS). A critical review of the relevant literature and the public health consequences. Int J Environ Res Public Health 6:798–843

Çi̇ftçi̇ H, Ölçücü A (2007) Determination of iron, copper, cadmium and zinc in some cigarette brands in Turkey. Int J Sci Technol 2:29–32

Cobb C, Ward KD, Maziak W, Shihadeh AL, Eissenberg T (2010) Waterpipe tobacco smoking: an emerging health crisis in the United States. Am J Health Behav 34:275–285

Daher N et al (2010) Comparison of carcinogen, carbon monoxide, and ultrafine particle emissions from narghile waterpipe and cigarette smoking: sidestream smoke measurements and assessment of second-hand smoke emission factors. Atmos Environ 44:8–14

Dong C-D, Chen C-F, Chen C-W (2012) Determination of polycyclic aromatic hydrocarbons in industrial harbor sediments by GC-MS. Int J Environ Res Public Health 9:2175–2188

Elsayed Y, Dalibalta S, Abu-Farha N (2016) Chemical analysis and potential health risks of hookah charcoal. Sci Total Environ 569:262–268

Ghasemian A et al (2015) Tobacco smoking status and the contribution to burden of diseases in Iran, 1990–2010: findings from the global burden of disease study 2010. Arch Iran Med 18:493–501

Jafari AJ, Asl YA, Momeniha F (2020) Determination of metals and BTEX in different components of waterpipe: charcoal, tobacco, smoke and water. J Environ Health Sci Eng 18:243–251

Jaishankar M, Tseten T, Anbalagan N, Mathew BB, Beeregowda KN (2014) Toxicity, mechanism and health effects of some heavy metals. Interdiscip Toxicol 7:60–72

Jaiswal A, Verma A, Jaiswal P (2018) Detrimental effects of heavy metals in soil, plants, and aquatic ecosystems and in humans. J Environ Pathol Toxicol Oncol 37(3):183–197

Jajoo A (2017) Effects of environmental pollutants polycyclic aromatic hydrocarbons (PAH) on photosynthetic processes. In: photosynthesis: structures, mechanisms, and applications. Springer, pp 249–259. https://doi.org/10.1007/978-3-319-48873-8_11

Kaličanin B, Velimirović D (2012) Potentiometric stripping analysis of zinc, cadmium and lead in tobacco leaves (Nicotiana Tabacum L.) and soil samples. Int J Electrochem Sci 7:313–323

Maziak W, Ward KD, Soweid RA, Eissenberg T (2004) Tobacco smoking using a waterpipe: a re-emerging strain in a global epidemic. Tob Control 13:327–333

Mirkarimi SR, Ardakani Z, Rostamian R (2021) Economic and environmental assessment of tobacco production in Northern Iran. Ind Crops Prod 161:113171

Nasrollahzadeh D et al (2008) Opium, tobacco, and alcohol use in relation to oesophageal squamous cell carcinoma in a high-risk area of Iran. Br J Cancer 98:1857–1863

Nguyen T, Hlangothi D, Martinez RA 3rd, Jacob D, Anthony K, Nance H, Saleh MA (2013) Charcoal burning as a source of polyaromatic hydrocarbons in waterpipe smoking. J Environ Sci Health B 48:1097–1102

Nnorom I, Osibanjo O, Oji-Nnorom C (2005) Cadmium determination in cigarettes available in Nigeria. Afr J Biotechnol 4:1128–1132

Novotny TE, Lum K, Smith E, Wang V, Barnes R (2009) Cigarettes butts and the case for an environmental policy on hazardous cigarette waste. Int J Environ Res Public Health 6:1691–1705

Pappas R, Polzin G, Watson C, Ashley D (2007) Cadmium, lead, and thallium in smoke particulate from counterfeit cigarettes compared to authentic US brands. Food Chem Toxicol 45:202–209

Qamar W, Abdelgalil AA, Aljarboa S, Alhuzani M, Altamimi MA (2020) Cigarette waste: assessment of hazard to the environment and health in Riyadh city. Saudi J Biol Sci 27:1380–1383

Qamar W, Al-Ghadeer AR, Ali R (2015) Analysis of toxic elements in smoked shisha waterwaste and unburnt tobacco by inductively coupled plasma-mass spectrometry: probable role in environmental contamination. Res J Environ Toxicol 9:204–210

Regassa G, Chandravanshi BS (2016) Levels of heavy metals in the raw and processed Ethiopian tobacco leaves. Springerplus 5:232–232

Rostami R et al (2021) Characteristics and health risk assessment of heavy metals in indoor air of waterpipe cafés. Build Environ 190:107557

Saad Z, Kazpard V, El Samrani A, Slim K, Nabhan P (2006) Relations entre métaux traces dans le tabac et la nature du sol au Liban. Cah Agric 15:203–211

Saadawi R, Landero Figueroa JA, Hanley T, Caruso J (2012) The hookah series part 1: total metal analysis in hookah tobacco (narghile, shisha) – an initial study. Anal Methods 4:3604

Sadowska-Rociek A, Cieślik E, Sieja K (2016) Simultaneous sample preparation method for determination of 3-monochloropropane-1, 2-diol and polycyclic aromatic hydrocarbons in different foodstuffs. Food Anal Methods 9:2906–2916

Sepetdjian E, Saliba N, Shihadeh A (2010) Carcinogenic PAH in waterpipe charcoal products. Food Chem Toxicol 48:3242–3245

Shahid M, Pourrut B, Dumat C, Nadeem M, Aslam M, Pinelli E (2014) Heavy-metal-induced reactive oxygen species: phytotoxicity and physicochemical changes in plants. Rev Environ Contam Toxicol 232:1–44

Shihadeh A et al (2012) Does switching to a tobacco-free waterpipe product reduce toxicant intake? A crossover study comparing CO, NO, PAH, volatile aldehydes, "tar" and nicotine yields. Food Chem Toxicol 50:1494–1498

Taati B, Arazi H, Suzuki K (2020) Oxidative stress and inflammation induced by waterpipe tobacco smoking despite possible protective effects of exercise training: a review of the literature. Antioxidants 9:777

Tamim H, Terro A, Kassem H, Ghazi A, Khamis TA, Hay MMA, Musharrafieh U (2003) Tobacco use by university students, Lebanon, 2001. Addiction 98:933–939

Verma S, Yadav S, Singh I (2010) Trace metal concentration in different Indian tobacco products and related health implications. Food Chem Toxicol 48:2291–2297

WHO (2017) Tobacco and its environmental impact: an overview. World Health Organization. http://www.who.int/tobacco/publications/environmental-impact-overview/en

World Health Organization. ( 2019) . WHO report on the global tobacco epidemic, 2019: offer help to quit tobacco use. World Health Organization. https://apps.who.int/iris/handle/10665/326043. Research Article https://doi.org/10.1007/s11356-021-17910-8

Yousefinejad V, Mansouri B, Ramezani Z, Mohammadzadeh N, Akhlaghi M (2018) Evaluation of heavy metals in tobacco and hookah water used in coffee houses in Sanandaj city in 2017. Sci J Kurd Univ Med Sci 22:96–106
Acknowledgements
This research was supported by the Elite Researcher Grant Committee under award number [971503] from the National Institute for Medical Research Development (NIMAD), Tehran, Iran. We are grateful to thank Ahvaz Jundishapur University of Medical Sciences for providing academic support.
Funding
This study was funded by the Elite Researcher Grant from the National Institute for Medical Research Development (NIMAD) (Grant No. 971503).
Ethics declarations
Ethics approval
Not applicable.
Consent for publication
Not applicable.
Competing interests
The authors declare no competing interests.
Additional information
Responsible Editor: Philippe Garrigues
Publisher's note
Springer Nature remains neutral with regard to jurisdictional claims in published maps and institutional affiliations.
Supplementary Information
Below is the link to the electronic supplementary material.
About this article
Cite this article
Dehvari, M., Babaei, A. Analysis of heavy metals and PAHs in the waste resulting from hookah consumption: Ahvaz City, Iran. Environ Sci Pollut Res 29, 33130–33137 (2022). https://doi.org/10.1007/s11356-021-17910-8
Received:

Accepted:

Published:

Issue Date:

DOI: https://doi.org/10.1007/s11356-021-17910-8
Keywords