Abstract
A laboratory-scale experiment was conducted to determine the light absorption properties of brown carbon (BrC) produced from the incomplete combustion of 14 different biomasses. Particulate matters (PM) emitted from biomass burning were collected on the quartz fiber filters with a low volume sampler. BrC from filter samples was extracted with two different solvents (methanol and water), and absorption characteristics of BrC were determined using a UV-Vis spectrophotometer. The absorption coefficient (babs-BrC), mass absorption efficiency (MAEBrC), absorption angstrom exponent (AAEBrC), and absorbing portion of refractive index (kabs-BrC) were calculated for each biomass from the absorbance of the extracted solution. Methanol-soluble BrC (MeS-BrC) showed higher absorbance than water-soluble BrC (WS-BrC) in all biomasses. MeS-BrC has higher babs-BrC than WS-BrC, suggesting that the rate of light absorption on BrC extracted in methanol was higher. The absorption coefficients (babs-BrC) were varied among biomasses—rain tree had the highest value of babs-BrC, whereas jute stick had the lowest. The mass absorption efficiency of BrC (MAEBrC) was evaluated in both water and methanol extracts, and it was found that the MAEBrC for MeS-BrC in the biomasses was greater than that of WS-BrC. The highest MAEBrC value (13.02 m2g−1) was identified in the jackfruit tree, whereas the lowest MAEBrC value (0.1 m2g−1) was observed in the jute stick. The absorption angstrom exponent (AAE) of both WS-BrC and MeS-BrC was determined which represents the light absorption capacity of the aerosol particles. The highest AAE value was found in cow dung, and the lowest was found in rain tree. The increasing pH of the WS-BrC solution increased its optical absorption. However, this study revealed that the light absorption properties of brown carbon emitted from commonly used biomasses were varied significantly.
This is a preview of subscription content,
to check access.
Access this article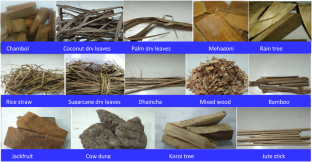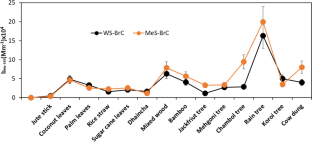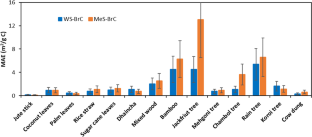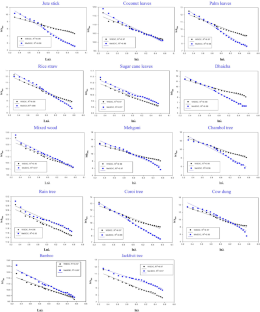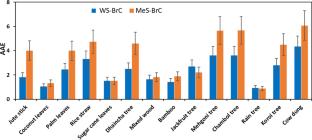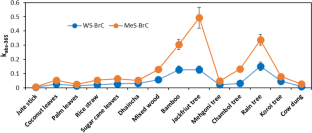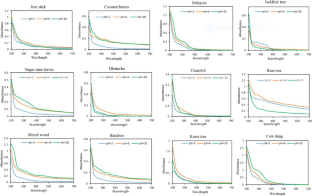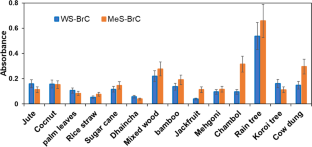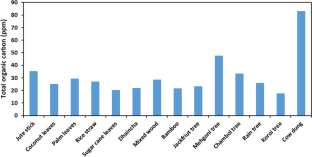 Similar content being viewed by others
Data availability
Data is available upon request.
References
Alexander DTL, Crozier PA, Anderson JR (2008) Brown carbon spheres in East Asian Out flow and their optical properties. Science 321:833–836

Alexander P, Sleet R (1970) Solvent effects on the ultraviolet absorption spectra of o-, m-, and p-Hydroxybenzylideneimines. Aust J Chem 23:1183–1190

Begum BA, Hopke PK, Markwitz A (2013) Air pollution by fine particulate matter in Bangladesh. Atmos Pollut Res 4:75–86

Chen Y, Bond TC (2010) Light absorption by organic carbon from wood combustion. Atmos Chem Phys 10:1773–1787

Cheng Y, He K, Engling G, Weber R, Liu J, Du Z, Dong S (2017) Brown and black carbon in Beijing aerosol: implications for the effects of brown coating on light absorption by black carbon. Sci Total Environ 599–600:1047–1055

Cheng Y, He KB, Zheng M, Duan FK, Du ZY, Ma YL, Tan JH, Yang FM, Liu JM, Zhang XL, Weber RJ, Bergin MH, Russell AG (2011) Mass absorption efficiency of elemental carbon and water-soluble organic carbon in Beijing, China. Atmos Chem Phys 11:11497–11510

Choudharya V, Rjputa P, Singha DK, Singha AK, Gupta T (2018) Light absorption characteristics of brown carbon during foggy and non-foggy episodes over the Indo-Gangetic Plain. Atmos Pollut Res 9(3):494–501

Cong Z, Kang S, Kawamura K, Liu B, Wan X, Wang Z, Gao S, Fu P (2015) Carbonaceous aerosols on the south edge of the Tibetan Plateau: concentrations, seasonality and sources. Atmos Chem Phys 15:1573–1584

Romonosky DE, Gomez SL, Lam J, Carrico CM, Aiken AC, Chylek P, Dubey MK (2019) Optical properties of laboratory and ambient biomass aerosols: elucidating black, brown, and organic components and mixing regimes. IGR Atmos 124(9):5088–5105

Feng Y, Ramanathan V, Kotamarthi VR (2013) Brown carbon: a significant atmospheric absorber of solar radiation. Atmos Chem Phys 13:8607–8621

Hecobian A, Zhang X, Zheng M, Frank N, Edgerton ES, Weber RJ (2010) Water soluble organic aerosol material and the light-absorption characteristics of aqueous extracts measured over the Southeastern United States. Atmos Chem Phys 10:5965–5977

Hinrichs RZ, Buczek P, Trivedi J (2016) Solar absorption by aerosol bound nitrophenols compared to aqueous and gaseous nitrophenols. Environ Sci Technol 2772-2981

Kirillova EN, Andersson A, Sheesley RJ, Kruså M, Praveen P, Budhavant K, Safai P, Rao P, Gustafsson O (2013) 13C-and 14C-based study of sources and atmospheric processing of water-soluble organic carbon (WSOC) in South Asian aerosols. J Geophys Res 118:614626

Laskin A, Laskin J, Nizkorodov SA (2015) Chemistry of atmospheric brown carbon. Chem Rev 115:4335–4382

Lukács H, Gelencsér A, Hammer S, Puxbaum H, Pio C, Legrand M, Kasper-Giebl A, Handler M, Limbeck A, Simpson D, Preunkert S (2007) Seasonal trends and possible sources of brown carbon based on 2-year aerosol measurements at six sites in Europe. J Geophys Res Atmos. 112

Ahmed M, Salam A, Das M, Rokonujjaman M. Chemical characterization of the particulate matters emitted from biomass burning in the cooking stoves in Bangladesh. 3rd International Workshop on Atmospheric Composition and the Asian Monsoon (ACAM), 5-9 June, 2017, Guangzhou, China

Ahmed M, Das M, Afser T, Rokonujjaman M, Akther T, Salam A (2018) Emission of carbonaceous species from biomass burning in the traditional rural cooking stove in Bangladesh. Open J Air Pollut 7(4)

Mohr C, Lopez-Hilfiker FD, Zotter P, Prevot AS, Xu L, Ng NL, Herndon SC, Williams LR, Franklin JP, Zahniser MS (2013) Contribution of nitrated phenols to wood burning brown carbon light absorption in Detling United Kingdom during wintertime. Environ Sci 47(12):6316–6324

Pace ML, Reche I, Cole JJ, Fernandez-Barbero A, Mazuecos IP, Prairie YT (2012) pH change induces shifts in the size and light absorption of dissolved organic matter. Biogeochemistry 108:109–118

Lin P, Bluvshtein N, Rudich Y, Nizkorodov SA, Laskin J, Laskin A (2017) Molecular chemistry of atmospheric brown carbon inferred from a nationwide biomass burning event. Environ. Sci. Technol. 2017(51):11561–11570

Rajput P, Sarin MM (2014) Polar and non-polar organic aerosols from large-scale agricultural-waste burning emissions in Northern India: implications to organic masstoorganic carbon ratio. Chemosphere 103:74–79

Satish R, Shamjad P, Thamban N, Tripathi S, Rastogi N (2017) Temporal characteristics of brown carbon over the central Indo-Gangetic Plain. Environ Sci Technol 51:6765–6772

Shamjad PM, Tripathi SN, Thamban NM, Vreeland H (2016) Refractive index and absorption attribution of highly absorbing brown carbon aerosols from an urban Indian city Kanpur. Sci Rep 6:37735

Srinivas B, Sarin M (2013) Light absorbing organic aerosols (brown carbon) over the tropical Indian Ocean: impact of biomass burning emissions. Environ Res Lett 8:044042

Srinivas B, Sarin MM (2014) Brown carbon in atmospheric outflow from the Indo Gangetic Plain: mass absorption efficiency and temporal variability. Atmos Environ 89, 835–843. Technol. 47, 6316-6324

Teich M, Pinxteren DV, Wang M, Kecorius S, Wang Z, Müller T, Mocnik G, Herrmann H (2016) Contributions of nitrated aromatic compounds to the light absorption of water soluble and particulate brown carbon in different. Atmospheric Environments in Germany and China. Sci Total Environ 1-24

Xie M, Hays MD, Holder AL (2017) Light-absorbing organic carbon from prescribed and laboratory biomass burning and gasoline vehicle emissions. Sci Rep 7:7318

Yangzhi M, Jun L, Junwen L, Guangcai Z, Zhineng C, Chongguo T, Yingjun C, Gan Z (2017) The influence of solvent and pH on determination of the light absorption properties of water-soluble brown carbon. Atmos Environ 161:90–98

Zhang Y, Albinet A, Petit JE, Jacob V, Chevrier F, Gille G, Pontet S, Chrétien E, Dominik-Sègue M, Levigoureux G, Močnik G, Gros V, Jaffrezo JL, Favez O (2020) Substantial brown carbon emissions from wintertime residential wood burning over furnace. Sci Total Environ 743:140752

Zhang Y, Ma Y, Gong W (2017) Retrieval of brown carbon based on the aerosol complex refractive indices in the winter of Wuhan. Geo Spat Inf Sci 20(4):319–324

Zhao R, Lee A, Huang L, Li X, Yang F, Abbatt J (2015) Photochemical processing of aqueous atmospheric brown carbon. Atmos Chem Phys 15:6087–6100
Acknowledgments
The authors acknowledge the help of Mr. Md Halimur Rahman during chemical analysis and also biomass sample collection.
Funding
Department of Chemistry, University of Dhaka, Dhaka.
Ethics declarations
Ethical approval
Not applicable
Consent to participate
Not applicable
Consent to publish
Not applicable
Competing interest
The authors declare no competing interests.
Additional information
Communicated by Gerhard Lammel.
Publisher's note
Springer Nature remains neutral with regard to jurisdictional claims in published maps and institutional affiliations.
About this article
Cite this article
Runa, F., Islam, M., Jeba, F. et al. Light absorption properties of brown carbon from biomass burning emissions. Environ Sci Pollut Res 29, 21012–21022 (2022). https://doi.org/10.1007/s11356-021-17220-z
Received:

Accepted:

Published:

Issue Date:

DOI: https://doi.org/10.1007/s11356-021-17220-z
Keywords