Abstract
Bioremediation and phytoremediation have demonstrated potential for decontamination of petroleum hydrocarbon-impacted soils. The total petroleum hydrocarbons (TPHs) are known to induce phytotoxicity, reduce water retention in soil, associate hydrophobic nature and contaminants' in situ heterogeneous distribution, limit soil nutrient release and reduce soil aeration and compaction. The ageing of TPHs in contaminated soils further hinders the degradation process. Soil amendments can promote plant growth and enhance the TPH removal from contaminated aged soil. In the present experiment, remediation of TPH-contaminated aged soil was performed by Italian ryegrass, with compost (COM, 5%), biochar (BC, 5%) and immobilized microorganisms' technique (IMT). Results revealed that significantly highest hydrocarbon removal (40%) was noted in mixed amendments (MAA) which contained BC + COM + IMT, followed by COM (36%), compared to vegetative control and other treatments. The higher TPH removal in aged soil corresponds with the stimulated rhizospheric effects, as evidenced by higher root biomass (85–159% increase), and bacterial count compared to NA control. Phyto-stimulants actions of biochar and IMT improved seed germination of Italian ryegrass. The compost co-amendment with other treatments showed improvement in plant physiological status. These results suggested that plant growth and TPH removal from aged, contaminated soils using BC, COM and IMT can improve bioremediation efficiency.
Graphical abstract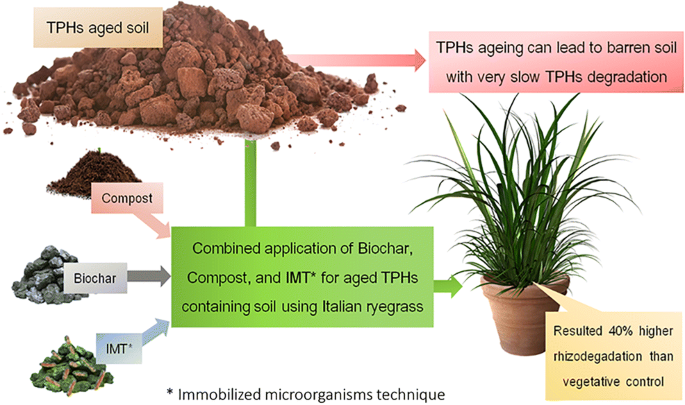 Access options
Buy single article
Instant access to the full article PDF.
USD 39.95
Price excludes VAT (USA)
Tax calculation will be finalised during checkout.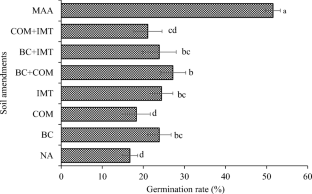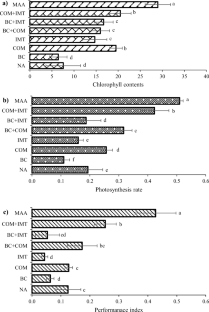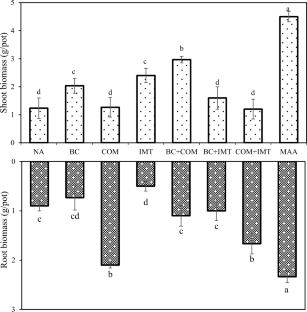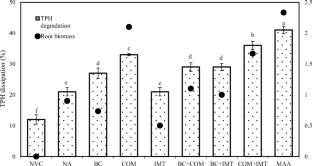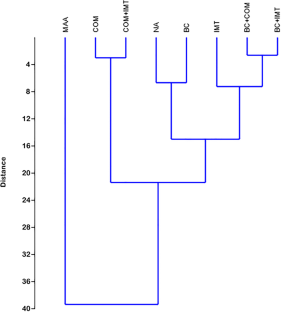 Data availability
The raw data sets used and/or analysed during the current study are available from the corresponding author on reasonable request
References
Aftab N, Saleem K, Khan AHA, Butt TA, Mirza CR, Hussain J, Farooq G, Tahir A, Yousaf S, Zafar MI, Nawaz I, Iqbal M (2020) Cosmos sulphureus Cav. is more tolerant to lead than copper and chromium in hydroponics system. Int J Environ Sci Technol 18:2325–2334

Agnello AC, Bagard M, Van Hullebusch ED, Esposito G, Huguenot D (2016) Comparative bioremediation of heavy metals and petroleum hydrocarbons co-contaminated soil by natural attenuation, phytoremediation, bioaugmentation and bioaugmentation-assisted phytoremediation. Sci Total Environ 563:693–703

Al-Baldawi IA, Abdullah SRS, Anuar N, Suja F, Mushrifah I (2015) Phytodegradation of total petroleum hydrocarbon (TPH) in diesel-contaminated water using Scirpus grossus. Ecol Eng 74:463–473

Alburquerque JA, Calero JM, Barrón V, Torrent J, del Campillo MC, Gallardo A, Villar R (2014) Effects of biochars produced from different feedstocks on soil properties and sunflower growth. J Plant Nutri Soil Sci 177:16–25

Al-Mansoory AF, Idris M, Abdullah SRS, Anuar N (2017) Phytoremediation of contaminated soils containing gasoline using Ludwigia octovalvis (Jacq.) in greenhouse pots. Environ Sci Pollut Res 24:11998–12008

Barati M, Bakhtiari F, Mowla D, Safarzadeh S (2017) Total petroleum hydrocarbon degradation in contaminated soil as affected by plants growth and biochar. Environ Earth Sci 76(20):688

Barrutia O, Garbisu C, Epelde L, Sampedro MC, Goicolea MA, Becerril JM (2011) Plant tolerance to diesel minimizes its impact on soil microbial characteristics during rhizoremediation of diesel-contaminated soils. Sci Total Environ 34:4087–4093

Bastida F, Jehmlich N, Lima K, Morris BEL, Richnow HH, Hernández T, von Bergen M, García C (2016) The ecological and physiological responses of the microbial community from a semiarid soil to hydrocarbon contamination and its bioremediation using compost amendment. J Proteomics 135:162–169

Basumatary B, Bordoloi S, Sarma HP (2012) Crude oil-contaminated soil phytoremediation by using Cyperus brevifolius (Rottb.) Hassk. Water Air Soil Pollut 223:3373–3383

Beesley L, Moreno-Jiménez E, Gomez-Eyles JL (2010) Effects of biochar and greenwaste compost amendments on mobility, bioavailability and toxicity of inorganic and organic contaminants in a multi-element polluted soil. Environ Pollut 158:2282–2287

Estefan, G., Sommer, R., Ryan, J., (2013). Methods of soil, plant, and water analysis: a manual for the West, Asia and North Africa Region, third ed. International Center for Agricultural Research in the Dry Area, Beirut, Lebanon

Frišták V, Pipíška M, Lesnı J, Soja G, Friesl-Hanl W, Packová A (2015) Utilization of biochar sorbents for Cd2+, Zn2+, and Cu2+ ions separation from aqueous solutions: comparative study. Environ Monitor Assess 187:4093

Gerhardt KE, Gerwing PD, Greenberg BM (2017) Opinion: taking phytoremediation from proven technology to accepted practice. Plant Sci 256:170–185

Harmsen J, Rietra RP (2018) 25 years monitoring of PAHs and petroleum hydrocarbons biodegradation in soil. Chemosphere 207:229–238

Hussain F, Hussain I, Khan AHA, Muhammad YS, Iqbal M, Soja G, Yousaf S (2018a) Combined application of biochar, compost, and bacterial consortia with Italian ryegrass enhanced phytoremediation of petroleum hydrocarbon contaminated soil. Environ Experiment Bot 153:80–88

Hussain I, Puschenreiter M, Gerhard S, Sani SGAS, Reichenauer TG (2019) Differentiation between physical and chemical effects of oil presence in freshly spiked soil during rhizoremediation trial. Environ Sci Pollut Res 1–14

Hussain I, Puschenreiter M, Gerhard S, Schöftner P, Yousaf S, Wang A, Reichenauer TG (2018b) Rhizoremediation of petroleum hydrocarbon-contaminated soils: improvement opportunities and field applications. Environ Experiment Bot 147:202–219

Iqbal A, Mukherjee M, Rashid J, Khan SA, Ali MA, Arshad M (2019) Development of plant-microbe phytoremediation system for petroleum hydrocarbon degradation: an insight from alkb gene expression and phytotoxicity analysis. Sci Total Environ 671:696–704

Jiang X, Zerfaß C, Feng S, Eichmann R, Asally M, Schäfer P, Soyer OS (2018) Impact of spatial organization on a novel auxotrophic interaction among soil microbes. ISME J 12:1443–1456

Kästner M, Miltner A (2016) Application of compost for effective bioremediation of organic contaminants and pollutants in soil. Appl Microbiol Biotechnol 100:3433–3449

Kechavarzi C, Pettersson K, Leeds-Harrison P, Ritchie L, Ledin S (2007) Root establishment of perennial ryegrass (L. perenne) in diesel contaminated subsurface soil layers. Environ Pollut 145:68–74

Khan AHA, Anees M, Arshad M, Muhammad YS, Iqbal M, Yousaf S (2016a) Effects of illuminance and nutrients on bacterial photo-physiology of hydrocarbon degradation. Sci Total Environ 557:705–711

Khan AHA, Ayaz M, Arshad M, Yousaf S, Khan MA, Anees M, Sultan A, Nawaz I, Iqbal M (2019) Biogeochemical cycle, occurrence and biological treatments of polycyclic aromatic hydrocarbons (PAHs). Iranian J Sci Technol Trans A Sci 43:1393–1410

Khan AHA, Kiyani A, Cheema AS, Tareen U, Nawaz I, Iqbal M, Yousaf S (2020) Integrative application of soil conditioners and bio-augmentation for enhanced heavy metal stabilization from wastewater and improved growth of Nicotiana alata L. and Petunia hydrida L. J Plant Growth Reg 2020:1–14

Khan AHA, Tanveer S, Alia S, Anees M, Sultan A, Iqbal M, Yousaf S (2017) Role of nutrients in bacterial biosurfactant production and effect of biosurfactant production on petroleum hydrocarbon biodegradation. Ecol Eng 104:158–164

Khan AHA, Tanveer S, Anees M, Muhammad YS, Iqbal M, Yousaf S (2016b) Role of nutrients and illuminance in predicting the fate of fungal mediated petroleum hydrocarbon degradation and biomass production. J Environ Manag 176:54–60

Kong L, Gao Y, Zhou Q, Zhao X, Sun Z (2018) Biochar accelerates PAHs biodegradation in petroleum-polluted soil by biostimulation strategy. J Hazard Mater 343:276–284

Kotoky R, Rajkumari J, Pandey P (2018) The rhizosphere microbiome: significance in rhizoremediation of polyaromatic hydrocarbon contaminated soil. J Environ Manag 217:858–870

Leigh MB, Fletcher JS, Fu X, Schmitz FJ (2002) Root turnover: an important source of microbial substrates in rhizosphere remediation of recalcitrant contaminants. Environ Sci Technol 36:1579–1583

Lepeduš H, Brkić I, Cesar V, Jurković V, Antunović J, Jambrović A, Brkic J, Šimić D (2012) Chlorophyll fluorescence analysis of photosynthetic performance in seven maize inbred lines under water-limited conditions. Periodicum Biologorum 114:73–76

Liguori L, Heggstad K, Hove HT, Julshamn K (2006) An automated extraction approach for isolation of 24 polyaromatic hydrocarbons (PAHs) from various marine matrixes. Analytica Chimica Acta 573:181–188

Lim MW, Von Lau E, Poh PE (2016) A comprehensive guide of remediation technologies for oil contaminated soil—present works and future directions. Marine pollution bulletin 109:14–45

Liu G, Niu J, Guo W, An X, Zhao L (2016) Ecological and health risk-based characterization of agricultural soils contaminated with polycyclic aromatic hydrocarbons in the vicinity of a chemical plant in China. Chemosphere 163:461–470

Liu R, Jadeja RN, Zhou Q, Liu Z (2012) Treatment and remediation of petroleum-contaminated soils using selective ornamental plants. Environ Eng Sci 29:494–501

Lladó, S., Covino, S., Solanas, A.M., Viñas, M., Petruccioli, M., D'annibale, A., 2013. Comparative assessment of bioremediation approaches to highly recalcitrant PAH degradation in a real industrial polluted soil. J Hazardous Mater, 248–249, 407–414.

Manzoor M, Khan AHA, Ullah R, Khan MZ, Ahmad I (2016) Environmental epidemiology of cancer in South Asian population: risk assessment against exposure to polycyclic aromatic hydrocarbons and volatile organic compounds. Arabian Journal for Science and Engineering 41:2031–2043

Markwell J, Osterman JC, Mitchell JL (1995) Calibration of the Minolta SPAD-502 leaf chlorophyll meter. Photosyn Res 46(3):467–472. https://doi.org/10.1007/BF00032301

Martin BC, George SJ, Price CA, Ryan MH, Tibbett M (2014) The role of root exuded low molecular weight organic anions in facilitating petroleum hydrocarbon degradation: current knowledge and future directions. Sci Total Environ 472:642–653

Nadeem SM, Imran M, Naveed M, Khan MY, Ahmad M, Zahir ZA, Crowley DE (2017) Synergistic use of biochar, compost and plant growth-promoting rhizobacteria for enhancing cucumber growth under water deficit conditions. Journal of the Science of Food and Agriculture 97:5139–5145

Ni N, Wang F, Song Y, Bian Y, Shi R, Yang X, Jiang X (2018) Mechanisms of biochar reducing the bioaccumulation of PAHs in rice from soil: degradation stimulation vs immobilization. Chemosphere 196:288–296

Pérez-Hernández I, Ochoa-Gaona S, Adams RH, Rivera-Cruz MC, Pérez-Hernández V, Jarquín-Sánchez A, Geissen V, Martínez-Zurimendi  P (2017) Growth of four tropical tree species in petroleum-contaminated soil and effects of crude oil contamination. Environ Sci Pollut Res 24(2) 1769–1783. https://doi.org/10.1007/s11356-016-7877-5

Shahsavari E, Adetutu EM, Anderson PA, Ball AS (2013) Plant residues—a low cost, effective bioremediation treatment for petrogenic hydrocarbon-contaminated soil. Sci Total Environ 443:766–774

Tang J, Wang M, Wang F, Sun Q, Zhou Q (2011) Eco-toxicity of petroleum hydrocarbon contaminated soil. J Environ Sci 23:845–851

Teng Y, Wu J, Lu S, Wang Y, Jiao X, Song L (2014) Soil and soil environmental quality monitoring in China: a review. Environ Intl 69:177–199

Tiwari S, Verma N, Singh VP, Prasad SM (2019) Nitric oxide ameliorates aluminium toxicity in Anabaena PCC 7120: regulation of aluminium accumulation, exopolysaccharides secretion, photosynthesis and oxidative stress markers. Environ Exp Bot 161:218–227

Tyagi M, da Fonseca MMR, de Carvalho CC (2011) Bioaugmentation and biostimulation strategies to improve the effectiveness of bioremediation processes. Biodegradation 22(2):231–241

Wang M, Zhou Q (2005) Single and joint toxicity of chlorimuronethyl, cadmium, and copper acting on wheat Triticum aestivum. Ecotoxicol Environ Safety 60:169–175

Wang Y, Ren H, Pan H, Liu J, Zhang L (2015) Enhanced tolerance and remediation to mixed contaminates of PCBs and 2,4-DCP by transgenic alfalfa plants expressing the 2,3-dihydroxybiphenyl-1,2-dioxygenase. J Hazardous Mater 286:269–275

Wang Z, Xu Y, Zhao J, Li F, Gao D, Xing B (2011) Remediation of petroleum contaminated soils through composting and rhizosphere degradation. J Hazardous Mater 190:677–685

Wilton N, Lyon-Marion BA, Kamath R, McVey K, Pennell KD, Robbat A Jr (2018) Remediation of heavy hydrocarbon impacted soil using biopolymer and polystyrene foam beads. J Hazardous Mater 349:153–159

Xiang Y, Deng Q, Duan H, Guo Y (2017) Effects of biochar application on root traits: a meta-analysis. Gcb Bioenergy 9:1563–1572

Xie W, Zhang Y, Li R, Yang H, Wu T, Zhao L, Lu Z (2017) The responses of two native plant species to soil petroleum contamination in the Yellow River Delta, China. Environ Sci Pollut Res 24:24438–24446

Xun F, Xie B, Liu S, Guo C (2015) Effect of plant growth-promoting bacteria (PGPR) and arbuscular mycorrhizal fungi (AMF) inoculation on oats in saline-alkali soil contaminated by petroleum to enhance phytoremediation. Environ Sci Pollut Res 22:598–608

York LM, Carminati A, Mooney SJ, Ritz K, Bennett MJ (2016) The holistic rhizosphere: integrating zones, processes, and semantics in the soil influenced by roots. J Exp Bot 67:3629–3643

Yousaf S, Afzal M, Reichenauer TG, Brady CL, Sessitsch A (2011) Hydrocarbon degradation, plant colonization and gene expression of alkane degradation genes by endophytic Enterobacter ludwigii strains. Environ Pollut 159:2675–2683

Zhang H, Tang J, Wang L, Liu J, Gurav RG, Sun K (2016) A novel bioremediation strategy for petroleum hydrocarbon pollutants using salt tolerant Corynebacterium variabile HRJ4 and biochar. J Environ Sci 47:7–13

Zhang X, Wang H, He L, Lu K, Sarmah A, Li J, Huang H (2013) Using biochar for remediation of soils contaminated with heavy metals and organic pollutants. Environ Sci Pollut Res 20:8472–8483

Zhang Z, Zhou Q, Peng S, Cai Z (2010) Remediation of petroleum contaminated soils by joint action of Pharbitis nil L. and its microbial community. Science of the Total Environment 408:5600–5605

Živčák M, Olšovská K, Slamka P, Galambošová J, Rataj V, Shao HB, Brestič M (2015) Application of chlorophyll fluorescence performance indices to assess the wheat photosynthetic functions influenced by nitrogen deficiency. Plant Soil Environ 60:210–215
Acknowledgements
The authors acknowledge the contribution of the Higher Education Commission (HEC) of Pakistan for funding two fellowships to the author Mr. Khan including in Indigenous 5000 PhDs scheme (2AV1-084) and International Research Support Initiative Program (IRSIP 34 BMS 10).
Funding
This work was funded by the Higher Education Commission (HEC) of Pakistan to first author, Mr. Khan, under Indigenous 5000 PhDs scheme (funding number 2AV1-084, 2012).
Ethics declarations
Ethics approval, consent to participate and consent to publish
Not applicable
Competing interests
The authors declare no competing interests.
Additional information
Responsible Editor: Kitae Baek
Publisher's note
Springer Nature remains neutral with regard to jurisdictional claims in published maps and institutional affiliations.
Highlights
• Italian ryegrass with organic amendments stimulates the removal of TPH.
• Higher TPH removal rate corresponds well with the stimulated rhizospheric effect.
• Higher root biomass and bacterial count facilitated TPH removal in aged soil.
• Suitable combination for effective plant tandem removal of TPH is presented.
Supplementary information
About this article
Cite this article
Hussain, ., Khan, A.H.A., Hussain, I. et al. Soil conditioners improve rhizodegradation of aged petroleum hydrocarbons and enhance the growth of Lolium multiflorum. Environ Sci Pollut Res 29, 9097–9109 (2022). https://doi.org/10.1007/s11356-021-16149-7
Received:

Accepted:

Published:

Issue Date:

DOI: https://doi.org/10.1007/s11356-021-16149-7
Keywords