Abstract
Sandy cropland ecosystems are major terrestrial ecosystems in semi-arid regions of northern China's Horqin Sandy Land, where they play an important role in the regional carbon balance. Continuous observation of the CO2 flux was conducted from 2014 to 2018 using the eddy covariance technique in a sandy maize cropland ecosystem in the Horqin Sandy Land. We analyzed carbon fluxes (the net ecosystem exchange (NEE) of CO2, ecosystem respiration (Reco), and the gross primary productivity (GPP) and their responses to environmental factors at different temporal scales using Random Forest models and correlation analysis. We found that the sandy cropland was a carbon sink, with an annual mean NEE of –124.4 g C m−2 yr−1. However, after accounting for carbon exports and imports, the cropland became a net carbon source, with net biome production ranging from –501.1 to –266.7 g C m−2 yr−1. At a daily scale, the Random Forest algorithm revealed that photosynthetic photon flux density, soil temperature, and soil moisture were the main drivers for variation of GPP, Reco, and NEE at different integration periods. At a monthly scale, GPP and Reco increased with increasing leaf area index (LAI), so the maize ecosystem's carbon sequestration capacity increased with increasing LAI. At an annual scale, water availability (precipitation and irrigation) played a dominant role in explaining inter-annual variability of GPP and Reco. Affected by climate (e.g., precipitation) and field management (e.g., cultivation, irrigation), carbon fluxes differed greatly between years in the maize system.
Access options
Buy single article
Instant access to the full article PDF.
US$ 39.95
Tax calculation will be finalised during checkout.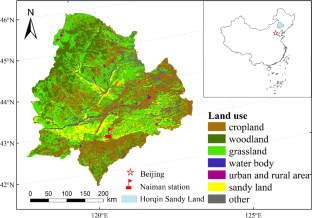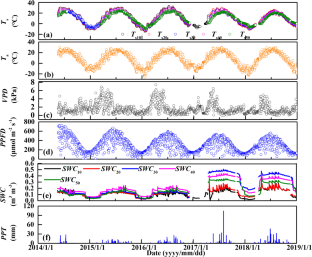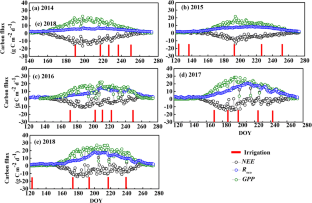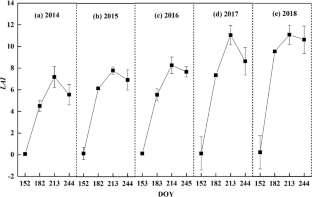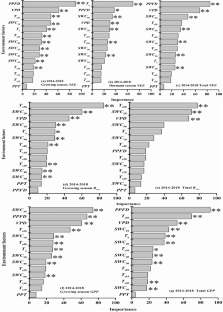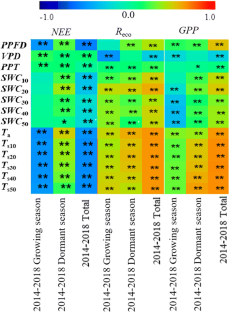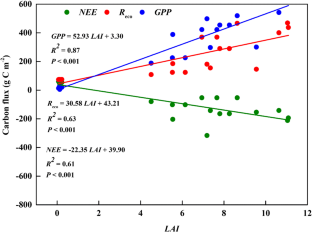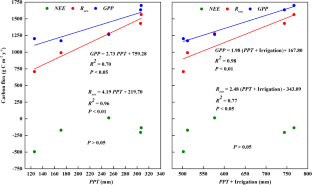 Data availability
In agreement with the FAIR Data standards, the data used in this article are archived, published, and available in a dedicated repository: https://doi.org/10.4121/13536269.v1.
References
Anderson RG, Wang D, Tirado-Corbal R, Zhang H, Ayars JE (2014) Divergence of reference evapotranspiration observations with windy tropical conditions. Hydrol Earth Syst Sci Discuss 11(6):6473–6518. https://doi.org/10.5194/hessd-11-6473-2014

Aubinet M, Moureaux C, Bodson B, Dufranne D, Heinesch B, Suleau M, Vancutsem F, Vilret A (2009) Carbon sequestration by a crop over a 4-year sugar beet/winter wheat/seed potato/winter wheat rotation cycle. Agric For Meteorol 149:407–418. https://doi.org/10.1016/j.agrformet.2008.09.003

Bai J, Wang J, Chen X, Luo GP, Shi H, Li LH, Li JL (2015) Seasonal and inter-annual variations in carbon fluxes and evapotranspiration over cotton field under drip irrigation with plastic mulch in an arid region of Northwest China. J Arid Land 7:272–284. https://doi.org/10.1007/s40333-014-0012-x

Baldocchi DD, Hicks BB, Meyers TP (1988) Measuring biosphere–atmosphere exchanges of biologically related gases with micrometeorological methods. Ecology. 69:1331–1340. https://doi.org/10.2307/1941631

Baldocchi DD, Chu H, Reichstein M (2018) Inter-annual variability of net and gross ecosystem carbon fluxes: a review. Agric For Meteorol 249:520–533. https://doi.org/10.1016/j.agrformet.2017.05.015

Bao WQ (2015) Analysis of climatic conditions for corn planting in Horqin Sandy Land, Tongliao City, Inner Mongolia of China. 9, 233–234 (in Chinese). CNKI:SUN:BJNY.0.2015-09-196

Biederman JA, Scott RL, Goulden ML, Vargas R, Burns SP (2016) Terrestrial carbon balance in a drier world : the effects of water availability in southwestern North America. Glob Chang Biol 22(5):1867–1879. https://doi.org/10.1111/gcb.13222

Bond-Lamberty B, Thomson A (2010) Temperature associated increases in the global soil respiration record. Nature. 464:579–582. https://doi.org/10.1038/nature08930

Breiman L (2001) Random forest. Mach Learn 45:5–32

Cannell MGR, Thornley JHM (2000) Modelling the components of plant respiration: some guiding principles. Ann Bot 85:45–54. https://doi.org/10.1006/anbo.1999.0996

Cassman KG, Dobermann A, Walters DT, Yang H (2003) Meeting cereal demand while protecting natural resources and improving environmental quality. Annu Rev Environ Resour 28:315–358. https://doi.org/10.1146/annurev.energy.28.040202.122858

Cater M, Ogrinc N (2011) Soil respiration rates and delta 13C (CO2) in natural beech forest (Fagus sylvatica L.) in relation to stand structure. Isotopes Environ. Health Stud 47:221–237. https://doi.org/10.1080/10256016.2011.578214

Ceschia E, Beziat P, Dejoux JF, Aubinet M, Bernhofer C, Bodson B, Buchmann N, Carrara A, Cellier P, Di Tommasi P, Elbers JA, Eugster W, Gruenwald T, Jacobs CMJ, Jans WWP, Jones M, Kutsch W, Lanigan G, Magliulo E, Marloie O, Moors EJ, Moureaux C, Olioso A, Osborne B, Sanz MJ, Saunders M, Smith P, Soegaard H, Wattenbach M (2010) Management effects on net ecosystem carbon and GHG budgets at European crop sites. Agric Ecosyst Environ 139:363–383. https://doi.org/10.1016/j.agee.2010.09.020

Chalker BE (1980). Modeling light saturation curves for photosynthesis: an exponential function. J Theor Biol 84, 205-215. https://doi.org/10.1016/S0022-5193(80)80004-X.

Chang XL, Lu CX, Gao YB (2003) A study on landscape sustainability for agri-pastural ecotone in Horqin Sandy Land (in Chinese). J Nat Prod 18(1):67–74. https://doi.org/10.11849/zrzyxb.2003.01.010

Charoenjit K, Zuddas P, Allemand P, Pattanakiat S, Pachana K (2015) Estimation of biomass and carbon stock in Para rubber plantations using object-based classification from Thaichote satellite data in Eastern Thailand. J Appl Remote Sens 9:096072 https://doi.org/10.1117/1.JRS.9.096072

Chen ST, Liu Y, Zhai XY, Hu ZH (2016) Experimental warming effects on soil respiration, nitrification, and denitrification in a winter wheat-soybean rotation cropland. Commun Soil Sci Plant Anal 48:148–161. https://doi.org/10.1080/00103624.2016.1253711

Chen ST, Zou JW, Hu ZH, Lu YY (2019) Climate and vegetation drivers of terrestrial carbon fluxes: a global data synthesis. Adv Atmos Sci 36:679–696. https://doi.org/10.1007/s00376-019-8194-y

Cleverly J, Eamus D, Gorsel V, Chen C, Rumman R, Luo QY, Coupe NR, Li LH, Kljun N, Faux R, Yu Q, Huete A (2016) Productivity and evapotranspiration of two contrasting semiarid ecosystems following the 2011 global carbon land sink anomaly. Agric For Meteorol 220:151–159. https://doi.org/10.1016/j.agrformet.2016.01.086

Collins SL, Belnap J, Grimm NB, Rudgers JA, Dahm CN, Odorico PD, Litvak M, Natvig DO, Peters DC, Pockman WT (2014) A multiscale, hierarchical model of pulse dynamics in arid-land ecosystems. Annu Rev Ecol Evol Syst 45:397–419. https://doi.org/10.1146/annurev-ecolsys-120213-091650

Crawford B, Grimmond CSB, Christen A (2011) Five years of carbon dioxide fluxes measurements in a highly vegetated suburban area. Atmos Environ 45:896–905. https://doi.org/10.1016/j.atmosenv.2010.11.017

Dalal RC, Mayer RJ (1986) Long-term trends in fertility of soils under continuous cultivation and cereal cropping in southern Queensland. VI. Loss of total nitrogen from different particle-size and density fractions. Austral J Soil Res 24:281–292. https://doi.org/10.1071/SR9860265

Dasci M, Koc A, Comakli B, Güllap MK, Cengiz MM, Erkovan HI (2010). Importance of annual and seasonal precipitation variations for the sustainable use of rangelands in semiarid regions with high altitude. Afr J Agric Res 5, 2184-2191. https://doi.org/10.1016/S1671-2927(09)60212-1.

Du Q, Liu HZ (2013) Seven years of carbon dioxide exchange over a degraded grassland and a cropland with maize ecosystems in a semiarid area of China. Agric Ecosyst Environ 173:1–12. https://doi.org/10.1016/j.agee.2013.04.009

Du Q, Liu H, Li Y, Xu L, Diloksumpun S (2019) The effect of phenology on the carbon exchange process in grassland and maize cropland ecosystems across a semiarid area of China. Sci Total Environ 695:133868. https://doi.org/10.1016/j.scitotenv.2019.133868

Emmerich WE, Verdugo CL (2008) Precipitation thresholds for CO2 uptake in grass and shrub plant communities on Walnut Gulch Experimental Watershed. Water Resour Res 44:435–443. https://doi.org/10.1029/2006wr005690

Flanagan LB, Wever LA, Carlson PJ (2002) Seasonal and interannual variation in carbon dioxide exchange and carbon balance in a northern temperate grassland. Glob Chang Biol 8:599–615. https://doi.org/10.1046/j.1365-2486.2002.00491.x

Ford CR, Mitchell RJ, Teskey RO (2008) Water table depth affects productivity, water use, and the response to nitrogen addition in a savanna system. Can J For Res 38:2118–2127. https://doi.org/10.1139/X08-061

Gao X, Gu F, Hao W, Mei X, Li H, Gong D, Mao L, Zhang Z (2017) Carbon budget of a rainfed spring maize cropland with straw returning on the Loess Plateau. China Sci Total Environ 586:1193–1203. https://doi.org/10.1016/j.scitotenv.2017.02.113

Gregorutti B, Michel B, Saint-Pierre P (2017) Correlation and variable importance in random forests. Stat Comput 27:659–678. https://doi.org/10.1007/s11222-016-9646-1

Grimm R, Behrens T, Märker M, Elsenbeer H (2008) Soil organic carbon concentrations and stocks on Barro Colorado Island–digital soil mapping using Random Forests analysis. Geoderma. 146:102–113. https://doi.org/10.1016/j.geoderma.2008.05.008

Grogan P, Chapin FS (2000) Initial effects of experimental warming on above- and belowground components of net ecosystem CO2 exchange in arctic tundra. Oecologia. 125:512–520. https://doi.org/10.1007/s004420000490

Hadley JL, Smith WK (1987) Influence of krummholz mat microclimate on needle physiology and survival. Oecologia 73:82–90. https://doi.org/10.1007/BF00376981

Hao YB, Wang YF, Mei X, Cui XR (2010) The response of ecosystem CO2 exchange to small precipitation pulses over a temperate steppe. Plant Ecol 209:335–347. https://doi.org/10.1007/s11258-010-9766-1

Hernandez-Ramirez G, Hatfield JL, Parkin TB, Sauer TJ, Prueger JH (2011) Carbon dioxide fluxes in corn–soybean rotation in the midwestern U. S.: inter- and intra-annual variations, and biophysical controls. Agric For Meteorol 151:1831–1842. https://doi.org/10.1016/j.agrformet.2011.07.017

Hollinger SE, Bernacchi CJ, Meyers TP (2005) Carbon budget of mature no-till ecosystem in North Central Region of the United States. Agric For Meteorol 130:59–69. https://doi.org/10.1016/j.agrformet.2005.01.005

Hunt JE, Kelliher FM, McSeveny TM, Byers JN (2002) Evaporation and carbon dioxide exchange between the atmosphere and a tussock grassland during a summer drought. Agric For Meteorol 111:65–82. https://doi.org/10.1016/s0168-1923(02)00006-0

Huxman TE, Snyder KA, Tissue D, Leffler AJ, Ogle K, Pockman WT, Sandquist DR, Potts DL, Schwinning S (2004) Precipitation pulses and carbon fluxes in semiarid and arid ecosystems. Oecologia 141:254–268. https://doi.org/10.1007/s00442-004-1682-4

Jongen M, Pereira JS, Aires LMI, Pio CA (2011) The effects of drought and timing of precipitation on the inter-annual variation in ecosystem-atmosphere exchange in a Mediterranean grassland. Agric For Meteorol 151:595–606. https://doi.org/10.1016/j.agrformet.2011.01.008

Kainiemi V, Arvidsson J, Kätterer T (2013) Short-term organic matter mineralisation following different types of tillage on a Swedish clay soil. Biol Fertil Soils 49:495–504. https://doi.org/10.1007/s00374-013-0786-6

Kainiemi V, Arvidsson J, Kätterer T (2015) Effects of autumn tillage and residue management on soil respiration in a long-term field experiment in Sweden. J Plant Nutr Soil Sci 178:189–198. https://doi.org/10.1002/jpln.201400080

Knox SH, Matthes JH, Sturtevant C, Oikawa PY, Verfaillie J, Baldocchi DD (2016) Biophysical controls on interannual variability in ecosystem-scale CO2 and CH4 exchange in a California rice paddy. J Geophys Res Biogeosci 121(3):978–1001. https://doi.org/10.1002/2015jg003247

Lal R (1997) Residue management, conservation tillage and soil restoration for mitigating greenhouse effect by CO2-enrichment. Soil Tillage Res 43:81–107. https://doi.org/10.1016/S0167-1987(97)00036-6

Lal R (2011) Sequestering carbon in soils of agro-ecosystems. Food Policy 36:S33–S39. https://doi.org/10.1016/j.foodpol.2010.12.001

Lal R, Follett RF, Kimble J, Cole CV (1999) Managing US cropland to sequester carbon in soil. J Soil Water Conserv 54:374–381. https://doi.org/10.2307/4003497

Lal R, Griffin M, Apt J, Lave L, Morgan MG (2004) Managing soil carbon. Science 304(16):393. https://doi.org/10.1126/science.1101271

Lee XH, Massman WJ, Law BE (2004) Handbook of micrometeorology. Springer, Berlin. Vol. 29 of the Atmospheric and Oceanographic Sciences Library. https://doi.org/10.1007/1-4020-2265-4

Li YL, Cui JY, Zhang TH (2000) Evapotranspiration and its analysis for spring wheat in sandy cropland in Naiman. Journal of Desert Research (in Chinese) 6:66–69

Li J, Yu Q, Sun XM, Tong XJ, Ren CY, Wang J, Liu AM, Zhu ZL, Yu GR (2006) Carbon dioxide exchange and the mechanism of environmental control in a farmland ecosystem in North China Plain. Sci China Ser D Earth Sci 36:210–223. https://doi.org/10.1007/s11430-006-8226-1

Li YQ, Zhang JP, Zhao XY, Zhang TH, Li YL, Liu XP, Chen YP (2016a) Comparison of soil physico-chemical properties under different land-use and cover types in northeastern China's Horqin Sandy Land. Sciences in Cold and Arid Regions 8:495–506. https://doi.org/10.3724/SP.J.1226.2016.00495

Li Z, Chen YN, Wang Y, Fang GH (2016b) Dynamic changes in terrestrial net primary production and their effects on evapotranspiration. Hydrol Earth Syst Sci 20:2169–2178. https://doi.org/10.5194/hess-20-2169-2016

Li RP, Zhou GS, Zhou L, Yang Y (2017) Carbon budget dynamics over a rain-fed maize agricultural ecosystem in northeast China and its regulation. Open J Ecol 7:377–391. https://doi.org/10.4236/oje.2017.76027

Li YQ, Wang XY, Chen YP, Luo YQ, Lian J, Niu YY, Gong XW, Yang H, Yu PD (2019) Changes in surface soil organic carbon in semiarid degraded Horqin Grassland of northeastern China between the 1980s and the 2010s. Catena 174:217–226. https://doi.org/10.1016/j.catena.2018.11.021

Liu YL, Zhou GM, Du HQ, Berninger F, Mao FJ, Li XJ, Chen L, Cui L, Li YG, Zhu DE, Xu L (2018) Response of carbon uptake to abiotic and biotic drivers in an intensively managed Lei bamboo forest. J Environ Manag 223:713–722. https://doi.org/10.1016/j.jenvman.2018.06.046

Lloyd J, Taylor JA (1994) On the temperature dependence of soil respiration. Funct Ecol 8:315–323. https://doi.org/10.2307/2389824

Loomis RS, Conner DJ (1992). Crop ecology: productivity and management in agricultural systems. Cambridge Univ. Press, New York, NY, pp. 538

Macdonald JD, Angers DA, Rochette P, Chantigny MH, Royer I, Gasser MO (2010) Plowing a poorly drained grassland reduced soil respiration. Soil Sci Soc Am J 74:2067–2076. https://doi.org/10.2136/sssaj2010.0059

Madugundu R, Al-Gaadi KA, Tola EK, Kayad AG, Jha CS (2016) Estimation of gross primary production of irrigated maize using Landsat-8 imagery and eddy covariance data. Saudi J Biol Sci 24:410–420. https://doi.org/10.1016/j.sjbs.2016.10.003

Mahrt L (1998) Flux sampling errors for aircraft and towers. J Atmos Ocean Technol 15:416–429. https://doi.org/10.1175/1520-0426(1998)015<0416:FSEFAA>2.0.CO;2

Mutanga O, Adam E, Cho MA (2012) High density biomass estimation for wetland vegetation using WorldView-2 imagery and random forest regression algorithm. Int J Appl Earth Obs Geoinf 18:399–406. https://doi.org/10.1016/j.jag.2012.03.012

Niu YY, Li YQ, Yun HB, Wang XY, Gong XW, Liu J (2020) Variations in diurnal and seasonal net ecosystem carbon dioxide exchange in a semiarid sandy grassland ecosystem, China's Horqin Sandy Land. Biogeosciences 17:6309–6326. https://doi.org/10.5194/bg-17-6309-2020

Pham LTH, Brabyn L (2017) Monitoring mangrove biomass change in Vietnam using SPOT images and an object-based approach combined with machine learning algorithms. ISPRS J Photogramm Rem Sens 128:86–97. https://doi.org/10.1016/j.isprsjprs.2017.03.013

Poulter B, Frank D, Ciais P, Myneni RB, Andela N, Jian B, Broquet G, Canadell JG, Chevallier F, Liu YY (2014) Contribution of semi-arid ecosystems to interannual variability of the global carbon cycle. Nature 509:600–603. https://doi.org/10.1038/nature13376

Reichstein M, Rey A, Freibauer A, Tenhunen J, Valentini R, Banza J, Casals P, Cheng YF, Grünzweig JM, Irvine J, Joffre R, Law BE, Loustau D, Miglietta F, Oechel W, Ourcival JM, Pereira JS, Peressotti A, Ponti F, Qi Y, Rambal S, Rayment M, Romanya J, Rossi F, Tedeschi V, Tirone G, Xu M, Yakir D (2003) Modeling temporal and large-scale spatial variability of soil respiration from soil water availability, temperature and vegetation productivity indices. Global Biogeochem Cyc 17:1104. https://doi.org/10.1029/2003GB002035

Restrepo-Coupe N, Rochac HR, Hutyra LR, Araujo AC, Borma LS, Christoffersen B, Cabra OMR, Camargo PB, Cardosor FL, Costa ACL, Fitzjarrald DR, Goulden ML, Kruijt B, Maia JMF, Malhi YS, Manzi AO, Miller SD, Nobre AD, Randow C, Abreu Sá LD, Sakai RK, Tota J, Wofsy SC, Zanchi FB, Salesk SR (2013) What drives the seasonality of photosynthesis across the Amazon basin? A cross-site analysis of eddy flux tower measurements from the Brasil flux network. Agric For Meteorol 182–183:128–144. https://doi.org/10.1016/j.agrformet.2013.04.031

Richardson AD, Hollinger DY, Aber JD, Ollinger SV, Braswell BH (2007) Environmental variation is directly responsible for short- but not long-term variation in forest-atmosphere carbon exchange. Glob Chang Biol 13:788–803. https://doi.org/10.1111/j.1365-2486.2007.01330.x

Schmitt MM, Bahn G, Tappeiner WU, Cernusca A (2010) Land use affects the net ecosystem CO2 exchange and its components in mountain grasslands. Biogeosciences. 7:2297–2309. https://doi.org/10.5194/bg-7-2297-2010

Schütt M, Anzenhofer R, Heuck C, Hubach A, Matzner E, Schindlbacher A, Borken W (2013) Experimental warming effects on C and N mineralization in an Austrian mountain forest soil. Geophys Res Abstr 15:EGU2013–EGU3247

Shi YZ (2015) Variations of H2O/CO2 flux and the mechanism of environmental response in two typical farmland ecosystems of China (in Chinese). PhD thesis, Wuhan University

Shi Z, Thomey ML, Mowll W, Litvak M, Brunsell NA, Collins SL, Pockman WT, Smith MD, Knapp AK, Luo Y (2014) Differential effects of extreme drought on production and respiration: synthesis and modeling analysis. Biogeosciences 11:621–633. https://doi.org/10.5194/bg-11-621-2014

Singh P, Heikkinen J, Ketoja E, Nuutinen V, Palojärvi A, Sheehy J, Esala M, Mitra S, Alakukku L, Regina K (2015) Tillage and crop residue management methods had minor effects on the stock and stabilization of topsoil carbon in a 30-year field experiment. Sci Total Environ s518–519:337–344. https://doi.org/10.1016/j.scitotenv.2015.03.027

Sponseller RA (2006) Precipitation pulses and soil CO2 flux in a Sonoran Desert ecosystem. Glob Chang Biol 13:426–436. https://doi.org/10.1111/j.1365-2486.2006.01307.x

Suyker AE, Verma SB (2010) Coupling of carbon dioxide and water vapor exchanges of irrigated and rainfed maize–soybean cropping systems and water productivity. Agric For Meteorol 150:553–563. https://doi.org/10.1016/j.agrformet.2010.01.020

Suyker AE, Verma SB, Burba GG (2003) Inter-annual variability in net CO2 fluxes exchange of a native tallgrass prairie. Glob Chang Biol 9:255–265 https://doi.org/10.1046/j.1365-2486.2003.00567.x

Suyker AE, Verma SB, Burba BB, Arkebauer TJ (2005) Gross primary production and ecosystem respiration of irrigated maize and irrigated soybean during a growing season. Agric For Meteorol 131:180–190. https://doi.org/10.1016/j.agrformet.2005.05.007

Tang ZS, An H, Deng L, Wang YY, Zhu GY, Shangguan ZP (2015) The impact of desertification on carbon and nitrogen storage in the desert steppe ecosystem. Ecol Eng 84:92–99. https://doi.org/10.1016/j.ecoleng.2015.07.023

Tappeiner U, Cernusca A (1996) Microclimate and fluxes of water vapor, sensible heat and carbon dioxide in structurally differing subalpine plant communities in the Central Caucasus. Plant Cell Environ 19:403–417. https://doi.org/10.1111/j.1365-3040.1996.tb00332.x

Torres-García W, Domenech M (2017) Hedgehog-mesenchyme gene signature identifies bi-modal prognosis in luminal and basal breast cancer sub-types. Mol BioSyst 13:2615–2624. https://doi.org/10.1039/c7mb00416h

Verikas A, Gelzinis A, Bacauskiene M (2011) Mining data with random forests: a survey and results of new tests. Pattern Recogn 44:330–349. https://doi.org/10.1016/j.patcog.2010.08.011

Verma SB, Dobermann A, Cassman KG, Walters DT, Knops JM, Arkebauer TJ, Suyker AE, Burba GG, Amos B, Yang HS, Ginting D, Hubbard KG, Gitelson AA, Walter-Shea EA (2005) Annual carbon dioxide exchange in irrigated and rain fed maize-based agroecosystems. Agric For Meteorol 131:77–96. https://doi.org/10.1016/j.agrformet.2005.05.003

Wagle P, Gowda PH, Moorhead JE, Marek G (2018) Net ecosystem exchange of CO2 and H2O fluxes from irrigated grain sorghum and maize in the Texas High Plains. Sci Total Environ 637–638:163–173. https://doi.org/10.1016/j.scitotenv.2018.05.018

Wang SK, Zhao XY, Zhao HL, Lian J, Luo YQ (2016) Impact of sand burial on maize (Zea mays L.) productivity and soil quality in Horqin Sandy cropland, Inner Mongolia, China. J. Arid Land 8:569–578. https://doi.org/10.1007/s40333-016-0011-1

Wang Y, Zhou L, Jia QY, Ping XY (2019) Direct and indirect effects of environmental factors on daily CO2 exchange in a rainfed maize cropland—a SEM analysis with 10 year observations. Field Crop Res 242:107591. https://doi.org/10.1016/j.fcr.2019.107591

Wei ZH, Wei ZM, Li CQ, Bian XH, Li ZH (2017a) Effects of different irrigation methods on maize plant growth parameters and yield (in Chinese). Res Soil Water Conserv 24(3):184–187. https://doi.org/10.13869/j.cnki.rswc.2017.03.033

Wei S, Yi C, Fang W, Hendrey G (2017b) A global study of GPP focusing on light-use efficiency in a random forest regression model. Ecosphere. 8:e01724. https://doi.org/10.1002/ecs2.1724

West TO, Post WM (2002) Soil organic carbon sequestration rates by tillage and crop rotation: a global data analysis. Soil Sci Soc Am J 66:1930–1946 https://www.researchgate.net/publication/221899778

Wilson K, Goldstein A, Falge E, Aubinet M, Baldocchi D, Berbigier P, Bernhofer C, Ceulemans R, Dolman H, Field C, Grelle A, Ibrom A, Law BE, Kowalski A, Meyers T, Moncrieff J, Monson R, Oechel W, Verma S (2002) Energy balance closure at FLUXNET sites. Agric For Meteorol 113:223–243. https://doi.org/10.1016/S0168-1923(02)00109-0

Wood, S, Sebastian K, Scherr SJ (2000) Pilot analysis of global ecosystems: agroecosystems. Report, World Resources Institute, Washington DC. pp. 87–94

Xu L, Baldocchi DD (2004) Seasonal variation in carbon dioxide exchange over a Mediterranean annual grassland in California. Agric For Meteorol 123:79–96. https://doi.org/10.1016/j.agrformet.2003.10.004

Yasuda Y, Saito T, Hoshino D, Ono K, Ohtani Y, Mizoguchi Y, Morisawa T (2012) Carbon balance in a cool-temperate deciduous forest in northern Japan: seasonal and interannual variations, and environmental controls of its annual balance. J For Res 17:253–267. https://doi.org/10.1007/s10310-011-0298-x

Yonemura S, Nouchi I, Nishimura S, Sakurai G, Togami K, Yagi K (2013) Soil respiration, N2O, and CH4 emissions from an Andisol under conventional-tillage and no-tillage cultivation for 4 years. Biol Fertil Soils 50:63–74. https://doi.org/10.1007/s00374-013-0831-5

Zhang WL, Chen SP, Chen J, Wei L, Han XG, Lin GH (2007) Biophysical regulations of carbon fluxes of a steppe and a cultivated cropland in semiarid Inner Mongolia. Agric For Meteorol 146:216–229. https://doi.org/10.1016/j.agrformet.2007.06.002

Zhang FX, Han JJ, Chen YP, Li YQ, Lian J, Yue XF (2014) Comparison of soil respiration rate between row and inter-row of maize (Zea mays) field in the Horqin Sandy Land. J Desert Res (in Chinese) 34:378–384. https://doi.org/10.7522/j.issn.1000-694X.2013.00328

Zhang XS, Izaurralde RC, Manowitz DH, Sahajpal R, West TO, Thomson AM (2015) Regional scale cropland carbon budgets: evaluating a geospatial agricultural modeling system using inventory data. Environ Model Softw 63:199–216. https://doi.org/10.1016/j.envsoft.2014.10.005

Zhang XZ, Li SH, Liu BY, Zhang Y, Ahmad LV, Wang X, Zhao X, Zhang HL (2020) Effects of no-till and residue retention on carbon sequestration and yield in China (in Chinese). J China Agric Univ 5(05):1–12. https://doi.org/10.11841/j.issn.1007-4333.2020.05.01

Zhao HL, Li YQ, Zhou, R.L., 2007. Effects of desertification on C and N storages in grassland ecosystem on Horqin sandy land. Chin J Appl Ecol (in Chinese). 18, 2412. https://doi.org/10.1360/yc-007-1324 1330.

Zhao MS, Running SW (2010) Drought-induced reduction in global terrestrial net primary production from 2000 through 2009. Science 329:940–943. https://doi.org/10.1126/science.1192666

Zhou Y, Chang X, Ye S, Zheng Z, Lv S (2015) Analysis on regional vegetation changes in dust and sandstorms source area: a case study of Naiman banner in the Horqin sandy region of northern China. Environ Earth Sci 73:2013–2025. https://doi.org/10.1007/s12665-014-3566-1

Zhou YY, Li XR, Gao YH, He MZ, Wang MM, Wang YL, Zhao LN, Li YF (2020) Carbon fluxes response of an artificial sand-binding vegetation system to rainfall variation during the growing season in the Tengger Desert. J Environ Manag 266:110556. https://doi.org/10.1016/j.jenvman.2020.110556

Zhu XJ, Zhang HQ, Zhao TH, Li JD, Yin H (2017) Divergent drivers of the spatial and temporal variations of cropland carbon transfer in Liaoning province. China Sci Rep 7:13095. https://doi.org/10.1038/s41598-017-13358-4
Funding
This research was supported by the National Key R & D Program of China (grant 2017YFA0604803), the National Natural Science Foundation of China (grants 31971466 and 32001214), and the One Hundred Person Project of the Chinese Academy of Sciences (grant Y551821).
Ethics declarations
Ethics approval
Not applicable.
Consent to participate
Not applicable.
Consent for publication
Not applicable.
Competing interests
The authors declare no competing interests.
Additional information
Publisher's note
Springer Nature remains neutral with regard to jurisdictional claims in published maps and institutional affiliations.
Responsible Editor: Philippe Garrigues
Supplementary Information
About this article
Cite this article
Niu, Y., Li, Y., Wang, M. et al. Variations in seasonal and inter-annual carbon fluxes in a semi-arid sandy maize cropland ecosystem in China's Horqin Sandy Land. Environ Sci Pollut Res (2021). https://doi.org/10.1007/s11356-021-15751-z
Received:

Accepted:

Published:
Keywords
Net ecosystem exchange (NEE)
Gross primary productivity (GPP)
Ecosystem respiration (R eco)

Eddy covariance

Horqin Sandy Land