Abstract
Per- and polyfluoroalkyl substances (PFASs) are persistent and bioaccumulative substances that have many adverse effects on human bodies. This study investigated the PFASs distribution characteristics in urine samples of workers from an acrylic fiber plant and a chemical plant. It was found that perfluorobutanoic acid (PFBA) was the predominant PFASs both in urine samples from the chemical plant (detection frequency: 86.52%; median value: 39.01 ng/mL) and the acrylic fiber plant (detection frequency: 88.16%; median value: 44.36 ng/mL). Meanwhile, perfluorooctanoic acid (PFOA) and perfluorooctane sulfonic acid (PFOS) were detected with very low frequencies and low concentrations. Furthermore, the results showed that PFASs levels in urine samples of workers from different units of the plants were quite different. PFASs concentrations of urine samples in males were higher than those in females, especially for PFBA, PFHxA, and PFDoA. The age had limited effects on the PFASs distribution in urine samples in this study, as short-chain PFASs were the dominant compounds. The correlations between PFASs concentrations in urine and gender/ages of workers were finally analyzed by Pearson correlation. The overall results may indicate that short-chain PFASs (such as: PFBA and PFBS) were becoming dominant for human exposure, especially occupational workers.
Access options
Buy single article
Instant access to the full article PDF.
US$ 39.95
Tax calculation will be finalised during checkout.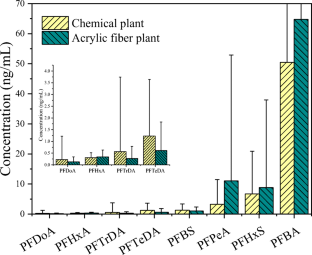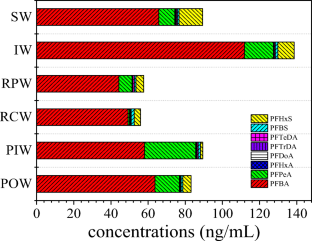 Acknowledgements
This project was approved by the institutional review board of Syracuse University and Upstate Medical University. The authors are grateful to all peer reviewers for their reviews and comments.
Availability of data and materials
All data of this study can be obtained from the corresponding authors according to reasonable requirements.
Funding
This research was supported by the National Natural Science Foundation of China (Project No. 21637001), and Guangdong (China) Innovative and Entrepreneurial Research Team Program (No. 2016ZT06N258). It was also partially supported by the Fundamental Research Funds for the Central Universities (No. 21617454).
Ethics declarations
Ethics approval and consent to participate
The approvals for human urine analysis were obtained from the Jinan University Review Board, Jinan University, China (2018-LSPK).
Consent for publication
Not applicable.
Competing interests
The authors declare no competing interests.
Additional information
Publisher's note
Springer Nature remains neutral with regard to jurisdictional claims in published maps and institutional affiliations.
Responsible Editor: Lotfi Aleya
Supplementary Information
About this article
Cite this article
Peng, ., Xu, W., Zeng, Q. et al. Distribution characteristics of per- and polyfluoroalkyl substances (PFASs) in human urines of acrylic fiber plant and chemical plant. Environ Sci Pollut Res (2021). https://doi.org/10.1007/s11356-021-15355-7
Received:

Accepted:

Published:
Keywords
PFASs

Urine

Age

Gender

Correlation analysis