Abstract
In shallow lakes, wind wave turbulence alters underwater spectral composition, but the influence of this phenomenon on phytoplankton community structure is poorly understood. We used 100L mesocosms to investigate the influence of light quality on a natural phytoplankton community collected from Taihu Lake in China. The communities in mesocosms were exposed to sunlight filtered for white, blue, green, and red light, while wave-making pumps simulated wind wave turbulence similar to Taihu Lake. Over the course of experiment, each filtered light reduced the total phytoplankton abundance compared to white light. The mean abundance of phytoplankton in controls was 1.72, 1.78, and 7.89 times of that in the red, blue, and green light treatments. Red, blue, and green light significantly promoted the growth of cyanobacteria, green algae, and diatoms, respectively, and induced successional change of the phytoplankton species under the tested conditions. The proportion of Microcystis to total phytoplankton abundance in controls and red light shifted from 87.09% at the beginning to 37.95% and 56.30% at the end of the experiment, respectively, and maintained its dominance, whereas Microcystis lost its dominance and was replaced by Scenedesmus (53.78%) and Synedra (53.18%) in the blue and green light, respectively. Given the process of how these phytoplankton compete in designated spectrum, exploring these influences could help provide new insights into the dominance formation of toxic cyanobacteria.
Access options
Buy single article
Instant access to the full article PDF.
USD 39.95
Price excludes VAT (USA)
Tax calculation will be finalised during checkout.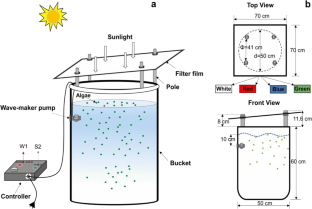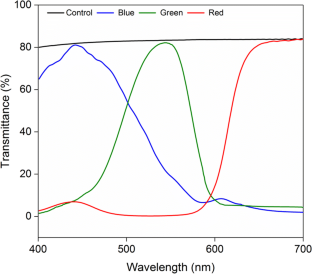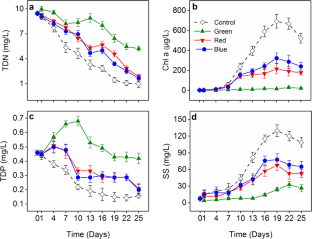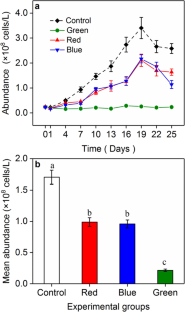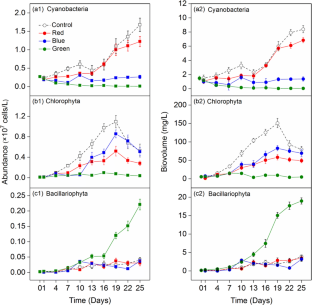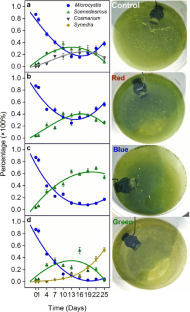 Data availability
The datasets generated and/or analyzed during the current study are not publicly available as they also form part of an ongoing study but are available from the corresponding author on reasonable request.
References
Aparicio PJ, Roldán J, Calero F (1976) Blue light photoreactivation of nitrate reductase from green algae and higher plants. Biochem Biophys Res Commun 70:1071–1077. https://doi.org/10.1016/0006-291x(76)91011-1

Barnett JZ, Foy J, Malone R, Rusch KA, Gutierrez-Wing MT (2017) Impact of light quality on a native Louisiana Chlorella vulgaris/Leptolyngbya sp. co-culture. Eng Life Sci 17:678–685. https://doi.org/10.1002/elsc.201600013

Bechet Q, Shilton A, Fringer OB, Munoz R, Guieysse B (2010) Mechanistic modeling of broth temperature in outdoor photobioreactors. Environ Sci Technol 44:2197–2203. https://doi.org/10.1021/es903214u

Bidigare RR, Morrow JH, Kiefer DA (1989) Derivative analysis of spectral absorption by photosynthetic pigments in the western Sargasso Sea. J Mar Res 47:323–341

Burson A, Stomp M, Greenwell E, Grosse J, Huisman J (2018) Competition for nutrients and light: testing advances in resource competition with a natural phytoplankton community. Ecology 99:1108–1118. https://doi.org/10.1002/ecy.2187

Chen CY, Yeh KL, Aisyah R, Lee DJ, Chang JS (2011) Cultivation, photobioreactor design and harvesting of microalgae for biodiesel production: a critical review. Bioresour Technol 102:71–81. https://doi.org/10.1016/j.biortech.2010.06.159

Cohn SA, Dunbar S, Ragland R, Schulze J, Suchar A, Weiss J, Wolske A (2016) Analysis of light quality and assemblage composition on diatom motility and accumulation rate. Diatom Res 31:173–184. https://doi.org/10.1080/0269249x.2016.1193058

Das P, Lei W, Aziz SS, Obbard JP (2011) Enhanced algae growth in both phototrophic and mixotrophic culture under blue light. Bioresour Technol 102:3883–3887. https://doi.org/10.1016/j.biortech.2010.11.102

de Souza CL, da Motta MD (2007) Hydrodynamics-driven plankton community in a shallow lake. Aquat Ecol 43:73–84. https://doi.org/10.1007/s10452-007-9151-x

Downing JA, Watson SB, McCauley E (2001) Predicting Cyanobacteria dominance in lakes. Can J Fish Aquat Sci 58:1905–1908. https://doi.org/10.1139/f01-143

Erm A, Arst H, Trei T, Reinart A, Hussainov M (2001) Optical and biological properties of Lake Ulemiste, a water reservoir of the city of Tallinn I: water transparency and optically active substances in the water. Lakes Reserv Res Manag 6:63–74. https://doi.org/10.1046/j.1440-1770.2001.00129.x

Evans JR, Poorter H (2001) Photosynthetic acclimation of plants to growth irradiance: the relative importance of specific leaf area and nitrogen partitioning in maximizing carbon gain. Plant Cell Environ 24:755–767. https://doi.org/10.1046/j.1365-3040.2001.00724.x

Folta KM (2005) Green light effects on plant growth and development. In: Light Sensing in Plants. Springer, Tokyo. https://doi.org/10.1007/4-431-27092-2_27

Gatamaneni Loganathan B, Orsat V, Lefsrud M, Wu BS (2020) A comprehensive study on the effect of light quality imparted by light-emitting diodes (LEDs) on the physiological and biochemical properties of the microalgal consortia of Chlorella variabilis and Scenedesmus obliquus cultivated in dairy wastewater. Bioprocess Biosyst Eng 43:1445–1455. https://doi.org/10.1007/s00449-020-02338-0

Glick RE, Larsson UK, Melis A (1987) Differential phosphorylation of thylakoid membrane polypeptides during chloroplast adaptation to light quality. In: Progress in Photosynthesis Research. Springer, Netherlands. https://doi.org/10.1007/978-94-009-3535-8_61

Harkonen L, Pekcan-Hekim Z, Hellen N, Ojala A, Horppila J (2014) Combined effects of turbulence and different predation regimes on zooplankton in highly colored water-implications for environmental change in lakes. PLoS One 9:e111942. https://doi.org/10.1371/journal.pone.0111942

Hill, Walter (1996) Effects of light. In: Algal ecology: freshwater benthic ecosystems, Aquatic Ecology Series. Academic Press, San Diego. https://doi.org/10.1016/B978-012668450-6/50034-5

Hsieh P, Pedersen JZ, Albertano P (2013) Generation of reactive oxygen species upon red light exposure of cyanobacteria from Roman hypogea. Int Biodeterior Biodegradation 84:258–265. https://doi.org/10.1016/j.ibiod.2012.11.007

Hu HJ, Wei YX (2006) The freshwater algae of China--systematics, taxonomy and ecology. Science Press, Beijing in Chinese). doi:http://ir.ihb.ac.cn/handle/342005/10582

Huisman J, Jonker RR, Zonneveld C, Weissing FJ (1999) Competition for light between phytoplankton species: experimental tests of mechanistic theory. Ecology 80:211–222. https://doi.org/10.2307/176991

Huisman J, Sharples J, Stroom JM, Visser PM, Kardinaal WEA, Verspagen JMH, Sommeijer B (2004) Changes in turbulent mixing shift competition for light between phytoplankton species. Ecology 85:2960–2970. https://doi.org/10.1890/03-0763

Humbeck K, Hoffmann B, Senger H (1988) Influence of energy flux and quality of light on the molecular organization of the photosynthetic apparatus in Scenedesmus. Planta 173:205–212. https://doi.org/10.1007/BF00403012

Jin XC, Tu QY (1990) Investigation specification for limnology eutrophication, Second edn. China Environmental Science Press, Beijing (in Chinese)

Kirk JTO (1994) Light and photosynthesis in aquatic ecosystems, 2nd edn. Cambridge University Press, London/New York

Larocca AJ (1977) Marine Optics. Remote Sens Environ 6:151–153. https://doi.org/10.1016/0034-4257(77)90013-x

Liang C, Zhao F, Wei W, Wen Z, Qin S (2006) Carotenoid biosynthesis in cyanobacteria: structural and evolutionary scenarios based on comparative genomics Int. J Biol Sci 2:197–207. https://doi.org/10.7150/ijbs.2.197

Luimstra VM, Schuurmans JM, de Carvalho CFM, Matthijs HCP, Hellingwerf KJ, Huisman J (2019) Exploring the low photosynthetic efficiency of cyanobacteria in blue light using a mutant lacking phycobilisomes. Photosynth Res 141:291–301. https://doi.org/10.1007/s11120-019-00630-z

Luimstra VM, Verspagen JMH, Xu T, Schuurmans JM, Huisman J (2020) Changes in water color shift competition between phytoplankton species with contrasting light-harvesting strategies. Ecology 101:e02951. https://doi.org/10.1002/ecy.2951

Ma J, Qin B, Paerl HW, Brookes JD, Wu P, Zhou J, Deng J, Guo J, Li Z (2015) Green algal over cyanobacterial dominance promoted with nitrogen and phosphorus additions in a mesocosm study at Lake Taihu, China. Environ Sci Pollut Res 22:5041–5049. https://doi.org/10.1007/s11356-014-3930-4

Markou G (2014) Effect of various colors of light-emitting diodes (LEDs) on the biovolume composition of Arthrospira platensis cultivated in semi-continuous mode. Appl Biochem Biotechnol 172:2758–2768. https://doi.org/10.1007/s12010-014-0727-3

Okumura C, Saffreena N, Rahman MA, Hasegawa H, Miki O, Takimoto A (2015) Economic efficiency of different light wavelengths and intensities using LEDs for the cultivation of green microalgaBotryococcus braunii(NIES-836) for biofuel production. Environ Prog Sustain Energy 34:269–275. https://doi.org/10.1002/ep.11951

Paerl HW, Hall NS, Calandrino ES (2011) Controlling harmful cyanobacterial blooms in a world experiencing anthropogenic and climatic-induced change. Sci Total Environ 409:1739–1745. https://doi.org/10.1016/j.scitotenv.2011.02.001

Paerl HW, Xu H, Hall NS, Zhu G, Qin B, Wu Y, Rossignol KL, Dong L, McCarthy MJ, Joyner AR (2014) Controlling cyanobacterial blooms in hypertrophic Lake Taihu, China: will nitrogen reductions cause replacement of non-N2 fixing by N2 fixing taxa? PLoS One 9:e113123. https://doi.org/10.1371/journal.pone.0113123

Pagels F, Bonomi-Barufi J, Vega J, Abdala-Díaz R, Vasconcelos V, Guedes AC, Figueroa FL (2020) Light quality triggers biochemical modulation of Cyanobium sp.—photobiology as tool for biotechnological optimization. J Appl Psychol 32:2851–2861. https://doi.org/10.1007/s10811-020-02179-0

Pannard A, Guislain A, Chorin M, Mahé S, Bouger G, Crave A, le Rouzic B, Bormans M (2018) Phosphorus more than temperature controls the phytoplankton community in a deep quarry lake: a combined field and laboratory approach. Inland Waters 8:22–35. https://doi.org/10.1080/20442041.2018.1424097

Pekcan-Hekim Z, Joensuu L, Horppila J, Grant J (2013) Predation by a visual planktivore perch (Perca fluviatilis) in a turbulent and turbid environment. Can J Fish Aquat Sci 70:854–859. https://doi.org/10.1139/cjfas-2012-0466

Pick FR, Lean DRS (1987) The role of macronutrients (C, N, P) in controlling cyanobacterial dominance in temperate lakes. N Z J Mar Freshwater Res 21:425–434. https://doi.org/10.1080/00288330.1987.9516238

Pulich WM, Van Baalen C (1974) Growth requirements of blue-green algae under blue light conditions. Arch Microbiol 97:303–312. https://doi.org/10.1007/bf00403069

Qin B, Zhu G, Gao G, Zhang Y, Li W, Paerl HW, Carmichael WW (2010) A drinking water crisis in Lake Taihu, China: linkage to climatic variability and lake management. Environ Manag 45:105–112. https://doi.org/10.1007/s00267-009-9393-6

Rao KK, Kirk JTO (1995) Light and photosynthesis in aquatic ecosystems. J Ecol 83:349. https://doi.org/10.2307/2261578

Rocap G, Larimer FW, Lamerdin J, Malfatti S, Chain P, Ahlgren NA, Arellano A, Coleman M, Hauser L, Hess WR, Johnson ZI, Land M, Lindell D, Post AF, Regala W, Shah M, Shaw SL, Steglich C, Sullivan MB, Ting CS, Tolonen A, Webb EA, Zinser ER, Chisholm SW (2003) Genome divergence in two Prochlorococcus ecotypes reflects oceanic niche differentiation. Nature 424:1042–1047. https://doi.org/10.1038/nature01947

Romero-Romero CC, Sánchez-Saavedra MP (2016) Effect of light quality on the growth and proximal composition of Amphora sp. J Appl Phycol 29:1203–1211. https://doi.org/10.1007/s10811-016-1029-7

Satthong S, Saego K, Kitrungloadjanaporn P, Nuttavut N, Amornsamankul S, Triampo W (2019) Modeling the effects of light sources on the growth of algae. Adv Differ Equ 2019:170. https://doi.org/10.1186/s13662-019-2112-6

SEPA (2002) Analytical methods for water and wasterwater monitor, 4th edn. Chinese Environmental Science Press, Beijing in Chinese

Shapiro J (1973) Blue-green algae: why they become dominant. Science 179:382–384

Sheath RG, Burkholder JM (1985) Characteristics of softwater streams in Rhode Island II. Composition and seasonal dynamics of macroalgal communities. Hydrobiologia 128:109–118. https://doi.org/10.1007/bf00008730

Shikata T, Nukata A, Yoshikawa S, Matsubara T, Yamasaki Y, Shimasaki Y, Oshima Y, Honjo T (2009) Effects of light quality on initiation and development of meroplanktonic diatom blooms in a eutrophic shallow sea. Mar Biol 156:875–889

Singh SP, Singh P (2015) Effect of temperature and light on the growth of algae species: a review. Renew Sust Energ Rev 50:431–444. https://doi.org/10.1016/j.rser.2015.05.024

Spence DHN, Kirk JTO (1985) Light and photosynthesis in aquatic ecosystems. J Appl Ecol 22:1010. https://doi.org/10.2307/2403249

Stamatakis K, Tsimilli-Michael M, Papageorgiou GC (2014) On the question of the light-harvesting role of beta-carotene in photosystem II and photosystem I core complexes. Plant Physiol Biochem 81:121–127. https://doi.org/10.1016/j.plaphy.2014.01.014

Stamenković M, Hanelt D (2013) Adaptation of growth and photosynthesis to certain temperature regimes is an indicator for the geographical distribution of Cosmariumstrains (Zygnematophyceae, Streptophyta). Eur J Phycol 48:116–127. https://doi.org/10.1080/09670262.2013.772657

Stomp M, Huisman J, de Jongh F, Veraart AJ, Gerla D, Rijkeboer M, Ibelings BW, Wollenzien UIA, Stal LJ (2004) Adaptive divergence in pigment composition promotes phytoplankton biodiversity. Nature 432:104–107. https://doi.org/10.1038/nature03044

Stomp M, Huisman J, Voros L, Pick FR, Laamanen M, Haverkamp T, Stal LJ (2007) Colourful coexistence of red and green picocyanobacteria in lakes and seas. Ecol Lett 10:290–298. https://doi.org/10.1111/j.1461-0248.2007.01026.x

Tan X, Zhang D, Duan Z, Parajuli K, Hu J (2020) Effects of light color on interspecific competition between Microcystis aeruginosa and Chlorella pyrenoidosa in batch experiment. Environ Sci Pollut Res 27:344–352. https://doi.org/10.1007/s11356-019-06650-5

Thompson PA, Jameson I, Blackburn SI (2009) The influence of light quality on akinete formation and germination in the toxic cyanobacterium Anabaena circinalis. Harmful Algae 8:504–512. https://doi.org/10.1016/j.hal.2008.10.004

Tonetto AF, Branco CCZ, Peres CK (2012) Effects of irradiance and spectral composition on the establishment of macroalgae in streams in southern Brazil. Ann Limnol-Int J Limnol 48:363–370. https://doi.org/10.1051/limn/2012027

Trimbee AM, Prepas EE (1987) Evaluation of total phosphorus as a predictor of the relative biovolume of blue-green algae with emphasis on Alberta Lakes. Can J Fish Aquat Sci 44:1337–1342. https://doi.org/10.1139/f87-158

Van Duin EHS et al (2001) Modeling underwater light climate in relation to sedimentation, resuspension, water quality and autotrophic growth. Hydrobiologia 444:25–42. https://doi.org/10.1023/a:1017512614680

Vesk M, Jeffrey SW (1977) Effect of blue-green light on photosynthetic pigments and chloroplast structure in unicellular marine algae from six classes1. J Phycol 13:280–288. https://doi.org/10.1111/j.1529-8817.1977.tb02928.x

Wang W, Yu LJ, Xu C, Tomizaki T, Zhao S, Umena Y, Chen X, Qin X, Xin Y, Suga M, Han G, Kuang T, Shen JR (2019) Structural basis for blue-green light harvesting and energy dissipation in diatoms. Science 363(6427):eaav0365. https://doi.org/10.1126/science.aav0365

Wei L, You W, Gong Y, El Hajjami M, Liang W, Xu J, Poetsch A (2020) Transcriptomic and proteomic choreography in response to light quality variation reveals key adaption mechanisms in marine Nannochloropsis oceanica. Sci Total Environ 720:137667. https://doi.org/10.1016/j.scitotenv.2020.137667

Wellnitz TA, Ward JV (2002) Does light intensity modify the effect mayfly grazers have on periphyton? Freshw Biol 39:135–149. https://doi.org/10.1046/j.1365-2427.1998.00270.x

Wenderoth K, Rhiel E (2004) Influence of light quality and gassing on the vertical migration of diatoms inhabiting the Wadden Sea. Helgol Mar Res 58:211–215. https://doi.org/10.1007/s10152-004-0187-1

Wood AM (1985) Adaptation of photosynthetic apparatus of marine ultraphytoplankton to natural light fields. Nature 316:253–255. https://doi.org/10.1038/316253a0

Xu H, Paerl HW, Qin B, Zhu G, Gao G (2010) Nitrogen and phosphorus inputs control phytoplankton growth in eutrophic Lake Taihu, China. Limnol Oceanogr 55(1):420–432. https://doi.org/10.4319/lo.2010.55.1.0420

Yang Y, Weathers P (2015) Red light and carbon dioxide differentially affect growth, lipid production, and quality in the microalga, Ettlia oleoabundans. Appl Microbiol Biotechnol 99:489–499. https://doi.org/10.1007/s00253-014-6137-1

Yang G, Zhong C, Qin B, Wang Y, Wang X (2017) Effects of in-situ simulative mixing on colony size of Micrcocystis in Lake Taihu. J Lake Sci 29:363–368. https://doi.org/10.18307/2017.0212

Yang G, Tang X, Wilhelm SW, Pan W, Rui Z, Xu L, Zhong C, Hu X (2020) Intermittent disturbance benefits colony size, biovolume and dominance of Microcystis in Lake Taihu under field simulation condition. Harmful Algae 99:101909. https://doi.org/10.1016/j.hal.2020.101909

Yu Q, Liu Z, Chen Y, Zhu D, Li N (2018) Modelling the impact of hydrodynamic turbulence on the competition between Microcystis and Chlorella for light. Ecol Model 370:50–58. https://doi.org/10.1016/j.ecolmodel.2018.01.004

Zhang Y, Qin B, Chen W, Yang D, Ji J (2003) Analysis on distribution and variation of beam attenuation coefficient of Taihu Lake's water. Adv Water Sci 14:447–453. https://doi.org/10.3321/j.issn:1001-6791.2003.04.011

Zhang Y, Qin B, Chen W, Chen Y, Wu S (2005) Biological and optical properties of Meiliang Bay in Lake Taihu. Acta Ecol Sin 25:454–460 doi:CNKI:SUN:STXB.0.2005-03-010

Zhang Y, Zhang B, Wang X, Li J, Feng S, Zhao Q, Liu M, Qin B (2007) A study of absorption characteristics of chromophoric dissolved organic matter and particles in Lake Taihu, China. Hydrobiologia 592:105–120. https://doi.org/10.1007/s10750-007-0724-4

Zhang N, van Westreenen A, Anten NPR, Evers JB, LFM M (2020) Disentangling the effects of photosynthetically active radiation and red to far-red ratio on plant photosynthesis under canopy shading: a simulation study using a functional-structural plant model. Ann Bot 126:635–646. https://doi.org/10.1093/aob/mcz197

Zhao P, Gu W, Wu S, Huang A, He L, Xie X, Gao S, Zhang B, Niu J, Peng Lin A, Wang G (2014) Silicon enhances the growth of Phaeodactylum tricornutum Bohlin under green light and low temperature. Sci Rep 4:3958. https://doi.org/10.1038/srep03958

Zheng J, Hu M, Guo Y (2008) Regulation of photosynthesis by light quality and its mechanism in plants. J Appl Ecol 19:1619–1624

Zhou J (2016) Effects of wind wave turbulence on plankton and its eco-environmental research in Lake Taihu. Dissertation, University of Chinese Academy of Sciences (in Chinese)

Zhou J, Qin B, Casenave C, Han X, Yang G, Wu T, Wu P, Ma J (2015) Effects of wind wave turbulence on the phytoplankton community composition in large, shallow Lake Taihu. Environ Sci Pollut Res 22:12737–12746. https://doi.org/10.1007/s11356-015-4535-2

Zhu XG, Long SP, Ort DR (2008) What is the maximum efficiency with which photosynthesis can convert solar energy into biovolume? Curr Opin Biotechnol 19:153–159. https://doi.org/10.1016/j.copbio.2008.02.004
Funding
This study was funded by the Central Public-interest Scientific Institution Basal Research Fund, CAFS (NO.2018HY-ZD04), Natural Scientific Foundation of China (Grant No. 41971062), and a National Science Foundation (USA) grant (DEB-1240870).
Ethics declarations
Ethics approval and consent to participate
Not applicable
Consent for publication
Not applicable
Conflict of interest
The authors declare no competing interests.
Additional information
Responsible Editor: Vitor Vasconcelos
Publisher's note
Springer Nature remains neutral with regard to jurisdictional claims in published maps and institutional affiliations.
About this article
Cite this article
Xu, L., Pan, W., Yang, G. et al. Impact of light quality on freshwater phytoplankton community in outdoor mesocosms. Environ Sci Pollut Res 28, 58536–58548 (2021). https://doi.org/10.1007/s11356-021-14812-7
Received:

Accepted:

Published:

Issue Date:

DOI: https://doi.org/10.1007/s11356-021-14812-7
Keywords