Abstract
Colored dissolved organic matter (DOM) is a significant indicator of refractory DOM in wastewaters, and fluorescent DOM is an essential part indicating colorants. However, little is known about the composition and contribution of colored DOM to wastewater. This study provided some insights on the persistent yellowish color in biological effluent through use of a multi-characterization approach, and evaluated the effect of two advanced treatments (O3 and granular active carbon (GAC)) in a full-scale wastewater treatment plant. The multi-characterization technique incorporated resin fractionation, excitation-emission matrix spectroscopy (EEM) combined with fluorescence regional integration (FRI), size-exclusion chromatography (SEC), and X-ray photoelectron spectroscopy (XPS) analysis. The fractionation results showed that hydrophobic acid (HPOA) and hydrophilic (HPI) substances are abundant in colorants, and HPI-type colorants are comparatively resistant or unable to be removed through GAC and O3 individually. FRI-based EEMs showed that F3 (fulvic acid–like organics) and F5 (humic acid–like organics) mainly account for the yellowish color, and their combined fractions of total colorants are 50%, 31%, and 48% in biological, biological + O3, and biological + GAC effluents, respectively. SEC for measurement of the apparent molecular weight revealed that these colorants may have molecular weights in the range 2–5 kDa. The XPS analysis indicated that these colorants possess ether or hydroxyl and nitro (C-O/C-N) chromophoric groups with conjugated aromatic structures. For C-O/C-N, O3 showed good removal efficiency overall. GAC showed exceptionally high efficiency for HPOA but very low efficacy toward HPI-type colorants in terms of C-O/C-N chromophoric functional group removal.
Access options
Buy single article
Instant access to the full article PDF.
US$ 39.95
Tax calculation will be finalised during checkout.
Subscribe to journal
Immediate online access to all issues from 2019. Subscription will auto renew annually.
US$ 79
Tax calculation will be finalised during checkout.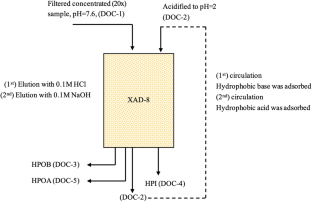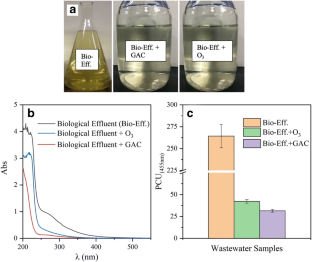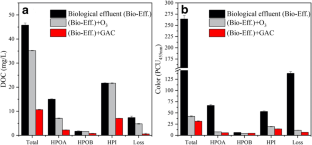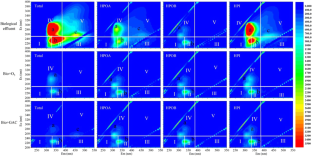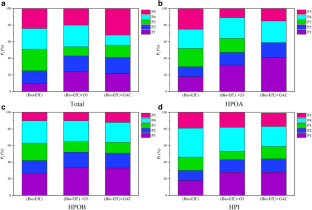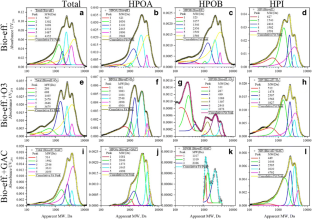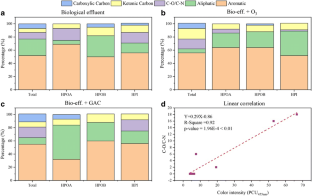 References
Aiken GR, McKnight DM, Thorn KA, Thurman EM (1992) Isolation of hydrophilic organic acids from water using nonionic macroporous resins. Org Geochem 18:567–573. https://doi.org/10.1016/0146-6380(92)90119-I

Amy GL, Sierka RA, Bedessem J, Price D, Tan L (1992) Molecular size distributions of dissolved organic matter. J Am Water Works Assoc 84:67–75. https://doi.org/10.1002/j.1551-8833.1992.tb07377.x

Bennett LE, Drikas M (1993) The evaluation of colour in natural waters. Water Res 27:1209–1218. https://doi.org/10.1016/0043-1354(93)90013-8

Bodhipaksha LC, Sharpless CM, Chin Y-P, Sander M, Langston WK, MacKay AA (2015) Triplet photochemistry of effluent and natural organic matter in whole water and isolates from effluent-receiving rivers. Environ Sci Technol 49:3453–3463. https://doi.org/10.1021/es505081w

Carstea EM, Popa CL, Baker A, Bridgeman J (2020) In situ fluorescence measurements of dissolved organic matter: a review. Sci Total Environ 699:134361. https://doi.org/10.1016/j.scitotenv.2019.134361

Chai X, Liu G, Zhao X, Zhao Y (2011) Composition and spectroscopic characteristics of humic substances in a landfill. J Tongji Univ Natural Sci 3

Chen W, Westerhoff P, Leenheer JA, Booksh K (2003) Fluorescence excitation−emission matrix regional integration to quantify spectra for dissolved organic matter. Environ Sci Technol 37:5701–5710. https://doi.org/10.1021/es034354c

Chiang P-C, Chang E-E, Chang P-C, Huang C-P (2009) Effects of pre-ozonation on the removal of THM precursors by coagulation. Sci Total Environ 407:5735–5742. https://doi.org/10.1016/j.scitotenv.2009.07.024

Christensen JB, Botma JJ, Christensen TH (1999) Complexation of Cu and Pb by DOC in polluted groundwater: a comparison of experimental data and predictions by computer speciation models (WHAM and MINTEQA2). Water Res 33:3231–3238. https://doi.org/10.1016/S0043-1354(99)00020-2

Coble PG (2007) Marine optical biogeochemistry: the chemistry of ocean color. Chem Rev 107:402–418. https://doi.org/10.1021/cr050350+

Coble PG (1996) Characterization of marine and terrestrial DOM in seawater using excitation-emission matrix spectroscopy. Mar Chem 51:325–346

Cohen E, Levy GJ, Borisover M (2014) Fluorescent components of organic matter in wastewater: efficacy and selectivity of the water treatment. Water Res 55:323–334. https://doi.org/10.1016/j.watres.2014.02.040

Dey S, Islam A (2015) A review on textile wastewater characterization in Bangladesh. Resour Environ 5:15–44

EPA USEPA (1974) EPA method 110.3. 1975

Fan CC, Scott AJ (2009) Industrial agglomeration and development: a survey of spatial economic issues in East Asia and a statistical analysis of Chinese regions. Econ Geogr 79:295–319. https://doi.org/10.1111/j.1944-8287.2003.tb00213.x

Fujita M, Thisse J-F (1996) Economics of agglomeration. J Jpn Int Econ 10:339–378. https://doi.org/10.1006/jjie.1996.0021

Fukushima M, Kikuchi A, Tatsumi K, Tanaka F (2006) Separation of fulvic acid from soil extracts based on ion-pair formation with a cationic surfactant. Anal Sci 22:229–233. https://doi.org/10.2116/analsci.22.229

Ghasemian M, Poursafa P, Amin MM, Ziarati M, Ghoddousi H, Momeni SA, Rezaei AH (2012) Environmental impact assessment of the industrial estate development plan with the geographical information system and matrix methods. J Environ Public Health 2012:1–8. https://doi.org/10.1155/2012/407162

Ghigo G, Vione D, Berto S (2020) Experimental and theoretical study of the fluorescence emission of ferulic acid: possible insights into the fluorescence properties of humic substances. Spectrochim Acta Part A Mol Biomol Spectrosc 228:117587. https://doi.org/10.1016/j.saa.2019.117587

Gonçalves-Araujo R, Granskog MA, Bracher A, Azetsu-Scott K, Dodd PA, Stedmon CA (2016) Using fluorescent dissolved organic matter to trace and distinguish the origin of Arctic surface waters. Sci Rep 6:33978. https://doi.org/10.1038/srep33978

Gong J, Liu Y, Sun X (2008) O3 and UV/O3 oxidation of organic constituents of biotreated municipal wastewater. Water Res 42:1238–1244. https://doi.org/10.1016/j.watres.2007.09.020

Griffin CG, Finlay JC, Brezonik PL, Olmanson L, Hozalski RM (2018) Limitations on using CDOM as a proxy for DOC in temperate lakes. Water Res 144:719–727. https://doi.org/10.1016/j.watres.2018.08.007

Hoge FE, Vodacek A, Swift RN, Yungel JK, Blough NV (1995) Inherent optical properties of the ocean: retrieval of the absorption coefficient of chromophoric dissolved organic matter from airborne laser spectral fluorescence measurements. Appl Opt 34:7032–7038. https://doi.org/10.1364/AO.34.007032

Ibn Abdul Hamid K, Sanciolo P, Gray S et al (2019) Comparison of the effects of ozone, biological activated carbon (BAC) filtration and combined ozone-BAC pre-treatments on the microfiltration of secondary effluent. Sep Purif Technol 215:308–316. https://doi.org/10.1016/j.seppur.2019.01.005

Islam A, Guha AK (2013) Removal of pH, TDS and color from textile effluent by using coagulants and aquatic/non aquatic plants as adsorbents. Resour Environ 3:101–114

Jamil S, Loganathan P, Kandasamy J, Listowski A, Khourshed C, Naidu R, Vigneswaran S (2019) Removal of dissolved organic matter fractions from reverse osmosis concentrate: comparing granular activated carbon and ion exchange resin adsorbents. J Environ Chem Eng 7:103126. https://doi.org/10.1016/j.jece.2019.103126

Ji M, Zhang J, Li S, et al (2019) Evaluating CDOM sources using excitation-emission matrix fluorescence and parallel factor analysis, and their links to water quality in highly polluted rivers in China. Polish J Environ Stud 28:1203–1214. 10.15244/pjoes/85951

Jin P, Jin X, Bjerkelund VA, Østerhus SW, Wang XC, Yang L (2016) A study on the reactivity characteristics of dissolved effluent organic matter (EfOM) from municipal wastewater treatment plant during ozonation. Water Res 88:643–652. https://doi.org/10.1016/j.watres.2015.10.060

Jin P, Jin X, Wang XC, Shi X (2013) An analysis of the chemical safety of secondary effluent for reuse purposes and the requirement for advanced treatment. Chemosphere 91:558–562. https://doi.org/10.1016/j.chemosphere.2013.01.004

Komatsu K, Onodera T, Kohzu A, Syutsubo K, Imai A (2020) Characterization of dissolved organic matter in wastewater during aerobic, anaerobic, and anoxic treatment processes by molecular size and fluorescence analyses. Water Res 171:115459. https://doi.org/10.1016/j.watres.2019.115459

Larsen T, Christensen TH, Pfeffer FM, Enfield CG (1992) Landfill leachate effects on sorption of organic micropollutants onto aquifer materials. J Contam Hydrol 9:307–324. https://doi.org/10.1016/0169-7722(92)90001-U

Leenheer JA (1981) Comprehensive approach to preparative isolation and fractionation of dissolved organic carbon from natural waters and wastewaters. Environ Sci Technol 15:578–587. https://doi.org/10.1021/es00087a010

Lin J-L, Huang C, Dempsey B, Hu J-Y (2014) Fate of hydrolyzed Al species in humic acid coagulation. Water Res 56:314–324. https://doi.org/10.1016/j.watres.2014.03.004

Liu B, Wu J, Cheng C, Tang J, Khan MFS, Shen J (2019) Identification of textile wastewater in water bodies by fluorescence excitation emission matrix-parallel factor analysis and high-performance size exclusion chromatography. Chemosphere 216:617–623. https://doi.org/10.1016/j.chemosphere.2018.10.154

Liu R, Lead JR, Baker A (2007) Fluorescence characterization of cross flow ultrafiltration derived freshwater colloidal and dissolved organic matter. Chemosphere 68:1304–1311. https://doi.org/10.1016/j.chemosphere.2007.01.048

Lyu Y, Ye H, Zhao Z, Tian J, Chen L (2020) Exploring the cost of wastewater treatment in a chemical industrial park: model development and application. Resour Conserv Recycl 155:104663. https://doi.org/10.1016/j.resconrec.2019.104663

Makehelwala M, Wei Y, Weragoda SK, Weerasooriya R, Zheng L (2019) Characterization of dissolved organic carbon in shallow groundwater of chronic kidney disease affected regions in Sri Lanka. Sci Total Environ 660:865–875. https://doi.org/10.1016/j.scitotenv.2018.12.435

Marhaba TF, Pu Y, Bengraine K (2003) Modified dissolved organic matter fractionation technique for natural water. J Hazard Mater 101:43–53. https://doi.org/10.1016/S0304-3894(03)00133-X

Marshall J, Johnsen S (2017) Fluorescence as a means of colour signal enhancement. Philos Trans R Soc B Biol Sci 372:20160335. https://doi.org/10.1098/rstb.2016.0335

Method PS (1996) Method 8025 COLOR. True Apparent:1–6

Molnar J, Agbaba J, Dalmacija B, Tubić A, Krčmar D, Maletić S, Tomašević D (2013) The effects of matrices and ozone dose on changes in the characteristics of natural organic matter. Chem Eng J 222:435–443. https://doi.org/10.1016/j.cej.2013.02.087

Monteil-Rivera F, Brouwer EB, Masset S, Deslandes Y, Dumonceau J (2000) Combination of X-ray photoelectron and solid-state 13C nuclear magnetic resonance spectroscopy in the structural characterisation of humic acids. Anal Chim Acta 424:243–255. https://doi.org/10.1016/S0003-2670(00)01139-9

Murphy KR, Hambly A, Singh S, Henderson RK, Baker A, Stuetz R, Khan SJ (2011) Organic matter fluorescence in municipal water recycling schemes: toward a unified PARAFAC model. Environ Sci Technol 45:2909–2916. https://doi.org/10.1021/es103015e

NCASI West Coast Regional Center Organic Analytical Program (1999) Color measurement in pulp mill wastewaters by spectrophotometry

Pant D, Adholeya A (2007) Biological approaches for treatment of distillery wastewater: a review. Bioresour Technol 98:2321–2334. https://doi.org/10.1016/j.biortech.2006.09.027

Peddle MT (1993) Planned industrial and commercial developments in the United States: a review of the history, literature, and empirical evidence regarding industrial parks and research parks. Econ Dev Q 7:107–124. https://doi.org/10.1177/089124249300700110

Senesi N, Miano TM, Provenzano MR, Brunetti G (1991) Characterization, differentiation, and classification of humic substances by fluorescence spectroscopy. Soil Sci 152:259–271

Shan L, Liu J, Yu Y, Ambuchi JJ, Feng Y (2016) Characterization of persistent colors and decolorization of effluent from biologically treated cellulosic ethanol production wastewater. Environ Sci Pollut Res 23:10215–10222. https://doi.org/10.1007/s11356-016-6220-5

Shi H, Chertow M, Song Y (2010) Developing country experience with eco-industrial parks: a case study of the Tianjin Economic-Technological Development Area in China. J Clean Prod 18:191–199. https://doi.org/10.1016/j.jclepro.2009.10.002

Silva MR da (1996) Estudos potenciometricos e fluorimetricos dos equilibrios acido-basicos e da complexação de metais com o obisdien e substancias humicas. Contaminação pelos metais em sedimentos da Ilha de Santa Catarina (Brasil). PhD Thesis, Universidade Federal de Santa Catarina

Singh S, Nigam P, Pednekar A, Mukherjee S, Mishra A (2020) Carbon quantum dots functionalized agarose gel matrix for in solution detection of nonylphenol. Environ Technol 41:322–328. https://doi.org/10.1080/09593330.2018.1498133

Song K, Shang Y, Wen Z, Jacinthe PA, Liu G, Lyu L, Fang C (2019) Characterization of CDOM in saline and freshwater lakes across China using spectroscopic analysis. Water Res 150:403–417. https://doi.org/10.1016/j.watres.2018.12.004

Świetlik J, Dąbrowska A, Raczyk-Stanisławiak U, Nawrocki J (2004) Reactivity of natural organic matter fractions with chlorine dioxide and ozone. Water Res 38:547–558. https://doi.org/10.1016/j.watres.2003.10.034

Świetlik J, Sikorska E (2004) Application of fluorescence spectroscopy in the studies of natural organic matter fractions reactivity with chlorine dioxide and ozone. Water Res 38:3791–3799. https://doi.org/10.1016/j.watres.2004.06.010

Uyguner CS, Bekbolet M (2005) Evaluation of humic acid photocatalytic degradation by UV–vis and fluorescence spectroscopy. Catal Today 101:267–274. https://doi.org/10.1016/j.cattod.2005.03.011

Wang D, Xing L, Xie J, Chow CWK, Xu Z, Zhao Y, Drikas M (2010) Application of advanced characterization techniques to assess DOM treatability of micro-polluted and un-polluted drinking source waters in China. Chemosphere 81:39–45. https://doi.org/10.1016/j.chemosphere.2010.07.013

Wang L, Li Y-J, Xiong Y, Tan WB, Zhang LY, Li X, Wang XS, Xu JF, Li TT, Wang JS, Cai MX, Xi BD, Wang DH (2017) Spectroscopic characterization of DOM and the nitrogen removal mechanism during wastewater reclamation plant. PLoS One 12:e0187355. https://doi.org/10.1371/journal.pone.0187355

Wen Z, Song K, Shang Y, Zhao Y, Fang C, Lyu L (2018) Differences in the distribution and optical properties of DOM between fresh and saline lakes in a semi-arid area of Northern China. Aquat Sci 80:22. https://doi.org/10.1007/s00027-018-0572-5

Westerhoff P, Aiken G, Amy G, Debroux J (1999) Relationships between the structure of natural organic matter and its reactivity towards molecular ozone and hydroxyl radicals. Water Res 33:2265–2276. https://doi.org/10.1016/S0043-1354(98)00447-3

Wilkie AC, Riedesel KJ, Owens JM (2000) Stillage characterization and anaerobic treatment of ethanol stillage from conventional and cellulosic feedstocks. Biomass Bioenergy 19:63–102. https://doi.org/10.1016/S0961-9534(00)00017-9

Xiaoli C, Guixiang L, Xin Z, Yongxia H, Youcai Z (2012) Fluorescence excitation–emission matrix combined with regional integration analysis to characterize the composition and transformation of humic and fulvic acids from landfill at different stabilization stages. Waste Manag 32:438–447. https://doi.org/10.1016/j.wasman.2011.10.011

Yang W, Li X, Pan B, Lv L, Zhang W (2013) Effective removal of effluent organic matter (EfOM) from bio-treated coking wastewater by a recyclable aminated hyper-cross-linked polymer. Water Res 47:4730–4738. https://doi.org/10.1016/j.watres.2013.05.032

Yang X, Zhou Z, Raju MN, Cai X, Meng F (2017) Selective elimination of chromophoric and fluorescent dissolved organic matter in a full-scale municipal wastewater treatment plant. J Environ Sci 57:150–161. https://doi.org/10.1016/j.jes.2016.11.003

Zhang H, Qu J, Liu H, Zhao X (2009) Characterization of isolated fractions of dissolved organic matter from sewage treatment plant and the related disinfection by-products formation potential. J Hazard Mater 164:1433–1438. https://doi.org/10.1016/j.jhazmat.2008.09.057

Zhang Y, Zhang E, Yin Y, van Dijk MA, Feng L, Shi Z, Liu M, Qina B (2010) Characteristics and sources of chromophoric dissolved organic matter in lakes of the Yungui Plateau, China, differing in trophic state and altitude. Limnol Oceanogr 55:2645–2659. https://doi.org/10.4319/lo.2010.55.6.2645
Availability of data and materials
All data generated or analyzed during this study are included in this published article (and its supplementary information files).
Funding
The first author (A. Islam) is financially supported by the CAS-TWAS president's Fellowship for International Ph.D. Students (CAS-TWAS Fellowship No. 2017A8004208001). Financial support for this study was obtained from the Major Science and Technology Program for Water Pollution Control and Treatment (2017ZX07106005).
Ethics declarations
Ethics approval
All authors declare that the work described has not been published previously in the form of an abstract or as part of a published lecture or academic thesis or as an electronic preprint; that it is not under consideration for publication elsewhere; that its publication is approved by all authors and tacitly or explicitly by the responsible authorities where the work was carried out; and that, if accepted, it will not be published elsewhere in the same form, in English or in any other language, including electronically without the written consent of the copyright-holder.
Consent to participate
Not applicable
Consent for publication
The authors confirm that the final version of the manuscript has been reviewed, approved, and consented for publication by all authors.
Competing interests
The authors declare no competing interests.
Additional information
Publisher's note
Springer Nature remains neutral with regard to jurisdictional claims in published maps and institutional affiliations.
Highlights
•A multiple characterization approach to get insights on colored DOM/fluorescence DOM (yellowish color).
•HPOA and HPI contain the major part of colorants, and HPI-type colorants are more persistent in removing.
•C-N/C-O (ether/phenol/nitro group) are the chromophores attached to a long aliphatic-aromatic conjugated system with possible MW 2–5 kDa.
•GAC showed selective removal of C-N/C-O (ether/phenol/nitro group) chromophores from HPOA but poor efficiency in HPI type.
Ashraful Islam and Guangxi Sun are considered co-first authors
Responsible Editor: Ricardo Torres-Palma
Supplementary information
About this article
Cite this article
Islam, A., Sun, G., Shang, W. et al. Separation and characterization of refractory colored dissolved effluent organic matter in a full-scale industrial park wastewater treatment plant. Environ Sci Pollut Res (2021). https://doi.org/10.1007/s11356-021-13732-w
Received:

Accepted:

Published:
Keywords
Wastewater treatment plant

Dissolved organic matter

Yellowish color

Ozonation

Granular activated carbon

Resin fractionation