Abstract
In industrial areas, increased human activities generate high emissions of metals that contaminate the environment, and eventually affect human health. Therefore, this study aims to investigate the sources of toxic elements in indoor dust samples, and to evaluate possible health risks due to expose of human body through dermal contact, inhalation, and ingestion. A total 36 indoor dust samples were collected from the windows of twelve (12) industrial buildings, which are facing the main roads in the biggest export process zone (DEPZ) in Dhaka City, Bangladesh. The indoor dust samples were analyzed using X-ray fluorescence (XRF) technique for the determination of Cu, Zn, As, Pb, Fe, Cr, Co, Ni, K, Ca, Ti, Rb, and Sr. This investigation revealed that Cu, Zn, Pb, Fe, and Sr concentrations were slightly higher in various degree than that of the background value in soil recommended by the Chinese Environmental Protection Administration (CEPA). Subsequently, ANOVA (α = 0.05, p < 0.001) test and %RSD values (33% to 168%) showed that the concentrations of these metals were present non-homogeneously in different sampling points. However, statistical analysis and several geochemical indices have been proposed that these heavy metals might be come in indoor dust samples because of anthropogenic events. This investigation also showed that the most-extreme permissible hazard index (HIs) levels known as non-cancer risk for As, Mn, and Zn because of dust exposure in the study area were below than that of the safe limit (HI = 1) but with an exception of Pb (HI = 1.9E+00) for children. On the other hand, the degree of cancer-causing risk linked with exposure to arsenic in indoor dust (i.e., 0.502E-06 to 0.121E-05) falls within the range of threshold values (10−6 to 10−4). Therefore, following USEPA health risk models, it has been suggested that these metals present in indoor dust samples might not have significant impact on causing non-cancer and cancer risk to children and to adult at this moment in the DEPZ area, Bangladesh. However, a continuous monitoring should be needed to assess more accurately the non-cancer and cancer risk to children and adult.
Access options
Buy single article
Instant access to the full article PDF.
USD 39.95
Price excludes VAT (USA)
Tax calculation will be finalised during checkout.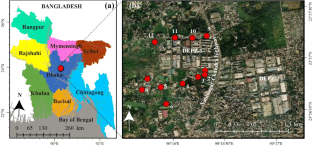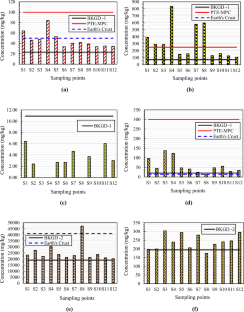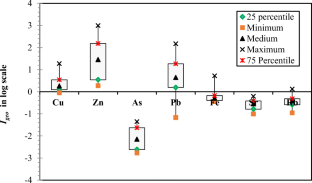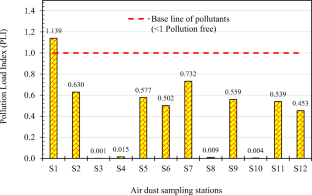 References
Abrahim GMS, Parker RJ (2008) Assessment of heavy metal enrichment factors and the degree of contamination in marine sediments from Tamaki Estuary, Auckland New Zealand. Environ Monit Assess 136(1–3):227–238

Ahmed F, Ishiga H (2006) Trace metal concentration in street dusts of Dhaka City, Bangladesh. Atmos Environ 40:3835–3844

Aksu AE, Yasar D, Uslu O (1998a) Assessment of marinepollution in Izmir Bay: heavy metal and organic compoundconcentrations in surficial sediments. Turkish J Eng Environ Sci 387–415

Aksu Z, Eǧretli G, Kutsal T (1998b) A comparative study of copper(II) biosorption on Ca-alginate, agarose and immobilized C. vulgaris in a packed-bed column. Process Biochem 33(4):393–400

Albar HMSA, Ali N, Eqani SAMAS, Alhakamy NA, Nazar E, Rashid MI, Shahzad K, Ismail IMI (2020) Trace metals in different socioeconomic indoor residential settings, implications for human health via dust exposure. Ecotoxicol Environ Saf 189:109927

Al-Khashman OA, Shawabkeh RA (2006) Metals distribution in soils around the cement factory in southern Jordan. Environ Pollut 140(3):387–394

Alloway B (2010) Heavy Metals in Soils: Trace metals and metalloids in soils and their bioavailability, third ed. Springer publications, pp. 614

Ambade B, Litrupa (2012) Evaluation of heavy metal contamination in road dust fallout of Bhilai City. International Journal of Advanced Engineering Research and Studies 1(IV): 81-83

ATSDR (2004) Agency for Toxic Substances and Disease Registry, Department of Health and Human Services, Public Health Service, Public Health Statement, Strontium, CAS#: 7440-24-6

Aucott M, Caldarelli A (2012) Quantity of lead released to the environment in New Jersey in the form of motor vehicle wheel weights. Water Air Soil Pollut 223(4):1743–1752

Banerjee ADK (2003) Heavy metal levels and solid phase speciation in street dusts of Delhi, India. Environmental Pollution 123:95–105

Bellinger DC (2005) Teratogen update: lead and pregnancy. Birth Defects Res A Clin Mol Teratol 73(6):409–420

Biswas SK, Tarafdar SA, Islam A, Khaliquzzaman M (2003) Impact of unleaded gasoline introduction on the concentration of lead in the air of Dhaka, Bangladesh. J Air Waste Manage Assoc 53:1355–1362

Bodrud-Dozaa M, Bhuiyan MAH, Islam SMD, Rahman MS, Haque MM, Fatema KJ, Ahmed N, Rakib MA, Rahman MA (2019) Hydrogeochemical investigation of groundwater in Dhaka City of Bangladesh using GIS and multivariate statistical techniques. Groundw Sustain Dev 8:226–244

Caravanos J, Weiss LA, Blaise MJ, Jaeger RJ (2006) A survey of spatially distributed exterior dust lead loadings in New York City. Environ Res 100:165–172

CEPA (1990) Chinese Environmental Protection Administration, Elemental background values of soils in China. Environmental Science Press of China, Beijing, p 1990

CEPA (1995) Chinese Environmental Protection Administration, Environmental Quality Standard for Soils (GB15618-1995), Beijing, 1995

CNEMC (1990) China National Environmental Monitoring Centre. The Background Values of Elements in Chinese Soils, China Environmental Science Press, Beijing (In Chinese)

Dara SS, Mishra DD (2004) A text book of environmental chemistry & pollution control. 7th Revised edition. S. Chand & Co, India 416 pages

DEPZ (2000) Dhaka Export Processing Zone. Brochure Published by Bangladesh Export Processing Zone Authority, Dhaka, Bangladesh

Faiz Y, Siddique N, Tufail M (2012) Pollution level and health risk assessment of road dust from an expressway Journal of Environmental Science and Health 47(6):818–829

Fergusson JE (1984) The elemental composition of street dust from large and small urban areas related to city type, source and particle size. Sci. Total Environ 34:101–116

Ferreira-Baptista L, De Miguel E (2005) Geochemistry and risk assessment of street dust in Luanda, Angola: a tropical urban environment. Atmos Environ 39:4501–4512

Gilbert RO (1987) Statistical methods for environmental pollution monitoring. Van Nostrand Reinhold, New York, pp 177–185

Granero S, Domingo J (2002) Levels of metals in soils of Alcalá de Henares, Spain: human health risks. Environ Int 28:159–164

Hakanson L (1980) Ecological risk index for aquatic pollution control. A sedimentological approach. Water Res 14(5):975–1001

Hjortenkrans DST, Bergback BG, Haggerud AV (2007) Metal emissions from brake linings and tires: case studies of Stockholm, Sweden 1995/1998 and 2005. Environ Sci Technol 41:5224–5230

Hochstetler HA, Yermakov M, Reponen T, Ryan PH, Grinshpun SA (2011) Aerosol particles generated by diesel-powered school buses at urban schools as a source of children's exposure. Atmos Environ 45(7):1444–1453

Hughes MF (2002) Arsenic toxicity and potential mechanisms of action. Toxicology Letters 133(1):1–16

IARC (2011). International Agency for Research on Cancer. Agents classified by the IARC monographs; 20111–102.

IARC (2019). Agents Classified by the IARC Monographs, vols. 1–117 Available on line: http://monographs.iarc.fr/ENG/Classification/ClassificationsAlphaOrder.pdf, Accessed date: 25 March 2019 Last update.

Islam GMR, Habib MR, Waid JL, Rahman MS, Kabir J, Akter S, Jolly YN (2017) Heavy metal contamination of freshwater prawn (Macrobrachium rosenbergii) and prawn feed in Bangladesh: a market-based study to highlight probable health risks. Chemosphere 170:282–289

Jabeen N, Ahmed S, Hassan ST, Alam NM (2001) Levels and sources of heavy metals in house dust. J Radioanal Nucl Chem 247(1):145–149

Karbassi AR, Nabi-Bidhendi GR, Bayati I (2005) Environmental geochemistry of heavy metals in a sediment core off Bushehr, Persian Gulf, Iran. J Environ Health Sci Eng 2:225–260

Khan MDH, Talukder A, Rahman MS (2018) Spatial distribution and contamination assessment of heavy metals in urban road dusts from Dhaka city, Bangladesh. IOSR J Appl Chem 11(1):90–99

Knappett PSK, Mailloux BJ, Choudhury I, Khan MR, Michael HA, Barua S, Mondal DR, Steckler MS, Akhter SH, Ahmed KM, Harvey CF, Shamsudduha M, Shuai P, Mihajlov I, Mozumder R, van Geen A (2016) Vulnerability of low-arsenic aquifers to municipal pumping in Bangladesh. J Hydrol 539:674–686

Leung AOW, Duzgoren Aydin NS, Cheung KC, Wong MH (2008) Heavy metals concentrations of surface dust from e-waste recycling and its human health implications in southeast China. Environ Sci Technol 42(7):2674–2680

Li XD, Poon C, Liu PS (2001) Heavy metal contamination of urban soils and street dusts in Hong Kong. Appl Geochem 16(11-12):1361–1368

Liu K, Ren J (2019) Characteristics, sources and health risks of PM2.5-bound potentially toxic elements in the northern rural China. Atmos Pollut Res 10(5):1621–1626

Lu X, Wang L, Lei K, Huang J, Zhai Y (2009) Contamination assessment of copper, lead, zinc, manganese and nickel in street dust of Baoji, NW China. J Hazard Mater 161:1058–1062

Lu X, Zhang X, Li LY, Chen H (2014) Assessment of metals pollution and health risk in dust from nursery schools in Xi'an, China. Environ Res 128:27–34

Ma J, Singhirunnusorn W (2012) Distribution and health risk assessment of heavy metals in surface dusts of Maha Sarakham Municipality. Procedia Soc Behav Sci 50:280–293

Mmolawa KB, Likuku AS, Gaboutloeloe GK (2011) Assessment of heavy metal pollution in soils along major roadside areas in Botswana. Afr J Environ Sci Technol 5(3):186–196

Muller G (1969) Index of geoaccumulation in sediments of the Rhine River. Geojournal. 2:108–118

Mustapha A, Aris AZ, Juahir H, Ramli MF, Kura NU (2013) River water quality assessment using environmentric techniques: case study of Jakara River Basin. Environ Sci Pollut Res 20(8):5630–5644

Nriagu JO, Pacyna JM (1988) Quantitative assessment of worldwide contamination of air, water and soils by trace metals. Nature. 333(6169):134–139

Peng X, Shi G, Liu G, Xu J, Tian Y, Zhang Y, Feng Y, Russell A (2017) Source apportionment and heavy metal health risk (HMHR) quantification from sources in a southern city in China, using an ME2-HMHR model. Environ Pollut 221:335–342

Petros K, Briggs SLK, Leaderer BP (1992) Source apportionment of indoor aerosols in Suffolk and Onondaga counties, New York. Environ Sci Technol 26(3):521–527

Rahman MS, Saha N, Molla AH (2014a) Potential ecological risk assessment of heavy metal contamination in sediment and water body around Dhaka export processing zone, Bangladesh. Environ Earth Sci 71(5):2293–2308

Rahman MS, Molla AH, Saha N, Al-Reza SM (2014b) Assessment of anthropogenic influence on heavy metals contamination in the aquatic ecosystem components: water, sediment, and fish. Soil Sediment Contam Int J 23(4):353–373

Rahman MS, Khan MDH, Jolly YN, Kabir J, Akter S, Salam A (2019a) Assessing risk to human health for heavy metal contamination through street dust in the Southeast Asian Megacity: Dhaka, Bangladesh. Sci Total Environ 660:1610–1622

Rahman MS, Hossain MB, Babu SMOF, Rahman M, Ahmed ASS, Jolly YN, Choudhury TR, Begum BA, Kabir J, Akter S (2019b) Source of metal contamination in sediment, their ecological risk, and phytoremediation ability of the studied mangrove plants in ship breaking area, Bangladesh. Mar Pollut Bull 141:137–146

Rahman MS, Akhter S, Rahman R, Choudhury TR, Jolly YN, Akter S, Islam S, Begum BA (2020) Identification of sources of PM2.5 at Farmgate Area, Dhaka using reconstructed mass calculation and statistical approaches. Nuclear Sci Appl 28(1, 2):13–24

Rasmussen PE, Subramanian KS, Jessiman BJ (2001) A multi-element profile of house dust in relation to exterior dust and soil in the city of Ottawa, Canada. Science of the Total Environment 267:125–140

Rasmussen PE, Levesque C, Chenier M, Gardner HD (2018) Contribution of metals in resuspended dust to indoor and personal inhalation exposures: relationships between PM10 and settled dust. Build Environ 143:513–522

Robertson DJ, Taylor KG, Hoon SR (2003) Geochemical and mineral magnetic characterisation of urban sediment particulates, Manchester, UK. Applied Geochemistry 18:269–282

Rudnick RL, Gao S (2003) The composition of the continental crust. In: Holland HD, Turekian KK (eds) Treatise on Geochemistry, Vol. 3, The Crust. Elsevier-Pergamon, Oxford, pp 1–64

Shi G, Chen Z, Bi C, Wang L, Teng J, Li Y, Xu S (2011) A comparative study of health risk of potentially toxic metals in urban and suburban road dust in the most populated city of China. Atmos Environ 45:764–771

Soltani N, Keshavarzi B, Moore F (2015) Ecological and human health hazards of heavy metals and polycyclic aromatic hydrocarbons (PAHs) in road dust of Isfahan metropolis, Iran. Sci Total Environ 505:712–723

Sutherland RA, Tolosa CA (2000) Multi-element analysis of road deposited sediment in an urban drainage basin, Honolulu. Hawaii. Environmental Pollution 110:483–495

Taylor SR, McLennan SM (1995) The geochemical evolution of the continental crust. Rev Geophys 33:241–265

Thomilson DC, Wilson DJ, Harris CR, Jeffrey DW (1980) Problem in heavy metals in estuaries and the formation of pollution index. Helgol Wiss Meeresunlter 33(1–4):566–575

Tian HZ, Wang Y, Xue ZG, Cheng K, Qu YP, Chai FH, Hao JM (2010) Trend and characteristics of atmospheric emissions of Hg, As, and Se from coal combustion in China, 1980-2007. Atmos Chem Phys 10:11905–11919

Tomlinson DL, Wilson JG, Harris CR, Jeffrey DW (1980) Problems in the assessment of heavy-metal levels in estuaries and the formation of a pollution index. Helgola¨nder Meeresuntersuchungen 33(1–4):566–575

Tong STY, Lam KC (2000) Home sweet home? A case study of household dust contamination in Hong Kong. Sci Total Environ 256(2–3):115–123

USEPA (1989) Risk assessment guidance for Superfund. Volume I: human health evaluation manual (Part A), Interim Final. U.S. Environmental Protection Agency, Office of Emergency and Remedial Response; 1989. EPA/540/1-89/002

USEPA (1996) Soil Screening Guidance: Technical Background Document. EPA/540/ R-95/128. Office of Solid Waste and Emergency Response; 1996

USEPA (2001) US Environmental Protection Agency. Supplemental Guidance for Developing Soil Screening Levels for Superfund Sites. OSWER 9355.4-24. Office of Solid Waste and Emergency Response

Van den Berg R (1994) Human exposure to soil contamination: a qualitative and quantitative analysis towards proposals for human toxicological intervention values (partly revised edition). 104 p in English, The Netherlands

Varrica D, Dongarra G, Sabatino G, Monna F (2003) Inorganic geochemistry of roadway dust from the metropolitan area of Palermo, Italy. Environmental Geology 44:222–230

Wei B, Jiang F, Li X, Mu S (2010) Heavy metal induced ecological risk in the city of Urumqi, NW China. Environ Monit Assess 160:33–45

Widory D, Liu X, Dong S (2010) Isotopes as tracers of sources of lead and strontium in aerosols (TSP & PM2.5) in Beijing. Atmos Environ 44:3679–3687

Xia LL, Gao Y (2011) Characterization of trace elements in PM2.5 aerosols in the vicinity of highways in northeast New Jersey in the U.S. east coast. Atmos Pollut Res 2:34–44

Yang FM, He KB, Ma YL, Chen X, Cadle SH, Chan T, Mulawa PA (2003) Characteristics and sources of trace elements in ambient PM2.5 in Beijing. Environ Sci 24:33–37

Yongming H, Peixuan D, Junji C, Posmentier ES (2006) Multivariate analysis of heavy metal contamination in urban dusts of Xi'an, Central China. Sci Total Environ 355:176–186

Yong-zhong S, Yang R (2008) Background concentrations of elements in surface soils and their changes as affected by agriculture use in the desert-oasis ecotone in the middle of Heihe River Basin North-west China. Journal of Geochemical Exploration. 98:57–64

Zheng N, Liu J, Wang Q, Liang Z (2010) Heavy metals exposure of children from stairway and sidewalk dust in the smelting district, northeast of China. Atmos Environ 44:3239–3245

Zhou L, Liu G, Shen M, Hu R, Sun M, Liu Y (2019) Characteristics and health risk assessment of heavy metals in indoor dust from different functional areas in Hefei, China. Environ Pollut 251:839–849
Acknowledgements
The authors also thank to the staffs of Atmospheric & Environmental Chemistry Laboratory of Chemistry Division, Atomic Energy Centre, Dhaka, Bangladesh.
Funding
The work reported here was supported by the International Atomic Energy Agency (IAEA, Vienna, Austria) under Regional Cooperative Agreement (RCA) project RAS/7/029 and RCARO (Supporting sustainable air pollution monitoring using Nuclear Analytical Technology).
Ethics declarations
Ethics approval
We are ensuring that all the authors mentioned in the manuscript have agreed for authorship, read and approved the manuscript, and given consent for submission and subsequent publication of the manuscript. The corresponding author certifies that all the information contained in this statement is true, correct and agreed on by all the listed authors.
Consent to participate
The corresponding author on behalf of all the listed authors in the manuscript has given the consent to participate in this publication.
Consent to publish
Yes
Competing interests
The authors declare no competing interests.
Additional information
Responsible Editor: Philippe Garrigues
Publisher's note
Springer Nature remains neutral with regard to jurisdictional claims in published maps and institutional affiliations.
Supplementary Information
About this article
Cite this article
Rahman, M.S., Jolly, Y.N., Akter, S. et al. Sources of toxic elements in indoor dust sample at export processing zone (EPZ) area: Dhaka, Bangladesh; and their impact on human health. Environ Sci Pollut Res 28, 39540–39557 (2021). https://doi.org/10.1007/s11356-021-13167-3
Received:

Accepted:

Published:

Issue Date:

DOI: https://doi.org/10.1007/s11356-021-13167-3
Keywords
Dust

Toxic elements

Industrial activities

Health risk