Abstract
Water leakage in the urban water cycle involves relevant economic, social, and environmental negative impacts. Thus, reducing water leakage is a key challenge for both water regulators and water companies. This study estimated the evolution (2007–2015) of the marginal cost of improving the quality of service in terms of water leakage in the Chilean water industry, which involves full private, concessionary, and public water companies. In water companies, management skills and efforts play an important role in meeting water leakage targets. Thus, this study employed a cost frontier model where it was assumed that unobserved management ability interacts with output and water leakage factors. The results reveal high levels of cost efficiency for the average water company. Management increases outputs and reduces water leakage and, thus, has a positive impact on costs and efficiency. The marginal cost of reducing water leakage is higher for the public water company than for private and concessionary water companies. The average estimated marginal cost of reducing water leakage was 0.349 €/m3, which means that a water company has to spend an extra 0.349 € in operating costs to avoid a cubic meter of water leakage. Some policy implications were discussed based on the results of this study.
Access options
Buy single article
Instant access to the full article PDF.
USD 39.95
Price excludes VAT (USA)
Tax calculation will be finalised during checkout.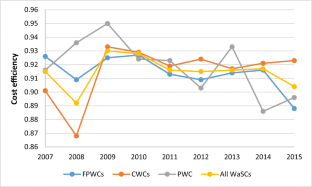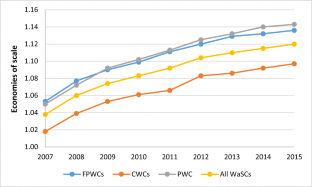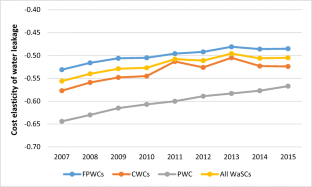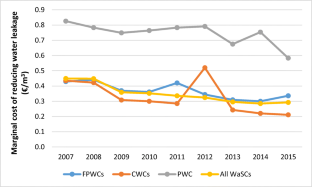 Notes
Carvalho et al. (2012), Carvalho and Marques et al. (2014), and Guerrini et al. (2018) differentiate between economies of scale and customer density as follows. Economies of scale measure the reaction of costs to simultaneous changes in volumes of water delivered and number of customer. Economies of customer density measure how costs alter when volumes of water delivered and number of customers change keeping the area or network length constant.
References
Alvarez A, Arias C, Greene W (2004) Accounting for unobservables in production models: management and inefficiency, Working Paper No. 72, Centro de Estudios Andaluces.

Ardakanian R, Martin-Bordes JL (2008) Proceedings of International Workshop on Drinking Water Loss Reduction: Developing Capacity for Applying Solutions. UNW-DPC Publication Series. Available at: https://www.ais.unwater.org/ais/pluginfile.php/56/course/section/26/Proceedings_DWLR.pdf

Barros CP, Scafarto V, Samagaio A (2014) Cost performance of Italian football clubs: analysing the role of marketing and sponsorship. Int J Sports Mark Spons 15(4):59–77

Barros CP, Wanke P, Nwaogbe OR, Azad K, Md A (2017) Efficiency in Nigerian airports. Case Studies on Transport Policy 5(4):573–579

Berg S, Marques RC (2011) Quantitative studies of water and sanitation utilities: A benchmarking literature survey. Water Policy 13(5):591–606

Carvalho P, Marques RC (2011) The influence of the operational environment on the efficiency of water utilities. J Environ Manag 92(10):2698–2707

Carvalho P, Marques RC (2014) Computing economies of vertical integration, economies of scope and economies of scale using partial frontier nonparametric methods. Eur J Oper Res 234(1):292–307

Carvalho P, Marques RC, Berg S (2012) A meta-regression analysis of benchmarking studies on water utilities market structure. Utilities Policy 21:40–49

Coelli TJ, Prasada Rao DS, O'Donnell CJ, Battese GE (2005) An Introduction to Efficiency and Productivity Analysis, 2nd edn. Springer, New York

Cullmann A, Farsi M, Filippini M (2012) Unobserved heterogeneity and efficiency measurement in public transport. Journal of Transport Economics and Policy 46(1):51–66

D'Inverno G, Carosi L, Romano G (2020) Environmental sustainability and service quality beyond economic and financial indicators: a performance evaluation of Italian water utilities. Socio Econ Plan Sci, In Press:100852

European Commission (2015) EU Reference document Good Practices on Leakage Management WFD CIS WG PoM. Available at: https://circabc.europa.eu/sd/a/1ddfba34-e1ce-4888-b031-6c559cb28e47/Good%20Practices%20on%20Leakage%20Management%20-%20Main%20Report_Final.pdf

Ferro G, Mercadier AC (2016) Technical efficiency in Chile's water and sanitation provides. Utilities Policy 43(Part A):97–106

Garreaud RD, Boisier JP, Rondanelli R, Montecinos A, Sepúlveda HH, Veloso-Aguila D (2019) The Central Chile Mega Drought (2010–2018): A climate dynamics perspective. Int J Climatol 40(1):421–439

Greene W (2004) Interpreting Estimated Parameters and Measuring Individual Heterogeneity in Random Coefficient Models, Department of Economics, Stern School of Business, Working Paper No. 04-08, New York University.

Greene W (2005a) Reconsidering Heterogeneity in Panel Data Estimators of the Stochastic Frontier Model. J Econ 126(2):269–303

Greene W (2005b) Fixed and Random Effects in Stochastic Frontier Models. J Prod Anal 23:7–32

Greene W (2007) LIMDEP 9.0, Econometric Modeling Guide, Volume 2, Econometric Software, Inc., 2007, Plainview, NY, USA.

Guerrini A, Romano G, Leardini C (2018) Economies of scale and density in the Italian water industry: A stochastic frontier approach. Util Policy 52:103–111

Hernández-Sancho F, Molinos-Senante M, Sala-Garrido R, Del Saz-Salazar S (2012) Tariffs and efficient performance by water suppliers: an empirical approach. Water Policy 14(5):854–864

IBNET (2021) The International Benchmarking Network. Available at: https://www.ib-net.org/

IWA (2016) Water utility pathways in a circular economy. Available at: https://www.iwa-network.org/wp-content/uploads/2016/07/IWA_Circular_Economy_screen.pdf

Jamasb T, Orea L, Pollitt M (2012) Estimating the marginal cost of quality improvements: The case of the UK electricity distribution companies. Energy Econ 34:1498–1506

Li R, Huang H, Xin K, Tao T (2015) A review of methods for burst/leakage detection and location in water distribution systems. Water Sci Technol Water Supply 15(3):429–441

Lombardi G, Stefani G, Paci A, Becagli C, Miliacca M, Gastaldi M, Giannetti B, Almeida C (2019) The sustainability of the Italian water sector: An empirical analysis by DEA. J Clean Prod 227:1035–1043

Makropoulos CK, Butler D (2010) Distributed water infrastructure for sustainable communities. Water Resour Manag 24(11):2795–2816

Marques RC, Barros CP (2010) Performance of European airports: regulation, ownership and managerial efficiency. Appl Econ Lett 18(1):29–37

Marques R, Monteiro AJ (2003) Application of performance indicators to control losses— results from the Portuguese water sector. Water Science & Technol: Water Supply 3(1–2):127–133

Marques RC, Berg S, Yane S (2014) Nonparametric benchmarking of Japanese water utilities: institutional and environmental factors affecting efficiency. J Water Resour Manag Plann 140(5):562–571

Molinos-Senante M, Farias R (2018) Evaluation of the influence of economic groups on the efficiency and quality of service of water companies: an empirical approach for Chile. Environ Sci Pollut Res 25:23251–23260

Molinos-Senante M, Maziotis A (2018) Assessing the influence of exogenous and quality of service variables on water companies' performance using a true-fixed stochastic frontier approach. Urban Water J 15(7):682–691

Molinos-Senante M, Maziotis A (2019) Productivity growth and its drivers in the Chilean water and sewerage industry: a comparison of alternative benchmarking techniques. Urban Water J 16(5):353–364

Molinos-Senante M, Mocholi-Arce M, Sala-Garrido R (2016a) Estimating the environmental and resource costs of leakage in water distribution systems: a shadow price approach. Sci Total Environ 568:180–188

Molinos-Senante M, Maziotis A, Sala-Garrido R (2016b) Estimating the cost of improving service quality in water supply: a shadow price approach for England and Wales. Sci Total Environ 539:470–477

Molinos-Senante M, Villegas A, Maziotis A (2019) Are water tariffs sufficient incentives to reduce water leakages? An empirical approach for Chile. Util Policy 61(100971):100971

Molinos-Senante M, Donoso G, Sala-Garrido R, Villegas A (2018) Benchmarking the efficiency of the Chilean water and sewerage companies: a double-bootstrap approach. Environ Sci Pollut Res 25(9):8432–8440

Mydland O, Kumbhakar SC, Lien G, Amundsveen R, Marit Kvile H (2020) Economies of scope and scale in the Norwegian electricity industry. Econ Model 88:39–46

Ofwat (2019) PR19 final determinations – overview of companies' final determinations. The Water Services Regulation Authority. Birmingham. UK.

Pérez F, Delgado-Antequera L, Gómez T (2019) A two-phase method to assess the sustainability of water companies. Energies 12(13):2638

Pinto FS, Simoes P, Marques RC (2017) Water services performance: do operational environment and quality factors count? Urban Water J 14(8):773–781

PWC (2019) Funding approaches for leakage reduction. Available at: https://www.ofwat.gov.uk/wp-content/uploads/2019/12/PwC-%E2%80%93-Funding-approaches-for-leakage-reduction.pdf

Romano G, Guerrini A, Marques RC (2017) European Water Utility Management: Promoting Efficiency, Innovation and Knowledge in the Water Industry. Water Resour Manag 31(8):2349–2353

Saal DS, Parker D (2000) The impact of privatization and regulation on the water and sewerage industry in England and Wales: a translog cost function model. Manag Decis Econ 21:253–268

Salleh A, Yusof SM, Othman N (2019) An importance-performance analysis of sustainable service quality in water and sewerage companies. Industrial Eng Manag Syst 18(1):89–103

SISS (2015) Water and Sanitation Management Report for Chile. Available at: https://www.siss.gob.cl/586/articles-16141_recurso_1.pdf

SISS (2020) Non-revenue Water Report for Chile. Available at: https://www.siss.gob.cl/586/articles-17553_Recurso_1.pdf

SISS (2021) History of the Superintendencia de Servicios Sanitarios. Available at: https://www.siss.gob.cl/586/w3-propertyvalue-6316.html

UN (2010) Human Rights to Water and Sanitation. Available at: https://www.unwater.org/water-facts/human-rights/

UN (2015) Sustainable Development Goals. Available at: https://www.un.org/sustainabledevelopment/sustainable-development-goals/

Xu Q, Liu R, Chen Q, Li R (2014) Review on water leakage control in distribution networks and the associated environmental benefits. J Environ Sci (China) 26(5):955–961
Availability of data and materials
The datasets generated and/or analyzed during the current study are not publicly available due to that they were developed from the primary sources of data but are available from the corresponding author on reasonable request.
Ethics declarations
Ethical approval
This manuscript has been developed in compliance with ethical standards.
Competing interests
The authors declare that they have no competing interests.
Additional information
Responsible Editor: Philippe Garrigues
Publisher's note
Springer Nature remains neutral with regard to jurisdictional claims in published maps and institutional affiliations.
About this article
Cite this article
Molinos-Senante, M., Villegas, A. & Maziotis, A. Measuring the marginal costs of reducing water leakage: the case of water and sewerage utilities in Chile. Environ Sci Pollut Res 28, 32733–32743 (2021). https://doi.org/10.1007/s11356-021-13048-9
Received:

Accepted:

Published:

Issue Date:

DOI: https://doi.org/10.1007/s11356-021-13048-9
Keywords
Marginal cost

Water leakage

Unobserved management ability

Stochastic cost frontier

Chilean water industry