Abstract
The construction of highways in the subalpine mountains generates many cut slopes. Currently, the restoration of cut slope mainly focuses on the aboveground landscapes and slope stability. Yet, it remains elusive about the belowground ecosystem functions at the early stage of restoration. In this study, we evaluated the belowground ecosystem functions of cut slopes that had been restored approximately 3 years using soil enzymatic activities, microbial biomass, and stoichiometry as the proxies. The results indicated that the phenol oxidase activity was higher in cut slopes, while the activities of β-1,4-glucosidase, β-1,4-N-acetylglucosaminidase, leucine aminopeptidase, and acid phosphatase were lower in cut slope soils compared with natural soils. Soil nitrogen availabilities (total and/or ammonium nitrogen) showed high negative correlations with the phenol oxidase activity and positive correlations with the activities of almost all other enzymes. These results suggested that soil nitrogen was the key factor in driving the shifts of enzymatic activities across two types of soils. Moreover, we found the imbalance of soil nutrients in cut slope soils, especially the carbon vs. nitrogen and the nitrogen vs. phosphorus. By applying the vector analysis, we found that the vector A values were more than 45° in all samples, suggesting that microbial phosphorus limitation occurred in both cut slope and natural soils. These findings suggested that maintaining the balance of soil nutrient supplies is important to the recovery of the below-ground ecosystem functions at the early restoration stage of cut slopes. This study provided new insights into designing the ecological restoration strategies for cut slopes by considering the belowground ecosystem functions.
Access options
Buy single article
Instant access to the full article PDF.
US$ 39.95
Tax calculation will be finalised during checkout.
Subscribe to journal
Immediate online access to all issues from 2019. Subscription will auto renew annually.
US$ 79
Tax calculation will be finalised during checkout.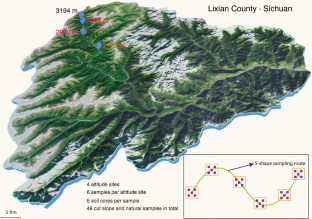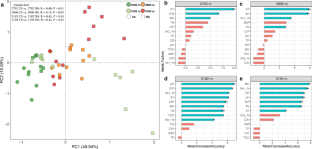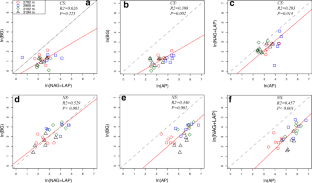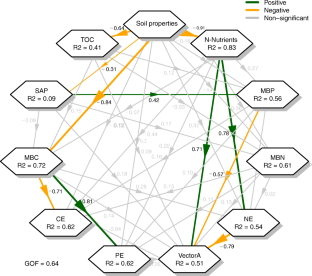 References
Ai S, Chen J, Gao D, Ai Y (2020) Distribution patterns and drivers of artificial soil bacterial community on cut-slopes in alpine mountain area of southwest China. Catena 194:104695. https://doi.org/10.1016/j.catena.2020.104695

Allison SD, Czimczik CI, Treseder KK (2008) Microbial activity and soil respiration under nitrogen addition in Alaskan boreal forest. Glob Chang Biol 14:1156–1168

Bao S (2000) Soil and agricultural chemistry analysis. China agriculture press, Beijing

Bremner JM (1965) Total Nitrogen Total nitrogen. In: Black CA, Evans DD, Dinauer RC (eds) Methods of soil analysis: part 2. Chemical and Microbiological Properties. ASA, SSSA, Madison, pp 1149–1178. https://doi.org/10.2134/agronmonogr9.2.c32

Brookes PC, Landman A, Pruden G, Jenkinson DS (1985) Chloroform fumigation and the release of soil nitrogen: a rapid direct extraction method to measure microbial biomass nitrogen in soil. Soil Biol Biochem 17:837–842

Chen H, Li D, Xiao K, Wang K (2018a) Soil microbial processes and resource limitation in karst and non-karst forests. Funct Ecol 32:1400–1409. https://doi.org/10.1111/1365-2435.13069

Chen Z, Wang R, Han P, Sun H, Sun H, Li C, Yang L (2018b) Soil water repellency of the artificial soil and natural soil in rocky slopes as affected by the drought stress and polyacrylamide. Sci Total Environ 619:401–409. https://doi.org/10.1016/j.scitotenv.2017.11.146

Cui Y, Bing H, Fang L, Jiang M, Shen G, Yu J, Wang X, Zhu H, Wu Y, Zhang X (2019a) Extracellular enzyme stoichiometry reveals the carbon and phosphorus limitations of microbial metabolisms in the rhizosphere and bulk soils in alpine ecosystems. Plant Soil 458:1–14. https://doi.org/10.1007/s11104-019-04159-x

Cui Y, Fang L, Deng L, Guo X, Han F, Ju W, Wang X, Chen H, Tan W, Zhang X (2019b) Patterns of soil microbial nutrient limitations and their roles in the variation of soil organic carbon across a precipitation gradient in an arid and semi-arid region. Sci Total Environ 658:1440–1451. https://doi.org/10.1016/j.scitotenv.2018.12.289

Ehrlich E, Becks L, Gaedke U (2017) Trait–fitness relationships determine how trade-off shapes affect species coexistence. Ecology 98:3188–3198. https://doi.org/10.1002/ecy.2047

Fu D, Yang H, Wang L, Yang S, Li R, Zhang W, Ai X, Ai Y (2018) Vegetation and soil nutrient restoration of cut slopes using outside soil spray seeding in the plateau region of southwestern China. J Environ Manag 228:47–54. https://doi.org/10.1016/j.jenvman.2018.08.108

Gao G, Li Z, Han R (2016) Statistical evaluation of sprayed synthetic soils amended with four additive factors used in high- and cut rock slopes. Environ Eng Sci 34:281–290. https://doi.org/10.1089/ees.2016.0083

Hill BH, Elonen CM, Jicha TM, Kolka RK, Lehto LLP, Sebestyen SD, Seifert-Monson LR (2014) Ecoenzymatic stoichiometry and microbial processing of organic matter in northern bogs and fens reveals a common P-limitation between peatland types. Biogeochemistry 120:203–224. https://doi.org/10.1007/s10533-014-9991-0

Huang Z, Chen J, Ai X, Li R, Ai Y, Li W (2017) The texture, structure and nutrient availability of artificial soil on cut slopes restored with OSSS – Influence of restoration time. J Environ Manag 200:502–510. https://doi.org/10.1016/j.jenvman.2017.05.043

Kisand A (2005) Distribution of sediment phosphorus fractions in hypertrophic strongly stratified Lake Verevi. Hydrobiologia 547:33–39. https://doi.org/10.1007/s10750-005-4141-2

Li J, Shen Z, Li C, Kou Y, Wang Y, Tu B, Zhang S, Li X (2018) Stair-Step pattern of soil bacterial diversity mainly driven by pH and vegetation types along the elevational gradients of Gongga Mountain, China. Front Microbiol 9. https://doi.org/10.3389/fmicb.2018.00569

Liaw A, Wiener M (2002) Classification and regression by randomForest. R news 2:18–22

Luo L, Meng H, Gu J-D (2017) Microbial extracellular enzymes in biogeochemical cycling of ecosystems. J Environ Manag 197:539–549. https://doi.org/10.1016/j.jenvman.2017.04.023

Moorhead DL, Rinkes ZL, Sinsabaugh RL, Weintraub MN (2013) Dynamic relationships between microbial biomass, respiration, inorganic nutrients and enzyme activities: informing enzyme-based decomposition models. Front Microbiol 4. https://doi.org/10.3389/fmicb.2013.00223

Nelson DW, Sommers LE (1996) Total carbon, organic carbon, and organic matter. In: Swift RS, Sparks DL (eds) Methods of Soil Analysis: Part 3-Chemical Methods. SSSA, ASA, Madison, pp 961–1010. https://doi.org/10.2136/sssabookser5.3.c34

Olsen SR, CV Cole, FS Watanabe, LA Dean (1954) Estimation of available phosphorus in soils by extraction with sodium bicarbonate. USDA Circular 9398:1–19

Peng X, Wang W (2016) Stoichiometry of soil extracellular enzyme activity along a climatic transect in temperate grasslands of northern China. Soil Biol Biochem 98:74–84. https://doi.org/10.1016/j.soilbio.2016.04.008

Peng SZ, Yang SH, Xu JZ, Luo YF, Hou HJ (2011) Nitrogen and phosphorus leaching losses from paddy fields with different water and nitrogen managements. Paddy Water Environ 9:333–342. https://doi.org/10.1007/s10333-010-0246-y

Saiya-Cork KR, Sinsabaugh RL, Zak DR (2002) The effects of long term nitrogen deposition on extracellular enzyme activity in an Acer saccharum forest soil. Soil Biol Biochem 34:1309–1315. https://doi.org/10.1016/s0038-0717(02)00074-3

Sandén H, Mayer M, Stark S, Sandén T, Nilsson LO, Jepsen JU, Wäli PR, Rewald B (2020) Moth outbreaks reduce decomposition in subarctic forest soils. Ecosystems 23:151–163. https://doi.org/10.1007/s10021-019-00394-6

Sekaran U, McCoy C, Kumar S, Subramanian S (2019) Soil microbial community structure and enzymatic activity responses to nitrogen management and landscape positions in switchgrass (Panicum virgatum L.). GCB Bioenergy 11:836–851. https://doi.org/10.1111/gcbb.12591

Sinsabaugh RL, Lauber CL, Weintraub MN, Ahmed B, Allison SD, Crenshaw C, Contosta AR, Cusack D, Frey S, Gallo ME, Gartner TB, Hobbie SE, Holland K, Keeler BL, Powers JS, Stursova M, Takacs-Vesbach C, Waldrop MP, Wallenstein MD, Zak DR, Zeglin LH (2008) Stoichiometry of soil enzyme activity at global scale. Ecol Lett 11:1252–1264. https://doi.org/10.1111/j.1461-0248.2008.01245.x

Sinsabaugh RL, Hill BH, Shah JJF (2009) Ecoenzymatic stoichiometry of microbial organic nutrient acquisition in soil and sediment. Nature 462:795–U117. https://doi.org/10.1038/nature08632

Song Y, Song C, Shi F, Wang M, Ren J, Wang X, Jiang L (2019) Linking plant community composition with the soil C pool, N availability and enzyme activity in boreal peatlands of Northeast China. Appl Soil Ecol 140:144–154

Sparling GP, Whale KN, Ramsay AJ (1985) Quantifying the contribution from the soil microbail biomass to the extractable P levels of fresh and air-dried soils. AUST J SOIL RES 23:613–621

Strimmer K (2008) fdrtool: a versatile R package for estimating local and tail area-based false discovery rates. Bioinformatics 24:1461–1462

Talbot JM, Allison SD, Treseder KK (2008) Decomposers in disguise: mycorrhizal fungi as regulators of soil C dynamics in ecosystems under global change. Funct Ecol 22:955–963. https://doi.org/10.1111/j.1365-2435.2008.01402.x

Tapia-Torres Y, Elser JJ, Souza V, Garcia-Oliva F (2015) Ecoenzymatic stoichiometry at the extremes: how microbes cope in an ultra-oligotrophic desert soil. Soil Biol Biochem 87:34–42. https://doi.org/10.1016/j.soilbio.2015.04.007

Vance ED, Brookes PC, Jenkinson DS (1987) An extraction method for measuring soil microbial biomass C. Soil Biol Biochem 19:703–707

Waldrop MP, Zak DR, Sinsabaugh RL, Gallo M, Lauber C (2004) Nitrogen deposition modifies soil carbon storage through changes in microbial enzymatic activity. Ecol Appl 14:1172–1177. https://doi.org/10.1890/03-5120

Wallenius K, Rita H, Mikkonen A, Lappi K, Lindstrom K, Hartikainen H, Raateland A, Niemi RM (2011) Effects of land use on the level, variation and spatial structure of soil enzyme activities and bacterial communities. Soil Biol Biochem 43:1464–1473. https://doi.org/10.1016/j.soilbio.2011.03.018

Wang Y, Li C, Kou Y, Wang J, Tu B, Li H, Li X, Wang C, Yao M (2017) Soil pH is a major driver of soil diazotrophic community assembly in Qinghai-Tibet alpine meadows. Soil Biol Biochem 115:547–555. https://doi.org/10.1016/j.soilbio.2017.09.024

Wang Z, Liu Y, Zhao L, Zhang W, Liu L (2019) Change of soil microbial community under long-term fertilization in a reclaimed sandy agricultural ecosystem. PeerJ 7:e6497. https://doi.org/10.7717/peerj.6497

Waring BG, Weintraub SR, Sinsabaugh RL (2014) Ecoenzymatic stoichiometry of microbial nutrient acquisition in tropical soils. Biogeochemistry 117:101–113. https://doi.org/10.1007/s10533-013-9849-x

Weintraub SR, Wieder WR, Cleveland CC, Townsend AR (2013) Organic matter inputs shift soil enzyme activity and allocation patterns in a wet tropical forest. Biogeochemistry 114:313–326. https://doi.org/10.1007/s10533-012-9812-2

Włodarczyk T, Gliński J, Stępniewski W, Stępniewska Z, Brzezińska M, Kuráž VJIa (2001) Aeration properties and enzyme activity on the example of Arenic Chernozem (Tišice). Int Agrophysics 15:131–138

Xiao H, Huang J, Ma Q, Wan J, Li L, Peng Q, Rezaeimalek S (2017) Experimental study on the soil mixture to promote vegetation for slope protection and landslide prevention. Landslides 14:287–297. https://doi.org/10.1007/s10346-015-0634-x

Xiao W, Chen X, Jing X, Zhu B (2018) A meta-analysis of soil extracellular enzyme activities in response to global change. Soil Biol Biochem 123:21–32. https://doi.org/10.1016/j.soilbio.2018.05.001

Xiao L, Liu G, Li P, Li Q, Xue S (2020) Ecoenzymatic stoichiometry and microbial nutrient limitation during secondary succession of natural grassland on the Loess Plateau, China. Soil Tillage Res 200:104605. https://doi.org/10.1016/j.still.2020.104605

Xu H, Li TB, Chen JN, Liu CN, Zhou XH, Xia L (2017a) Characteristics and applications of ecological soil substrate for rocky slope vegetation in cold and high-altitude areas. Sci Total Environ 609:446–455. https://doi.org/10.1016/j.scitotenv.2017.07.156

Xu Z, Yu G, Zhang X, He N, Wang Q, Wang S, Wang R, Zhao N, Jia Y, Wang C (2017b) Soil enzyme activity and stoichiometry in forest ecosystems along the North-South Transect in eastern China (NSTEC). Soil Biol Biochem 104:152–163. https://doi.org/10.1016/j.soilbio.2016.10.020

Xu L, Han Y, Yi M, Yi H, Guo E, Zhang A (2019) Shift of millet rhizosphere bacterial community during the maturation of parent soil revealed by 16S rDNA high-throughput sequencing. Appl Soil Ecol 135:157–165. https://doi.org/10.1016/j.apsoil.2018.12.004

Yang S, Yao F, Ye J, Fang S, Wang Z, Wang R, Zhang Q, Ma R, Wang X, Jiang Y, Dorodnikov M, Li H, Zou H (2019) Latitudinal pattern of soil lignin/cellulose content and the activity of their degrading enzymes across a temperate forest ecosystem. Ecol Indic 102:557–568

Yao H, Bowman D, Rufty T, Shi W (2009) Interactions between N fertilization, grass clipping addition and pH in turf ecosystems: implications for soil enzyme activities and organic matter decomposition. Soil Biol Biochem 41:1425–1432. https://doi.org/10.1016/j.soilbio.2009.03.020

Zhang W, Zhao J, Pan F, Li D, Chen H, Wang K (2015) Changes in nitrogen and phosphorus limitation during secondary succession in a karst region in southwest China. Plant Soil 391:77–91. https://doi.org/10.1007/s11104-015-2406-8

Zhang Z, Yuan Y, Zhao W, He H, Li D, He W, Liu Q, Yin H (2017) Seasonal variations in the soil amino acid pool and flux following the conversion of a natural forest to a pine plantation on the eastern Tibetan Plateau, China. Soil Biol Biochem 105:1–11

Zhang Z, Li N, Xiao J, Zhao C, Zou T, Li D, Liu Q, Yin H (2018) Changes in plant nitrogen acquisition strategies during the restoration of spruce plantations on the eastern Tibetan Plateau, China. Soil Biol Biochem 119:50–58. https://doi.org/10.1016/j.soilbio.2018.01.002

Zhang W, Liu W, Xu M, Deng J, Han X, Yang G, Feng Y, Ren G (2019a) Response of forest growth to C:N:P stoichiometry in plants and soils during Robinia pseudoacacia afforestation on the Loess Plateau, China. Geoderma 337:280–289. https://doi.org/10.1016/j.geoderma.2018.09.042

Zhang W, Xu Y, Gao D, Wang X, Liu W, Deng J, Han X, Yang G, Feng Y, Ren G (2019b) Ecoenzymatic stoichiometry and nutrient dynamics along a revegetation chronosequence in the soils of abandoned land and Robinia pseudoacacia plantation on the Loess Plateau, China. Soil Biol Biochem 134:1–14. https://doi.org/10.1016/j.soilblo.2019.03.017

Zhao X, Li Z, Robeson MD, Hu J, Zhu Q (2018) Application of erosion-resistant fibers in the recovery of vegetation on steep slopes in the Loess Plateau of China. Catena 160:233–241. https://doi.org/10.1016/j.catena.2017.09.021

Zhu Z, Zhao Q, Lai Q, Xu G, Chen X (2017) Cognition and practice on technological innovation of ecological restoration of engineering slope soil in South China. Soils 49:643–650. https://doi.org/10.13758/j.cnki.tr.2017.04.001 (in Chinese)
Acknowledgements
The authors thank the supporter of this project and the referees for their constructive comments. We also appreciate the critical revisions and excellent editing work by Xiangzhen Li.
Funding
The study was supported by National Key R&D Program of China (2017YFC0504903) and National Natural Science Foundation of China [No. 41971056].
Ethics declarations
Ethics approval and consent to participate
Not applicable.
Consent for publication
Not applicable.
Competing interests
The authors declare that they have no conflict of interest.
Additional information
Publisher's note
Springer Nature remains neutral with regard to jurisdictional claims in published maps and institutional affiliations.
Responsible Editor: Robert Duran
Supplementary information
About this article
Cite this article
Liao, H., Sheng, M., Liu, J. et al. Soil N availability drives the shifts of enzyme activity and microbial phosphorus limitation in the artificial soil on cut slope in southwestern China. Environ Sci Pollut Res (2021). https://doi.org/10.1007/s11356-021-13012-7
Received:

Accepted:

Published:
Keywords
Enzyme activity

Vector analysis

Nutrient imbalance

Microbial phosphorus limitation

Cut slope