Abstract
The aim of this study was to evaluate the effect of pulp and leaves of Glycyrrhiza glabra to reduce the ruminal biogas production in sheep. Five experimental diets of two levels of Glycyrrhiza glabra pulp (GGP) and Glycyrrhiza glabra leaves (GGL) at 150 and 300 g/kg dry matter (DM) were assessed for biogas production and fermentation parameters. Diets were control (diet without GGP or GGL), GGP15 (diet contains GGP at 150 g/kg DM), GGP30 (diet contains GGP at 300 g/kg DM), GGL15 (diet contains GGL at 150 g/kg DM), and GGL30 (diet contains GGL at 300 g/kg DM). Inclusion of 150 and 300 g/kg GGP and 300 g/kg GGL decreased (P < 0.0001) asymptotic biogas production (A), fermentation rate (μ), biogas production at 24 h of incubation (GP24), apparent degraded substrate (ADS), in vitro organic matter disappearance (OMD), and metabolizable energy (ME). Microbial protein biomass (MP) was improved (P = 0.003) by GGP15, GGL15, and GGL30 versus control. Total VFAs (P = 0.003), acetate (P = 0.009), and butyrate (P = 0.002), CH4 (mmol and mL/g OMD), CO2 (mmol and mL/g OMD) (P = 0.0003 and P = 0.0002, respectively), were decreased in GGP15, GGP30, and GGL30 diets versus control. Acetate to propionate ratio (Ac/Pr) was decreased (P = 0.038) in GGL30 diet compared to other diets. Replacing GGP and GGL with alfalfa reduced NH3-N concentration (P = 0.022), total protozoa (P < 0.0001), Isotricha spp. (P = 0.047), Dasytricha spp. (P = 0.067), subfamilies of Entodiniinae (P < 0.0001), and Diplodiniinae (P = 0.06). Results suggested that inclusion of dietary GGL at 150 g/kg dry matter positively modified some rumen parameters such as microbial protein production, protozoa population, and NH3-N concentration, which may be useful economically in ruminant animals and decreasing of environmental pollution.
Access options
Buy single article
Instant access to the full article PDF.
US$ 39.95
Tax calculation will be finalised during checkout.
Subscribe to journal
Immediate online access to all issues from 2019. Subscription will auto renew annually.
US$ 79
Tax calculation will be finalised during checkout.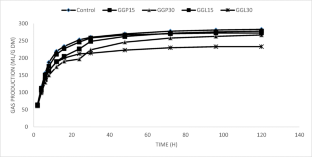 Availability of data and material
References
Abarghuei MJ, Rouzbehan Y, Salem AZM (2014) The influence of pomegranate-peel extracts on in vitro gas production kinetics of rumen inoculum of sheep. Turk Vet Anim Sci 38:212–219

Abarghuei MJ Rouzbehan Y, Salem AZM, Zamiri MJ (2013) Nutrient digestion, ruminal fermentation and performance of dairy cows fed pomegranate peel extract. Livest Sci 157:452–461 

Abarghuei MJ, Rouzbehan Y, Salem AZM, Zamiri MJ (2020) Effects of pomegranate-peel extract on in vitro ruminal and postruminal degradation of dairy cow diet. Anim Biotech:1–9. https://doi.org/10.1080/10495398.2020.1727492

Abdulrazak A, Fujihara T, Ondiek JK, Ørskov ER (2000) Value evaluation of nutritive evaluation of some acacia tree leaves from Kenya. Anim Feed Sci Technol 85:89–98

Adegbeye MJ, Ravi Kanth Reddy P, Obaisi AI, Elghandour MMM, Oyebamiji KJ, Salem AZM, Morakinyo-Fasipe OT, Cipriano-Salazar M, Camacho-Díaz LM (2020a) Sustainable agriculture options for production, greenhouse gasses and pollution alleviation, and nutrient recycling in emerging and transitional nations - An overview. J Clean Prod 242:118319

Adegbeye MJ, Salem AZM, Ravi Kanth Reddy P, Elghandour MMM, Oyebamiji KJ (2020b) Waste recycling for the eco-friendly input use efficiency in agriculture and livestock feeding. In: Resources Use Efficiency in Agriculture, edited by Sandeep Kumar, Ram Swaroop Meena and Manoj Kumar Jhariya. Book ISBN (Print): 978-981-15-6952-4, ISBN (online): 978-981-15-6953-1. Springer Nature, chapter 01:1–45

Adegbeye MJ, Elghandour MMMY, Monroy JC, Abegunde TO, Salem AZM, Barbabosa-Pliego A, Faniyi TO (2019) Potential influence of Yucca extract as feed additive on greenhouse gases emission for a cleaner livestock and aquaculture farming – a review. J Clean Prod 239:118074

Aharoni Y, Gilboa N, Silanikove N (1998) Models of suppressive effect of tannins. Analysis of the suppressive effect of tannins on ruminal degradation by compartmental models. Anim Feed Sci Technol 71:251–267

Alexander G, Singh B, Sahoo A, Bhat TK (2008) In vitro screening of plant extracts to enhance the efficiency of utilization of energy and nitrogen in ruminant diets. Anim Feed Sci Technol 145:229–244

Al-Sagheer AA, Elwakeel EA, Ahmed MG, Sallam SMA (2018) Potential of guava leaves for mitigating methane emissions and modulating ruminal fermentation characteristics and nutrient degradability. Environ Sci Pollut Res 25(31):31450–31458

AOAC (1990) 15th ed. Official methods of analysis, vol. I. Association of Official Analytical Chemists, Arlington, VA, USA

Attri K, Dey A, Dahiya SS, Paul SS, Jerome A, Bharadwaj A, Kakker NK (2020) Abatement of enteric methane production from lactating Murrah buffaloes (Bubalus bubalis) with improving production performance and immune status through dietary supplementation of composite feed additive. Environ Sci Pollut Res doi 27:22476–22485. https://doi.org/10.1007/s11356-020-08601-x

Babayemi OJ, Demeyer D, Fievez V (2004) In vitro fermentation of tropical browse seeds in relation to their content of secondary metabolites. J Anim Feed Sci 13:31–34

Benchaar C, McAllister TA, Chouinard PY (2008) Digestion, ruminal fermentation, ciliate protozoal populations, and milk production from dairy cows fed cinnamaldehyde, quebracho condensed tannin, or Yucca schidigerasaponin extract. J Dairy Sci 91:4765–4777

Blümmel M, Steingss H, Becker K (1997) The relationship between in vitro gas production, in vitro microbial biomass yield and 15N incorporation and its implications for the prediction of voluntary feed intake of roughages. Br J Nutr 77:911–921

Broderick GA, Kang JH (1980) Automated simultaneous determination of ammonia and total amino acids in ruminal fluid and in vitro media. J Dairy Sci 63:64–75

Busquet M, Calsamiglia S, Ferret A, Kamel C (2006) Plant extracts affect in vitro rumen microbial fermentation. J Dairy Sci 89:761–771

Canbolat O, Ozkan CO, Kamalak A (2007) Effects of NaOH treatment on condensed tannin contents and gas production kinetics of tree leaves. Anim Feed Sci Technol 138:189–194

Calsamiglia S, Busquet M, Cardozo PW, Castillejos L, Ferret A (2007) Invited review: essential oils as modifiers of rumen microbial fermentation. J Dairy Sci 90:2580–2595

Casulli F, Ippolito A (1995) Observations on liquorices rust (Uromyces glycyrrhizae) in southern Italy. Informatore- Fitopatologico 45:27–30

Cottyn BG, Boucque CV (1968) Rapid method for the gas-chromatographic in rumen fluid. J Agric Food Chem 16:105–107

Dehority BA (2003) Rumen Microbiology. Nottingham University Press, Nottingham, UK

Duncan DB (1995) Multiple ranges and multiple F-test. Biometrics 11:1–42

Elghandour MMMY, Rodríguez-Ocampo I, Parra-Garcia A, Salem AZM, Greiner R, Márquez-Molina O, Barros-Rodríguez M, Barbabosa-Pilego A (2018) Biogas production from prickly pear cactus containing diets supplemented with Moringa oleifera leaf extract for a cleaner environmental livestock production. J Clean Prod 185:547–553

Elghandour MMMY, Vallejo LH, Salem AZM, Mellado M, Camacho LM, Cipriano M, Olafadehan OA, Olivares J, Rojas S (2017) Moringa oleifera leaf meal as an environmental friendly protein source for ruminants: biomethane and carbon dioxide production, and fermentation characteristics. J Clean Prod 165:1229–1238

El-Zaiat HM, Abdalla AL (2019) Potentials of patchouli (Pogostemon cablin) essential oil on ruminal methanogenesis, feed degradability, and enzyme activities in vitro. Environ Sci Pollut Res 26(29):30220–30228

Faniyi TO, Prates ER, Adegbeye MJ, Adewumi MK, Elghandour MMMY, Salem AZM, Ritt LA, Zubieta AS, Stella L, Ticiani E, Jack AA (2019) Prediction of biogas and pressure from rumen fermentation using plant extracts to enhance biodigestibility and mitigate biogases. Environ Sci Pollut Res 26:27043–27051

FASS (2010) Guide for the care and use of agricultural animals in research and teaching, 3rd edn. Federation of Animal Science Societies, Champaign, IL

France J, Dijkstra J, Dhanoa MS, Lopez S, Bannink A (2000) Estimating the extent of degradation of ruminant feeds from a description of their gas production profile observed in vitro: derivation of models and other mathematical considerations. Br J Nutr 83:143–150

Gao CY, Lu YH, Tian CR, Xu JG, Guo XP, Zhou R, Hao G (2011) Main nutrients, phenolics, antioxidant activity, DNA damage protective effect and microstructure of Sphallerocarpus gracilis root at different harvest time. Food Chemistry 127:615–622

Getachew G, Pittroff W, Putnama DH, Dandekar A, Goyal S, DePeters EJ (2008) The influence of addition of gallic acid, tannic acid, or quebracho tannins to alfalfa hay on in vitro rumen fermentation and microbial protein synthesis. Anim Feed Sci Technol 140:444–461

Goncalves-Alvim SJ, Collevatti RG, Fernandez GW (2004) Effects of genetic variability and habitat of Qualea parviflora (Vochysiaceae) on herbivory by free-feeding and gall-forming insects. Ann Bot 94:259–268

Guyader J, Eugène M, Nozière P, Morgavi DP, Doreau M, Martin C (2014) Influence of rumen protozoa on methane emission in ruminants: a meta-analysis approach. Anim 8(11):1816–1825

Hart KJ, Yanez-Ruiz DR, Duval SM, McEwan NR, Newbold CJ (2008) Plant extracts to manipulate rumen fermentation. Anim Feed Sci Technol 147:8–35

Hess HD, Kreuzer M, Diaz TE, Lascano CE, Carulla JE, Soliva CR, Machmuller A (2003) Saponin rich tropical fruits affect fermentation and methanogenesis in faunated and defaunated rumen fluid. Anim Feed Sci Technol 109:79–94

Holtshausen L, Chaves AV, Beauchemin KA, McGinn SM, McAllister TA, Odongo NE, Cheeke PR, Benchaar C (2009) Feeding saponin-containing Yucca schidigera and Quillaja saponaria to decrease enteric methane production in dairy cows. J Dairy Sci 92:2809–2821

Horton GMJ (1980) Use of feed additives to reduce ruminal methane production and deaminase activity in steers. J Anim Sci 50:1160–1164

Jalilzadeh AG, Najarnezhad V, Anassori E, Mostafavi M, Keshipour H (2015) Antiulcer properties of Glycyrrhiza glabraL. Extract on experimental models of gastric ulcer in mice. Iranian J Pharm Res14:1163–1170

Jiménez-Peralta FS, Salem AZM, Mejia-Hernández P, González-Ronquillo M, lbarrán-Portillo B, Rojo-Rubio R, Tinoco-Jaramillo JL (2011) Influence of individual and mixed extracts of two tree species on in vitro gas production kinetics of a high concentrate diet fed to growing lambs. Livest Sci 136:192–200

Johnson KA, Johnson DE (1995) Methane emissions from cattle. J Anim Sci 73:2483–2492

Kamalak A (2006) Determination of nutritive value of leaves of a native grown shrub, Glycyrrhiza glabra L. using in vitro and in situ measurements. Small Rumin Res 64:268–278

Karami Z, Mirzaei H, Emam-Djomeh Z, Sadeghi Mahoonak AR, Khomeiri M (2013) Effect of harvest time on antioxidant activity of Glycyrrhiza glabra root extract and evaluation of its antibacterial activity. Inter Food Res 20(5):2951–2957

Karimi Z, Mirzaei H, Emam-Djomeh Z, Sadeghi Mahoonak AR, Khomeiri M (2013) Effect of harvest time on antioxidant activity of Glycyrrhiza glabra root extract and evaluation of its antibacterial activity. International Food Res J 20(5):2951–2957

Karamian R, Asadbegy M (2016) Total phenolic contents and biological activity of two glycyrrhiza species (glycyrrhiza glabra l. and glycyrrhiza triphylla fisch.) from Iran. 5th National Congress on Medicinal Plants 18, 19 May 2016 Isfahan- Iran

Makkar HPS (2003) Effects and fate tannins in ruminant animals, adaptation to tannins, and strategies to overcome detrimental effects of feeding tannin-rich feeds. Small Rumin Res 49:241–256

Makkar HPS (2010) In vitro screening of feed resources for efficiency of microbial protein synthesis. In: Verco, PE, Makkar HPS, Schlink AC. (Eds.), in vitro Screening of Plant Resources for Extra-nutritional Attributes in Ruminants: Nuclear and Related Methodologies. IAEA, Dordrecht, the Netherlands; pp. 107–144

Makkar HPS (2000) Quantification of Tannins in Tree Foliage. A laboratory manual for the FAO/IAEA co-ordinated research project on use of nuclear and related techniques to develop simple tannin assays for predicting and improving the safety and efficiency of feeding ruminants on tanniniferous tree foliage. Joint FAO/IAEA of Nuclear Techniques in Food and Agriculture.Animal Production and Health Sub-Programme, FAO/IAEA Working Document.IAEA, Vienna, Austria

Makkar HPS, Singh B (1991a) Effect of drying conditions on tannin, fibre and lignin levels in mature oak (Quercus incana) leaves. J Sci Food Agric 54:323–328

Makkar HPS, Singh B (1991b) Distribution of condensed tannins (proanthocyanidins) in various fractions of young and mature leaves of some oak species. Anim Feed Sci Technol 32:253–260

Makkar HPS, Singh B (1993) Effect of storage and urea addition on detannification and in sacco dry matter digestibility of mature oak (Quercus incana) leaves. Anim Feed Sci Technol 41:247–259

McAllister TA, Bae HD, Jones GA, Cheng KJ (1994) Microbial attachment and feed digestion in the rumen. J Anim Sci 72:3004–3018

McIntosh FM, Williams P, Losa R, Wallace RJ, Beever DA, Newbold CJ (2003) Effects of essential oils on ruminal microorganisms and their protein metabolism. App Environ Microbiol 69(7):5011–5014

McSweeney CS, Palmer B, McNeill DM, Krause DO (2001) Microbial interactions with tannins: nutritional consequences for ruminants. Anim Feed Sci Technol 91:83–93

Menke KH, Raab L, Salewski A, Steingass H, Fritz D, Schneider W (1979) The estimation of the digestibility and metabolizable energy content of ruminant feedstuffs from the gas production when they are incubated with rumen liquor in vitro. J Dairy Sci 92:217–222

Menke KH, Steingass H (1988) Estimation of the energetic feed value obtained from chemical analysis and in vitro gas production using rumen fluid. Anim Res Dev 28:7–55

Nooriyan soroor ME, Kezrian A, Moeini MM (2016) The effect of ethanolic and acetic acid extract of licorice root on fermentation parameters, methane and goat ruminal protozoan population. Anim product 18(4):729–740

NRC (2007) Nutrient Requirements of Dairy Cattle. 7th rev. ed. Natl. Acad. Sci., Washington, DC

Ozhan M, Gol K (1975) Meyan otunun (Glycyrrhiza sp.) kabayem olarak kullanılma olanakları. Ataturk Universitesi, Ziraat Fakultesi. Ziraat Dergisi 1:1–12

Parra-Garcia A, Elghandour MMMY, Greiner R, Barbabosa-Pliego A, Camacho-Diaz LM, Salem AZM (2019) Effects of Moringa oleifera leaf extract on ruminal methane and carbon dioxide production and fermentation kinetics in a steer model. Environ Sci Pollut Res 26:15333–15344

Patra AK, Saxena J (2011) Exploitation of dietary tannins to improve rumen metabolism and ruminant nutrition. J Sci Food Agric 91:24–37

Patra AK, Kamra DN, Neeta A (2006) Effect of plant extracts on in vitro methanogenesis, enzyme activities and fermentation of feed in rumen liquor of buffalo. Anim Feed Sci Technol 128:276–291

Raghuvansi SKS, Tripathi MK, Mishr AS, Chaturvedi OH, Prasad R, Saraswat BL, Jakhmola RC (2007) Feed digestion, rumen fermentation and blood biochemical constituents in Malpura rams fed a complete feed-block diet with the inclusion of tree leaves. Anim. Feed Sci Technol 71:21–30

Rajabi M, Rouzbehan Y, Rezaei J (2017) A strategy to improve nitrogen utilization, reduce environmental impact, and increase performance and antioxidant capacity of fattening lambs using pomegranate peel extract. J Anim Sci 95(1):499–510

Ramos-Morales E, Rossi G, Cattin M, Jones E, Braganca R, Newbold CJ (2018) The effect of an isoflavonid-rich liquorice extract on fermentation, methanogenesis and the microbiome in the rumen simulation technique. FEMS Microb Eco 94:1–11

Robertson JB, Van Soest PJ (1981) The detergent system of analysis. In: James WPT, Theander O (eds) The Analysis of Dietary Fiber in Food, vol 158. Marcel Dekker, New York, NY, USA, Basel, Switzerland, p 123 (Chapter 9)

SAS (2002) SAS User's Guide: Statistics. Ver 9.0.SAS Institute, Cary, N.C. USA.956 pp

Sliwiniski BJ, Soliva CR, Machmuller A, Kreuzer M (2002) Efficacy of plant rich in secondary constituents modify rumen fermentation. Anim Feed Sci Technol 101:101–114

Taheri M, Tahmasbi R, Sharifi Hosseini MM, Dayani O (2018) Effects of feeding ensiled Licorice pulp with waste date on digestibility, blood parameters and microbial protein production in Raeini goats. Anim product 20(1):15–27

Talebzadeh R, Alipour D, Saharkhiz MJ, Azarfar A, Malecky M (2012) Effect of essential oils of Zataria multiflora on in vitro rumen fermentation, protozoal population, growth and enzyme activity of anaerobic fungus isolated from Mehraban sheep. Anim Feed Sci Technol 172:115–124

Tirado-Estrada G, Ramos-Mijangos LM, Miranda-Romero LA, Tirado-González DN, Salem AZM, Mlambo V, Medina-Cuéllar SE, González-Reyes M, Pliego AB (2018) Potential impacts of dietary supplements in a simulated ruminal Lemna gibba fermentation system and environmental biogas production. J Clean Prod 181:555–561

Ugbogu EA, Elghandour MMMY, Ikpeazu VO, Buendía GR, Molina OM, Arunsi UO, Emmanuel O, Salem AZM (2019) The potential impacts of dietary plant natural products on the sustainable mitigation of methane emission from livestock farming. J Clean Prod 213:915–925

Vallejo-Hernández LH, Elghandour MMMY, Greiner R, Anele UA, Rivas-Cáceres RR, Barros-Rodríguez M, Salem AZM (2018) Environmental impact of yeast and exogenous xylanase on mitigating carbon dioxide and enteric methane production in ruminants. J Clean Prod 189:40–46

Van Soest PJ (1994) Nutritional Ecology of the Ruminant. Cornell University Press, Ithaca, NY, USA

Van Soest PJ (1982) Nutritional ecology of the ruminant. Cornell University Press, O & Books, Corvallis, OR, USA, pp. 253–280

Van Soest PJ, Robertson JB, Lewis BA (1991) Methods for dietary fiber, neutral detergent fiber, and nonstarch poly-saccharides in relation to animal nutrition. J Dairy Sci 74:3583–3597

Vlaisavljević S, Šibul F, Sinka I, Zupko I, Ocsovszki I, Jovanović-Šanta S (2018) Chemical composition, antioxidant and anticancer activity of licorice from Fruska Gora locality. Indust Crops Pro 112:217–224

Williams AG, Coleman GS (1991) The Rumen Protozoa. Springer-Verlag New York Inc., New York

Wina E, Muetzel S, Becker K (2005) The impact of saponins or saponin-containing plants materials on ruminant production – a review. J Agric Food Chem 53:8093–8105

Yanez Ruiz DR, Moumen A, Martin Garcia AI, Molina Alcaide E (2004) Ruminal fermentation and degradation patterns, protozoa population and urinary purine derivatives excretion in goats and wethers fed diets based on two-stage olive cake: effect of PEG supply. J Anim Sci 85:2023–2032

Zamiri MJ, Rajaei Sharifabadi H, Bagheri AS, Solhjoo A (2015) Effects of inclusion of licorice (Glycyrrhiza glabra L.) leaves, a tannin-containing plant, in a low-protein diet on feedlot performance and carcass characteristics of fat-tailed lambs. Trop Anim Health Prod 47:597–602
Ethics declarations
Ethical approval
This study was approved by the Livestock Research Team at Investigation Organization of Animal Science, Iran and was conducted according to the guidelines of care and using animals in research work.
Consent to participate
All authors agree to participate in the current work.
Consent to publish
All authors agree to publish the findings of the current research.
Competing interests
The authors declare that they have no competing interests.
Additional information
Publisher's note
Springer Nature remains neutral with regard to jurisdictional claims in published maps and institutional affiliations.
Responsible Editor: Philippe Garrigues
About this article
Cite this article
Abarghuei, M.J., Salem, A.Z.M. Sustainable impact of pulp and leaves of Glycyrrhiza glabra to enhance ruminal biofermentability, protozoa population, and biogas production in sheep. Environ Sci Pollut Res (2021). https://doi.org/10.1007/s11356-021-12968-w
Received:

Accepted:

Published:
Keywords
Biogas production

Glycyrrhiza glabra

Methane

Protozoa population

Ruminal parameters

Sheep