Abstract
Developing biofilm carriers is of great significance for efficient wastewater treatment. In this work, ferric citrate was used to modify inorganic basalt fiber (BF) biocarrier, thus improving its surface properties and the nitrogen removal in hybrid wastewater treatment system. The results showed that the iron element on modified basalt fiber (Fe-MBF) existed in the forms of ferric citrate, Fe(OH)3, Fe2O3, and FeO. The ferric deposition increased the surface roughness, hydrophilicity and reduced the electronegativity of BF. The water contact angle of BF and Fe-MBF was 117.46° and 64.85°, respectively. The surface zeta potential of BF was −17.64 mV, but shifted positively (−8.67 mV) after deposition modification. The microorganism adhesion tests showed that the attached biomass and extracellular polymeric substances (EPS) content on Fe-MBF biocarrier significantly increased and the attached bacteria had also high viability. The Fe-MBF biocarrier showed good nitrogen removal performance in the hybrid bioreactor, with total nitrogen removal efficiency up to 95.35±0.82%, increasing by about 16% compared to that with unmodified BF biocarrier. This work also provided a green modification strategy to enhance biofilm carrier in wastewater treatment.
Graphical abstract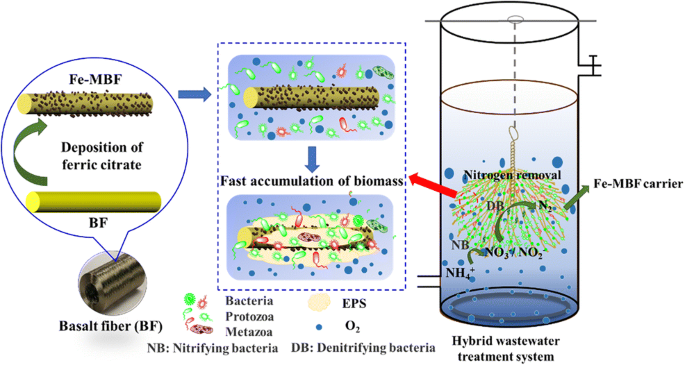 Access options
Buy single article
Instant access to the full article PDF.
US$ 39.95
Tax calculation will be finalised during checkout.
Subscribe to journal
Immediate online access to all issues from 2019. Subscription will auto renew annually.
US$ 79
Tax calculation will be finalised during checkout.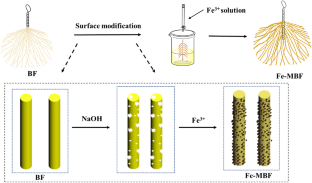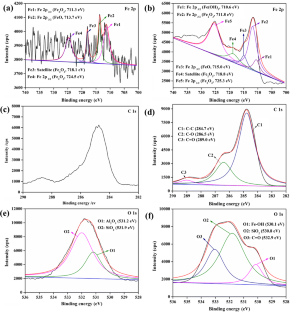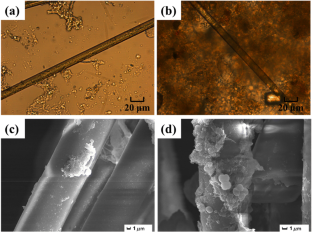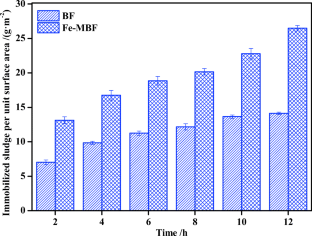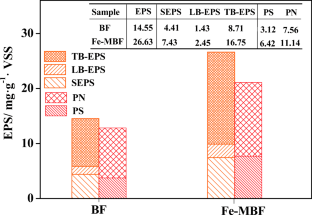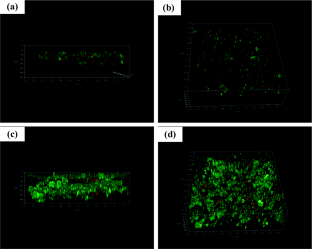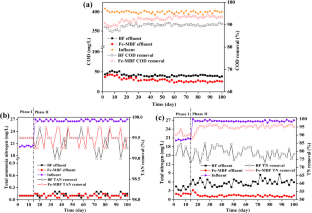 Data availability
All data generated or analyzed during this study are included in this published article and its supplementary information files. Supplementary information is available at Environmental Science and Pollution Research's website.
References
Aguilera A, Souzaegipsy V, Martinuriz PS, Amils R (2008) Extraction of extracellular polymeric substances from extreme acidic microbial biofilms. Appl Microbiol Biotechnol 78(6):1079–1088

APHA (2005) Standard Methods for Examination of Water and Waste Water. 21st Edition, AHPA, Washington DC

Bao T, Chen T, Tan J, Wille ML, Zhu D, Chen D, Xi Y (2016) Synthesis and performance of iron oxide-based porous ceramsite in a biological aerated filter for the simultaneous removal of nitrogen and phosphorus from domestic wastewater. Sep Purif Technol 167:154–162

Chen S, Cheng X, Zhang X, Sun D (2012) Influence of surface modification of polyethylene biocarriers on biofilm properties and wastewater treatment efficiency in moving-bed biofilm reactors. Water Sci Technol 65(6):1021–1026

Chen YP, Zhang P, Guo JS, Fang F, Gao X, Li C (2013) Functional groups characteristics of EPS in biofilm growing on different carriers. Chemosphere 92(6):633–638

Cui S, Shen XD, Lin BL, Xu N (2006) XPS analysis on grafting modification of Fe3O4 nanopowders. Chin J Sensors Actuators 19(5):2322–2325 (In Chinese)

Deng L, Guo W, Ngo HH, Zhang X, Wang XC, Zhang Q, Chen R (2016) New functional biocarriers for enhancing the performance of a hybrid moving bed biofilm reactor-membrane bioreactor system. Bioresour Technol 208:87–93

Dias J, Bellingham M, Hassan J, Barrett M, Stephenson T, Soares A (2018) Influence of carrier media physical properties on start-up of moving attached growth systems. Bioresour Technol 266:463–471

Dong QY, Wang Z, Shi LD, Lai CY, Zhao HP (2019) Anaerobic methane oxidation coupled to chromate reduction in a methane-based membrane biofilm batch reactor. Environ Sci Pollut Res 26(25):26286–26292

Du Z, Wang F, Cheng G, Lin M, Min JI (2012) Characteristics of polyurethane (PU) foam plastics bio-carrier modified by chemical oxidation-surface covering with iron ion. Chem Ind Eng Prog 31(7):1575–1580 (In Chinese)

Felföldi T, Jurecska L, Vajna B, Barkács K, Makk J, Cebe G, Szabó A, Záray G, Márialigeti K (2015) Texture and type of polymer fiber carrier determine bacterial colonization and biofilm properties in wastewater treatment. Chem Eng J 264:824–834

Feng Q, Guo W, Wang T, Alvarez CML, Luo M, Ge R, Zhou C, Zhang Q, Luo J (2021) Iron coupling with carbon fiber to stimulate biofilms formation in aerobic biological film systems for improved decentralized wastewater treatment: Performance, mechanisms and implications. Bioresour Technol 319:124151

Ghane N, Sadrnezhaad SK, Hosseini HSM (2020) Combustion synthesis of g-C3N4/Fe2O3 nanocomposite for superior photoelectrochemical catalytic performance. Appl Surf Sci 534:147563

Han F, Ye W, Wei D, Xu W, Du B, Wei Q (2018) Simultaneous nitrification-denitrification and membrane fouling alleviation in a submerged biofilm membrane bioreactor with coupling of sponge and biodegradable PBS carrier. Bioresour Technol 270:156–165

Hohmann C, Winkler E, Morin G, Kappler A (2010) Anaerobic Fe(II)-oxidizing bacteria show as resistance and immobilize as during Fe(III) mineral precipitation. Environ Sci Technol 44(1):94–101

Hu X, Chen K, Lai X, Ji S, Kaiser K (2016) Effects of Fe(III) on biofilm and its extracellular polymeric substances (EPS) in fixed bed biofilm reactors. Water Sci Technol 73(9):2060–2066

Huang L, Bo Z, Sun G, Gao B (2011) Role of Fe(III) in microbial activity and extracellular polymeric substances. International conference on computer distributed control & intelligent environmental monitoring

Korzeniewska E, Harnisz M (2018) Relationship between modification of activated sludge wastewater treatment and changes in antibiotic resistance of bacteria. Sci Total Environ 639:304–315

Li J, Wei J, Ngo HH, Guo W, Liu H, Du B, Wei Q, Wei D (2018a) Characterization of soluble microbial products in a partial nitrification sequencing batch biofilm reactor treating high ammonia nitrogen wastewater. Bioresour Technol 249:241–246

Li J, Ye W, Wei D, Ngo HH, Guo W, Qiao Y, Xu W, Du B, Wei Q (2018b) System performance and microbial community succession in a partial nitrification biofilm reactor in response to salinity stress. Bioresour Technol 270:512–518

Liang Z, Li W, Yang S, Du P (2010) Extraction and structural characteristics of extracellular polymeric substances (EPS), pellets in autotrophic nitrifying biofilm and activated sludge. Chemosphere 81(5):626–632

Lin MH, Shu JC, Huang HY, Cheng YC (2012) Involvement of iron in biofilm formation by Staphylococcus aureus. PLoS One 7(3):34388

Nguyen V, Karunakaran E, Collins G, Biggs CA (2016) Physicochemical analysis of initial adhesion and biofilm formation of Methanosarcina barkeri on polymer support material. Colloid Surf B 143:518–525

Ni H, Zhou X, Zhang X, Xiao X, Liu JF, Huan H, Luo Z, Wu Z (2018) Feasibility of using basalt fiber as biofilm carrier to construct bio-nest for wastewater treatment. Chemosphere 212:768–776

Ning Y, Wang J, Sun C, Hao Z, Xiong B, Wang L, Han Y, Li H, Luo Y (2021) NiCrAlO/Al2O3 solar selective coating prepared by direct current magnetron sputtering and water boiling. Sol Energ Mat Sol C 219:110807

Shen Y, Zhu W, Chen C, Nie Y, Lin X (2016) Biofilm formation in attached microalgal reactors. Bioprocess Biosyst Eng 39(8):1281–1288

Song Z, Zhang X, Ngo HH, Guo W, Song P, Zhang Y, Wen H, Guo J (2019) Zeolite powder based polyurethane sponges as biocarriers in moving bed biofilm reactor for improving nitrogen removal of municipal wastewater. Sci Total Environ 651:1078–1086

Stephenson T, Reid E, Avery L, Jefferson B (2013) Media surface properties and the development of nitrifying biofilms in mixed cultures for wastewater treatment. Process Saf Environ 91(4):321–324

Symianakis E, Malko D, Ahmad E, Mamede AS, Paul JF, Harrison N, Kucernak A (2015) Electrochemical characterization and quantified surface termination obtained by low energy ion scattering and X-ray photoelectron spectroscopy of orthorhombic and rhombohedral LaMnO3 Powders. J Phys Chem C 119(22):12209–12217

Tan C, Xu H, Cui D, Zuo J, Li J, Ji Y, Qiu S, Yao L, Chen Y, Liu Y (2018) Effects of tourmaline on nitrogen removal performance and biofilm structures in the sequencing batch biofilm reactor. J Environ Sci-China 67(5):127–135

Tang B, Chen Q, Bin L, Huang S, Zhang W, Fu F, Li P (2018) Insight into the microbial community and its succession of a coupling anaerobic-aerobic biofilm on semi-suspended bio-carriers. Bioresour Technol 247:591–598

Terada A, Okuyama K, Nishikawa M, Tsuneda S, Hosomi M (2012) The effect of surface charge property on Escherichia coli initial adhesion and subsequent biofilm formation. Biotechnol Bioeng 109(7):1745–1754

Wang X, Liu M (2019) Photocatalytic enhancement mechanism of direct Z-scheme heterojunction O-g-C3N4@Fe-TiO2 under visible-light irradiation. Appl Surf Sci 485:353–360

Wang GJ, Liu YW, Guo YJ, Zhang ZX, Xu MX, Yang ZX (2007) Surface modification and characterizations of basalt fibers with non-thermal plasma. Surf Coat Technol 201(15):6565–6568

Xu S, Jiang Q (2018) Surface modification of carbon fiber support by ferrous oxalate for biofilm wastewater treatment system. J Clean Prod 194:416–424

Xu QQ, Huo W, Li SS, Fang JH, Li L, Zhang BY, Zhang F, Zhang YX, Li SW (2020) Crystal phase determined Fe active sites on Fe2O3 (γ- and α-Fe2O3) yolk-shell microspheres and their phase dependent electrocatalytic oxygen evolution reaction. Appl Surf Sci 533:147368

Yamashita T, Hayes P (2008) Analysis of XPS spectra of Fe2+ and Fe3+ ions in oxide materials. Appl Surf Sci 254(8):2441–2449

Yang ZC, Sun HM, Wu WZ (2020) Intensified simultaneous nitrification and denitrification performance in integrated packed bed bioreactors using PHBV with different dosing methods. Environ Sci Pollut Res 27(17):21560–21569

Zhang X, Li J, Yu Y, Xu R, Wu Z (2016) Biofilm characteristics in natural ventilation trickling filters (NVTFs) for municipal wastewater treatment: Comparison of three kinds of biofilm carriers. Biochem Eng J106:87–96

Zhang Q, Liang XL, Wei J, Li SW, Xiao X, Liu ZG, Rong XS, Liang ZS, Wu ZR (2019a) Effects of size and spacing of basalt fiber carrier media on performance, extracellular polymeric substances and microbial community of hybrid biological reactors. Environ Sci Wat Res 5(7):1253–1261

Zhang X, Zhou X, Xi H, Sun J, Liang X, Wei J, Xiao X, Liu Z, Li S, Liang Z, Chen Y, Wu Z (2019b) Interpretation of adhesion behaviors between bacteria and modified basalt fiber by surface thermodynamics and extended DLVO theory. Colloid Surf B 177:454–461

Zhao W, Yang S, Huang Q, Cai P (2015) Bacterial cell surface properties: Role of loosely bound extracellular polymeric substances (LB-EPS). Colloid Surf B 128:600–607

Zhao YX, Liu D, Huang WL, Yang Y, Ji M, Nghiem LD, Trinh QT, Tran NH (2019) Insights into biofilm carriers for biological wastewater treatment processes: Current state-of-the-art, challenges, and opportunities. Bioresour Technol 288:121619

Zhou JH, Sui ZJ, Zhu J, Li P, De C, Dai YC, Yuan WK (2007) Characterization of surface oxygen complexes on carbon nanofibers by TPD, XPS and FT-IR. Carbon 45(4):785–796

Zhu Y (2017) Preparation and characterization of a new hydrophilic and biocompatible magnetic polypropylene carrier used in wastewater treatment. Environ Technol 39(21):2736–2746

Ziembinska BA, Ciesielski S, Zabczynski S, Cema G (2019) Bacterial community structure in rotating biological contactor treating coke wastewater in relation to medium composition. Environ Sci Pollut Res 26(19):19171–19179
Acknowledgements
We thank Professor Mohamed Gamal El-Din from the University of Alberta for his instructive comments during the writing of this manuscript.
Funding
This work was supported by the Senior Talent Fund of Anhui Polytechnic University (2020YQQ055), National Key R&D Program of China (2016YFE0126400), National Natural Science Foundation of China (51808264), and Senior Talent Fund of Jiangsu University (16JDG070 and 18JDG031).
Ethics declarations
Ethics approval and consent to participate
Not applicable.
Consent for publication
Not applicable.
Competing interests
The authors declare no competing interests.
Additional information
Publisher's note
Springer Nature remains neutral with regard to jurisdictional claims in published maps and institutional affiliations.
Responsible Editor: Ta Yeong Wu
Supplementary information
About this article
Cite this article
Zhang, X., Ding, J., Gao, F. et al. Enhancement of nitrogen removal in hybrid wastewater treatment system using ferric citrate modified basalt fiber biocarrier. Environ Sci Pollut Res (2021). https://doi.org/10.1007/s11356-021-12941-7
Received:

Accepted:

Published:
Keywords
Biological treatment

Inorganic fiber media

Ferric deposition modification

Surface properties

Bacterial adhesion

Extracellular polymeric substances