Abstract
In this study, we designed Fe3O4 nanoparticles and heterogeneous Fe3O4-Au nanocomposites with a mean size of 21 and 27 nm that synthesized by Foeniculum vulgare seed extract to photodegrade organic micropollutants under UV and visible light irradiation. The physiochemical characteristics of biogenic nanoparticles/nanocomposite are described by XRD, FTIR, UV-Vis, SEM, EDX, and X-ray elemental mapping. In the presence of nanoparticles and nanocomposites under UV irradiation, the total degradation of contaminants is about 85–90% after 2100 s, while under visible light irradiation, degradation efficiencies are about 70–85% after 4800-s irradiation. Total organic carbon analysis results confirmed photodegradation efficacies. Also, the scavenger's experiments show that hydroxyl radical is the most important specie in the degradation of pollutant model. It can be concluded clearly that Fe3O4 green nanoparticles and Fe3O4-Au green nanocomposite are very simple and effective photocatalyst for degradation of organic pollutants in very short time under illumination.
Access options
Buy single article
Instant access to the full article PDF.
US$ 39.95
Tax calculation will be finalised during checkout.
Subscribe to journal
Immediate online access to all issues from 2019. Subscription will auto renew annually.
US$ 79
Tax calculation will be finalised during checkout.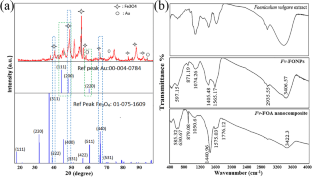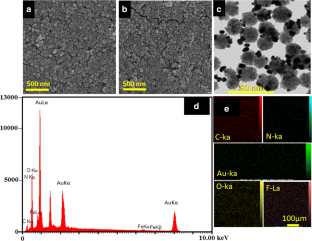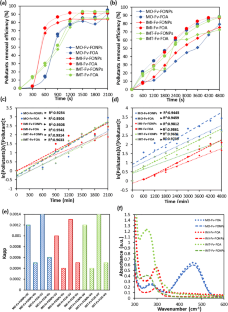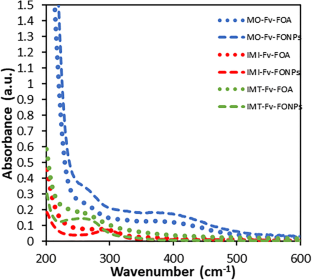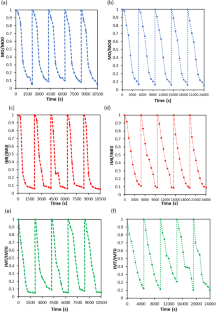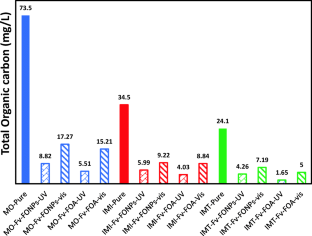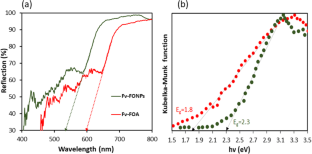 References
Ahmed HB, Emam HE (2019) Synergistic catalysis of monometallic (Ag, Au, Pd) and bimetallic (AgAu, AuPd) versus Trimetallic (Ag-Au-Pd) nanostructures effloresced via analogical techniques. J Mol Liq 287:110975

Ahmed HB, Mikhail MM, El-Sherbiny S, Nagy KS, Emam HE (2020) pH responsive intelligent nano-engineer of nanostructures applicable for discoloration of reactive dyes. J Colloid Interface Sci 561:147–161

Badgujar SB, Patel VV, Bandivdekar AH (2014) Foeniculum vulgare Mill: a review of its botany, phytochemistry, pharmacology, contemporary application, and toxicology. Biomed Res Int 2014:842674. https://doi.org/10.1155/2014/842674

Buerge IJ, Buser H-R, Poiger T, Müller MD (2006) Occurrence and fate of the cytostatic drugs cyclophosphamide and ifosfamide in wastewater and surface waters. Environ Sci Technol 40:7242–7250

Choudhary MK, Kataria J, Sharma S (2017) A biomimetic synthesis of stable gold nanoparticles derived from aqueous extract of Foeniculum vulgare seeds and evaluation of their catalytic activity. Appl Nanosci 7:439–447

Emam HE, Ahmed HB (2019) Comparative study between homo-metallic & hetero-metallic nanostructures based agar in catalytic degradation of dyes. Int J Biol Macromol 138:450–461

Emam HE, Ahmed HB, Gomaa E, Helal MH, Abdelhameed RM (2019) Doping of silver vanadate and silver tungstate nanoparticles for enhancement the photocatalytic activity of MIL-125-NH2 in dye degradation. J Photochem Photobiol A Chem 383:111986

Emam HE, Attia MA, El-Dars FM, Ahmed HB (2020) Emerging use of homogenic and heterogenic nano-colloids synthesized via size-controllable technique in catalytic potency. J Polym Environ 28:553–565

Heydari R, Koudehi MF, Pourmortazavi SM (2019) Antibacterial activity of Fe3O4/Cu nanocomposite: green synthesis using Carum carvi L. seeds aqueous extract. ChemistrySelect 4:531–535

Kohsari I, Shariatinia Z, Pourmortazavi SM (2016) Antibacterial electrospun chitosan–polyethylene oxide nanocomposite mats containing bioactive silver nanoparticles. Carbohydr Polym 140:287–298

Koudehi MF, Pourmortazavi SM (2018) Polyvinyl alcohol/polypyrrole/molecularly imprinted polymer nanocomposite as highly selective chemiresistor sensor for 2, 4-DNT vapor recognition. Electroanalysis 30:2302–2310

Lai H, Shang W, Yun Y, Chen D, Wu L, Xu F (2019) Uniform arrangement of gold nanoparticles on magnetic core particles with a metal-organic framework shell as a substrate for sensitive and reproducible SERS based assays: application to the quantitation of malachite green and thiram. Microchim Acta 186:144

Mirsadeghi S, Koudehi MF, Rajabi HR, Pourmortazavi SM (2020a) Green and simple synthesis of silver nanoparticles by aqueous extract of perovskia abrotanoides: characterization, optimization and antimicrobial activity. Curr Pharm Biotechnol 21:1129–1137. https://doi.org/10.2174/1389201020666190618121218

Mirsadeghi S et al (2020b) Photocatalytic reduction of imatinib mesylate and imipenem on electrochemical synthesized Al2W3O12 nanoparticle: optimization, investigation of electrocatalytic and antimicrobial activity. Colloids Surf A Physicochem Eng Asp 586:124254

Mirzaei A, Chen Z, Haghighat F, Yerushalmi L (2016) Removal of pharmaceuticals and endocrine disrupting compounds from water by zinc oxide-based photocatalytic degradation: a review. Sustain Cities Soc 27:407–418

Nnadozie EC, Ajibade PA (2020) Green synthesis and characterization of magnetite (Fe3O4) nanoparticles using Chromolaena odorata root extract for smart nanocomposite. Mater Lett 263:127145. https://doi.org/10.1016/j.matlet.2019.127145

Panchal P, Paul DR, Sharma A, Choudhary P, Meena P, Nehra S (2020) Biogenic mediated Ag/ZnO nanocomposites for photocatalytic and antibacterial activities towards disinfection of water. J Colloid Interface Sci 563:370–380

Pourmortazavi SM, Rahimi-Nasrabadi M, Somayyeh Hajimirsadeghic S (2014) Supercritical fluid technology in analytical chemistry—review. Curr Anal Chem 10:3–28

Pourmortazavi SM, Taghdiri M, Makari V, Rahimi-Nasrabadi M (2015) Procedure optimization for green synthesis of silver nanoparticles by aqueous extract of Eucalyptus oleosa. Spectrochim Acta A Mol Biomol Spectrosc 136:1249–1254

Pourmortazavi SM, Rahimi-Nasrabadi M, Aghazadeh M, Ganjali MR, Karimi MS, Norouzi P (2017a) Synthesis, characterization and photocatalytic activity of neodymium carbonate and neodymium oxide nanoparticles. J Mol Struct 1150:411–418

Pourmortazavi SM, Rahimi-Nasrabadi M, Ganjali MR, Karimi MS, Norouzi P, Faridbod F (2017b) Facile and effective synthesis of praseodymium tungstate nanoparticles through an optimized procedure and investigation of photocatalytic activity. Open Chem 15:129–138

Pourmortazavi SM, Rahimi-Nasrabadi M, Ahmadi F, Ganjali MR (2018a) CuCO 3 and CuO nanoparticles; facile preparation and evaluation as photocatalysts. J Mater Sci Mater Electron 29:9442–9451

Pourmortazavi SM, Rahimi-Nasrabadi M, Karimi MS, Mirsadeghi S (2018b) Evaluation of photocatalytic and supercapacitor potential of nickel tungstate nanoparticles synthesized by electrochemical method. New J Chem 42:19934–19944. https://doi.org/10.1039/C8NJ05297B

Pourmortazavi SM, Keramati A, Mirsadeghi S (2019) Fabrication of strontium nitrate nanoparticles through a spraying-in non-solvent process optimized by Taguchi approach. ChemistrySelect 4:12391–12398

Purkayastha S, Narain R, Dahiya P (2012) Evaluation of antimicrobial and phytochemical screening of Fennel, Juniper and Kalonji essential oils against multi drug resistant clinical isolates. Asian Pac J Trop Biomed 2:S1625–S1629

Roby MHH, Sarhan MA, Selim KA-H, Khalel KI (2013) Antioxidant and antimicrobial activities of essential oil and extracts of fennel (Foeniculum vulgare L.) and chamomile (Matricaria chamomilla L.). Ind Crop Prod 44:437–445

Sarkar S, Chakraborty S, Bhattacharjee C (2015) Photocatalytic degradation of pharmaceutical wastes by alginate supported TiO2 nanoparticles in packed bed photo reactor (PBPR). Ecotoxicol Environ Saf 121:263–270

Secrétan PH et al (2019) Imatinib: major photocatalytic degradation pathways in aqueous media and the relative toxicity of its transformation products. Sci Total Environ 655:547–556. https://doi.org/10.1016/j.scitotenv.2018.11.270

Singh J, Kumar S, Dhaliwal A (2020) Controlled release of amoxicillin and antioxidant potential of gold nanoparticles-xanthan gum/poly (Acrylic acid) biodegradable nanocomposite. J Drug Deliv Sci Technol 55:101384

Yousefi M, Rahimi-Nasrabadi M, Pourmortazavi SM, Wysokowski M, Jesionowski T, Ehrlich H, Mirsadeghi S (2019) Supercritical fluid extraction of essential oils. TrAC Trends Anal Chem 118:182–193

Yuan X et al (2019) Photocatalytic degradation of organic pollutant with polypyrrole nanostructures under UV and visible light. Appl Catal B Environ 242:284–292

Yusuff AS, Popoola LT, Aderibigbe EI (2020) Solar photocatalytic degradation of organic pollutants in textile industry wastewater by ZnO/pumice composite photocatalyst. J Environ Chem Eng 8:103907. https://doi.org/10.1016/j.jece.2020.103907
Funding
This paper is supported by National Institute for Medical Research and Development, Iran (NIMAD) with Grant No. 965364.
Ethics declarations
Ethics approval
Not applicable.
Consent to participate
Not applicable.
Consent for publication
Not applicable.
Competing interests
The authors declare that they have no competing interests.
Additional information
Publisher's Note
Springer Nature remains neutral with regard to jurisdictional claims in published maps and institutional affiliations.
Responsible Editor: Sami Rtimi
About this article
Cite this article
Yousefi, M., Zandavar, H., Pourmortazavi, S.M. et al. UV and visible-assisted photocatalytic degradation of pharmaceutical pollutants in the presence of rational designed biogenic Fe3O4-Au nanocomposite. Environ Sci Pollut Res (2021). https://doi.org/10.1007/s11356-021-12932-8
Received:

Accepted:

Published:
Keywords
Photocatalyst activity

Nanocomposite

Total organic carbon

Scavengers

Pollutants