Abstract
Crude oil is one of the most widespread pollutants released into the marine environment, and native species have provided useful information about the effect of crude oil pollution in marine ecosystems. We consider that the lined sole Achirus lineatus can be a useful monitor of the effect of crude oil in the Gulf of Mexico (GoM) because this flounder species has a wide distribution along the GoM, and its response to oil components is relevant. The objective of this study was to compare the transcriptomic changes in liver and gill of adults lined sole fish (Achirus lineatus) exposed to a sublethal acute concentration of water-accommodated fraction (WAF) of light crude oil for 48 h. RNA-Seq was performed to assess the transcriptional changes in both organs. A total of 1073 differentially expressed genes (DEGs) were detected in gills; 662 (61.69%) were upregulated, and 411 (38.30%) were downregulated whereas in liver, 515 DEGs; 306 (59.42%) were upregulated, and 209 (40.58%) were downregulated. Xenobiotic metabolism and redox metabolism, along with DNA repair mechanisms, were activated. The induction of hypoxia-regulated genes and the generalized regulation of multiple signaling pathways support the hypothesis that WAF exposition causes a hypoxia-like condition.
Access options
Buy single article
Instant access to the full article PDF.
US$ 39.95
Tax calculation will be finalised during checkout.
Subscribe to journal
Immediate online access to all issues from 2019. Subscription will auto renew annually.
US$ 79
Tax calculation will be finalised during checkout.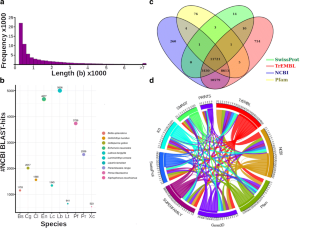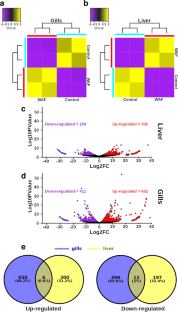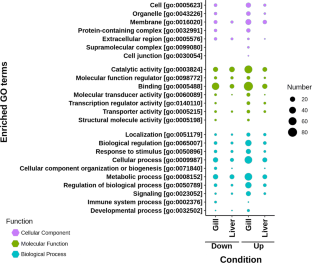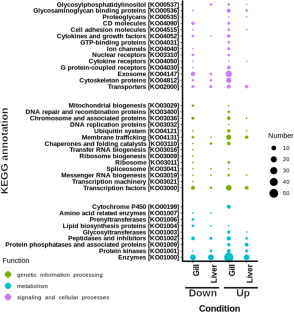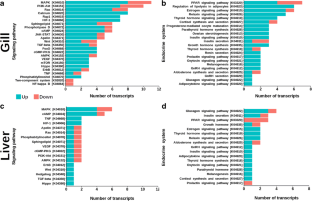 Data availability
The datasets generated for this study can be found in the NCBI Sequence Read Archive (SRA) under the bioproject accession number PRJNA646280. BioSample accessions: SAMN15538527-SAMN15538534.
References
Agani FH, Pichiule P, Chavez JC, LaManna JC (2002) Inhibitors of mitochondrial complex I attenuate the accumulation of hypoxia-inducible factor-1 during hypoxia in Hep3B cells. Comp Biochem Physiol A Mol Integr Physiol 132(1):107–109. https://doi.org/10.1016/S1095-6433(01)00535-9

Allan SE, Smith BW, Anderson KA (2012) Impact of the Deepwater Horizon oil spill on bioavailable polycyclic aromatic hydrocarbons in Gulf of Mexico coastal waters. Environ Sci Technol 46(4):2033–2039. https://doi.org/10.1021/es202942q

Améndola-Pimenta M, Cerqueda-García D, Zamora-Briseño JA, Couoh-Puga D, Montero-Muñoz J, Árcega-Cabrera F, Ceja-Moreno V, Pérez-Vega JA, García-Maldonado JQ, del Río-García M, Zapata-Pérez O, Rodriguez-Canul R (2020) Toxicity evaluation and microbiota response of the lined sole Achirus lineatus (Chordata: Achiridae) exposed to the light petroleum water-accommodated fraction (WAF). J Toxicol Environ Health A 83:313–329. https://doi.org/10.1080/15287394.2020.1758861

Andrade-Porto SM, Ramos CA, Roque R, Affonso EG, Barcellos JFM, Queiroz MN, Araújo CSO, Tavares-Dias M (2018) Histopathological evaluation of formalin toxicity in Arapaima gigas (Arapaimidae), the giant fish from Amazon. Pesqui Vet Bras 38(6):1015–1025. https://doi.org/10.1590/1678-5150-PVB-5106

Andrews S (2010) FASTQC. A quality control tool for high throughput sequence data. http://www.bioinformatics.babraham.ac.uk/projects/fastqc/. Accessed 24 Sept 2019

Aragonés J, Schneider M, Van Geyte K, Fraisl P, Dresselaers T, Mazzone M, Carmeliet P (2008) Deficiency or inhibition of oxygen sensor Phd1 induces hypoxia tolerance by reprogramming basal metabolism. Nat Genet 40(2):170

Aragonés J, Fraisl P, Baes M, Carmeliet P (2009) Oxygen sensors at the crossroad of metabolism. Cell Metab 9(1):11–22

Bagby SC, Reddy CM, Aeppli C, Fisher GB, Valentine DL (2017) Persistence and biodegradation of oil at the ocean floor following Deepwater Horizon. Proc Natl Acad Sci USA 114:E9–E18. https://doi.org/10.1073/pnas.1610110114

Bayha KM, Ortell N, Ryan CN, Griffitt KJ, Krasnec M, Sena J, Ramaraj T, Takeshita R, Mayer GD, Schilkey F, Griffitt RJ (2017) Crude oil impairs immune function and increases susceptibility to pathogenic bacteria in southern flounder. PLoS One 12(5):e0176559

Bejarano AC, Clark JR, Coelho GM (2014) Issues and challenges with oil toxicity data and implications for their use in decision making: a quantitative review. Environ Toxicol Chem 33:732–742. https://doi.org/10.1002/etc.2501

Bell GI, Kayano T, Buse JB, Burant CF, Takeda J, Lin D, Seino S (1990) Molecular biology of mammalian glucose transporters. Diabetes Care 13(3):198–208. https://doi.org/10.1042/bj2950329

Beyer J, Trannum HC, Bakke T, Hodson PV, Collier TK (2016) Environmental effects of the Deepwater Horizon oil spill: A review. Mar Pollut Bull 110(1):28–51. https://doi.org/10.1016/j.marpolbul.2016.06.027

Bolger AM, Lohse M, Usadel B (2014) Trimmomatic: a flexible trimmer for Illumina sequence data. Bioinformatics 30(15):2114–2120. https://doi.org/10.1093/bioinformatics/btu170

Bolognesi C, Perrone E, Roggieri P, Sciutto A (2006) Bioindicators in monitoring long term genotoxic impact of oil spill: haven case study. Mar Environ Res 62:S287–S291. https://doi.org/10.1016/j.marenvres.2006.04.047

Bonisoli-Alquati A, Xu W, Stouffer PC, Taylor SS (2020) Transcriptome analysis indicates a broad range of toxic effects of Deepwater Horizon oil on Seaside Sparrows. Sci Total Environ 720:137583. https://doi.org/10.1016/j.scitotenv.2020.137583

Bonucci-Moreira C, Vieira-Rodrigues R, Romano LA, Pereira Gusmao E, Hartwig Seyffert B, Sampaio LA, Miranda-Filho KC (2014) Genotoxicity and histological alterations in grey mullet Mugil liza exposed to petroleum water-soluble fraction (PWSF). Environ Sci Pollut Res 21:5565–5574. https://doi.org/10.1007/s11356-013-2440-0

Bovolenta P, Esteve P, Ruiz JM, Cisneros E, Lopez-Rios J (2008) Beyond Wnt inhibition: New functions of secreted Frizzled-related proteins in development and disease. J Cell Sci 121(6):737–746. https://doi.org/10.1242/jcs.026096

Bray NL, Pimentel H, Melsted P, Pachter L (2016) Near-optimal probabilistic RNA-seq quantification. Nat Biotechnol 34:525–527. https://doi.org/10.1038/nbt.3519

Camilli R, Reddy CM, Yoerger DR, Van Mooy BAS, Jakuba MV, Kinsey JC, McIntyre CP, Sylva SP, Maloney JV (2010) Tracking hydrocarbon plume transport and biodegradation at Deepwater Horizon. Science 330:201–204. https://doi.org/10.1126/science.1195223

Chen C, Pore N, Behrooz A, Ismail-Beigi F, Maity A (2001) Regulation of glut1 mRNA by hypoxia-inducible factor-1: interaction between H-ras and hypoxia. J Biol Chem 276(12):9519–9525. https://doi.org/10.1074/jbc.M010144200

Conti ME, Iacobucci M (2008) Marine organisms as biomonitors. WIT Transact. State-of-the-art in Sci. and Eng, 30: 81-110. www.witpress.com, ISSN 1755-8336 (on-line). doi:https://doi.org/10.2495/978-1-84564-002-6/04

Costantino L, Sotiriou SK, Rantala JK, Magin S, Mladenov E, Helleday T, Haber JE, LLiakis G, Kallioniemi OP, Halazonetis TD (2014) Break-induced replication repair of damaged forks induces genomic duplications in human cells. Sci. 343(6166):88–91. https://doi.org/10.1126/science.1243211

Cummins EP, Taylor CT (2005) Hypoxia-responsive transcription factors. Pflugers Arch - Eur J Physiol 450:363–371. https://doi.org/10.1007/s00424-005-1413-7

de Azevedo MFC, Oliveira C, Martins C, Wasko AP, Foresti F (2005) Isolation and characterization of a satellite DNA family in Achirus lineatus (Teleostei: Pleuronectiformes: Achiridae). Genetica. 125:205–221. https://doi.org/10.1007/s10709-005-8419-0

Del Sal G, Ruaro ME, Philipson L, Schneider C (1992) The growth arrest-specific gene, gas1, is involved in growth suppression. Cell. 70(4):595–607. https://doi.org/10.1016/0092-8674(92)90429-G

Demirbas A, Aliddrisi H, Balubaid MA (2015) API gravity, sulfur content, and desulfurization of crude oil. Pet Sci Technol 33(1):93–101. https://doi.org/10.1080/10916466.2014.950383

Di Rienzo JA, Casanoves F, Balzarini MG, Gonzalez L, Tablada M, Robledo CW (2018) InfoStat versión 2018. Grupo InfoStat, FCA, Universidad Nacional de Córdoba, Argentina. URL http://www.infostat.com.ar

Dibner C, Schibler U, Albrecht U (2010) The mammalian circadian timing system: organization and coordination of central and peripheral clocks. Annu Rev Physiol 72:517–549. https://doi.org/10.1146/annurev-physiol-021909-135821

Dubansky B, Whitehead A, Miller JT, Rice C, Galvez F (2013) Multitissue molecular, genomic, and developmental effects of the deepwater horizon oil spill on resident gulf killifish (Fundulus grandis). Environ Sci Technol 47(10):5074–5082. https://doi.org/10.1021/es400458p

Duchartre Y, Kim YM, Kahn M (2016) The Wnt signaling pathway in cancer. Crit Rev Oncol Hematol 99:141–149. https://doi.org/10.1016/j.critrevonc.2015.12.005

Evans DH, Piermarini PM, Choe KP (2005) The multifunctional fish gill: dominant site of gas exchange, osmoregulation, acid–base regulation, and excretion of nitrogenous waste. Physiol Rev 85(1):97–177. https://doi.org/10.1152/physrev.00050.2003

Ferreira M, Antunes P, Gil O, Vale C, Reis-Henriques MA (2004) Organochlorine contaminants in flounder (Platichthys flesus) and mullet (Mugil cephalus) from Douro estuary, and their use as sentinel species for environmental monitoring. Aquat Toxicol 69(4):347–357. https://doi.org/10.1016/j.aquatox.2004.06.005

Fuhrmann DC, Brüne B (2017) Mitochondrial composition and function under the control of hypoxia. Redox Biol 12:208–215. https://doi.org/10.1016/j.redox.2017.02.012

Ginestet C (2011) ggplot2: elegant graphics for data analysis. J. R. Stat. Soc. Ser. A Statistics Soc 174(1), 245-246. doi:https://doi.org/10.1111/j.1467-985x.2010.00676_9.x.

Gómez-Baena G, Domínguez-Martín MA, Donaldson RP, García-Fernández JM, Diez J (2015) Glutamine synthetase sensitivity to oxidative modification during nutrient starvation in Prochlorococcus marinus PCC 9511. PLoS One 10(8):e0135322. https://doi.org/10.1371/journal.pone.0135322

Grabherr MG, Haas BJ, Yassour M, Levin JZ, Thompson DA, Amit I, Chen Z (2011) Full-length transcriptome assembly from RNA-Seq data without a reference genome. Nat Biotechnol 29(7):644–652. https://doi.org/10.1038/nbt.1883

Gregson BH, McKew BA, Holland RD, Nedwed TJ, Prince RC, McGenity TJ (2021) Marine oil snow, a microbial perspective. Front Mar Sci 8:619484. https://doi.org/10.3389/fmars.2021.619484

Hanson JR (2006) The organic chemistry of biological pathways. Nat Prod Rep 23(1):130–130. https://doi.org/10.1039/b503654m

Haunerland NH, Spener F (2004) Fatty acid-binding proteins—insights from genetic manipulations. Prog Lipid Res 43(4):328–349. https://doi.org/10.1016/j.plipres.2004.05.001

Hildesheim J, Bulavin DV, Anver MR, Alvord WG, Hollander MC, Vardanian L et al (2002) Gadd45a protects against UV irradiation-induced skin tumors, and promotes apoptosis and stress signaling via MAPK and p53. Cancer Res 62(24):7.305–7.315

Holm S (1979) A simple sequentially rejective multiple test procedure author(s): Scand. J Stat 6 (2), 65-70 doi:https://doi.org/10.2307/4615733.

Holt EA, Miller SW (2010) Bioindicators: using organisms to measure environmental impacts. Nature. 3(10):8–13

Ilowite NT, Laxer RM (2011) Drug biotransformation, Pharmacol. Drug Therapy. In: Textbook of pediatric rheumatology (sixth edition), Chapter 6, pp. 71–126.

Jiang H, Yin Y, Zhang X, Hu S, Wang Q (2009) Chasing relationships between nutrition and reproduction: a comparative transcriptome analysis of hepatopancreas and testis from Eriocheir sinensis. Comp Biochem Physiol Part D Genomics Proteomics 4(3):227–234. https://doi.org/10.1016/j.cbd.2009.05.001

Johnson AL, Edson KZ, Totah RA, Rettie AE (2015) Cytochrome P450 ω-hydroxylases in inflammation and cancer. Adv Pharmacol 74:223–262. https://doi.org/10.1016/bs.apha.2015.05.002

Jones P, Binns D, Chang HY, Fraser M, Li W, McAnulla C, Pesseat S (2014) InterProScan 5: Genome-scale protein function classification. Bioinformatics. 30(9):1236–1240. https://doi.org/10.1093/bioinformatics/btu031

Kanehisa M, Sato Y (2019) KEGG Mapper for inferring cellular functions from protein sequences. Protein Sci 29:28–35. https://doi.org/10.1002/pro.3711

Kanehisa M, Sato Y, Morishima K (2016) BlastKOALA and GhostKOALA: KEGG Tools for functional characterization of genome and metagenome sequences. J Mol Biol 428(4):726–731. https://doi.org/10.1016/j.jmb.2015.11.006

Kirby MF, Morris S, Hurst M, Kirby SJ, Neall P, Tylor T, Fagg A (2000) The use of cholinesterase activity in flounder (Platichthys flesus) muscle tissue as a biomarker of neurotoxic contamination in UK estuaries. Mar Pollut Bull 40(9):780–791. https://doi.org/10.1016/S0025-326X(00)00069-2

Kliewer SA, Goodwin B, Willson TM (2002) The nuclear pregnane X receptor: A key regulator of xenobiotic metabolism. Endocr Rev 23(5):687–702. https://doi.org/10.1210/er.2001-0038

Kondyli A, Schrader W (2019) High-resolution GC/MS studies of a light crude oil fraction. J Mass Spectrom 54:47–54. https://doi.org/10.1002/jms.4306

Korde AS, Yadav VR, Zheng YM, Wang YX (2011) Primary role of mitochondrial Rieske iron–sulfur protein in hypoxic ROS production in pulmonary artery myocytes. Free Radic Biol Med 50(8):945–952. https://doi.org/10.1016/j.freeradbiomed.2011.01.010

Kujawinski EB, Reedy CM, Rodgers RP, Thrash JC, Valentine DL, White HK (2020) The first decade of scientific insight from the Deepwater Horizon oil release. Nat Rev Earth Environ 1:235–250. https://doi.org/10.1038/s43017-020-0046-x

Kuwano Y, Tominaga K, Kawahara T, Sasaki H, Takeo K, Nishida K, Rokutan K (2008) Tumor necrosis factor α activates transcription of the NADPH oxidase organizer 1 (NOXO1) gene and upregulates superoxide production in colon epithelial cells. Free Radic Biol Med 45(12):1642–1652. https://doi.org/10.1016/j.freeradbiomed.2008.08.033

Leonard EM, Salman S, Nurse CA (2018) Sensory processing and integration at the carotid body tripartite synapse: neurotransmitter functions and effects of chronic hypoxia. Front Physiol 9:225. https://doi.org/10.3389/fphys.2018.00225

Leto TL, Morand S, Hurt D, Ueyama T (2009) Targeting and regulation of reactive oxygen species generation by Nox family NADPH oxidases. Antioxid Redox Signal 11(10):2607–2619. https://doi.org/10.1089/ars.2009.2637

Lewis DFV, Jacobs MN, Dickins M, Lake BG (2002) Quantitative structure-activity relationships for inducers of cytochromes P450 and nuclear receptor ligands involved in P450 regulation within the CYP1, CYP2, CYP3 and CYP4 families. Toxicol. 176(1-2):51–57. https://doi.org/10.1016/S0300-483X(02)00135-X

Li W, Godzik A (2006) Cd-hit: A fast program for clustering and comparing large sets of protein or nucleotide sequences. Bioinformatics. 22(13):1658–1659. https://doi.org/10.1093/bioinformatics/btl158

Liebermann DA, Tront JS, Sha X, Mukherjee K, Alisha-Mohamed-Hadley, Hoffman B (2011) Gadd45 stress sensors in malignancy and leukemia. Crit Rev Oncog 16(1-2):129–140. https://doi.org/10.1615/CritRevOncog.v16.i1-2.120

Liepelt A, Karbe L, Westendorf J (1995) Induction of DNA strand breaks in rainbow trout Oncorhynchus mykiss under hypoxic and hyperoxic conditions. Aquat Toxicol 33(2):177–181. https://doi.org/10.1016/0166-445X(95)00016-W

Lin EL, Cormier SM, Torsella JA (1996) Fish biliary polycyclic aromatic hydrocarbon metabolites estimated by fixed-wavelength fluorescence: comparison with HPLC-fluorescent detection. Ecotoxicol Environ Saf 35(1):16–23. https://doi.org/10.1006/eesa.1996.0077

Liston HL, Markowitz JS, DeVane CL (2001) Drug glucuronidation in clinical psychopharmacology. J Clin Psychopharmacol 21(5):500–515. https://doi.org/10.1097/00004714-200110000-00008

Litwack G (ed.) (2018) "Metabolism of amino acids" in Human biochemistry, (Boston: Academic Press), 359–394

Livak KJ, Schmittgen TD (2001) Analysis of relative gene expression data using real-time quantitative PCR and the 2-ΔΔCT method. Methods 25:402–408. https://doi.org/10.1006/meth.2001.1262

Lončar J, Popović M, Krznar P, Zaja R, Smital T (2016) The first characterization of multidrug and toxin extrusion (MATE/SLC47) proteins in zebrafish (Danio rerio). Sci Rep 6:28937. https://doi.org/10.1038/srep28937

Lu P, Xie W (2017) "Xenobiotic receptors in the crosstalk between drug metabolism and energy metabolism" in Drug metabolism in diseases. doi: https://doi.org/10.1016/B978-0-12-802949-7.00011-0

Lu CW, Lin SC, Chen KF, Lai YY, Tsai SJ (2008) Induction of pyruvate dehydrogenase kinase-3 by hypoxia-inducible factor-1 promotes metabolic switch and drug resistance. J Biol Chem 283(42):28106–28114. https://doi.org/10.1074/jbc.M803508200

Luna-Acosta A, Kanan R, Le Floch S, Huet V, Pineau P, Bustamante P, Thomas-Guyon H (2011) Enhanced immunological and detoxification responses in Pacific oysters, Crassostrea gigas, exposed to chemically dispersed oil. Water Res 45(14):4103–4118. https://doi.org/10.1016/j.watres.2011.05.011

McNutt MK, Camilli R, Crone TJ, Guthrie GD, Hsieh PA, Ryerson TB, Shaffer F (2012) Review of flow rate estimates of the Deepwater Horizon oil spill. Proc Natl Acad Sci USA 109(50):20260–20267. https://doi.org/10.1073/pnas.1112139108

Mehinto AC, Martyniuk CJ, Spade DJ, Denslow ND (2012) Applications of next-generation sequencing in fish ecotoxicogenomics. Front Genet 3:62. https://doi.org/10.3389/fgene.2012.00062

Minokoshi Y, Alquier T, Furukawa N, Kim YB, Lee A, Xue B, Mu J, Foufelle F, Ferré P, Birnbaum MJ, Stuck BJ, Kahn BB (2004) AMP-kinase regulates food intake by responding to hormonal and nutrient signals in the hypothalamus. Nature. 428(6982):569–574

Mizuno N, Takahashi T, Iwase Y, Kusuhara H, Niwa T, Sugiyama Y (2007) Human organic anion transporters 1 (hOAT1/SLC22A6) and 3 (hOAT3/SLC22A8) transport edaravone (MCI-186; 3-methyl-1-phenyl-2-pyrazolin-5-one) and its sulfate conjugate. Drug Metab Dispos 35(8):1429–1434. https://doi.org/10.1124/dmd.106.013912

Moreira CB, Rodrigues RV, Romano LA, Gusmão EP, Seyffert BH, Sampaio LA, Miranda-Filho KC (2014) Genotoxicity and histological alterations in grey mullet Mugil liza exposed to petroleum water-soluble fraction (PWSF). Environ Sci Pollut Res 21:5565–5574. https://doi.org/10.1007/s11356-013-2440-0

Mott D (2015) The metabotropic GABAB receptors. In Cellular and molecular nurophysiology: Fourth Edition Chapter 11, 245-247. DOI: https://doi.org/10.1016/B978-0-12-397032-9.00011-X

Murawski SA, Hollander DJ, Gilbert S, Gracia A (2020) "Deep-water oil and gas production in the Gulf of Mexico, and related global trends," in Scenarios and responses to future deep oil spills—fighting the next war, eds S. A. Murawski, C. Ainsworth, S. Gilbert, D. Hollander, C. B. Paris, M. Schlüter, et al. (Cham: Springer)

Nero V, Farwell A, Lister A, Van Der Kraak G, Lee LEJ, Van Meer T, MacKinnon MD, Dixon DG (2006) Gill and liver histopathological changes in yellow perch (Perca flavescens) and goldfish (Carassius auratus) exposed to oil sand process-affected water. Ecotoxicol Environ Saf 63:365–377. https://doi.org/10.1016/j.ecoenv.2005.04.014

Ogi T, Limsirichaikul S, Overmeer RM, Volker M, Takenaka K, Cloney R, Mullenders LH (2010) Three DNA polymerases, recruited by different mechanisms, carry out NER repair synthesis in human cells. Mol Cell 37(5):714–727. https://doi.org/10.1016/j.molcel.2010.02.009

Oliveros JC (2007) VENNY. An interactive tool for comparing lists with Venn diagrams. http://bioinfogp.cnb.csic.es/tools/venny/index.html. (Accessed 03-10-2020)

Omar-Ali A, Hohn C, Allen PJ, Ford L, Dail MB, Pruett S, Petrie-Hanson L (2014) The effects of oil exposure on peripheral blood leukocytes and splenic melano-macrophage centers of Gulf of Mexico fishes. Mar Pollut Bull 79:87–93. https://doi.org/10.1016/j.marpolbul.2013.12.036

Omiecinski CJ, Vanden Heuvel P, Perdew GH, Peters JM (2011) Xenobiotic metabolism, disposition, and regulation by receptors: from biochemical phenomenon to predictors of major toxicities. Toxicol Sci 120(1):S49–S75. https://doi.org/10.1093/toxsci/kfq338

Osińska I, Popko K, Demkow U (2014) Perforin: an important player in immune response. 39(1), 109 Cent Eur J Immunol doi:https://doi.org/10.5114/ceji.2014.42135.

Ouiddir A, Planès C, Fernandes I, Vanhesse A, Clerici C (1999) Hypoxia upregulates activity and expression of the glucose transporter GLUT1 in alveolar epithelial cells. Am J Respir Cell Mol Biol 21(6):710–718. https://doi.org/10.1165/ajrcmb.21.6.3751

Passow U, Stout SA (2020) Character and sedimentation of "lingering" Macondo oil to the deep-sea after the Deepwater Horizon oil spill. Mar Chem 218:103733. https://doi.org/10.1016/J.MARCHEM.2019.103733

Pelley JW (2012) "Glycolysis and pyruvate oxidation" in Elsevier's integrated review biochemistry. Chapter 6, 49-55 doi:https://doi.org/10.1016/b978-0-323-07446-9.00006-4.

Penner N, Woodward C, Prakash C (2012) Appendix: drug metabolizing enzymes and biotransformation reactions in ADME-enabling technologies in drug design and development, eds D. Zhang and S. Surapaneni (Hoboken, NJ: John Wiley & Sons, Inc.). https://doi.org/10.1002/9781118180778.app1

Perry JL, Dembla-Rajpal N, Hall LA, Pritchard JB (2006) A three-dimensional model of human organic anion transporter 1: aromatic amino acids required for substrate transport. J Biol Chem 281(49):38071–38079. https://doi.org/10.1074/jbc.M608834200

Pilcher W, Miles S, Tang S, Mayer G, Whitehead A (2014) Genomic and genotoxic responses to controlled weathered-oil exposures confirm and extend field studies on impacts of the Deepwater Horizon oil spill on native killifish. PLoS One 9:e106351. https://doi.org/10.1371/journal.pone.0106351

Pottinger TG, Carrick TR, Yeomans WE (2002) The three-spined stickleback as an environmental sentinel: effects of stressors on whole-body physiological indices. J Fish Biol 61:207–229. https://doi.org/10.1006/jfbi.2002.2034

Powell WS, Rokach J (2015) Biosynthesis, biological effects, and receptors of hydroxyeicosatetraenoic acids (HETEs) and oxoeicosatetraenoic acids (oxo-ETEs) derived from arachidonic acid. Biochim Biophys Acta Mol Cell Biol Lipids 1851(4):340–355. https://doi.org/10.1016/j.bbalip.2014.10.008

R Development Core Team (2011) R: a language and environment for statistical computing. R Found. Stat. Comput

Rahmanpour S, Ghorghani NF, Ashtiyani SML (2014) Polycyclic aromatic hydrocarbon (PAH) in four fish species from different trophic levels in the Persian Gulf. Environ Monit Assess 186:7047–7053

Robinson MD, McCarthy DJ, Smyth GK (2009) edgeR: a bioconductor package for differential expression analysis of digital gene expression data. Bioinformatics. 26(1):139–140. https://doi.org/10.1093/bioinformatics/btp616

Saco-Álvarez L, Bellas J, Nieto Ó, Bayona JM, Albaigés J, Beiras R (2008) Toxicity and phototoxicity of water-accommodated fraction obtained from Prestige fuel oil and Marine fuel oil evaluated by marine bioassays. Sci Total Environ 394:275–282. https://doi.org/10.1016/j.scitotenv.2008.01.045

Sargolzaei J, Chamani E, Kazemi T, Fallah S, Soori H (2018) The role of adiponectin and adipolin as anti-inflammatory adipokines in the formation of macrophage foam cells and their association with cardiovascular diseases. Clin Biochem 54:1–10. https://doi.org/10.1016/j.clinbiochem.2018.02.008

Schlenk D, Benson WH, Hinton DE, Segner H, Braunbeck T (2017) Toxic responses of the liver. In Target organ toxicity in marine and freshwater teleosts vol 1, doi:https://doi.org/10.1201/9781315109244-4.

Schmidt JV, Bradfield CA (1996) Ah receptor signaling pathways. Annu Rev Cell Dev Biol 12(1):55–89. https://doi.org/10.1146/annurev.cellbio.12.1.55

Shim BY, Jung JH, Lee KM, Kim HJ, Hong SH, Kim SH, Cho HM (2013) Glucose transporter 1 (GLUT1) of anaerobic glycolysis as predictive and prognostic values in neoadjuvant chemoradiotherapy and laparoscopic surgery for locally advanced rectal cancer. Int J Color Dis 28(3):375–383. https://doi.org/10.1007/s00384-012-1542-3

Shoshani T, Faerman A, Mett I, Zelin E, Tenne T, Gorodin S, Kalinski H (2002) Identification of a novel hypoxia-inducible factor 1-responsive gene, RTP801, involved in apoptosis. Mol Cell Biol 22(7):2283–2293. https://doi.org/10.1128/mcb.22.7.2283-2293.2002

Simko V, Iuliano F, Sevcikova A, Labudova M, Barathova M, Radvak P, Csaderova L (2017) Hypoxia induces cancer-associated cAMP/PKA signaling through HIF-mediated transcriptional control of adenylyl cyclases VI and VII. Sci Rep 7(1):1–11. https://doi.org/10.1038/s41598-017-09549-8

Singer MM, Aurand D, Bragin GE, Clark JR, Coelho GM, Sowby ML, Tjeerdema RS (2000) Standardization of the preparation and quantitation of water-accommodated fractions of petroleum for toxicity testing. Mar Pollut Bull 40:1007–1016. https://doi.org/10.1016/S0025-326X(00)00045-X

Smeltz M, Rowland-Faux L, Ghiran C, Patterson WF III, Garner BS, Beers A, Mièvre Q, Kane SA, James MO (2017) A multi-year study of hepatic biomarkers in coastal fishes from the Gulf of Mexico after the Deepwater Horizon oil spill. Mar. Environ Res. 129:57–67. https://doi.org/10.1016/j.marenvres.2017.04.015

Stanley, L. A., 2017. Drug metabolism. In Pharmacognosy: fundamentals, applications and strategy. Chapter 27, 527-545 doi:https://doi.org/10.1016/B978-0-12-802104-0.00027-5.

Stebel M, Vatta P, Ruaro ME, Del Sal G, Parton RG, Schneider C (2000) The growth suppressing gas1 product is a GPI-linked protein. FEBS Lett 481(2):152–158. https://doi.org/10.1016/S0014-5793(00)02004-4

Stevens EA, Mezrich JD, Bradfield CA (2009) The aryl hydrocarbon receptor: a perspective on potential roles in the immune system. Immunol. 127(3):299–311. https://doi.org/10.1111/j.1365-2567.2009.03054.x

Tello D, Balsa E, Acosta-Iborra B, Fuertes-Yebra E, Elorza A, Ordóñez Á, Martínez-Ruiz A (2011) Induction of the mitochondrial NDUFA4L2 protein by HIF-1α decreases oxygen consumption by inhibiting complex i activity. Cell Metab 14(6):768–779. https://doi.org/10.1016/j.cmet.2011.10.008

Thompson MD, Monga SPS (2007) WNT/β-catenin signaling in liver health and disease. Hepatol. 45(5):1298–1305. https://doi.org/10.1002/hep.21651

Tretter L, Ambrus A (2014) Measurement of ROS homeostasis in isolated mitochondria. Mitochondrial function. Met Enzymol 547:199–223. https://doi.org/10.1016/B978-0-12-801415-8.00012-6

Untergasser A, Nijveen H, Rao X, Bisseling T, Geurts R, Leunissen JAM (2007) Primer3Plus, an enhanced web interface to Primer3. Nucleic Acids Res. vol. 35, no suppl_2, p. W71-W74. doi:https://doi.org/10.1093/nar/gkm306.

Van der Oost R, Beyer J, Vermeulen NPE (2003) Fish bioaccumulation and biomarkers in environmental risk assessment: a review. Environ Toxicol Pharmacol 13(2):57–149. https://doi.org/10.1016/S1382-6689(02)00126-6

Wang RN, Green J, Wang Z, Deng Y, Qiao M, Peabody M, Idowu O (2014) Bone morphogenetic protein (BMP) signaling in development and human diseases. Genes. 1(1), 87-105 Dis. doi:https://doi.org/10.1016/j.gendis.2014.07.005

Weber C, Koutero M, Dillies MA, Varet H, Lopez-Camarillo C, Coppée JY, Hon CC, Guillén N (2016) Extensive transcriptome analysis correlates the plasticity of Entamoeba histolytica pathogenesis to rapid phenotype changes depending on the environment. Sci Rep 6:35852. https://doi.org/10.1038/srep35852

Westerbom M, Lappalainen A, Mustonen O, Norkko A (2018) Trophic overlap between expanding and contracting fish predators in a range margin undergoing change. Sci Rep 8(1):1–13. https://doi.org/10.1038/s41598-018-25745-6

Whitehead A, Dubansky B, Bodinier C, Garcia TI, Miles S, Pilley C, Rice CD (2012) Genomic and physiological footprint of the Deepwater Horizon oil spill on resident marsh fish. Proc Natl Acad Sci U S A 109(50):20298–20302. https://doi.org/10.1073/pnas.1109545108

Whyte JL, Smith AA, Helms JA (2012) Wnt signaling and injury repair. Cold Spring Harb Perspect Biol 4(8):a008078. https://doi.org/10.1101/cshperspect.a008078

Wolf JC, Wheeler JR (2018) A critical review of histopathological findings associated with endocrine and non-endocrine hepatic toxicity in fish models. Aquat Toxicol 197:60–78. https://doi.org/10.1016/j.aquatox.2018.01.013

Xiao H, Gu Z, Wang G, Zhao T (2013) The possible mechanisms underlying the impairment of hif-1α pathway signaling in hyperglycemia and the beneficial effects of certain therapies. Int J Med Sci 10(10):1412–1421. https://doi.org/10.7150/ijms.5630

Xu EG, Mager E, Grosell M, Pasparakis C, Schlenker LS, Stieglitz J, Benetti D, Hazard ES, Courtney SM, Diamante G, Freitas J, Hardiman G, Schlenk D (2016) Time- and oil-dependent transcriptomic and physiological responses to Deepwater Horizon Oil in Mahi-Mahi (Coryphaena hippurus) embryos and larvae. Environ Sci Technol 50(14):7842–7851

Xu E, Mager E, Grosell M et al (2017) Novel transcriptome assembly and comparative toxicity pathway analysis in mahi-mahi (Coryphaena hippurus) embryos and larvae exposed to Deepwater Horizon oil. Sci Rep 7:44546. https://doi.org/10.1038/srep44546

Yagishita Y, Uruno A, Yamamoto M (2016) NRF2-Mediated gene regulation and glucose homeostasis. In Molecular nutrition and diabetes: a volume in the molecular nutrition series Chapter 27,331-348 doi:https://doi.org/10.1016/B978-0-12-801585-8.00027-0

Yamamoto A, Kami K, Takeya R, Sumimoto H (2007) Interaction between the SH3 domains and C-terminal proline-rich region in NADPH oxidase organizer 1 (Noxo1). Biochem Biophys Res Commun 352(2):560–565. https://doi.org/10.1016/j.bbrc.2006.11.060

Ye J, Fang L, Zheng H, Zhang Y, Chen J, Zhang Z, Wang J (2006) WEGO: A web tool for plotting GO annotations. Nucleic Acids Res 34(suppl_2):W293–W297. https://doi.org/10.1093/nar/gkl031

Yoshida LS, Nishida S, Shimoyama T, Kawahara T, Rokutan K, Tsunawaki S (2002) Expression of a p67phox homolog in Caco-2 cells giving O2-reconstituting ability to cytochrome b558 together with recombinant p47phox. Biochem Biophys Res Commun 296(5):1322–1328. https://doi.org/10.1016/S0006-291X(02)02059-4

Yu XH, Tang ZB, Liu LJ, Qian H, Tang SL, Zhang DW, Tang CK (2014) Apelin and its receptor APJ in cardiovascular diseases. Clin Chim Acta 428:1–8. https://doi.org/10.1016/j.cca.2013.09.001

Yu Z, Lin Q, Gu Y, Du F, Wang X, Shi F, Ke C, Xiang M, Yu Y (2019) Bioaccumulation of polycyclic aromatic hydrocarbons (PAHs) in wild marine fish from the coastal waters of the northern South China Sea: risk assessment for human health. Ecotoxicol Environ Saf 180:742–748. https://doi.org/10.1016/j.ecoenv.2019.05.065

Zamorano A, Lamas M, Vergara P, Naranjo JR, Segovia J (2003) Transcriptionally mediated gene targeting of gas1 to glioma cells elicits growth arrest and apoptosis. J Neurosci Res 71(2):256–263. https://doi.org/10.1002/jnr.10461

Zara V, Conte L (2011) The Rieske iron-sulfur protein: import and assembly into the cytochrome bc1 complex of yeast mitochondria. Bioinorg Chem Appl 2011:1–9. https://doi.org/10.1155/2011/363941

Zhang W, Liu Y, Zhang H, Dai J (2012) Proteomic analysis of male zebrafish livers chronically exposed to perfluorononanoic acid. Environ Int 42:20–30. https://doi.org/10.1016/j.envint.2011.03.002

Zhu L, Qu K, Xia B, Sun X, Chen B (2016) Transcriptomic response to water accommodated fraction of crude oil exposure in the gill of Japanese flounder, Paralichthys olivaceus. Mar Pollut Bull 106(1-2):283–291. https://doi.org/10.1016/j.marpolbul.2015.12.022
Acknowledgements
We thank to Dr. Ernesto Pérez-Rueda (Instituto de Investigaciones en Matemáticas Aplicadas y en Sistemas IIMAS, Universidad Nacional Autónoma de México) and Dr. Mario Alberto Martínez-Núñez (UMDI-Sisal, Facultad de Ciencias, Universidad Nacional Autónoma de México) for their preliminary analysis of an earlier version of the transcriptome of A. lineatus. Special thanks to Mr. Richard Mena-Loría & Mrs. Irma Pérez-García for their help during maintenance of fish. The authors appreciate all the comments of the anonymous reviewers.
This research has been funded by the Mexican National Council for Science and Technology-Mexican Ministry of Energy-Hydrocarbon Fund, project 201441. This is a contribution of the Gulf of Mexico Research Consortium (CIGoM). We acknowledge PEMEX´s specific request to the Hydrocarbon Fund to address the environmental effects of oil spills in the Gulf of Mexico.
Ethics declarations
Ethics approval and consent to participate
The animal study was reviewed and approved by the Institutional Animal Care and Use Committee of the Center for Research and Advanced Studies (Centro de Investigación y de Estudios Avanzados del IPN) (CICUAL-CINVESTAV) (APPROVAL NUMBER: 2875). It complies with the applicable Mexican Official Norm (NOM-062-ZOO-1999), "Technical Specifications for the Care and Use of Laboratory Animals", as well as all applicable federal and institutional regulations.
All authors agree to participate in the study.
Competing interests
The authors declare no competing interests.
Additional information
Publisher's note
Springer Nature remains neutral with regard to jurisdictional claims in published maps and institutional affiliations.
Responsible Editor: Bruno Nunes
Supplementary Figures
Summary of de novo transcriptome statistics of Achirus lineatus (XLS 8780 kb)
About this article
Cite this article
Zamora-Briseño, J.A., Améndola-Pimenta, M., Ortega-Rosas, D.A. et al. Gill and liver transcriptomic responses of Achirus lineatus (Neopterygii: Achiridae) exposed to water-accommodated fraction (WAF) of light crude oil reveal an onset of hypoxia-like condition. Environ Sci Pollut Res (2021). https://doi.org/10.1007/s11356-021-12909-7
Received:

Accepted:

Published:
Keywords
Lined sole

Light crude oil

WAF acute exposure

Gulf of Mexico

Transcriptomic analysis

Hypoxia