Abstract
Cadmium (Cd) is one of the toxic elements entering the food chain in various ways, including chemical fertilizers. This study aimed to assess different amounts and forms of available Cd in soils under wheat cultivation affected by long-term use of phosphorus chemical fertilizers and also to study the rate of Cd intake by people with age and gender differences. To investigate the Cd status in wheat-cultivated lands, 105 soil samples and also 24 wheat samples were collected from three land uses of rainfed, irrigated, and control one. Phosphorus levels were also measured in soil samples to investigate the relationship between the amount of chemical fertilizer consumption and the amount of Cd. The mean values of available Cd were 0.15, 0.18, and 0.08 (mg/kg) under three land-use types of rainfed, irrigated, and control one, respectively, and the mean values of total Cd were also 1.9, 2.22, and 1.30 in the rainfed land, irrigated land, and control one, respectively. The results showed that the amount of available and total Cd in the irrigated and rainfed lands was higher than the amount of Cd in the control sample. According to the results of Cd fractionation, the highest amounts of Cd were in the residual, carbonate, organic, soluble, and exchangeable fractions, respectively. The amounts of Cd in the three parts of root, stem, and grain were 1.08, 0.65, 0.91 (mg/kg), respectively. Finally, the results showed that the rate of Cd entry into the children's body was higher than that of adults and the elderly.
Access options
Buy single article
Instant access to the full article PDF.
US$ 39.95
Tax calculation will be finalised during checkout.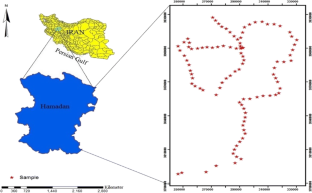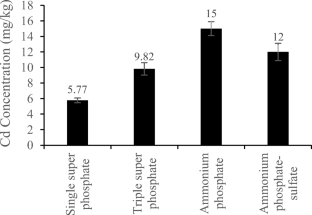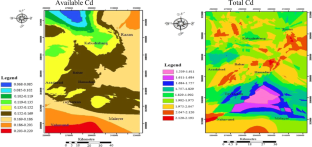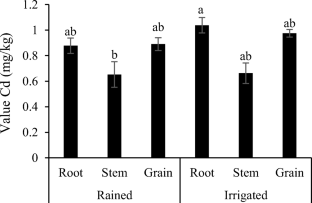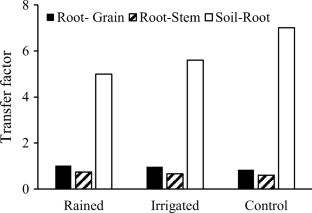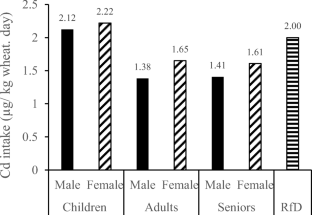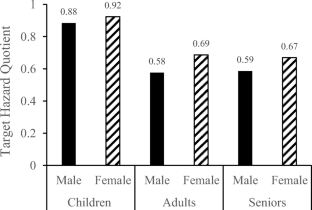 References
Abdel-Shafy HI, Hegemann W, Teiner A (1994) Accumulation of metals by Vascular plants. J Environ Manage Health 5:21–24. https://doi.org/10.1108/09566169410057137

Adaikpoh E (2011) Sequentioal extraction of cadmium, lead, and zinc in soil profiles of l fon and envirous southwest Nigeria. India. J Sci Technol 4:399–403. https://doi.org/10.17485/ijst/2011/v4i4.16

Afyuni M, Khoshgoftarmanesh AH, Dorostkar V, Moshiri R (2007) Zinc and Cd content in fertilizers commonly used in Iran. Proc. Inter. Conf. Zinc crops, Istanbol

Amini M, Afyuni M, Khademi H, Abbaspour KC, Schulin R (2005) Mapping risk of Cd and lead contamination to human health in soils of central Ira n. Sci Total Environ 347: 64-77. https://doi.org/10.1016/j.scitotenv.2004. 12.015.

Antoine JM, Fung LAH, Grant CN (2017) Assessment of the potential health risks associated with the aluminium, arsenic, cadmium and lead content in selected fruits and vegetables grown in Jamaica. Toxicol Rep 4:181–187. https://doi.org/10.1016/j.toxrep.2017.03.006

Baker AJM (1981) Accumulators and excluders-strategies in the response of plants to heavy metals. J Plant Nutr 3:643–654. https://doi.org/10.1080/01904168109362867

Barzegar A, Kouchakzadeh A (2001) The situation of cadmium in sugarcane cultivation in Khuzestan. J Agric Techniq Nat Resourc 6:55–63 (In Persian)

Bauycos GJ (1962) Hydrometer methods improved for making particle size of soils. Agron J 56:464–465

Bolan NS, Adriano BC, Mani PA (2003) Immobilization and phyto-availibility of cadmium in variable charge soils. Plant Soil 251:187–198. https://doi.org/10.1023/A:1026288021059

Bose S, Jain A, Rai V, Ramanathana L (2008) Chemical fractionation and translocation of heavy metals in Canna indica L. grown on industrial waste amended soil. J Hazard Mater 160:187–193. https://doi.org/10.1016/j.jhazmat.2008.02.119

Bowen HJM (1979) Environmental Chemistry of the Elements, vol 333. Academic Press, New York

Carapeto C, Purchase D (2000) Use of Sequential Extraction Procedures for the Analysis of Cd and Lead in Sediment Samples from a Constructed Wetland. Environ Contam Toxicol 64:51–58. https://doi.org/10.1007/s001289910009

Deng X, Chen Y, Yang Y, Lu L, Yuan XY, Zeng H, Zeng Q (2020) Cadmium accumulation in rice (Oryza sativa L.) alleviated by basal alkaline fertilizers followed by topdressing of manganese fertilizer. Environ Pollut 262:114289. https://doi.org/10.1016/j.envpol.2020.114289

Dharma-Wardana MWC (2018) Fertilizer usage and Cd in soils, crops and food. Environ Geochem Health 40:1–16. https://doi.org/10.1007/s10653-018-0140-x

Esnaola MV, Bermond A, Millan E (2000) Optimization of DTPA and calcium chloride extractants for assessing extractable metal fraction in polluted soils. Commun Soil Sci Plant Anal 31:13–29. https://doi.org/10.1080/00103620009370417

European Commission (2001) Maximum levels for certain contaminants in foodstuffs. J Euro Communities Legis 77:1–13

Ghanati K, Farid Z, Hosseini H (2019) Potential health risk assessment of different heavy metals in wheat products. Iran J Pharmaceu Res IJPR 18.4:2093. https://doi.org/10.22037/IJPR.2019.1100865

Hang X, Wang H, Zhou J, Ma C, Du C, Chen X (2009) Risk assessment of potentially toxic element pollution in soils and rice (Oryza sativa) in a typical area of the Yangtze River Delta. Environ Pollut 157:2542–2549. https://doi.org/10.1016/j.envpol.2009.03.002

Hettiarichchi GM, Pierzynski GM, Zwonitzer J, and Lambert M (1997) Phosphorus sources andrate effects on Cd, lead and zinc bioavailability in a metal-contaminated soil. Proc. 4th Intern. Conf. Biogeo Chem. Trace Elements. Berkeley, CA, June 23–27, 463.

Holdaway J, Wuyi W (2018) From Soil Pollution to "Cd Rice" to Public Health Impacts: An Interdisciplinary Analysis of Influencing Factors and Possible Responses. J Resourc Ecol 9(1):1–12. https://doi.org/10.5814/j.issn.1674-764x.2018.01.010

Jafarnejadi AR, Homaee M, Sayyad GA, Bybordi M (2012) Evaluation of main soil properties affecting Cd concentrations in soil and wheat grains on some calcareous soils of Khuzestan Province. J Water Soil Conserv 19(2):149–164 (In Persian)

Jami Al-Ahmadi M, Porkhabbaz AR, Sangak Sani B (2018) Pollution of Heavy Metals in Some Farms of Torbat-E Jam, Khorasan Razavi Province, Iran. Pollution 4(2):227–237. https://doi.org/10.22059/POLL.2017.240614.308.

Kabala C, Singh R (2006) Distribution and forms of Cd in soils near a copper smelter. Pol J Environ Stud 15:51–58

Kabata-pendias A (2011) Trace Elements in soils and Plant. CRC Press is an imprint of the Taylor & Francis Group, Boca Raton London New York, p 505

Kabata-Pendias A, Mukherjee AB (2007) Trace Elements from Soil to Human. Springer, Berlin Heidelberg New York

Khanmirzaei A (2012) The relationship between chemical forms of soil cadmium and its concentration in wheat grains in some soils of Khuzestan province. Aust J Soil Res 26(4):347–357 (In Persian)

Kirkham MB (2006) Cadmium in plants on polluted soils: Effects of soilfactors, hyper-accumulation, and amendments. Geoderma 137:19–32. https://doi.org/10.1016/j.geoderma.2006.08.024

Labanowski J, Monna F, Bermond A, Cambier P, Fernandez C, Lamy I, van Oort F (2008) Kinetic extractions to assess mobilization of Zn, Pb, Cu, and Cd in a metal-contaminated soil: Edta vs. Citrate. Environ Pollut 152:693–701. https://doi.org/10.1016/j.envpol.2007.06.054

Li S, Liu R, Wang M, Wang X, Shan H, Wang H (2006) Phyto-availability of cadmium to cherry-red radish in soils applied composted chicken or pig manure. Geoderma 136:260–271. https://doi.org/10.1016/j.geoderma.2006.03.054

Li SW, Sun HJ, Li HB, Luo J, Ma LQ (2016) Assessment of cadmium bioaccessibility to predict its bioavailability in contaminated soils. Environ Int 94:600–606. https://doi.org/10.1016/j.envint.2016.06.022

Liénard A, Brostaux Y, Colinet G (2014) Soil contamination near a former Zn-Pb ore-treatment plant: Evaluation of deterministic factors and spatial structures at the landscape scale. J Geochem Explor 147:107–116. https://doi.org/10.1016/j.gexplo.2014.07.014

Lim TT, Tay JH, Teh CI (2002) Contamination time effect on lead and cadmium fractionation in a tropical coastal clay. J Environ Qual 31:806–812. https://doi.org/10.2134/jeq2002.0806

Lindsay WL, Norvell WA (1978) Development of a DTPA soil test for zinc, iron, manganese and copper. SSSA 42:421–428. https://doi.org/10.2136/sssaj1978.03615995004200030009x

Loveland P, Webb J (2003) Is there a critical level of organic matter in the agricultural soils of temperate regions: a review. Soil Tillage Res 70:1–18. https://doi.org/10.1016/S0167-1987(02)00139-3

Olsen SR, Sommers LE (1990) Phosphorus. In: Page AL et al (eds) Methods of Soil Analysis, Part 2 Agronomy Monograph, vol 9. ASA and SSSA, Madison, WI, pp 403–430

Pais I, Jones JB (1997) The Handbook of Trace Elements. St. Lucie Press, Boca Raton, p 223

Payandeh K, Jafarnejadi A, Gholami A, Shokohfar A, Panahpor E (2018) Evaluation of Cd Concentration in Wheat Crop Affected by Cropping System. Jundishapur J Health Sci 10(2):14400. https://doi.org/10.5812/jjhs.14400

Rapheal L, Cynthia G, Sebastien S (2007) Cd and zinc in soil solution extracts following the application of phosphate fertilizers. Sci Total Environ 378:293–305. https://doi.org/10.1016/j.scitotenv.2007.02.008

Roades JD (1996) Salinity: electrical conductivity and total dissolved solids. Method of soil analysis, parss: chemical methods. Madison. Wisconsin, USA Pp: 417-436.

Rowell DL (1994) Soil science methods and Application. part7. Measurement of the composition of soil solution. pp: 146.

Savaghebi G, Ardalan MM, Malekouti MJ (2002) Effect of combined application of cadmium and zinc in calcareous soil on response of wheat plant. Iraninan Agric Sci 33(2):333–341 (In Persian)

Sevigny JH (1990) Geochemistry of the Jurassic Nelson plutonic suite Southeastern British Columbia. Litho Probe Rep 11:41–52

Sims JT (1996) Lime requirement method of soil analysis, parts: chemical methods. Madison, Wisconsin. USA. Pp: 491.

Sposito G, Lund LJ, Chang AC (1982) Trace metal chemistry in arid zone field soils amended with sewage sludge, I.: Fractionation of Ni, Cu, Zn, Cd, and Pb in solid phases. SSSA 46:260–264. https://doi.org/10.2136/sssaj1982.03615995004600020009x

Steffan JJ, Brevik EC, Burgess LC, Cerdà A (2018) The effect of soil on human health: an overview. Eur J Soil Sci 69(1:159–171. https://doi.org/10.1111/ejss.12451

Talebi O, Maliheh M, and Mohammad J (2010) Unbalanced use of fertilizers is a serious threat to the health of the community. The first congress of fertilizer challenges in Iran, Tehran 22-24. (In Persian).

Thomas GW (1996) Soil pH and soil acidity in methods of soil analysis. Klute A. (ed). Part3. Chemical methods. Madison, Wisconsin, USA. Pp: 475-490.

USEPA (US Environmental Protection Agency) (1997) Exposure Factors Handbook. National Center for Environmental Assessment. EPA/600/8-89/043. US Office of Health and Environmental Assessment, Washington, DC, USA.

USEPA (US Environmental Protection Agency) (2000) Risk-Based Concentration Table. Office of Health and Environmental Assessment, Washington, DC

Walkley A, Black IA (1934) An examination of the Degtjareff method for determining soil organic matter, and a proposed modification of the chromic acid titration method. J Soil Sci 37(1):29–38

Wang X, Sato T, Xing B, Tao S (2005) Health risks of heavy metals to the general public in Tianjin, China via consumption of vegetables and fish. Sci Total Environ 350:28–37. https://doi.org/10.1016/j.scitotenv.2004.09.044

Wanger GL (1993) Accumulation of cadmium in crop plants and its consequences to human health. Adv Agron 51:173–212. https://doi.org/10.1016/S0065-2113(08)60593-3
Acknowledgments
Thanks to Ms. Mahboubeh Fallah, PhD student in Soil Physics and Conservation at Tarbiat Modares University, Iran, for correcting the grammar of the article.
Ethics declarations
Ethical approval
The subject of plagiarism has been considered by the authors and this article is without problem
Consent to participate
None.
Consent to publish
Yes
Competing interests
None.
Additional information
Publisher's note
Springer Nature remains neutral with regard to jurisdictional claims in published maps and institutional affiliations.
Responsible Editor: Lotfi Aleya
About this article
Cite this article
Rahimi, M., Rahimi, G., Ebrahimi, E. et al. Assessing the distribution of cadmium under different land-use types and its effect on human health in different gender and age groups. Environ Sci Pollut Res 28, 49258–49267 (2021). https://doi.org/10.1007/s11356-021-12881-2
Received:

Accepted:

Published:

Issue Date:
Keywords
Pollution

Fractionation

Transfer factor

Toxicity

Target hazard quotient