Abstract
Rising seawater temperature is one of the greatest threats to the persistence of coral reefs. While great efforts have been made to understand the metabolic costs of thermal acclimation, the exact roles of many secondary metabolites involved in the immediate response exhibited by soft corals remain largely unknown. Herein, an untargeted metabolomics approach using ultra-performance liquid chromatography coupled to high-resolution mass spectrometry (UPLC–MS) was employed to investigate thermal stress-induced modifications to the de novo synthesis of secondary metabolites in two soft coral species, Sarcophyton ehrenbergi and S. glaucum. Exposure to elevated temperature resulted in symbiont photoinhibition primarily via either damage to photosystem II (PSII) or the loss of algal symbionts during coral bleaching. This was suggested by a decrease in pulse amplitude modulated (PAM) measurements of corals incubated at different temperatures. Thermal stress was also found to impair the production of diterpenoid secondary metabolites in soft corals. Principally, reduction in the levels of a number of diterpenes, viz. sarcophytoxide and deoxysarcophytoxide, in heat stressed S. ehrenbergi and S. glaucum was observed indicative that thermal acclimation is energetically costly and will necessitate downstream changes in secondary metabolic pathways. Our data suggest that, while the host controls the production of ecologically important terpenes, when energetic contribution from the algal symbiont is reduced or absent as a result of a bleaching event, energy reserves may be insufficient to maintain the production of such energetically cost chemicals. This study provides for the first time a holistic assessment of secondary metabolite changes imposed in soft corals during exposure and acclimation to elevated temperatures.
Access options
Buy single article
Instant access to the full article PDF.
US$ 39.95
Tax calculation will be finalised during checkout.
Subscribe to journal
Immediate online access to all issues from 2019. Subscription will auto renew annually.
US$ 79
Tax calculation will be finalised during checkout.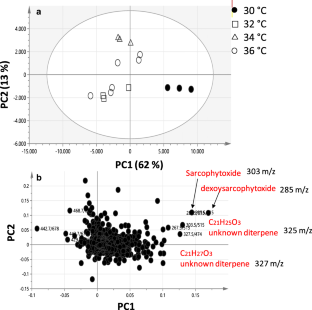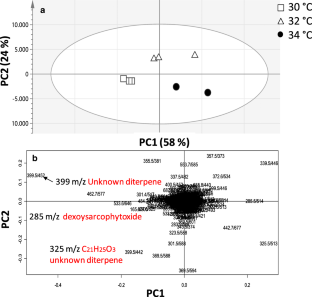 Data availability
The datasets used and/or analyzed during the current study are available from the corresponding author on reasonable request.
References
Aceret TL, Sammarco PW, Coll JC (1995) Toxic effects of alcyonacean diterpenes on scleractinian corals. J Exp Mar Biol Ecol 188:63–78. https://doi.org/10.1016/0022-0981(94)00186-H

Anthony KR, Kline DI, Diaz-Pulido G, Dove S, Hoegh-Guldberg O (2008) Ocean acidification causes bleaching and productivity loss in coral reef builders. Proc Natl Acad Sci U S A 105:17442–17446. https://doi.org/10.1073/pnas.0804478105

Berkelmans R, Oliver JK (1999) Large-scale bleaching of corals on the Great Barrier Reef. Coral Reefs 18:55–60. https://doi.org/10.1007/s003380050154

Bonnard I, Jhaumeer-Laulloo SB, Bontemps N, Banaigs B, Aknin M (2010) New lobane and cembrane diterpenes from two Comorian soft corals. Marine Drugs 8:359–372. https://doi.org/10.3390/md8020359

Coll JC, Bowden B, König GM, Braslau R, Price IR (2010) Studies of Australian soft corals. XXXX.1 The Natural Products Chemistry of Alcyonacean Soft Corals with Special Reference to the Genus Lobophytum vol 95. https://doi.org/10.1002/bscb.19860950909

Coll JC, Price IR, König GM, Bowden BF (1987) Algal overgrowth of alcyonacean soft corals. Mar Biol 96:129–135. https://doi.org/10.1007/bf00394846

Coll JC, Tapiolas DM, Bowden BF, Webb L, Marsh H (1983) Transformation of soft coral (Coelenterata: Octocorallia) terpenes by Ovula ovum (Mollusca: Prosobranchia). Mar Biol 74:35–40. https://doi.org/10.1007/bf00394272

Davy SK, Allemand D, Weis VM (2012) Cell biology of cnidarian-dinoflagellate symbiosis. Microbiol Mol Biol Rev 76:229–261. https://doi.org/10.1128/MMBR.05014-11

Dinesen ZD (1983) Patterns in the distribution of soft corals across the central Great Barrier Reef. Coral Reefs 1:229–236. https://doi.org/10.1007/bf00304420

Dumas ME, Kinross J, Nicholson JK (2014) Metabolic phenotyping and systems biology approaches to understanding metabolic syndrome and fatty liver disease. Gastroenterology 146:46–62. https://doi.org/10.1053/j.gastro.2013.11.001

El Sayed KA, Hamann MT, Waddling CA, Jensen C, Lee SK, Dunstan CA, Pezzuto JM (1998) Structurally novel bioconversion products of the marine natural product sarcophine effectively inhibit JB6 cell transformation. J Organ Chem 63:7449–7455

Fabricius KE, Mieog JC, Colin PL, Idip D, van Oppen MJ (2004) Identity and diversity of coral endosymbionts (zooxanthellae) from three Palauan reefs with contrasting bleaching, temperature and shading histories. Mol Ecol 13:2445–2458. https://doi.org/10.1111/j.1365-294X.2004.02230.x

Farag MA, Meyer A, Ali SE, Salem MA, Giavalisco P, Westphal H, Wessjohann LA (2018) Comparative metabolomics approach detects stress-specific responses during coral bleaching in soft corals. J Proteome Res 17:2060–2071. https://doi.org/10.1021/acs.jproteome.7b00929

Farag MA, Porzel A, al-Hammady MA, Hegazy MEF, Meyer A, Mohamed TA, Westphal H, Wessjohann LA (2016) Soft corals biodiversity in the Egyptian Red Sea: a comparative MS and NMR metabolomics approach of wild and aquarium grown species. J Proteome Res 15:1274–1287. https://doi.org/10.1021/acs.jproteome.6b00002

Faulkner DJ (2000) Marine natural products. Nat Prod Rep 17:7–55

Feller M, Rudi A, Berer N, Goldberg I, Stein Z, Benayahu Y, Schleyer M, Kashman Y (2004) Isoprenoids of the soft coral Sarcophyton glaucum: nyalolide, a new biscembranoid, and other terpenoids. J Nat Prod 67:1303–1308. https://doi.org/10.1021/np040002n

Fleury BG, Coll JC, Sammarco PW, Tentori E, Duquesne S (2004) Complementary (secondary) metabolites in an octocoral competing with a scleractinian coral: effects of varying nutrient regimes. J Exp Mar Biol Ecol 303:115–131. https://doi.org/10.1016/j.jembe.2003.11.006

Fleury B, Coll JC, Tentori E, Duquesne S, Figueiredo L (2000) Effect of nutrient enrichment on the complementary (secondary) metabolite composition of the soft coral Sarcophyton ehrenbergi (Cnidaria: Octocorallia: Alcyonaceae) of the Great Barrier Reef vol 136. https://doi.org/10.1007/s002270050009

Gershenzon J (1994) Metabolic costs of terpenoid accumulation in higher plants. J Chem Ecol 20:1281–1328. https://doi.org/10.1007/bf02059810

Gomaa MN et al. (2015) Antibacterial effect of the red sea soft coral Sarcophyton trocheliophorum vol 30. https://doi.org/10.1080/14786419.2015.1040991

Hanson JR (2009) Diterpenoids Natural product reports 26:1156-1171 doi:https://doi.org/10.1039/b807311m

Hegazy ME, Gamal Eldeen AM, Shahat AA, Abdel-Latif FF, Mohamed TA, Whittlesey BR, Pare PW (2012) Bioactive hydroperoxyl cembranoids from the Red Sea soft coral Sarcophyton glaucum. Marine Drugs 10:209–222. https://doi.org/10.3390/md10010209

Hillyer KE, Dias D, Lutz A, Roessner U, Davy SK (2017) 13C metabolomics reveals widespread change in carbon fate during coral bleaching. Metabolomics 14:12. https://doi.org/10.1007/s11306-017-1306-8

Jones RJ, Hoegh-Guldberg O, Larkum AWD, Schreiber U (1998) Temperature-induced bleaching of corals begins with impairment of the CO2 fixation mechanism in zooxanthellae. Plant Cell Environ 21:1219–1230. https://doi.org/10.1046/j.1365-3040.1998.00345.x

Kaplan F et al (2004) Exploring the temperature-stress metabolome of Arabidopsis. Plant Physiol 136:4159–4168. https://doi.org/10.1104/pp.104.052142

Kneeland J, Hughen K, Cervino J, Hauff B, Eglinton T (2013) Lipid biomarkers in Symbiodinium dinoflagellates: new indicators of thermal stress. Coral Reefs 32:923–934. https://doi.org/10.1007/s00338-013-1076-3

Lichtenthaler HK, Buschmann C, Knapp M (2005) How to correctly determine the different chlorophyll fluorescence parameters and the chlorophyll fluorescence decrease ratio RFd of leaves with the PAM fluorometer. Photosynthetica 43:379–393. https://doi.org/10.1007/s11099-005-0062-6

Michalek-Wagner K, Bowden BF (2000) Effects of bleaching on secondary metabolite chemistry of Alcyonacean soft corals. J Chem Ecol 26:1543–1562. https://doi.org/10.1023/a:1005525110045

Paul VJ, Van Alstyne KL (1988) Chemical defense and chemical variation in some tropical Pacific species of Halimeda (Halimedaceae; Chlorophyta). Coral Reefs 6:263–269. https://doi.org/10.1007/bf00302022

Peng B, Li H, Peng XX (2015) Functional metabolomics: from biomarker discovery to metabolome reprogramming. Protein Cell 6:628–637. https://doi.org/10.1007/s13238-015-0185-x

Riekeberg E, Powers R (2017) New frontiers in metabolomics: from measurement to insight. F1000Research 6:1148. https://doi.org/10.12688/f1000research.11495.1

Rosenberg E, Koren O, Reshef L, Efrony R, Zilber-Rosenberg I (2007) The role of microorganisms in coral health, disease and evolution. Nat Rev Microbiol 5:355–362. https://doi.org/10.1038/nrmicro1635

Sammarco PW, Strychar KB (2013) Responses to high seawater temperatures in zooxanthellate octocorals. PLoS One 8:e54989. https://doi.org/10.1371/journal.pone.0054989

Strychar KB, Coates M, Sammarco PW, Piva TJ, Scott PT (2005) Loss of Symbiodinium from bleached soft corals Sarcophyton ehrenbergi, Sinularia sp. and Xenia sp. J Exp Mar Biol Ecol 320:159–177. https://doi.org/10.1016/j.jembe.2004.12.039

Tchernov D, Gorbunov MY, de Vargas C, Narayan Yadav S, Milligan AJ, Haggblom M, Falkowski PG (2004) Membrane lipids of symbiotic algae are diagnostic of sensitivity to thermal bleaching in corals. Proc Natl Acad Sci U S A 101:13531–13535. https://doi.org/10.1073/pnas.0402907101

Weis VM (2008) Cellular mechanisms of Cnidarian bleaching: stress causes the collapse of symbiosis. J Exp Biol 211:3059–3066. https://doi.org/10.1242/jeb.009597

Wooldridge SA (2010) Is the coral-algae symbiosis really 'mutually beneficial' for the partners? BioEssays 32:615–625. https://doi.org/10.1002/bies.200900182

Wylie CR, Paul VJ (1989) Chemical defenses in three species of Sinularia (Coelenterata, Alcyonacea): effects against generalist predators and the butterflyfish Chaetodon unimaculatus Bloch. J Exp Mar Biol Ecol 129:141–160. https://doi.org/10.1016/0022-0981(89)90053-1
Acknowledgments
Dr. Mohamed Farag thanks Cristopher Bottchner, IPB, Germany, for assistance with LC-MS. The study was further supported by the Leibniz Center for Tropical Marine Research, Bremen, Germany.
Funding
Dr. Farag acknowledges the funding received from the Hanse-Wissenschaftskolleg (HWK) and Alexander von Humboldt (AVH), Germany.
Ethics declarations
Competing interests
The authors declare that they have no competing interests.
Ethics approval and consent to participate
Not applicable.
Consent for publication
Not applicable.
Additional information
Publisher's note
Springer Nature remains neutral with regard to jurisdictional claims in published maps and institutional affiliations.
Responsible editor: V. V.S.S. Sarma
About this article
Cite this article
Farag, M.A., Meyer, A. & Ali, S.E. Bleaching effect in Sarcophyton spp. soft corals—is there a correlation to their diterpene content?. Environ Sci Pollut Res (2021). https://doi.org/10.1007/s11356-021-12483-y
Received:

Accepted:

Published:
Keywords
Thermal stress

Sarcophyton ehrenbergi
S. glaucum

Metabolomics

PAM measurements