Abstract
Illicit drug use in rural and suburban areas of China has not been studied extensively, as most studies have focused on illicit drug use in urban areas. To compare the differences between urban, suburban, and rural drug use, we collected influent samples from 19 urban, 9 suburban, and 18 rural wastewater treatment plants in Dalian, respectively. A method using solid-phase extraction combined with derivatization for gas chromatography-mass spectrometry analysis was applied to detect biomarker concentrations. The concentrations of methamphetamine and morphine ranged from 3.12 to 605 ng/L and < 2.35 to 198 ng/L, respectively. Norketamine was found in only four samples (5.56 to 14.5 ng/L), while 3,4-methylenedioxymethamphetamine and benzoylecgonine were not detected in any samples. Methamphetamine use in rural areas (16.3 mg/day/1000 inhabitant (inh), prevalence: 0.06%) was significantly lower than those in urban (77.1 mg/day/1000 inh, prevalence: 0.23%) and suburban (234 mg/day/1000 inh, prevalence: 0.70%) areas. Heroin use in suburban areas (57.6 mg/day/1000 inh, prevalence: 0.10%) was significantly higher than that in urban (13.9 mg/day/1000 inh, prevalence: 0.02%) and rural (8.68 mg/day/1000 inh, prevalence: 0.02%) areas. The results indicate relatively low levels of illicit drug use in rural areas of Dalian, related to low incomes and outflow of the working-age population. Illicit drug use was most prevalent in suburban areas of Dalian, which may be influenced by large floating populations and few anti-drug efforts in suburban areas.
Access options
Buy single article
Instant access to the full article PDF.
US$ 39.95
Tax calculation will be finalised during checkout.
Subscribe to journal
Immediate online access to all issues from 2019. Subscription will auto renew annually.
US$ 79
Tax calculation will be finalised during checkout.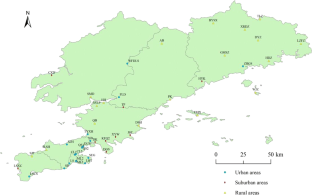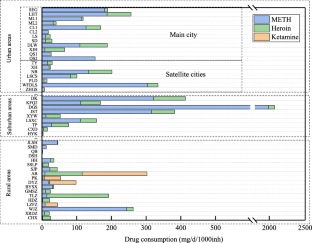 Data availability
All data generated or analyzed during this study are included in this published article (and its supplementary information files).
Funding
This study was supported by Science and Technology Innovation Foundation of Dalian (No. 2018J12GX043 and No. 2019J13SN123) and Key Research and Development Plan Program of Liaoning Province.
Ethics declarations
Ethics approval and consent to participate
Not applicable.
Consent for publication
Not applicable.
Competing interests
The authors declare that they have no competing interests.
Additional information
Publisher's note
Springer Nature remains neutral with regard to jurisdictional claims in published maps and institutional affiliations.
Responsible Editor: Ester Heath
Supplementary Information
About this article
Cite this article
Cong, ZX., Shao, XT., Liu, SY. et al. Wastewater analysis reveals urban, suburban, and rural spatial patterns of illicit drug use in Dalian, China. Environ Sci Pollut Res (2021). https://doi.org/10.1007/s11356-021-12371-5
Received:

Accepted:

Published:
Keywords
Wastewater-based epidemiology

Spatial patterns

Illicit drug use

Biomarkers