Abstract
Bisphenol A (BPA), an endocrine disruptor, is widely used in the manufacture of different daily life products. Accumulating evidence supports the association between the increasing incidence of neurodegenerative diseases and the BPA level in the environment. In the present study, we aimed to evaluate the neuroprotective role of melatonin against BPA-induced mitochondrial dysfunction–mediated apoptosis in the brain. Herein, adult Sprague Dawley rats were administrated (subcutaneously) with BPA (100 μg/kg BW, 1 mg/kg BW, and 10 mg/kg BW) and melatonin (4 mg/kg BW) for 16 days. Our results showed BPA exposure significantly increased the oxidative stress as demonstrated by increased free radicals (ROS), TBARs level, disrupted cellular architecture, and decreased antioxidant enzymes including SOD, CAT, APX, POD, and GSH levels. Additionally, BPA treatment increased the expression of PUMA, p53, and Drp-1 resulting in apoptosis in the brain tissue of rats. However, melatonin treatment significantly attenuated BPA-induced toxic effects by scavenging ROS, boosting antioxidant enzyme activities, and interestingly enervated brain apoptosis by normalizing p53, PUMA, and Drp-1 expressions at both transcriptional and translational level. Moreover, the brain tissue histology also revealed the therapeutic potential of melatonin by normalizing the cellular architecture. Conclusively, our finding suggests that melatonin could alleviate oxidative stress and mitochondrial dysfunction–linked apoptosis, rendering its neuroprotective potential against BPA-induced toxicity.
Graphical abstract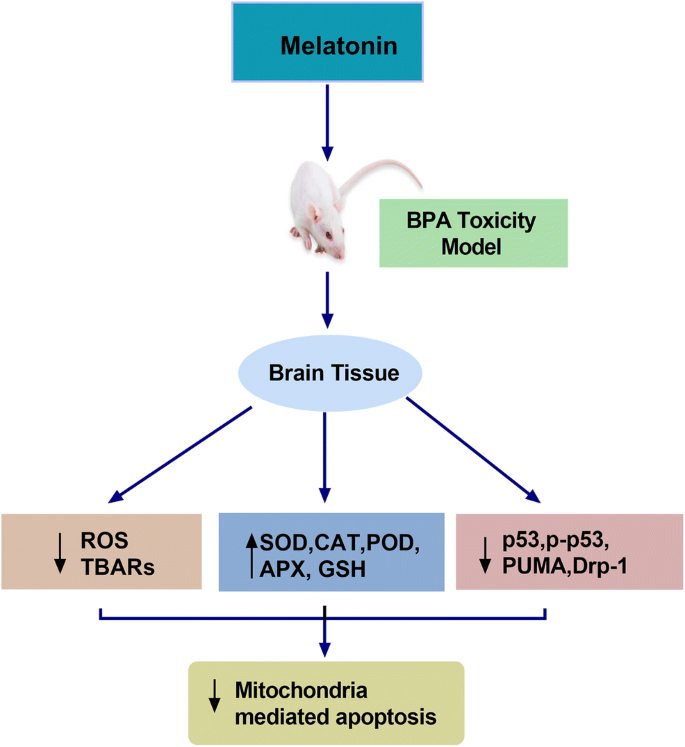 Access options
Buy single article
Instant access to the full article PDF.
USD 39.95
Price excludes VAT (USA)
Tax calculation will be finalised during checkout.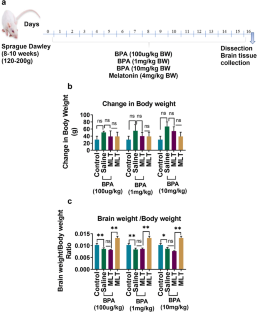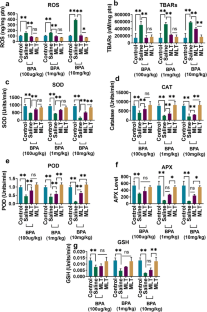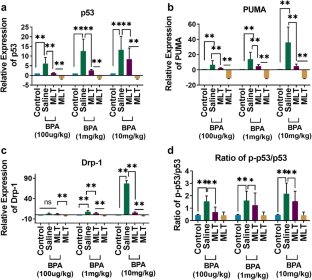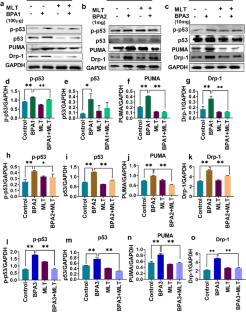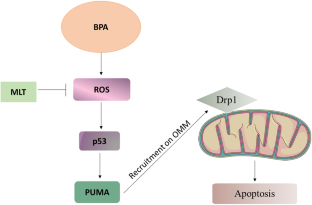 Data availability
The data and materials of the present study are submitted in main manuscript and in supplementary files; however, if the Journal requires any other relevant data, we will definitely make it available.
References
Ahangarpour A, Alboghobeish S, Oroojan A, Dehghani M (2018) Mice pancreatic islets protection from oxidative stress induced by single-walled carbon nanotubes through naringin. Hum Exp Toxicol 37:1268–1281

Ali T, Shaheen F, Mahmud M, Waheed H, Jan MI, Javed Q, Murtaza I (2015a) Serotonin-promoted elevation of ROS levels may lead to cardiac pathologies in diabetic rat. Arch Biol Sci 67:655–661

Ali T, Waheed H, Shaheen F, Mahmud M, Javed Q, Murtaza I (2015b) Increased endogenous serotonin level in diabetic conditions may lead to cardiac valvulopathy via reactive oxygen species regulation. Biologia 70:273–278

Ali T et al (2019) Interplay of N acetyl cysteine and melatonin in regulating oxidative stress-induced cardiac hypertrophic factors and microRNAs. Arch Biochem Biophys 661:56–65

Balci A, Ozkemahli G, Erkekoglu P, Zeybek ND, Yersal N, Kocer-Gumusel B (2020) Histopathologic, apoptotic and autophagic, effects of prenatal bisphenol A and/or di (2-ethylhexyl) phthalate exposure on prepubertal rat testis. Environ Sci Pollut Res 27:20104–201161

Barrios-Estrada C, de Jesús Rostro-Alanis M, Parra AL, Belleville M-P, Sanchez-Marcano J, Iqbal HM, Parra-Saldívar R (2018) Potentialities of active membranes with immobilized laccase for Bisphenol A degradation. Int J Biol Macromol 108:837–844

Batista TM et al (2012) Short-term treatment with bisphenol-A leads to metabolic abnormalities in adult male mice. PLoS One 7:e33814

Bernardo BC, Weeks KL, Pretorius L, McMullen JR (2010) Molecular distinction between physiological and pathological cardiac hypertrophy: experimental findings and therapeutic strategies. Pharmacol Ther 128:191–227

Bilal M, Iqbal HM, Barceló D (2019) Mitigation of bisphenol A using an array of laccase-based robust bio-catalytic cues–a review. Sci Total Environ 689:160–177

Bondy S, Lahiri D, Perreau V, Sharman K, Campbell A, Zhou J, Sharman E (2004) Retardation of brain aging by chronic treatment with melatonin. Ann N Y Acad Sci 1035:197–215

Cardinali DP, Pagano ES, Bernasconi PAS, Reynoso R, Scacchi P (2013) Melatonin and mitochondrial dysfunction in the central nervous system. Horm Behav 63:322–330

Castrogiovanni C, Waterschoot B, De Backer O, Dumont P (2018) Serine 392 phosphorylation modulates p53 mitochondrial translocation and transcription-independent apoptosis. Cell Death Differ 25:190–203

Chipuk JE, Green DR (2009) PUMA cooperates with direct activator proteins to promote mitochondrial outer membrane permeabilization and apoptosis. Cell Cycle 8:2692–2696

Dakshayani K, Subramanian P, Manivasagam T, Essa MM, Manoharan S (2005) Melatonin modulates the oxidant-antioxidant imbalance during N-nitrosodiethylamine induced hepatocarcinogenensis in rats. J Pharm Pharm Sci 8:316–321

Din S et al (2013) Pim-1 preserves mitochondrial morphology by inhibiting dynamin-related protein 1 translocation. Proc Natl Acad Sci 110:5969–5974

Dong W et al (2010) Differential effects of melatonin on amyloid-β peptide 25–35-induced mitochondrial dysfunction in hippocampal neurons at different stages of culture. J Pineal Res 48:117–125

Dutta M et al (2014) High fat diet aggravates arsenic induced oxidative stress in rat heart and liver. Food Chem Toxicol 66:262–277

El-Beshbishy HA, Aly HA, El-Shafey M (2013) Lipoic acid mitigates bisphenol A-induced testicular mitochondrial toxicity in rats. Toxicol Ind Health 29:875–887

Elmore SA, Dixon D, Hailey JR, Harada T, Herbert RA, Maronpot RR, Nolte T, Rehg JE, Rittinghausen S, Rosol TJ, Satoh H, Vidal JD, Willard-Mack CL, Creasy DM (2016) Recommendations from the INHAND apoptosis/necrosis working group. Toxicol Pathol 44:173–188

Faheem M, Lone KP (2017) Oxidative stress and histopathologic biomarkers of exposure to bisphenol-A in the freshwater fish, Ctenopharyngodon idella. Braz J Pharm Sci 53(3):e17003

Fasano E, Cirillo T (2018) Plasticizers and bisphenol as food contaminants: sources and human risk. Curr Anal Chem 14:296–305

García JJ, López-Pingarrón L, Almeida-Souza P, Tres A, Escudero P, García-Gil FA, Tan DX, Reiter RJ, Ramírez JM, Bernal-Pérez M (2014) Protective effects of melatonin in reducing oxidative stress and in preserving the fluidity of biological membranes: a review. J Pineal Res 56:225–237

Gassman NR (2017) Induction of oxidative stress by bisphenol A and its pleiotropic effects. Environ Mol Mutagen 58:60–71

Gharibi S, Dilmaghanian A, Sadighara P, Fard RMN, Erfanmanesh A, Mohajerfar T, Farkhondeh T (2013) The effect of bisphenol a on oxidative stress indices and pathological changes in the brain of chicken embryos. World Appl Sci J 26:345–351

Haq MEU, Akash MSH, Sabir S, Mahmood MH, Rehman K (2020) Human exposure to bisphenol A through dietary sources and development of diabetes mellitus: a cross-sectional study in Pakistani population. Environ Sci Pollut Res Int 27:26262–26275

Hayashi I, Morishita Y, Imai K, Nakamura M, Nakachi K, Hayashi T (2007) High-throughput spectrophotometric assay of reactive oxygen species in serum. Mutat Res Genet Toxicol Environ Mutagen 631:55–61

He K, Zheng X, Zhang L, Yu J (2013) Hsp90 inhibitors promote p53-dependent apoptosis through PUMA and Bax. Mol Cancer Ther 12:2559–2568

Ishtiaq A, Bakhtiar A, Silas E, Saeed J, Ajmal S, Mushtaq I, Ali T, Wahedi MH, Khan W, Khan U, Anees M, Sultan A, Murtaza I (2020) Pistacia integerrima alleviated Bisphenol A induced toxicity through Ubc13/p53 signalling. Mol Biol Rep 47(9):6545–6559

Jagasia R, Grote P, Westermann B, Conradt B (2005) DRP-1-mediated mitochondrial fragmentation during EGL-1-induced cell death in C. elegans. Nature 433:754–760

Jain A, Maheshwari V, Alam K, Mehdi G, Sharma S (2009) Apoptosis in premalignant and malignant squamous cell lesions of the oral cavity: a light microscopic study. Indian J Pathol Microbiol 52:164

Jan MI, Khan RA, Ali T, Bilal M, Bo L, Sajid A, Malik A, Urehman N, Waseem N, Nawab J, Ali M, Majeed A, Ahmad H, Aslam S, Hamera S, Sultan A, Anees M, Javed Q, Murtaza I (2017) Interplay of mitochondria apoptosis regulatory factors and microRNAs in valvular heart disease. Arch Biochem Biophys 633:50–57

Jollow D, Mitchell J, Zampaglione NA, Gillette J (1974) Bromobenzene-induced liver necrosis. Protective role of glutathione and evidence for 3, 4-bromobenzene oxide as the hepatotoxic metabolite. Pharmacology 11:151–169

Julka D, Pal R, Gill K (1992) Neurotoxicity of dichlorvos: effect on antioxidant defense system in the rat central nervous system. Exp Mol Pathol 56:144–152

Khan S et al (2016) Mitochondrial dysfunction induced by Bisphenol A is a factor of its hepatotoxicity in rats. Environ Toxicol 31:1922–1934

Kim DI, Lee KH, Gabr AA, Choi GE, Kim JS, Ko SH, Han HJ (2016) Aβ-Induced Drp1 phosphorylation through Akt activation promotes excessive mitochondrial fission leading to neuronal apoptosis. Biochim Biophys Acta Mol Cell Res 1863:2820–2834

Li T, Liu X, Jiang L, Manfredi J, Zha S, Gu W (2016) Loss of p53-mediated cell-cycle arrest, senescence and apoptosis promotes genomic instability and premature aging. Oncotarget 7:11838

Lu Z et al (2017) Colistin-induced autophagy and apoptosis involves the JNK-Bcl2-Bax signaling pathway and JNK-p53-ROS positive feedback loop in PC-12 cells. Chem Biol Interact 277:62–73

Ming L, Wang P, Bank A, Yu J, Zhang L (2006) PUMA dissociates Bax and BCL-XL to induce apoptosis in colon cancer cells. J Biol Chem 281:16034–16042

Mohammed ET, Hashem KS, Ahmed AE, Aly MT, Aleya L, Abdel-Daim MM (2020) Ginger extract ameliorates bisphenol A (BPA)-induced disruption in thyroid hormones synthesis and metabolism: involvement of Nrf-2/HO-1 pathway. Sci Total Environ 703:134664

Mourad IM, Khadrawy YA (2012) The sensetivity of liver, kidney andtestis of rats to oxidative stress induced by different doses of bisphenol A. Life 50:19

Mushtaq S, Ali T, Javed Q, Tabassum S, Murtaza I (2015) N-acetyl cysteine inhibits endothelin-1-induced ROS dependent cardiac hypertrophy through superoxide dismutase regulation. Cell J 17:355

Nakano Y, Asada K (1981) Hydrogen peroxide is scavenged by ascorbate-specific peroxidase in spinach chloroplasts. Plant Cell Physiol 22:867–880

Navarro-Alarcón M, Ruiz-Ojeda FJ, Blanca-Herrera RM, A-Serrano MM, Acuña-Castroviejo D, Fernández-Vázquez G, Agil A (2014) Melatonin and metabolic regulation: a review. Food Funct 5:2806–2832

Pallepati P, Averill-Bates D (2010) Mild thermotolerance induced at 40° C increases antioxidants and protects HeLa cells against mitochondrial apoptosis induced by hydrogen peroxide: role of p53. Arch Biochem Biophys 495:97–111

Pfaffl MW, Horgan GW, Dempfle L (2002) Relative expression software tool (REST©) for group-wise comparison and statistical analysis of relative expression results in real-time PCR. Nucleic Acids Res 30:e36

Redza-Dutordoir M, Averill-Bates DA (2016) Activation of apoptosis signalling pathways by reactive oxygen species. Biochim Biophys Acta Mol Cell Res 1863:2977–2992

Reiter R, Paredes S, Korkmaz A, Jou M-J, Tan D-X (2008) Melatonin combats molecular terrorism at the mitochondrial level. Interdiscip Toxicol 1:137–149

Reiter RJ, Tan D-X, Galano A (2014) Melatonin reduces lipid peroxidation and membrane viscosity. Front Physiol 5:377

Rodriguez C, Mayo JC, Sainz RM, Antolín I, Herrera F, Martín V, Reiter RJ (2004) Regulation of antioxidant enzymes: a significant role for melatonin. J Pineal Res 36:1–9

Santoro A, Chianese R, Troisi J, Richards S, Nori SL, Fasano S, Guida M, Plunk E, Viggiano A, Pierantoni R, Meccariello R (2019) Neuro-toxic and reproductive effects of BPA. Curr Neuropharmacol 17:1109–1132

Sewerynek E et al (1995) Melatonin administration prevents lipopolysaccharide-induced oxidative damage in phenobarbital-treated animals. J Cell Biochem 58:436–444

Shah AS, Ahmed M, Alkreathy HM, Khan MR, Khan RA, Khan S (2014) Phytochemical screening and protective effects of Trifolium alexandrinum (L.) against free radical-induced stress in rats. Food Sci Nutr 2:751–757

Shukla S, Sharma A, Pandey VK, Raisuddin S, Kakkar P (2016) Concurrent acetylation of FoxO1/3a and p53 due to sirtuins inhibition elicit Bim/PUMA mediated mitochondrial dysfunction and apoptosis in berberine-treated HepG2 cells. Toxicol Appl Pharmacol 291:70–83

Steckley D et al (2007) Puma is a dominant regulator of oxidative stress induced Bax activation and neuronal apoptosis. J Neurosci 27:12989–12999

Tan D, Reiter R, Manchester L, Yan MT, el-Sawi M, Sainz R, Mayo J, Kohen R, Allegra M, Hardelan R (2002) Chemical and physical properties and potential mechanisms: melatonin as a broad spectrum antioxidant and free radical scavenger. Curr Top Med Chem 2:181–197

Tan D-X, Manchester LC, Qin L, Reiter RJ (2016) Melatonin: a mitochondrial targeting molecule involving mitochondrial protection and dynamics. Int J Mol Sci 17:2124

Vandenberg LN, Hauser R, Marcus M, Olea N, Welshons WV (2007) Human exposure to bisphenol A (BPA). Reprod Toxicol 24:139–177

Wang Z, Liu H, Liu S (2017) Low-dose bisphenol A exposure: a seemingly instigating carcinogenic effect on breast cancer. Adv Sci 4:1600248

Wen L, Liu L, Li J, Tong L, Zhang K, Zhang Q, Li C (2019) NDRG4 protects against cerebral ischemia injury by inhibiting p53-mediated apoptosis. Brain Res Bull 146:104–111

Yang Y, Sun Y, Yi W, Li Y, Fan C, Xin Z, Jiang S, di S, Qu Y, Reiter RJ, Yi D (2014) A review of melatonin as a suitable antioxidant against myocardial ischemia–reperfusion injury and clinical heart diseases. J Pineal Res 57:357–366

Yoshida K, Miki Y (2010) The cell death machinery governed by the p53 tumor suppressor in response to DNA damage. Cancer Sci 101:831–835

Yu J, Zhang L (2008) PUMA, a potent killer with or without p53. Oncogene 27:S71–S83

Yu J, Wang Z, Kinzler KW, Vogelstein B, Zhang L (2003) PUMA mediates the apoptotic response to p53 in colorectal cancer cells. Proc Natl Acad Sci 100:1931–1936
Acknowledgments
Faculty of Biological Sciences QAU, HEC Pakistan and School of Chemical Biology and Biotechnology, Peking University Shenzhen Graduate School, Shenzhen, China
Funding
Higher Education Commission Pakistan and Quaid-i-Azam University, URF (University research fund) to Dr. Iram Murtaza
Ethics declarations
Ethical approval
The present study is in compliance with international ethical standards and was carried out according to the guidelines of the National Institute of Health (NIH guidelines Islamabad, Pakistan). The study was conducted according to the guidelines of the Ethical Committee of Quaid-i-Azam University, Islamabad and as per the considerations of U.K. Animals (Scientific Procedures) Act, 1986.
Consent to participate
Animal study is involved and relative ethical approval is mentioned ahead.
Consent to publish
All authors agreed and consented to publish this manuscript in present form.
Competing interests
The authors declare that they have no conflict of interest.
Additional information
Responsible Editor: Mohamed M. Abdel-Daim
Publisher's note
Springer Nature remains neutral with regard to jurisdictional claims in published maps and institutional affiliations.
Supplementary Information
About this article
Cite this article
Ishtiaq, A., Ali, T., Bakhtiar, A. et al. Melatonin abated Bisphenol A–induced neurotoxicity via p53/PUMA/Drp-1 signaling. Environ Sci Pollut Res 28, 17789–17801 (2021). https://doi.org/10.1007/s11356-020-12129-5
Received:

Accepted:

Published:

Issue Date:

DOI: https://doi.org/10.1007/s11356-020-12129-5
Keywords