Abstract
Microplastic (MP) pollution is an emerging environmental problem, particularly in the marine environment, and nations are concerned about this issue. In this study, an attempt has been made to investigate the vertical distribution of MPs present in the beach sediments around the Ras Rakan Island of Qatar. Sampling was conducted at 9 locations, vertically to a depth of 30 cm with an interval of 5 cm. Attenuated total reflectance Fourier transform infrared (ATR-FTIR) spectroscopy was used to chemically identify the subsets of MPs as polyethylene (PE), polypropylene (PP), polyamide (PA), polyethylene terephthalate (PET), polyvinyl chloride (PVC), and polystyrene (EPS). The counts of MPs were found to be higher in the western and northern parts of the island. The vertical distribution of MPs ranged from 0 to 665 particles/kilogram with maximum abundance at the surface layer (0–5 cm). Pellets were the dominant type of MPs in the surface sediments, whereas fibers were dominant in the bottom sediments. The prevailing winds, waves, tides, and currents are the forces responsible for the distribution and transport of MPs from offshore to the island and further to vertical re-distribution as time progresses. The level of MP pollution along the coast of Ras Rakan Island was higher than that found on the coast of mainland Qatar. Thus, informing that remote islands should also be considered for MP pollution monitoring programs to assess the risk associated with MP on the biota.
Access options
Buy single article
Instant access to the full article PDF.
USD 39.95
Price excludes VAT (USA)
Tax calculation will be finalised during checkout.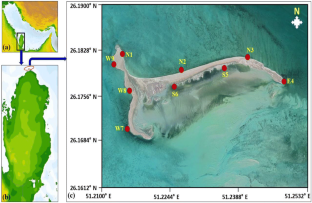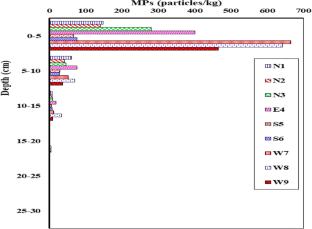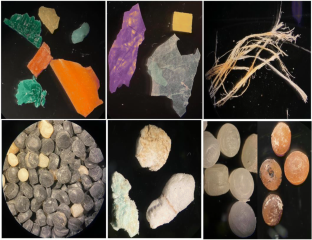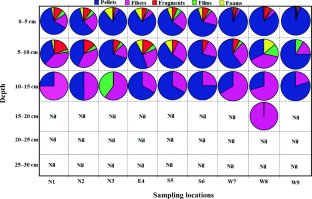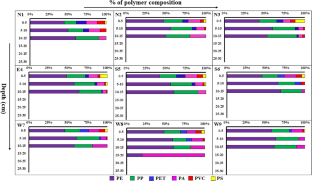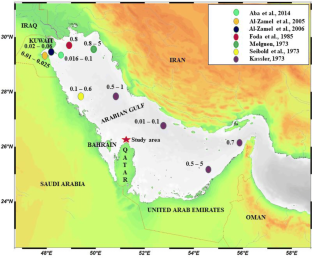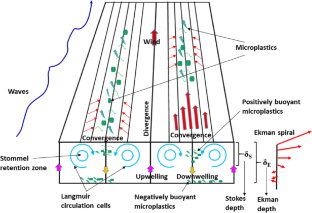 Data availability
Data is available with the corresponding author and will be shared upon the request.
References
Aba A, Uddin S, Bahbahani M, Al-Ghadban A (2014) Radiometric dating of sediment records in Kuwait's marine area. J Radioanal Nucl Chem 301:247–255

Abayomi OA, Range P, Al-Ghouti MA, Obbard JP, Almeer SH, Ben-Hamadou R (2017) Microplastics in coastal environments of the Arabian Gulf. Mar Pollut Bull 124:181–188

Acosta-Coley I, Olivero-Verbel J (2015) Microplastic resin pellets on an urban tropical beach in Colombia. Environ Monit Assess 187:435

Akhbarizadeh R, Moore F, Keshavarzi B, Moeinpour A (2017) Microplastics and potentially toxic elements in coastal sediments of Iran's main oil terminal (Khark Island). Environ Pollut 220:720–731

Al-Ghadban AN, Abdali F, Massoud MS (1998) Sedimentation rate and bioturbation in the Arabian Gulf. Environ Int 24:23–31

Al-Salem SM, Uddin S, Al-Yamani F (2020) An assessment of microplastics threat to the marine environment: a short review in context of the Arabian/ Persian Gulf. Mar Environ Res 159:104961

Al-Zamel AZ, Bou-Rabee F, Olszewski M, Bem H (2005) Natural radionuclides and 137Cs activity concentration in the bottom sediment cores from Kuwait Bay. J Radioanal Nucl Chem 266:269–276

Al-Zamel AZ, Bou-Rabee F, Al-Sarawi MA, Olszewski M, Bem H (2006) Determination of the sediment deposition rates in the Kuwait Bay using 137Cs and 210Pb. Nukleonika 51:S39–S44

Arekhi M, Terry LG, John GF, Al-Khayat JA, Castillo AB, Vethamony P, Clement TP (2020) Field and laboratory investigation of tarmat deposits found on Ras Rakan Island and northern beaches of Qatar. Sci Total Environ 735:139516

Brandon JA, Jones W, Ohman MD (2019) Multidecadal increase in plastic particles in coastal ocean sediments. Sci Adv 5:eaax0587

Carpenter EJ, Anderson SJ, Harvey GR, Miklas HP, Peck BB (1972) Polystyrene spherules in coastal waters. Science 178:749–750

Castillo AB, Al-Maslamani I, Obbard JP (2016) Prevalence of microplastics in the marine waters of Qatar. Mar Pollut Bull 111:260–267

Chubarenko I, Bagaev A, Zobkov M, Esiukova E (2016) On some physical and dynamical properties of microplastic particles in marine environment. Mar Pollut Bull 108:105–112

Chubarenko I, Esiukova E, Bagaev A, Isachenko I, Demchenko N, Zobkov M, Efimova I, Bagaeva M, Khatmullina L (2018) Behaviour of microplastics in sea coastal zone. In: Zeng E (ed) In Microplastic contamination in Aquatic Environments, 1st edn. Elsevier, Amsterdam, pp 175–223

Cole M, Lindeque PK, Halsband C, Galloway TS (2011) Microplastics as contaminants in the marine environment: a review. Mar Pollut Bull 62:2588–2597

Dong M, Luo Z, Jiang Q, Xinli X, Zhang Q, Sun Y (2020) The rapid increases in microplastics in urban lake sediments. Sci Rep 10:848

Foda MA, Khalaf FI, Al-Kadi AS (1985) Estimation of dust fallout rates in the northern Arabian Gulf. Sedimentology 32:495–603

Galgani F, Hanke G, Maes T (2015) Global distribution, composition and abundance of marine litter. In: Bergmann M, Gutow L, Klages M (eds) Marine Anthropogenic Litter. Springer, Cham, pp 29–56

Geyer R, Jambeck JR, Law KL (2017) Production, use, and fate of all plastics ever made. Sci Adv 3:25–29

Gregory MR (1978) Accumulation and distribution of virgin plastic granules on New Zealand beaches. N Z J Mar Freshwater Res 12:399–414

Gregory MR (1983) Virgin plastic granules on some beaches of Eastern Canada and Bermuda. Mar Environ Res 10:73–92

Hartmann NB, Huffer T, Thompson RC, Hassellov M, Verschoor A, Daugaard AE, Rist S, Karlsson T, Brennholt N, Cole M, Herrling MP, Hess MC, Ivleva NP, Lusher AL, Wagner M (2019) Are we speaking the same language? Recommendations for a definition and categorization framework for plastic debris. Environ Sci Technol 53:1039–1074

Hersbach H, Bell B, Berrisford P, Horanyi A, Sabater JM, Nicolas J, Radu R, Schepers D, Simmons A, Soci C, Dee D (2019) Global reanalysis: goodbye ERA-Interim, hello ERA5. ECMWF Newslett 159:17–24

Ibrahim A-M, David S, Bruno G, Mark C, Mohammed A-M, Lewis LV (2018) Decline in oyster populations in traditional fishing grounds; is habitat damage by static fishing gear a contributory factor in ecosystem degradation? J Sea Res 140:40–51

Jambeck JR, Geyer R, Wilcox C, Siegler TR, Perryman M, Andrady A, Narayan R, Law KL (2015) Plastic waste inputs from land into the ocean. Science 347:768–771

Kassler P (1973) The structural and geomorphic evolution of the Persian Gulf. In: Purser BH (ed) The Persian Gulf. Springer-Verlag, New York, pp 11–32p

Khordagui HK, Abu-Hilal AH (1994) Industrial plastic on the southern beaches of the Arabian Gulf and the western beaches of the Gulf of Oman. Environ Pollut 84:325–327

Lellouche JM, Greiner E, Le Galloudec O, Garric G, Regnier C, Drevillon M, Gasparin F, Hernandez O, Levier B, Remy E, Traon P-YL (2018) Recent updates on the Copernicus marine service global ocean monitoring and forecasting realtime 1/12° high resolution system. Ocean Sci Discuss 14:1093–1126

Li J, Huang W, Xu Y, Jin A, Zhang D, Zhang C (2020) Microplastics in sediment cores as indicators of temporal trends in microplastic pollution in Andong salt marsh, Hangzhou Bay, China. Reg Stud Mar Sci 35:101149

Lin J, Xu X-M., Yue B-Y., Xu X-P., Liu J-Z., Zhu Q, Wang J-H., 2020. Multidecadal records of microplastic accumulation in the coastal sediments of the East China Sea. Environ Pollut, 128658.

Llorca M, Alvarez-Munoz D, Abalos M, Rodriguez-Mozaz S, Santos LHMLM, Leon VM, Campillo A, Martinez-Gomez C, Abad E, Farre M (2020) Microplastics in Mediterranean coastal area: toxicity and impact for the environment and human health. Trends Environ Anal Chem 27:e0090

Lobelle D, Cunliffe M (2011) Early microbial biofilm formation on marine plastic debris. Mar Pollut Bull 62:197–200

Lyons BP, Cowie WJ, Maes T, Le Quesne WJF (2020) Marine plastic litter in the ROPME sea area: current knowledge and recommendations. Ecotoxicol Environ Saf 187:109839

Madec G 2012. NEMO ocean engine. Note du Pole modelisation, Inst Pierre-Simon Laplace. 357 pp

Mao R, Song J, Yan P, Ouyang Z, Wu R, Liu S, Guo X (2021) Horizontal and vertical distribution of microplastics in the Wuliangsuhai Lake sediment, northern China. Sci Total Environ 754:142426

Matsuguma Y, Takada H, Kumata H, Kanke H, Sakurai S, Suzuki T, Itoh M, Okazaki Y, Boonyatumanond R, Zakaria MP, Weerts S, Newman B (2017) Microplastics in sediment cores from Asia and Africa as indicators of temporal trends in plastic pollution. Arch Environ Contam Toxicol 73:230–239

Martin J, Lusher A, Thompson RC, Morley A (2017) The deposition and accumulation of microplastics in marine sediments and bottom water from the Irish continental shelf. Sci Rep 7:10772

Melguen M (1973) Correspondence analysis for recognition of facies in homogenous sediments off an Iranian river mouth. In: Purser BH (ed) The Persian Gulf. Springer-Verlag, New York, pp 99–113p

Moati, M.A., Al Mansoori, A., Al Cibahy, A., Al Harthi, S., Foster, K., Purkis, S., Wood, W., Reigl, B., Tourenq, C., Launay, F., Al Mubarak, R. 2008. Conservation and management plan for Abu Dhabi and Eastern Qatar coral reefs. Report jointly prepared by EAD, SCENR, EWS-WWF and NCRI- funded by Dolphin Energy, pp73.

Naji A, Esmaili Z, Khan FR (2017a) Plastic debris and microplastics along the beaches of the Strait of Hormuz, Persian Gulf. Mar Pollut Bull 114:1057–1062

Naji A, Esmaili Z, Mason SA, Vethaak AD (2017b) The occurrence of microplastic contamination in littoral sediments of the Persian Gulf. Iran Environ Sci Pollut Res 24:20459–20468

Naji A, Nuri M, Amiri P, Niyogi S (2019) Small microplastic particles (S-MPPs) in sediments of mangrove ecosystem on the northern coast of the Persian Gulf. Mar Pollut Bull 146:305–311

Nigam R (1982) Plastic pellets on the Caranzalem beach sands, Goa. India Mahasagar Bull Natl Inst Oceanogr 15:125–127

Europe P (2019) Plastics – the facts 2019: An analysis of European plastics production, demand and waste data. European Association of Plastics Manufacturers. Brussels, Belgium

Rochman C, Hoh E, Kurobe T, Teh SJ (2013) Ingested plastic transfers hazardous chemicals to fish and induces hepatic stress. Sci Rep 3:3263

Seibold E, Diester L, Futterer D, Lange H, Muller P, Werner F, 1973. Holocene sediments and sedimentary processes in the Iranian part of the Persian Gulf. In: Purser BH, ed. The Persian Gulf New York, Springer-Verlag, 57-80p.

Shiber JG (1989) Plastic particle and tar pollution on beaches of Kuwait. Environ Pollut 57:341–351

Uddin S, Fowler SW, Saeed T (2020) Microplastic particles in the Persian/Arabian Gulf – a review on sampling and identification. Mar Pollut Bull 154:111100

van der Mheen M, Pattiaratchi C, van Sebille E (2019) Role of Indian Ocean dynamics on accumulation of buoyant debris. J Geophys Res Oceans 124:2571–2590

van Sebille E, Aliani S, Law KL, Maximenko N, Alsina JM, Bagaev A, Bergmann M, Chapron B, Chubarenko I, Cózar A, Delandmeter P, Egger M, Fox-Kemper B, Garaba SP, Goddijn-Murphy L, Hardesty BD, Hoffman MJ, Isobe A, Jongedijk CE, Kaandorp MLA, Khatmullina L, Koelmans AA, Kukulka T, Laufkötter C, Lebreton L, Lobelle D, Maes C, Martinez-Vicente V, Morales Maqueda MA, Poulain-Zarcos M, Rodríguez E, Ryan PG, Shanks AL, Shim WJ, Suaria G, Thiel M, van den Bremer TS, Wichmann D (2020) The physical oceanography of the transport of floating marine debris. Environ Res Lett 15:023003

Veerasingam S, Saha M, Suneel V, Vethamony P, Rodrigues AC, Bhattacharyya S, Naik BG (2016a) Characteristics, seasonal distribution and surface degradation features of microplastic pellets along the Goa coast, India. Chemosphere 159:496–505

Veerasingam S, Mugilarasan M, Venkatachalapathy R, Vethamony P (2016b) Influence of 2015 flood on the distribution and occurrence of microplastic pellets along the Chennai coast, India. Mar Pollut Bull 109:196–204

Veerasingam S, Ranjani M, Venkatachalapathy R, Bagaev A, Mukhanov V, Litvinyuk D, Mugilarasan M, Gurumoorthi K, Guganathan L, Aboobacker VM, Vethamony P (2020a) Contributions of Fourier transform infrared spectroscopy in microplastic pollution research: a review. Crit Rev Environ Sci Technol. https://doi.org/10.1080/10643389.2020.1807450

Veerasingam S, Al-Khayat JA, Aboobacker VM, Hamza S, Vethamony P (2020b) Sources, spatial distribution and characteristics of marine litter along the west coast of Qatar. Mar Pollut Bull 159:111478

Veerasingam S, Al-Khayat JA, Haseeba KP, Aboobacker VM, Hamza S, Vethamony P (2020c) Spatial distribution, structural characterization and weathering of tarmats along the west coast of Qatar. Mar Pollut Bull 159:111486

Walton MEM, Hayes J, Al-Ansi M, Abdullah M, Maslamani IA, Al-Mohannadi M, Al-Shaikh I, Jackson TD, Szostek C, Egerton J, Kaiser MJ, Vay LL (2018) Towards spatial management of fisheries in the Gulf: benthic diversity, habitat and fish distributions from Qatari waters. ICES J Mar Sci 75:178–189

Willis KA, Eriksen R, Wilcox C, Hardesty BD (2017) Microplastic distribution at different sediment depths in an urban estuary. Front Mar Sci 4:419

Wright SL, Thompson RC, Galloway TS (2013) The physical impacts of microplastics on marine organisms: a review. Environ Pollut 178:483–492

Xue B, Zhang L, Li R, Wang Y, Guo J, Yu K, Wang S (2020) Underestimated microplastic pollution derived from Fishery activities and "Hidden" in deep sediment. Environ Sci Technol 54:2210–2217

Zhang H (2017) Transport of microplastics in coastal seas. Estuar Coast Shelf Sci 199:74–86

Zhang K, Su J, Xiong X, Wu X, Wu C, Liu J (2016) Microplastic pollution of lakeshore sediments from remote lakes in Tibet plateau, China. Environ Pollut 219:450–455

Zheng Y, Li J, Cao W, Jiang F, Zhao C, Ding H, Wang M, Gao F, Sun C (2020) Vertical distribution of microplastics in bay sediment reflecting effects of sedimentation dynamics and anthropogenic activities. Mar Pollut Bull 152:110885
Acknowledgments
We thank Prof. Hamad Al-Saad Al-Kuwari, Director, Environmental Science Center, Qatar University (QU) for his constant encouragement and support.
Funding
This work has been carried out under the QU-NIO joint IRCC Project (No. IRCC-2019-002).
Ethics declarations
Competing interests
The authors declare that they have no competing interests.
Ethics approval and consent to participate
Not applicable
Consent for publication
Not applicable
Additional information
Responsible Editor: Philippe Garrigues
Publisher's note
Springer Nature remains neutral with regard to jurisdictional claims in published maps and institutional affiliations.
Supplementary Information
About this article
Cite this article
Veerasingam, S., Vethamony, P., Aboobacker, V.M. et al. Factors influencing the vertical distribution of microplastics in the beach sediments around the Ras Rakan Island, Qatar. Environ Sci Pollut Res 28, 34259–34268 (2021). https://doi.org/10.1007/s11356-020-12100-4
Received:

Accepted:

Published:

Issue Date:

DOI: https://doi.org/10.1007/s11356-020-12100-4
Keywords
Microplastic pollution

Beach sediments

Vertical distribution

Ras Rakan island of Qatar

Arabian Gulf