Abstract
This research examined the impact of foreign direct investment, natural resources, renewable energy consumption, and economic growth on environmental degradation in BRICS, developing, developed, and global countries for the time period from 1991 to 2018 by using dynamic fixed effect model, GMM, and system GMM estimators. The examined results indicate that FDI causes environmental degradation in BRICS and developing countries while in developed countries, FDI helps environmental degradation reduction. The empirical results indicate that fuel resources and renewable energy consumption help to reduce the environment degradation in BRICS, developing, developed, and global countries while ore and metal resources cause environment degradation improvement in developed countries. Total natural resources (coal, oil, natural gas, and mineral rents) and economic growth are the main factors that boost the environmental degradation in BRICS, developing, developed, and global countries. Based on the examined results, policies are suggested for BRICS, developing, developed, and global countries. It is suggested that policy makers in these countries not only reply to protect environmental degradation but also support the growth of fuel resources, ore, and metal resource and total natural resources.
Access options
Buy single article
Instant access to the full article PDF.
USD 39.95
Price excludes VAT (USA)
Tax calculation will be finalised during checkout.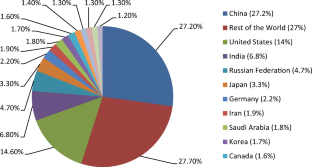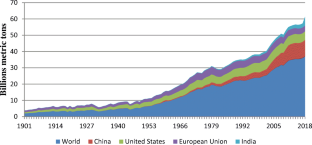 Data availability
Data is available from the corresponding author upon request.
References
Adusah PF (2016) Carbon dioxide emissions, urbanization and population: empirical evidence from sub-Sahran Africa. Energy Economics Letters 3(1):1–16

Alvarado R, Ponce P, Criollo A, Córdova K, Khan MK (2018) Environmental degradation and real per capita output: new evidence at the global level grouping countries by income levels. J Clean Prod 189:13–20

Álvarez HA, Balsalobre D, Cantos JM, Shahbaz M (2017) Energy innovations-GHG emissions nexus: fresh empirical evidence from OECD countries. Energy Policy 10:90–100

Arellano M, Bond S (1991) Some tests of specification for panel data: Monte Carlo evidence and an application to employment equations. Rev Econ Stud 58(2):277–297

Arellano M, Bover O (1995) Another look at the instrumental variable estimation of error components models. J Econ 68(1):29–51

Bakhsh K, Rose S, Ali MF, Ahmad N, Shahbaz M (2017) Economic growth, CO2 emissions, renewable waste and FDI relation in Pakistan: new evidences from 3SLS. J Environ Manag 196:627–632

Baloch MA, Mahmood N, Zhang JW (2019) Effect of natural resources, renewable energy and economic development on CO2 emissions in BRICS countries. Sci Total Environ 678:632–638

Baloch, M. A., & Meng, F. (2019). Modeling the non-linear relationship between financial development and energy consumption: statistical experience from OECD countries. Environmental Science and Pollution Research, 26(9):8838–8846.

Balsalobre-Lorente D, Shahbaz M, Roubaud D, Farhani S (2018) How economic growth, renewable electricity and natural resources contribute to CO2 emissions? Energy Policy 113:356–367

Behera SR, Dash DP (2017) The effect of urbanization, energy consumption, and foreign direct investment on the carbon dioxide emission in the SSEA (south and southeast Asian) region. Renew. Sust Energ Rev 70:96–106

Bekun FV, Alola AA, Sarkodie SA (2019) Toward a sustainable environment: Nexus between CO2 emissions, resource rent, renewable and nonrenewable energy in 16-EU countries. Sci Total Environ 657:1023–1029

Blundell R, Bond S (1998) Initial conditions and moment restrictions in dynamic panel data models. J Econ 87(1):115–143

Cheng C, Ren X, Wang Z, Yan C (2019) Heterogeneous impacts of renewable energy and environmental patents on CO2 emission-evidence from the BRIICS. Sci Total Environ 668:1328–1338

Destek MA, Sarkodie SA (2019) Investigation of environmental Kuznets curve for ecological footprint: the role of energy and financial development. Sci Total Environ 650:2483–2489

Dinda S (2004) Environmental Kuznets curve hypothesis: a survey. Ecol Econ 49(4):431–455

Dong K, Sun R, Hochman G (2017) Do natural gas and renewable energy consumption lead to less CO 2 emission? Empirical evidence from a panel of BRICS countries. Energy 141:1466–1478

Farhani S, Chaibi A, Rault C (2014) CO2 emissions, output, energy consumption, and trade in Tunisia. Econ Model 38:426–434

Goklany IM (2012). Global warming policies might be bad for your health. Global Warming Policy Foundation

Grossman GM and Krueger AB (1991). Environmental impacts of a North American free trade agreement (No. w3914). National Bureau of Economic Research

Grossman GM, Krueger AB (1995) Economic growth and the environment. Q J Econ 110(2):353–377

Hu H, Xie N, Fang D, Zhang X (2018) The role of renewable energy consumption and commercial services trade in carbon dioxide reduction: evidence from 25 developing countries. Appl Energy 211:1229–1244

Huang M, Wang B (2016) Factors influencing CO2 emissions in China based on grey relational analysis. Energy Sources, Part A: Recovery, Utilization, and Environmental Effects 38(4):555–561

Joint Research Centre (JRC, 2019). European Union's, https://edgar.jrc.ec.europa.eu/overview.php?v=booklet2019&dst=CO2pc

Kastratović R (2019) Impact of foreign direct investment on greenhouse gas emissions in agriculture of developing countries. Aust J Agric Resour Econ 63(3):620–642

Khan MK, Teng JZ, Khan MI, Khan MO (2019a) Impact of globalization, economic factors and energy consumption on CO2 emissions in Pakistan. Sci Total Environ 688:424–436

Khan MK, Teng JZ, Khan MI (2019b) Effect of energy consumption and economic growth on carbon dioxide emissions in Pakistan with dynamic ARDL simulations approach. Environ Sci Pollut Res 26(23):23480–23490

Khan MI, Teng JZ, Khan MK (2020a) The impact of macroeconomic and financial development on carbon dioxide emissions in Pakistan: evidence with a novel dynamic simulated ARDL approach. Environ Sci Pollut Res 27(31):39560–39571

Khan MK, Khan MI, Rehan M (2020b) The relationship between energy consumption, economic growth and carbon dioxide emissions in Pakistan. Financial Innovation 6(1):1–13

Khan S, Khan MK, Muhammad B (2020c) Impact of financial development and energy consumption on environmental degradation in 184 countries using a dynamic panel model. Environ Sci Pollut Res:1–16

Krewitt W, Simon S, Graus W, Teskec S, Zervos A, Schafer O (2007) The 2 degrees C scenario-a sustainable world energy perspective. Energy Policy 36(1):494–494

Lorente DB, Álvarez HA (2016) Economic growth and energy regulation in the environmental Kuznets curve. Environ Sci Pollut Res 23(16):16478–16494

Nassani AA, Aldakhil AM, Abro MMQ, Zaman K (2017) Environmental Kuznets curve among BRICS countries: spot lightening finance, transport, energy and growth factors. J Clean Prod 154:474–487

Olivier JG, Peters JA and Janssens MG (2012). Trends in global CO2 emissions 2012 report

Omri A, Euchi J, Hasaballah AH, Al-Tit A (2019) Determinants of environmental sustainability: evidence from Saudi Arabia. Sci Total Environ 657:1592–1601

Panayotou T (1993). Empirical tests and policy analysis of environmental degradation at different stages of economic development (No. 992927783402676). International Labour Organization

Sarkodie SA (2018) The invisible hand and EKC hypothesis: what are the drivers of environmental degradation and pollution in Africa? Environ Sci Pollut Res 25(22):21993–22022

Sebri M, Ben-Salha O (2014) On the causal dynamics between economic growth, renewable energy consumption, CO2 emissions and trade openness: fresh evidence from BRICS countries. Renew Sust Energ Rev 39:14–23

Selden TM, Song D (1994) Environmental quality and development: is there a Kuznets curve for air pollution emissions? J Environ Econ Manag 27(2):147–162

Song ML, Zhang W, Wang S (2013) Inflection point of environmental Kuznets curve in mainland China. Energy Policy 57:14–20

Sun C, Zhang F, Xu M (2017) Investigation of pollution haven hypothesis for China: an ARDL approach with breakpoint unit root tests. J Clean Prod 161:153–164

Teng JZ, Khan MK, Khan MI, Chishti MZ, Khan MO (2020) Effect of foreign direct investment on CO 2 emission with the role of globalization, institutional quality with pooled mean group panel ARDL. Environ Sci Pollut Res:1–12

Wang S, Li Q, Fang C, Zhou C (2016a) The relationship between economic growth, energy consumption, and CO2 emissions: empirical evidence from China. Sci Total Environ 542:360–371

Wang Y, Chen L, Kubota J (2016b) The relationship between urbanization, energy use and carbon emissions: evidence from a panel of Association of Southeast Asian Nations (ASEAN) countries. J Clean Prod 112:1368–1374

World Development Indicators, (WB; WDI, 2019). World Bank; World Development Indicators. https://databank.worldbank.org/source/world-development-indicators

Zakarya GY, Mostefa B (2015) Abbes SM and Seghir GM. Factors affecting CO2 emissions in the BRICS countries: a panel data analysis. Procedia Economics and Finance 26:114–125

Zhang C, Lin Y (2012) Panel estimation for urbanization, energy consumption and CO2 emissions: a regional analysis in China. Energy Policy 49:488–498

Zhang C, Zhou X (2016) Does foreign direct investment lead to lower CO 2 emissions? Evidence from a regional analysis in China. Renew Sust Energ Rev 58:943–951

Zhu H, Duan L, Guo Y, Yu K (2016) The effects of FDI, economic growth and energy consumption on carbon emissions in ASEAN-5: evidence from panel quantile regression. Econ Model 58:237–248
Acknowledgments
The authors are thankful to the Editor and anonymous reviewers for their valuable suggestions.
Ethics declarations
Ethical approval
Not applicable.
Consent to participate
Not applicable.
Consent to publish
All authors have reviewed the final version and mutually agreed.
Competing interests
The authors declare that they have no competing interests.
Additional information
Responsible Editor: Nicholas Apergis
Publisher's note
Springer Nature remains neutral with regard to jurisdictional claims in published maps and institutional affiliations.
About this article
Cite this article
Muhammad, B., Khan, M.K., Khan, M.I. et al. Impact of foreign direct investment, natural resources, renewable energy consumption, and economic growth on environmental degradation: evidence from BRICS, developing, developed and global countries. Environ Sci Pollut Res 28, 21789–21798 (2021). https://doi.org/10.1007/s11356-020-12084-1
Received:

Accepted:

Published:

Issue Date:

DOI: https://doi.org/10.1007/s11356-020-12084-1
Keywords
Foreign direct investment

CO2 emission

Natural resources

Renewable energy consumption

Economic growth