Abstract
Previous population investigation of perfluoroalkyl substances (PFAS) features associations with lipids in a number of populations; these investigations have seldom included consideration of apolipoproteins. Apolipoprotein B (Apo B) fractions were considered in this descriptive analysis because they are essential to the assembly, transport, and cellular uptake of lipid classes associated with poorer health outcomes, and they are associated with incident and prevalent disease. Regression models stratified by diabetes and lipid lowering medication (LLM) status for data from National Health and Nutrition Examination Survey for 2007–2014 were fitted to interrogate associations between selected PFAS and Apo B for US adults aged ≥ 20 years. Adjusted concentrations of Apo B were positively associated with perfluorooctanoic acid (PFOA β = 0.03878, p < 0.01), perfluorooctane sulfonic acid (PFOS β = .02029, p = 0.02), and perfluorononanoic acid (PFNA β = .01968, p = .03) for nondiabetics who were not taking lipid lowering medications. These associations were not seen among diabetic participants, except for perfluorodecanoic acid (PFDA) in those taking LLMs (β = 0.03831, p = 0.02). We also note that LLMs have an inferred greater impact on Apo B in the diabetics compared to the nondiabetic populations. We have considered several sources of confounding and think the data are most consistent with a weak causal association that PFAS exposure increases Apo B. The rodent toxicology literature also contains evidence that PFAS disrupt fatty acid trafficking including Apo B, although how the specific findings may relate to circulating human Apo B concentrations is unclear. We therefore advocate for attempts to replicate the findings in other populations and to consider additional types of mechanistic studies.
This is a preview of subscription content, log in to check access.
Access options
Buy single article
Instant access to the full article PDF.
US$ 39.95
Tax calculation will be finalised during checkout.
Subscribe to journal
Immediate online access to all issues from 2019. Subscription will auto renew annually.
US$ 79
Tax calculation will be finalised during checkout.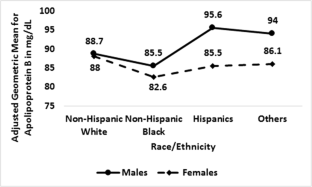 References
Beesoon S, Martin JW (2015) Isomer-specific binding affinity of perfluorooctanesulfonate (PFOS) and Perfluorooctanoate (PFOA) to serum proteins. Environ Sci Technol 49(9):5722–5731. https://doi.org/10.1021/es505399w

Bilbao E, Raingeard D, de Cerio OD, Ortiz-Zarragoitia M, Ruiz P, Izagirre U, Orbea A, Marigómez I, Cajaraville MP, Cancio I (2010) Effects of exposure to prestige-like heavy fuel oil and to perfluorooctane sulfonate on conventional biomarkers and target gene transcription in the thicklip grey mullet Chelon labrosus. Aquat Toxicol 98(3):282–296. https://doi.org/10.1016/j.aquatox.2010.02.018

Brunzell JD, Davidson M, Furberg CD, Goldberg RB, Howard BV, Stein JH, Witztum JL (2008) Lipoprotein management in patients with cardiometabolic risk: consensus conference report from the American Diabetes Association and the American College of Cardiology Foundation. J Am Coll Cardiol 51(15):1512–1524. https://doi.org/10.1016/j.jacc.2008.02.034

Butenhoff JL, Pieterman E, Ehresman DJ, Gorman GS, Olsen GW, Chang SC, Princen HM (2012) Distribution of perfluorooctanesulfonate and perfluorooctanoate into human plasma lipoprotein fractions. Toxicol Lett 210(3):360–365. https://doi.org/10.1016/j.toxlet.2012.02.013

Carroll MD, Kruszon-Moran D, Tolliver E (2019) Trends in apolipoprotein B, non-high density lipoprotein cholesterol, and low-density lipoprotein cholesterol for adults aged 20 and over, 2005-2016. National Health Statistics Report; 127. Available at https://www.cdc.gov/nchs/data/nhsr/nhsr127-508.pdf

Chen H, He P, Rao H, Wang F, Liu H, Yao J (2015) Systematic investigation of the toxic mechanism of PFOA and PFOS on bovine serum albumin by spectroscopic and molecular modeling. Chemosphere. 129:217–224. https://doi.org/10.1016/j.chemosphere.2014.11.040

Contois JH, McConnell JP, Sethi AA, Csako G, Devaraj S, Hoefner DM, Warnick GR, AACC Lipoproteins and Vascular Diseases Division Working Group on Best Practices (2009) Apolipoprotein B and cardiovascular disease risk: position statement from the AACC lipoproteins and vascular diseases division working group on best practices. Clin Chem 55(3):407–419. https://doi.org/10.1373/clinchem.2008.118356

Fang X, Wei Y, Liu Y, Wang J, Dai J (2010) The identification of apolipoprotein genes in rare minnow (Gobiocypris rarus) and their expression following perfluorooctanoic acid exposure. Comp Biochem Physiol C Toxicol Pharmacol 151(1):152–159. https://doi.org/10.1016/j.cbpc.2009.09.008

Feingold KR, Grunfeld C (2018) Introduction to lipids and lipoproteins. Endotext: Comprehensive Free Online Endocrinology Text Available at https://www.ncbi.nlm.nih.gov/books/NBK305896. Last accessed on October 21, 2019

Fisher M, Arbuckle TE, Wade M, Haines DA (2013) Do perfluoroalkyl substances affect metabolic function and plasma lipids?--analysis of the 2007-2009, Canadian health measures survey (CHMS) cycle 1. Environ Res 121:95–103. https://doi.org/10.1016/j.envres.2012.11.006

Fitz-Simon N, Fletcher T, Luster MI, Steenland K, Calafat AM, Kato K, Armstrong B (2013) Reductions in serum lipids with a 4-year decline in serum perfluorooctanoic acid and perfluorooctanesulfonic acid. Epidemiology. 24(4):569–576. https://doi.org/10.1097/EDE.0b013e31829443ee

Fu Y, Wang T, Fu Q, Wang P, Lu Y (2014) Associations between serum concentrations of perfluoroalkyl acids and serum lipid levels in a Chinese population. Ecotoxicol Environ Saf 106:246–252. https://doi.org/10.1016/j.ecoenv.2014.04.039

Haas ME, Attie AD, Biddinger SB (2013) The regulation of Apo B metabolism by insulin. Trends Endocrinol Metab 24(8):391–397. https://doi.org/10.1016/j.tem.2013.04.001

He X, Liu Y, Xu B, Gu L, Tang W (2018) PFOA is associated with diabetes and metabolic alteration in US men: National Health and nutrition examination survey 2003-2012. Sci Total Environ 625:566–574. https://doi.org/10.1016/j.scitotenv.2017.12.186

Honda M, Muta A, Akasaka T, Inoue Y, Shimasaki Y, Kannan K, Okino N, Oshima Y (2014) Identification of perfluorooctane sulfonate binding protein in the plasma of tiger pufferfish Takifugu rubripes. Ecotoxicol Environ Saf 104:409–413. https://doi.org/10.1016/j.ecoenv.2013.11.010

Hui Z, Li R, Chen L (2017) The impact of exposure to environmental contaminant on hepatocellular lipid metabolism. Gene. 622:67–71. https://doi.org/10.1016/j.gene.2017.04.024

Jain RB (2017) Impact of smoking on the observed levels of apolipoprotein B: data from NHANES 2007-2012. Environ Toxicol Pharmacol 53:227–233

Jain RB (2018) Time trends over 2003–2014 in the concentrations of selected perfluoroalkyl substances among US adults aged ≥20 years: interpretational issues. Sci Total Environ 645:946–957

Jain RB, Ducatman A (2019) Roles of gender and obesity in defining correlations between perfluoroalkyl substances and lipid/lipoproteins. Sci Total Environ 653:74–81

Jain RB, Wang R (2008) Limitations of maximum likelihood estimation procedures when a majority of the observations are below the limit of detection. Anal Chem 80(12):4767–4772

Jain RB, Caudill SP, Wang R, Monsell E (2008) Evaluation of maximum likelihood procedures to estimate left censored observations. Anal Chem 80:1124–1132

Khalil N, Ebert JR, Honda M, Lee M, Nahhas RW, Koskela A, Hangartner T, Kannan K (2018) Perfluoroalkyl substances, bone density, and cardio-metabolic risk factors in obese 8-12 year old children: a pilot study. Environ Res 160:314–321. https://doi.org/10.1016/j.envres.2017.10.014

Khan SU, Rahman H, Okunrintemi V, Riaz H, Khan MS, Sattur S, Kaluski E, Lincoff AM, Martin SS, Blaha MJ (2019) Association of lowering low-density lipoprotein cholesterol with contemporary lipid-lowering therapies and risk of diabetes mellitus: a systematic review and meta-analysis. J Am Heart Assoc 8(7):e011581. https://doi.org/10.1161/JAHA.118.011581

Ley SH, Harris SB, Connelly PW, Mamakeesick M, Gittlesohn J, Wolever TM, Hegele RA, Zinman B, Henley AJ (2010) Association of apolipoprotein B with incident type 2 diabetes in an aboriginal Canadian population. Clin Chem 56:666–670

Lin PD, Cardenas A, Hauser R, Gold DR, Kleinman KP, Hivert MF, Fleisch AF, Calafat AM, Webster TF, Horton ES, Oken E (2019) Per- and polyfluoroalkyl substances and blood lipid levels in pre-diabetic adults-longitudinal analysis of the diabetes prevention program outcomes study. Environ Int 129:343–353. https://doi.org/10.1016/j.envint.2019.05.027

Liu H-S, Wen L-L, Chu P-L, Lin C-Y (2018) Association among total serum isomers of perfluorinated chemicals, glucose homeostasis, lipid profiles, serum protein and metabolic syndrome in adults: NHANES 2013-2014. Environ Pollut 232:73–79. https://doi.org/10.1016/j.envpol.2017.09.019

Liu G, Zhang B, Hu Y, Rood J, Liang L, Qi L, Bray GA, Delong L, Coull B, Grandjean P, Furtado JD, Sun Q (2020) Associations of perfluoroalkyl substances with blood lipids and apolipoproteins in lipoprotein subspecies: the POUNDS-lost study. Environ Health 19:5. https://doi.org/10.1186/s12940-020-0561-8

Lubin JH, Colt JS, Camann D, Davis S, Cerhan JR, Severson RK, Bernstein L, Hartge P (2004) Epidemiologic evaluation of measurement data in the presence of detection limits. Environ Health Perspect 112(17):1691–1696

Maisonet M, Yadav R, Leinaar E (2018) Role of PFOA and PFOS on serum apolipoprotein B, NHANES 2005-2006. Presented at the meeting of the International Society for Environmental Epidemiology (ISEE) on 26-30 august, 2018 in Ottawa, Canada

Mao Y, Xu Y, Lu L (2017) The nonlinear association between apolipoprotein B to apolipoprotein A1 ratio and type 2 diabetes. Medicine 96(1):e5834. https://doi.org/10.1097/MD.00000000005834

Michos ED, McEvoy JW, Blumenthal RS (2019) Lipid management for the prevention of atherosclerotic cardiovascular disease. N Engl J Med 381(16):1557–1567. https://doi.org/10.1056/NEJMra1806939

Mullick AE, Fu W, Graham MJ, Lee RG, Witchell D, Bell TA, Whipple CP, Crooke RM (2011) Antisense oligonucleotide reduction of Apo B-ameliorated atherosclerosis in LDL receptor-deficient mice. J Lipid Res 52(5):885–896. https://doi.org/10.1194/jlr.M011791

Nelson JW, Hatch EE, Webster TF (2010) Exposure to perfluoroalkyl chemicals and cholesterol, body weight, and insulin resistance in the general US population. Environ Health Perspect 118:197–202

Nordby GL, Luck JM (1956) Perfluorooctanoic acid interactions with human serum albumin. J Biol Chem 219:399–404

Okochi E, Nishimaki-Mogami T, Suzuki K, Takahashi A (1999) Perfluorooctanoic acid, a peroxisome-proliferating hypolipidemic agent, dissociates apolipoprotein B48 from lipoprotein particles and decreases secretion of very low density lipoproteins by cultured rat hepatocytes. Biochim Biophys Acta 1437(3):393–401

Siegel RD, Cupples A, Schaefer EJ, Wilson PW (1996) Lipoproteins, apolipoproteins, and low-density lipoprotein size among diabetics in the Framingham offspring study. Metabolism 45(10):1267–1272

Skuladottir M, Ramel A, Rytter D, Haug LS, Sabaredzovic A, Bech BH, Henriksen TB, Olsen SF, Halldorsson TI (2015) Examining confounding by diet in the association between perfluoroalkyl acids and serum cholesterol in pregnancy. Environ Res 143(Pt A):33–38. https://doi.org/10.1016/j.envres.2015.09.001

Starling AP, Engel SM, Whitworth KW, Richardson DB, Stuebe AM, Daniels JL, Haug LS, Eggesbø M, Becher G, Sabaredzovic A, Thomsen C, Wilson RE, Travlos GS, Hoppin JA, Baird DD, Longnecker MP (2014) Perfluoroalkyl substances and lipid concentrations in plasma during pregnancy among women in the Norwegian mother and child cohort study. Environ Int 62:104–112. https://doi.org/10.1016/j.envint.2013.10.004

Steenland K, Tinker S, Frisbee S, Ducatman A, Vaccarino V (2009) Association of perfluorooctanoic acid and perfluorooctane sulfonate with serum lipids among adults living near a chemical plant. Am J Epidemiol 170(10):1268–1278. https://doi.org/10.1093/aje/kwp279

Tan F, Jin Y, Liu W, Quan X, Chen J, Liang Z (2012) Global liver proteome analysis using iTRAQ labeling quantitative proteomic technology to reveal biomarkers in mice exposed to perfluorooctane sulfonate (PFOS). Environ Sci Technol 46(21):12170–12177. https://doi.org/10.1021/es3027715

Welsh C, Celis-Morales CA, Brown R, Mackay DF, Lewsey J, Mark PB, Gray SR, Ferguson LD, Anderson JJ, Lyall DM, Cleland JG, Jhund PS, Gill JMR, Pell JP, Sattar N, Welsh P (2019) Comparison of conventional lipoprotein tests and apolipoproteins in the prediction of cardiovascular disease. Circulation. 140(7):542–552. https://doi.org/10.1161/CIRCULATIONAHA.119.041149

Wu X, Xie G, Xu X, Wu W, Yang B (2018) Adverse bioeffect of perfluorooctanoic acid on liver metabolic function in mice. Environ Sci Pollut Res Int 25(5):4787–4793. https://doi.org/10.1007/s11356-017-0872-7

Zeng XW, Qian Z, Emo B, Vaughn M, Bao J, Qin XD, Zhu Y, Li J, Lee YL, Dong GH (2015) Association of polyfluoroalkyl chemical exposure with serum lipids in children. Sci Total Environ 512–513:364–370. https://doi.org/10.1016/j.scitotenv.2015.01.042

Zigmont VA, Shoben AB, Lu B, Kaye GL, Clinton SK, Harris RE, Olivo-Marston SE (2019) Statin users have an elevated risk of dysglycemia and new-onset-diabetes. Diabetes Metab Res Rev:e3189. https://doi.org/10.1002/dmrr.3189
Funding
No funding from any private and/or public sources was received to conduct this research.
Ethics declarations
Competing interests
Ram B Jain declares that he had no financial and/or other conflicts that could have affected the conclusions arrived at in this communication. Alan Ducatman has received funding for health communications related to the enrollment of the C8 Health Population, and he has provided scientific support to communities seeking similar class action support to institute medical monitoring. No human subjects were involved in this research, and all data used in this research are available free of cost at www.cdc.gov/nchs/nhanes.htm
Ethical approvals
Since this study did not recruit any human and/or animal subjects, this section does not apply.
Consent to participate
Since this study did not recruit any human subjects, this section does not apply.
Consent to publish
Since this study is not attempting to re-publish/publish any third party or author's previously published material, this section does not apply.
Additional information
Publisher's note
Springer Nature remains neutral with regard to jurisdictional claims in published maps and institutional affiliations.
Responsible Editor: Philippe Garrigues
Supplementary Information
About this article
Cite this article
Jain, R.B., Ducatman, A. Associations between apolipoprotein B and selected perfluoroalkyl substances among diabetics and nondiabetics. Environ Sci Pollut Res (2020). https://doi.org/10.1007/s11356-020-11593-3
Received:

Accepted:

Published:
Keywords
Perfluorooctanoic acid

Apolipoproteins B

Lipids, diabetes