Abstract
Onosma bracteata Wall. (Boraginaceae), commonly known as "gaozaban" is a highly valuable medicinal herb, useful in the treatment of body swellings, abdominal pain, eye-related problems, fever, and urinary calculi. The present study was performed to investigate the antioxidant properties of extract/fractions, viz. ethanol (Obeth) extract, hexane (Obhex) fraction, chloroform (Obcl) fraction, ethyl acetate (Obea) fraction, butanol (Obbu) fraction, and aqueous (Obaq) fraction isolated from O. bracteata. Obea fraction showed stronger free radical quenching ability in various antioxidant assays, as compared to the other fractions. Obea fraction with effective free radical-scavenging properties was further evaluated for the antiproliferative activity against human osteosarcoma MG-63, human neuroblastoma IMR-32, and human lung cancer A549 cell lines using MTT assay. Obea fraction showed strong cytotoxicity with GI50 value of 88.56, 101.61, and 112.7 μg/ml towards MG-63, IMR-32, and A549 cells respectively. Mechanistic studies revealed that Obea fraction in osteosarcoma MG-63 cells increased reactive oxygen species (ROS) level and reduced mitochondrial membrane potential. In the presence of Obea, the cells were found to be arrested in the G0/G1 phase in a dose-dependent manner which is also confirmed by the enhancement in the early apoptotic cell population in flow cytometer analysis. Western blotting demonstrated the decrease in expression of p-NFκB, COX-2, p-Akt, and Bcl-xL, whereas upregulation was observed in the expression of GSK-3β, p53, caspase-3, and caspase-9 proteins. RT-qPCR studies revealed downregulation of Bcl-2, cyclin E, CDK2, and mortalin gene expression and upregulation in the expression of p53 genes. The antioxidant and cytotoxic potential of Obea was attributed to the presence of catechin, kaempferol, onosmin A, and epicatechin, as revealed by HPLC analysis. This is the first report regarding the antiproliferative potential of O. bracteata against osteosarcoma.
This is a preview of subscription content, log in to check access.
Access options
Buy single article
Instant access to the full article PDF.
US$ 39.95
Tax calculation will be finalised during checkout.
Subscribe to journal
Immediate online access to all issues from 2019. Subscription will auto renew annually.
US$ 99
Tax calculation will be finalised during checkout.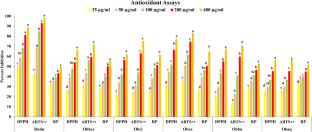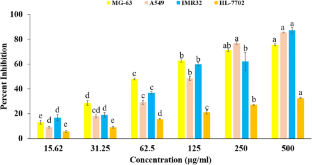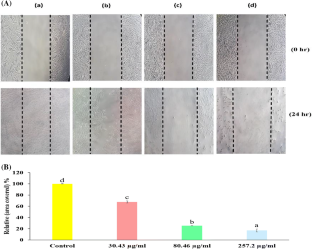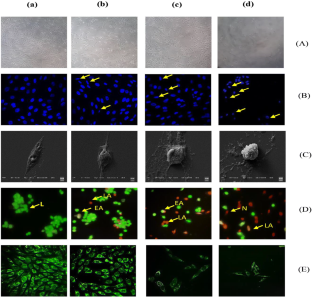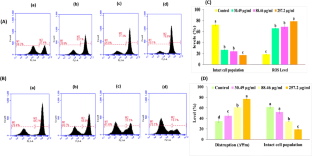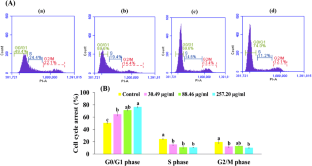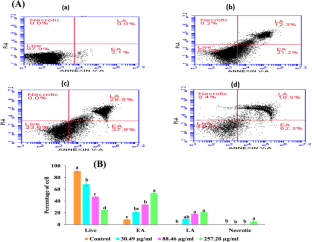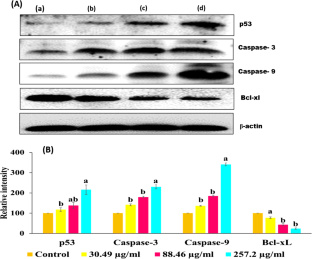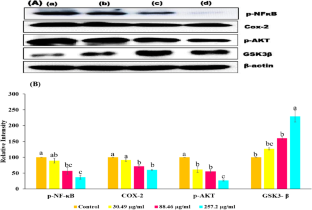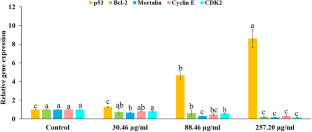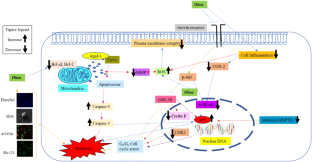 Data availability
The raw data supporting the conclusions of this article will be made available by the authors, without undue reservation, to any qualified researcher.
Abbreviations
Apaf-1:

Apoptotic protease activating factor 1

AO/EtBr:

Acridine orange/ethidium bromide

Bcl-2:

B cell lymphoma 2

CHO:

Chinese hamster ovary

COX-2:

Cyclooxygenase-2

CO2 :

Carbon dioxide

EA:

Early apoptosis

EDTA:

Ethylenediaminetetraacetic acid

GSK:

Glycogen synthase kinase

LA:

Late apoptosis

L:

Live

MG-63:

Human osteosarcoma cells

MMP:

Mitochondria membrane potential

N:

Necrotic

NFκB:

Nuclear factor kappa B

p-Akt:

Phosphorylated-Akt

PVDF:

Polyvinylidene fluoride

PAGE:

Polyacrylamide gel electrophoresis

PBS:

Phosphate-buffered saline

RT-qPCR:

Quantitative real-time polymerase chain reaction

ROS:

Reactive oxygen species

Rh123:

Rhodamine123

rpm:

Revolutions per minute

SDS:

Sodium dodecyl sulfate

SEM:

Scanning electron microscopy

WB:

Western blotting
References
Abate ME, Longhi A, Galletti S, Ferrari S, Bacci G (2010) Non-metastatic osteosarcoma of the extremities in children aged 5 years or younger. Pediatr Blood Cancer 55(4):652–654. https://doi.org/10.1002/pbc.22567

Abdel-Hafez SMN, Rifaai RA, Abd Elzaher WY (2017) Mechanism of grape seeds extract protection against paracetamol renal cortical damage in male albino rats. Bratisl Med J 118(4):233–242. https://doi.org/10.4149/BLL_2017_046

Banda NK, Satterfield WC, Dunlap A, Steimer KS, Kurrle R, Finkel TH (1996) Lack of gp120-induced anergy and apoptosis in chimpanzees is correlated with resistance to AIDS. Apoptosis 1(1):49–62. https://doi.org/10.1007/BF00142078

Blois MS (1958) Antioxidant determinations by the use of a stable free radical. Nature 181(4617):1199–1200. https://doi.org/10.1038/1811199a0

Bossy-Wetzel E, Green DR (1999) Caspases induce cytochrome c release from mitochondria by activating cytosolic factors. J Biol Chem 274(25):17484–17490. https://doi.org/10.1074/jbc.274.25.17484

Bucevičius J, Lukinavičius G, Gerasimaitė R (2018) The use of hoechst dyes for DNA staining and beyond. Chemosensors 6(2):18. https://doi.org/10.3390/chemosensors6020018

Ceramella J, Loizzo MR, Iacopetta D, Bonesi M, Sicari V, Pellicanò TM, Saturnino C, Malzert-Fréon A, Tundis R, Sinicropi MS (2019) Anchusa azurea Mill. (Boraginaceae) aerial parts methanol extract interfering with cytoskeleton organization induces programmed cancer cells death. Food Funct 10(7):4280–4290. https://doi.org/10.1039/c9fo00582j

Chandra D, Khan AM (2017) National Health Portal, India. https://www.nhp.gov.in/onosma-bracteata-wall-or-borago-officinalis-linn_mtl. Accessed 26 Sept 2017

Chen X, Zhong Z, Xu Z, Chen L, Wang Y (2010) 2′, 7′-Dichlorodihydrofluorescein as a fluorescent probe for reactive oxygen species measurement: forty years of application and controversy. Free Radic Res 44(6):587–604. https://doi.org/10.3109/10715761003709802

Deeb D, Gao X, Jiang H, Janic B, Arbab AS, Rojanasakul Y, Dulchavsky SA, Gautam SC (2010) Oleanane triterpenoid CDDO-Me inhibits growth and induces apoptosis in prostate cancer cells through a ROS-dependent mechanism. Biochem Pharmacol 79(3):350–360. https://doi.org/10.1016/j.bcp.2009.09.006

Devari S, Jaglan S, Kumar M, Deshidi R, Guru S, Bhushan S, Kushwaha M, Gupta AP, Gandhi SG, Sharma JP, Taneja SC (2014) Capsaicin production by Alternaria alternata, an endophytic fungus from Capsicum annum; LC–ESI–MS/MS analysis. Phytochemistry 98:183–189. https://doi.org/10.1016/j.phytochem.2013.12.001

Ding L, Cao J, Lin W, Chen H, Xiong X, Ao H, Yu M, Lin J, Cui Q (2020) The roles of cyclin-dependent kinases in cell-cycle progression and therapeutic strategies in human breast cancer. Int J Mol Sci 21(6):1960. https://doi.org/10.3390/ijms21061960

Dubois RN, Abramson SB, Crofford L, Gupta RA, Simon LS, Van De Putte LB, Lipsky PE (1998) Cyclooxygenase in biology and disease. FASEB J 12(12):1063–1073. https://doi.org/10.1096/fasebj.12.12.1063

Duthie GG, Duthie SJ, Kyle JA (2000) Plant polyphenols in cancer and heart disease: implications as nutritional antioxidants. Nutr Res Rev 13(1):79–106. https://doi.org/10.1079/095442200108729016

Działo M, Mierziak J, Korzun U, Preisner M, Szopa J, Kulma A (2016) The potential of plant phenolics in prevention and therapy of skin disorders. Int J Mol Sci 17(2):160. https://doi.org/10.3390/ijms17020160

Ekert PG, Read SH, Silke J, Marsden VS, Kaufmann H, Hawkins CJ, Gerl R, Kumar S, Vaux DL (2004) Apaf-1 and caspase-9 accelerate apoptosis, but do not determine whether factor-deprived or drug-treated cells die. J Cell Biol 165(6):835–842. https://doi.org/10.1083/jcb.200312031

Ganesan K, Xu B (2017) Polyphenol-rich dry common beans (Phaseolus vulgaris L.) and their health benefits. Int J Mol Sci 18(11):2331. https://doi.org/10.3390/ijms18112331

Ganesh R, Marks DJ, Sales K, Winslet MC, Seifalian AM (2012) Cyclooxygenase/lipoxygenase shunting lowers the anti-cancer effect of cyclooxygenase-2 inhibition in colorectal cancer cells. World J Surg Oncol 10(1):1–8. https://doi.org/10.1186/1477-7819-10-200

Grosso G (2018) Effects of polyphenol-rich foods on human health. Nutrients. 10:1–6. https://doi.org/10.3390/nu10081089

Gupta M, Kaur G (2018) Withania somnifera as a potential anxiolytic and anti-inflammatory candidate against systemic lipopolysaccharide-induced Neuroinflammation. NeuroMol Med 20(3):343–362. https://doi.org/10.1007/s12017-018-8497-7

Gupta S, Kass GE, Szegezdi E, Joseph B (2009) The mitochondrial death pathway: a promising therapeutic target in diseases. J Cell Mol Med 13(6):1004–1033. https://doi.org/10.1111/j.1582-4934.2009.00697.x

Howes MJR, Simmonds MS (2014) The role of phytochemicals as micronutrients in health and disease. Curr Opin Clin Nutr Metab Care 17(6):558–566. https://doi.org/10.1097/MCO.0000000000000115

Huang GJ, Deng JS, Huang SS, Hu ML (2011) Hispolon induces apoptosis and cell cycle arrest of human hepatocellular carcinoma Hep3B cells by modulating ERK phosphorylation. J Agric Food Chem 59(13):7104–7113. https://doi.org/10.1021/jf201289e

Jan R, Chaudhry G (2019) Understanding apoptosis and apoptotic pathways targeted cancer therapeutics. Adv Pharm Bull 9(2):205. https://doi.org/10.15171/apb.2019.024

Kaur P, Mehta RG, Singh B, Arora S (2019) Development of aqueous-based multi-herbal combination using principal component analysis and its functional significance in HepG2 cells. BMC Complement Altern Med 19(1):18

Kaur S, Kumar A, Thakur S, Kumar K, Sharma R, Sharma A, Singh P, Sharma U, Kumar S, Landi M, Brestič M (2020) Antioxidant, antiproliferative and apoptosis-inducing efficacy of fractions from Cassia fistula L. leaves. Antioxidants 9(2):2–32. https://doi.org/10.3390/antiox9020173

Kaur S, Kumar M, Kaur P, Kaur V, Kaur S (2016) Modulatory effects of Cassia fistula fruits against free radicals and genotoxicity of mutagens. Food Chem Toxicol 98:220–231. https://doi.org/10.1016/j.fct.2016.10.027

Kim DO, Jeong SW, Lee CY (2003) Antioxidant capacity of phenolic phytochemicals from various cultivars of plums. Food Chem 81(3):321–326. https://doi.org/10.1016/S0308-8146(02)00423-5

Kirkan B, Sarikurkcu C, Ozer MS, Cengiz M, Atılgan N, Ceylan O, Tepe B (2018) Phenolic profile, antioxidant and enzyme inhibitory potential of Onosma tauricum var. tauricum. Ind Crop Prod 125:549–555. https://doi.org/10.1016/j.indcrop.2018.09.043

Kruk J, Aboul-Enein HY, Kładna A, Bowser JE (2019) Oxidative stress in biological systems and its relation with pathophysiological functions: the effect of physical activity on cellular redox homeostasis. Free Radic Res 53(5):497–521. https://doi.org/10.1080/10715762.2019.1612059

Lan H, Hong W, Fan P, Qian D, Zhu J, Bai B (2017) Quercetin inhibits cell migration and invasion in human osteosarcoma cells. Cell Physiol Biochem 43(2):553–567. https://doi.org/10.1159/000480528

Lee H, Kim W, Kang H, Kim W, Lee SC, Kim S (2020) Geranium thunbergii extract-induced G1 phase cell cycle arrest and apoptosis in gastric cancer cells. Anim Cells Syst 24(1):26–33. https://doi.org/10.1080/19768354.2019.1699161

Lee HS, Cho HJ, Yu R, Lee KW, Chun HS, Park JHY (2014) Mechanisms underlying apoptosis-inducing effects of kaempferol in HT-29 human colon cancer cells. Int J Mol Sci 15(2):2722–2737. https://doi.org/10.3390/ijms15022722

Li Q, Wei L, Lin S, Chen Y, Lin J, Peng J (2019) Synergistic effect of kaempferol and 5-fluorouracil on the growth of colorectal cancer cells by regulating the PI3K/Akt signaling pathway. Mol Med Rep 20(1):728–734. https://doi.org/10.3892/mmr.2019.10296

Li W, Guo Y, Zhang C, Wu R, Yang AY, Gaspar J, Kong ANT (2016) Dietary phytochemicals and cancer chemoprevention: a perspective on oxidative stress, inflammation, and epigenetics. Chem Res Toxicol 29(12):2071–2095. https://doi.org/10.1021/acs.chemrestox.6b00413

Lim S, Choi AH, Kwon M, Joung EJ, Shin T, Lee SG, Kim NG, Kim HR (2019) Evaluation of antioxidant activities of various solvent extract from Sargassum serratifolium and its major antioxidant components. Food Chem 278:178–184. https://doi.org/10.1016/j.foodchem.2018.11.058

Lin J, Song T, Li C, Mao W (2020) GSK-3β in DNA repair, apoptosis, and resistance of chemotherapy, radiotherapy of cancer. Biochimica et Biophysica Acta (BBA)-Molecular. Cell Res 1867(5):1–7. https://doi.org/10.1016/j.bbamcr.2020.118659

Liu J, Li Y, Ren W, Hu WX (2006) Apoptosis of HL-60 cells induced by extracts from Narcissus tazetta var. chinensis. Cancer Lett 242(1):133–140. https://doi.org/10.1016/j.canlet.2005.11.023

Liu T, Zhang L, Joo D, Sun SC (2017) NF-ĸB signaling in inflammation. Signal Transduct Target Ther 2:1–9. https://doi.org/10.1038/sigtrans.2017.23

Londono C, Osorio C, Gama V, Alzate O (2012) Mortalin, apoptosis, and neurodegeneration. Biomolecules 2(1):143–164. https://doi.org/10.3390/biom2010143

Lu WJ, Lee NP, Kaul SC, Lan F, Poon RTP, Wadhwa R, Luk JM (2011) Mortalin–p53 interaction in cancer cells is stress dependent and constitutes a selective target for cancer therapy. Cell Death Differ 18(6):1046–1056. https://doi.org/10.1038/cdd.2010.177

Luo KW, Chen W, Lung WY, Wei XY, Cheng BH, Cai ZM, Huang WR (2017) EGCG inhibited bladder cancer SW780 cell proliferation and migration both in vitro and in vivo via down-regulation of NF-κB and MMP-9. J Nutr Biochem 41:56–64. https://doi.org/10.1016/j.jnutbio.2016.12.004

Manson MM, Foreman BE, Howells LM, Moiseeva EP (2007) Determining the efficacy of dietary phytochemicals in cancer prevention. Biochem Soc Trans 35:1358–1363. https://doi.org/10.1042/BST0351358

Misaghi A, Goldin A, Awad M, Kulidjian AA (2018) Osteosarcoma: a comprehensive review. Sicot-J 4:1–12. https://doi.org/10.1051/sicotj/2017028

Myburgh KH (2014) Polyphenol supplementation: benefits for exercise performance or oxidative stress? Sports Med 44(1):57–70. https://doi.org/10.1007/s40279-014-0151-4

Naz S, Ahmad S, Rasool SA, Sayeed SA, Siddiqi R (2006) Antibacterial activity directed isolation of compounds from Onosma hispidum. Microbiol Res 161(1):43–48. https://doi.org/10.1016/j.micres.2005.05.001

Nigam N, Grover A, Goyal S, Katiyar SP, Bhargava P, Wang PC, Sundar D, Kaul SC, Wadhwa R (2015) Targeting mortalin by embelin causes activation of tumor suppressor p53 and deactivation of metastatic signaling in human breast cancer cells. PLoS One 10(9):1–15. https://doi.org/10.1371/journal.pone.0138192

Nitulescu GM, Van De Venter M, Nitulescu G, Ungurianu A, Juzenas P, Peng Q, Olaru OT, Grădinaru D, Tsatsakis A, Tsoukalas D, Spandidos DA (2018) The Akt pathway in oncology therapy and beyond. Int J Oncol 53(6):2319–2331. https://doi.org/10.3892/ijo.2018.4597

Oyaizu M (1986) Studies on products of browning reaction. Jpn J Nutr 44:307–315. https://doi.org/10.5264/eiyogakuzashi.44.307

Ozer MS, Kirkan B, Sarikurkcu C, Cengiz M, Ceylan O, Atılgan N, Tepe B (2018) Onosma heterophyllum: phenolic composition, enzyme inhibitory and antioxidant activities. Ind Crop Prod 111:179–184. https://doi.org/10.1016/j.indcrop.2017.10.026

Özgen U, Houghton PJ, Ogundipe Y, Coşkun M (2003) Antioxidant and antimicrobial activities of Onosma argentatum and Rubia peregrina. Fitoterapia 74(7-8):682–685. https://doi.org/10.1016/S0367-326X(03)00161-8

Pajaniradje S, Mohankumar K, Pamidimukkala R, Subramanian S, Rajagopalan R (2014) Antiproliferative and apoptotic effects of Sesbania grandiflora leaves in human cancer cells. Biomed Res Int 1:1–11. https://doi.org/10.1155/2014/474953

Park SJ, Park BS, Yu SB, Kang HM, Kim HJ, Kim IR (2018) Induction of apoptosis and inhibition of epithelial mesenchymal transition by α-mangostin in MG-63 cell lines. Evid Based Complement Alternat Med 1:1–10. https://doi.org/10.1155/2018/3985082

Plava J, Cihova M, Burikova M, Matuskova M, Kucerova L, Miklikova S (2019) Recent advances in understanding tumor stroma-mediated chemoresistance in breast cancer. Mol Cancer 18(1):67. 1-10. https://doi.org/10.1186/s12943-019-0960-z

Rao RAK, Ikram S, Uddin MK (2014) Removal of Cd (II) from aqueous solution by exploring the biosorption characteristics of gaozaban (Onosma bracteata). J Environ Chem Eng 2(2):1155–1164. https://doi.org/10.1016/j.jece.2014.04.008

Raymond AK, Jaffe N (2009) Osteosarcoma multidisciplinary approach to the management from the pathologist's perspective. In Ped Adolesc Osteosarcoma:63–84. https://doi.org/10.1007/978-1-4419-0284-9_4

Re R, Pellegrini N, Proteggente A, Pannala A, Yang M, Rice-Evans C (1999) Antioxidant activity applying an improved ABTS radical cation decolorization assay. Free Radic Biol Med 26(9-10):1231–1237. https://doi.org/10.1016/s0891-5849(98)00315-3

Rello S, Stockert JC, Moreno VL, Gamez A, Pacheco M, Juarranz A, Canete M, Villanueva A (2005) Morphological criteria to distinguish cell death induced by apoptotic and necrotic treatments. Apoptosis 10(1):201–208. https://doi.org/10.1007/s10495-005-6075-6

Rinner B, Kretschmer N, Knausz H, Mayer A, Boechzelt H, Hao XJ, Heubl G, Efferth T, Schaider H, Bauer R (2010) A petrol ether extract of the roots of Onosma paniculatum induces cell death in a caspase dependent manner. J Ethnopharmacol 129(2):182–188. https://doi.org/10.1016/j.jep.2010.02.006

Rodríguez-García C, Sánchez-Quesada C, Gaforio JJ (2019) Dietary flavonoids as cancer chemopreventive agents: an updated review of human studies. Antioxidants, 8(5),137. 1-23. https://doi.org/10.3390/antiox8050137

Russo GL, Tedesco I, Spagnuolo C, Russo M (2017) Antioxidant polyphenols in cancer treatment: friend, foe or foil? In Semin Cancer Biol 46:1–13. https://doi.org/10.1016/j.semcancer.2017.05.005

Sanchez JF, Sniderhan LF, Williamson AL, Fan S, Chakraborty-Sett S, Maggirwar SB (2003) Glycogen synthase kinase 3β-mediated apoptosis of primary cortical astrocytes involves inhibition of nuclear factor κB signaling. Mol Cell Biol 23(13):4649–4662. https://doi.org/10.1128/MCB.23.13.4649-4662.2003

Sarikurkcu C, Kirkan B, Ozer MS, Ceylan O, Atilgan N, Cengiz M, Tepe B (2018) Chemical characterization and biological activity of Onosma gigantea extracts. Ind Crop Prod 115:323–329. https://doi.org/10.1016/j.indcrop.2018.02.040

Shah N, Kataria H, Kaul SC, Ishii T, Kaur G, Wadhwa R (2009) Effect of the alcoholic extract of Ashwagandha leaves and its components on proliferation, migration, and differentiation of glioblastoma cells: combinational approach for enhanced differentiation. Cancer Sci 100(9):1740–1747. https://doi.org/10.1111/j.1349-7006.2009.01236.x

Shilnikova K, Piao MJ, Kang KA, Ryu YS, Park JE, Hyun YJ, Zhen AX, Jeong YJ, Jung U, Kim IG, Hyun JW (2018) Shikonin induces mitochondria-mediated apoptosis and attenuates epithelial-mesenchymal transition in cisplatin-resistant human ovarian cancer cells. Oncol Lett 15(4):5417–5424. https://doi.org/10.3892/ol.2018.8065

Sobolewski C, Cerella C, Dicato M, Ghibelli L, Diederich M (2010) The role of cyclooxygenase-2 in cell proliferation and cell death in human malignancies. Int J Cell Biol 2010:1–21. https://doi.org/10.1155/2010/215158

Surh YJ (2003) Cancer chemoprevention with dietary phytochemicals. Nat Rev Cancer 3(10):768–780. https://doi.org/10.1038/nrc1189

Vukic MD, Vukovic NL, Djelic GT, Popovic SL, Zaric MM, Baskic DD, Krstic GB, Tesevic VV, Kacaniova MM (2017) Antibacterial and cytotoxic activities of naphthoquinone pigments from Onosma visianii Clem. EXCLI J 16:73–83. https://doi.org/10.17179/excli2016-762 eCollection 2017

Wang C, Youle RJ (2009) The role of mitochondria in apoptosis. Annu Rev Genet 43:95–118. https://doi.org/10.5483/bmbrep.2008.41.1.011

Woo M, Hakem R, Soengas MS, Duncan GS, Shahinian A, Kägi D, Hakem A, McCurrach M, Khoo W, Kaufman SA, Senaldi G (1998) Essential contribution of caspase 3/CPP32 to apoptosis and its associated nuclear changes. Genes Dev 12(6):806–819. https://doi.org/10.1101/gad.12.6.806

Yang H, Zhou X, Liu X, Yang L, Chen Q, Zhao D, Zuo J, Liu W (2011) Mitochondrial dysfunction induced by knockdown of mortalin is rescued by Parkin. Biochem Biophys Res Commun 410(1):114–120. https://doi.org/10.1016/j.bbrc.2011.05.116

Yeh, Y.C., Liu, T.J. and Lai, H.C., (2015). Shikonin induces apoptosis, necrosis, and premature senescence of human A549 lung cancer cells through upregulation of p53 expression. Evid-Based Complement Alternat Med. 1-13. https://doi.org/10.1155/2015/620383.

Yoshimura H, Yoshida H, Matsuda S, Ryoke T, Ohta K, Ohmori M, Yamamoto S, Kiyoshima T, Kobayashi M, Sano K (2019) The therapeutic potential of epigallocatechin-3-gallate against human oral squamous cell carcinoma through inhibition of cell proliferation and induction of apoptosis: In vitro and in vivo murine xenograft study. Mol Med Rep 20(2):1139–1148. https://doi.org/10.3892/mmr.2019.10331

Yu L, Haley S, Perret J, Harris M, Wilson J, Qian M (2002) Free radical scavenging properties of wheat extracts. J Agric Food Chem 50(6):1619–1624. https://doi.org/10.1021/jf010964p

Zhao GX, Pan H, Ouyang DY, He XH (2015a) The critical molecular interconnections in regulating apoptosis and autophagy. Ann Med 47(4):305–315. https://doi.org/10.3109/07853890

Zhao Q, Huo XC, Sun FD, Dong RQ (2015b) Polyphenol-rich extract of Salvia chinensis exhibits anticancer activity in different cancer cell lines, and induces cell cycle arrest at the G0/G1-phase, apoptosis and loss of mitochondrial membrane potential in pancreatic cancer cells. Mol Med Rep 12(4):4843–4850. https://doi.org/10.3892/mmr.2015.4074

Zhu W, Zhang Z (2014) Preparation and characterization of catechin-grafted chitosan with antioxidant and antidiabetic potential. Int J Biol Macromol 70:150–155. https://doi.org/10.1016/j.ijbiomac.2014.06.047
Acknowledgments
The authors thankful to University Grants Commission (UGC) - Basic Scientific Research (BSR), DST-FIST (Grant No. SR/FST/LSI-691/2016 (C)) program for providing financial assistance. The authors also acknowledge UGC, New Delhi, for the instrumentation facility under UGC-DRS V (Grant No. F4-13/2015/DRS-II), CPEPA, RUSA 2.0 scheme, UPE program, and the Centre of Emerging Life Sciences, Guru Nanak Dev University, Amritsar (India), for providing the required support and facilities.
Ethics declarations
This manuscript is original, has not been published before, and is not currently being considered for publication elsewhere. Accepted principles of ethical and professional conduct have been followed while executing this research work. No experiment was carried out on human or animal to accomplish this research work.
Conflict of interest
The authors declare that they have no competing interests.
Consent to participate
No human participants were required/used to carry out the reported research work. As there are no participants, so consent to participate is not required.
Consent to publish
We the undersigned declare that this manuscript is original, has not been published before, and is not currently being considered for publication elsewhere. We confirm that the manuscript has been read and approved by all named authors and that there are no other persons who satisfied the criteria for authorship but are not listed. We further confirm that the order of authors listed in the manuscript has been approved by all of us. We understand that the corresponding author is the sole contact for the editorial process. He/she is responsible for communicating with the other authors about progress, submissions of revisions, and final approval of proofs.
Additional information
Publisher's note
Springer Nature remains neutral with regard to jurisdictional claims in published maps and institutional affiliations.
Responsible Editor: Mohamed M. Abdel-Daim
About this article
Cite this article
Kumar, A., Kaur, S., Pandit, K. et al. Onosma bracteata Wall. induces G0/G1 arrest and apoptosis in MG-63 human osteosarcoma cells via ROS generation and AKT/GSK3β/cyclin E pathway. Environ Sci Pollut Res (2020). https://doi.org/10.1007/s11356-020-11466-9
Received:

Accepted:

Published:
Keywords
Onosma bracteata

Antiproliferative

Antioxidant

Cell cycle arrest

Apoptosis

Osteosarcoma

ROS