Abstract
Brominated flame retardants (BFRs) are commonly used in consumer products and they shed off these products and eventually build up in household dust. Polybrominated diphenyl ethers (PBDEs), in particular, are known endocrine-disrupting chemicals affecting various hormone syntheses. Portable X-ray fluorescence spectroscopy (XRF) is the most common non-destructive method in identifying BFRs in environmental samples. However, the method is insensitive to bromine speciation. Synchrotron-based XRF has been shown to have very low detection limits (< 1 μg/g) that is suitable for detecting BFRs and can be combined with X-ray absorption near-edge spectroscopy (XANES) to identify the bromine species present in the household dust. Twenty indoor dust samples were collected from rural homes in Newfoundland (Canada) to assess the use of synchrotron-based techniques to identify BFRs. Synchrotron-based XRF analysis identified bromine in all the samples, with concentrations ranging from 2–19 μg/g. XANES analysis identified organic-based bromine species in several samples that are likely BFRs based on the spectral line shape. The accuracy of using XANES to identify BFRs is highly dependent on the source and size of the dust samples. Therefore, for future research, it is important to take into account the sources of dust sample and to focus on fine dust particles.
Access options
Buy single article
Instant access to the full article PDF.
US$ 39.95
Tax calculation will be finalised during checkout.
Subscribe to journal
Immediate online access to all issues from 2019. Subscription will auto renew annually.
US$ 79
Tax calculation will be finalised during checkout.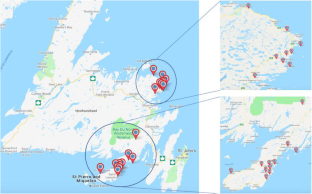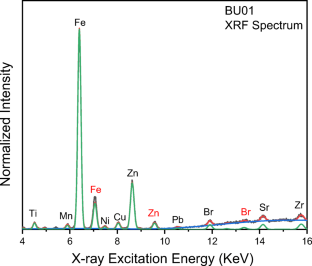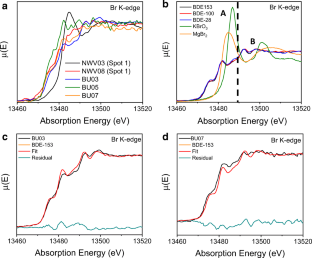 References
Abbasi G, Buser AM, Soehl A, Murray MW, Diamond ML (2015) Stocks and flows of PBDEs in products from use to waste in the U.S. and Canada from 1970 to 2020. Environ Sci Technol 49(3):1521–1528

Abbasi G, Li L, Breivik K (2019) Global historical stocks and emissions of PBDEs. Environ Sci Technol 53:6330–6340

Allen JG, McClean MD, Stapleton HM, Webster TF (2008) Linking PBDEs in house dust to consumer products using X-ray fluorescence. Environ Sci Technol 42:4222–4228

Allen JG, Stapleton HM, Vallarino J, McNeely E, McClean MD, Harrad SJ, Rauert CB, Spengler JD (2013) Exposure to flame retardant chemicals on commercial airplanes. Environ Health 16:12–17

Bertsch PM, Hunter DB, Sutton SR, Bajt S, Rivers ML (1994) In situ chemical speciation of uranium in soils and sediments by micro X-ray absorption spectroscopy. Environ Sci Technol 28:980–984

Betts KS (2008) Unwelcome guests: PBDEs in indoor dust. Environ Health Perspect 116(5):A202–A208

Bilo F, Borgese L, Wambui A, Assi A, Zacco A, Federici S, Eichert DM, Tsuji K, Lucchini RG, Placidi D, Bontempi E, Depero LE (2018) Comparison of multiple X-ray fluorescence techniques for elemental analysis of particulate matter collected on air filters. J Aerosol Sci 122:1–10

Blanchard PER, Van Loon LL, Reid JW, Cutler JN, Rowson J, Huges KA, Brown CB, Mahoney JJ, Xu L, Bohan M, Demopoulos GP (2017) Investigating arsenic speciation in the JEB Tailings Management Facility at McClean Lake, Saskatchewan using X-ray absorption spectroscopy. Chem Geol 466:617–626

CCCEH (2020) Polybrominated diphenyl ethers (PBDEs). Columbia Centre for Children's Environmental Health. Columbia University Mailman School of Public Health. USA. https://www.publichealth.columbia.edu/research/columbia-center-childrens-environmental-health/polybrominated-diphenyl-ethers-pbdes. Accessed May 25, 2020

Ceko MJ, Hummitzsch K, Hatzirodos N, Bonner W, James MJ, Kirby JK, Rodgers RJ, Harris HH (2015) Distribution and speciation of bromine in mammalian tissue and fluids by X-ray fluorescence imaging and X-ray absorption spectroscopy. Metallomics 7:756–765

Cunha SC, Kalachova K, Pulkrabova J, Fernandes JO, Oliverira MB, Alves A, Hajslova J (2010) Polybrominated diphenyl ethers (PBDEs) contents in house and car dust of Portugal by pressurized liquid extraction (PLE) and gas chromatography-mass spectrometry (GC-MS). Chemosphere 78:1263–1271

Da Silva-Cadoux C, Zanella L, Gaillard JF (2012) Selecting reference compounds for determining chemical speciation by X-ray absorption spectroscopy. J Anal At Spectrom 27:957–965

EA (2019) Polybrominated diphenyl ethers (PBDEs): sources, pathways and environmental data Environment Agency, UK

Eksperiandova LP, Fedorov AI, Makarovskaya YN (2007) X-ray fluorescence determination of bromine in halogenated organic compounds using quasisolid emitters. J Anal Chem 62:1163–1166

Feng R, Gerson A, Ice G, Reininger R, Yates B, McIntyre S (2007) VESPERS: a beamline for combined XRF and XRD measurements. AIP Conf Proc 879:872–874

Harada M, Okada T, Watanabe I (2002) Structure of bromide ion in anion-exchange resins. J Phys Chem B 106:34–40

Harrad S, Ibarra C, Diamond M, Melymuk L, Robson M, Douwes J, Roosens L, Dirtu AC, Covaci A (2008) Polybrominated diphenyl ethers in domestic indoor dust from Canada, New Zealand, United Kingdom and United States. Environ Int 34(2):232–238

Imm P, Knobeloch L, Buelow C, Anderson HA (2009) Household exposures to polybrominated diphenyl ethers (PBDEs) in a Wisconsin Cohort. Environ Health Perspect 117(12):1890–1895

Jaiswal S, Feng R, Sammynaiken R, Irvine C, Bauer R, Chibbar RN (2016) Synchrotron based high throughput screening method for mineral analysis in cereal and pulse grains meal. Microchem J 126:509–514

Kajiwara N, Takigami H (2016) Particle size distribution of brominated flame retardants in house dust from Japan. Emerg Contam 2:109–117

Kupper FC, Miller EP, Andrews SJ, Hughes C, Carpenter LJ, Meyer-Klaucke W, Toyama C, Muramatsu Y, Feiters MC, Carrano CJ (2018) Emission of volatile halogenated compounds, speciation and localization of bromine and iodine in the brown algal genome model Ectocarpus siliculosus. J Biol Inorg Chem 23:1119–1128

Leech JA, Nelson WC, Burnett RT, Aaron S, Raizenne ME (2002) It's about time: a comparison of Canadian and American time-activity patterns. J Expo Anal Environ Epidemiol 12(6):427–432

Leri AC, Ravel B (2014) Sample thickness and quantitative concentration measurements in Br K-edge XANES spectroscopy of organic materials. J Synchrotron Radiat 21:623–626

Leri AC, Hakala JA, Marcus MA, Lanzirotti A, Reddy CM, Myneni SCB (2010) Natural organobromine in marine sediments: new evidence of biogeochemical Br cycling. Glob Biogeochem Cycles 24:G4017

Levenberg K (1944) A method for the solution of certain problems in least squares. Q Appl Math 2:164–168

Marquardt D (1963) An algorithm for least-squares estimation of nonlinear parameters. J Appl Math 11:431–444

McGrath TJ, Morrison PD, Ball AS, Clarke BO (2018) Concentrations of legacy and novel brominated flame retardants in indoor dust in Melbourne, Australia: an assessment of human exposure. Environ Int 113:191–201

Nkabinde SN, Okonkwo JO, Olukunle OI, Daso AP (2018) Determination of legacy and novel brominated flame retardants in dust from end of life office equipment and furniture from Pretoria, South Africa. Sci Total Environ 622-623:275–281

Oulhote Y, Chevrier J, Bouchard MF (2016) Exposure to polybrominated diphenyl ethers (PBDEs) and hypothyroidism in Canadian Women. J Clin Endocrinol Metab 101(2):590–598

Peng H, Saunders DM, Sun J, Jones PD, Wong CK, Liu H, Giesy JP (2016) Mutagenic azo dyes, rather than flame retardants, are the predominant brominated compounds in house dust. Environ Sci Technol 50(23):12669–12677

Ravel B, Newville M (2005) ATHENA, ARTEMIS, HEPHAESTUS: data analysis for X-ray absorption spectroscopy using IFEFFIT. J Synchrotron Radiat 12:537–541

Rehr JJ (2000) Theoretical approaches to X-ray absorption fine structure. Rev Mod Phys 72:621–654

Rotander A, van Bavel B, Polder A, Rigét F, Auðunsson GA, Gabrielsen GW, Víkingsson G, Bloch D, Dam M (2012) Polybrominated diphenyl ethers (PBDEs) in marine mammals from Arctic and North Atlantic regions, 1986-2009. Environ Int 40:102–109

Sarkar A, Knight JC, Babichuk NA, Mulay S (2015) Skewed distribution of hypothyroidism in the coastal communities of Newfoundland, Canada. Environ Int 83:171–175

Solé VA, Papillon E, Cotte M, Walter P, Susini J (2007) A multiplatform code for the analysis of energy-dispersive X-ray fluorescence spectra. Spectrochim Acta B 62:63–68

Suzuki G, Kida A, Sakai S, Takigami H (2009) Existence state of bromine as an indicator of the source of brominated flame retardants in indoor dust. Environ Sci Technol 43:1437–1442

Takeda A, Yamasaki S, Tsukada H, Takaku Y, Hisamatsu S, Tsuchiya N (2011) Determination of total contents of bromine, iodine, and several trace elements in soil by polarizing energy-dispersive X-ray fluorescence spectrometry. Soil Sci Plant Nutr 57:19–28

Toms LM, Mazaheri M, Brommer S, Clifford S, Drage D, Mueller JF, Thai P, Harrad S, Morawska L, Harden FA (2015) Polybrominated diphenyl ethers (PBDEs) in dust from primary schools in South East Queensland, Australia. Environ Res 142:135–140

USEPA (2017) Technical fact sheet – polybrominated diphenyl ethers (PBDEs). United States Environmental Protection Agency. November. https://www.epa.gov/sites/production/files/2014-03/documents/ffrrofactsheet_contaminant_perchlorate_january2014_final_0.pdf. Accessed March 3, 2020

Wemken N, Drage DS, Abdallah MA, Harrad S, Coggins MA (2019) Concentrations of brominated flame retardants in indoor air and dust from Ireland reveal elevated exposure to decarbromodiphenyl ethane. Environ Sci Technol 53:9826–9836

Wilford BH, Shoeib M, Harner T, Zhu J, Jones KC (2005) Polybrominated diphenyl ethers in indoor dust in Ottawa, Canada: implications for sources and exposure. Environ Sci Technol 39(18):7027–7035

Wu N, Hermann T, Paepke O, Tickner J, Hale R, Harvey E, La Guardia M, McClean MD, Webster TF (2007) Human exposure to PBDEs: associations of PBDE body burdens with food consumption and house dust concentrations. Environ Sci Technol 41:1584–1589

Xiao Q, Hu B, Duan J, He M, Zu W (2007) Analysis of PBDEs in soil, dust, spiked lake water, and human serum samples by hollow fiber-liquid phase microextraction combined with GC-ICP-MS. J Am Soc Mass Spectrom 18:1740–1748
Funding
The project was funded by the Newfoundland and Labrador Centre for Applied Health Research. The authors thank Prof. Shree Mulay, Drs. John Knight, and Cora Young for being part of the grant. The CLS is funded by the Canadian Foundation of Innovation (CFI), the National Science and Engineering Research Council (NSERC), The National Research Council (NRC), the Canadian Institutes of Health Research (CIHR), the Government of Saskatchewan, and the University of Saskatchewan.
Additional information
Publisher's note
Springer Nature remains neutral with regard to jurisdictional claims in published maps and institutional affiliations.
Responsible Editor: Philippe Garrigues
Electronic supplementary material
About this article
Cite this article
Blanchard, P., Babichuk, N. & Sarkar, A. Evaluating the use of synchrotron X-ray spectroscopy in investigating brominated flame retardants in indoor dust. Environ Sci Pollut Res 27, 42168–42174 (2020). https://doi.org/10.1007/s11356-020-10623-4
Received:

Accepted:

Published:

Issue Date:
Keywords
Brominated flame retardants

Polybrominated diphenyl ethers

Synchrotron X-ray fluorescence spectroscopy