Abstract
Health effects resulting from the smoke of carbonyl compounds (aldehydes and ketones) and metal-containing incense particles at temples during incense burning periods were evaluated at temple A (without incense reduction activities) and B (with incense reduction activities), Nantou County, in 2018. The predominant size fractions of particles were PM1, PM1–2.5, and PM2.5–10 at both temples. The total particle mass at temple A was approximately 1.1 times that of temple B due to incense reduction at temple B. The most abundant metal elements in all particle size fractions at both temples were Fe, Al, and Zn. Metal species of incense smoke are divided into three groups by hierarchical cluster analysis and heatmaps, showing higher metal contents in groups PM1, PM18–10, and PM18–2.5 at temple A. In contrast, higher metal contents were observed in PM18–10 and PM2.5–1 at temple B. Most of the carbonyl species were formaldehyde and acetaldehyde, released during incense burning periods, with concentrations ranging from 6.20 to 13.05 μg/m3 at both temples. The total deposited fluxes of particle-bound metals at temples A and B were determined to be 83.00% and 84.82% using the International Commission on Radiological Protection (ICRP) model. Health-risk assessments revealed that the risk values of metals and carbonyls were above recommended guidelines (10−6) at temple A. Since worshippers and staff are exposed to incense burning environments with poor ventilation over a long period, these toxic organic compounds and metals increase health risks in the respiratory tract. Therefore, incense reduction is important to achieve healthy temple environments.
This is a preview of subscription content, log in to check access.
Access options
Buy single article
Instant access to the full article PDF.
US$ 39.95
Price includes VAT for USA
Subscribe to journal
Immediate online access to all issues from 2019. Subscription will auto renew annually.
US$ 99
This is the net price. Taxes to be calculated in checkout.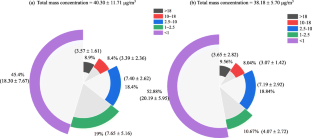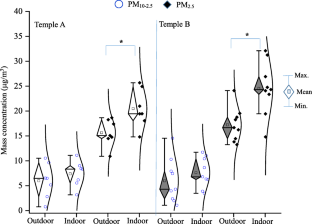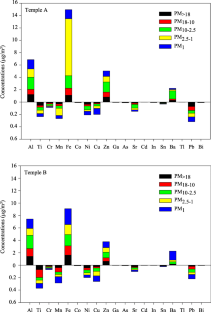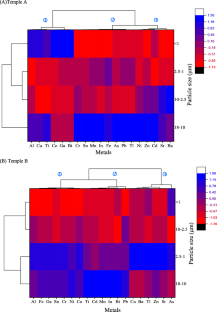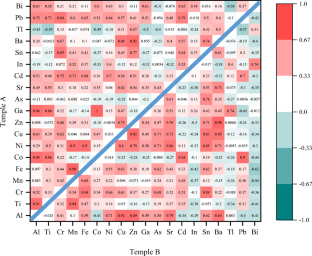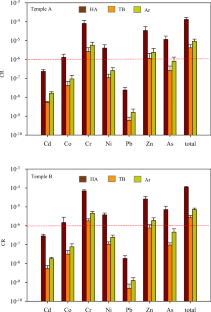 References
Beyersmann D, Hartwig A (2008) Carcinogenic metal compounds: recent insight into molecular and cellular mechanisms. Arch Toxicol 82:493–512. https://doi.org/10.1007/s00204-008-0313-y

Burridge C (2020) Incense in medicine: an early medieval perspective. Early Medieval Eur 28:219–255. https://doi.org/10.1111/emed.12394

Chen L-Y, Christine H (2016) Incense burning during pregnancy and birth weight and head circumference among term births: the Taiwan birth cohort study. Environ Health Perspect 124:1487–1492. https://doi.org/10.1289/ehp.1509922

Chiba M, Masironi R (1992) Toxic and trace elements in tobacco and tobacco smoke. Bull World Health Organ 70:269

Chuang H-C, Jones T, Chen T-T, BéruBé K (2013) Cytotoxic effects of incense particles in relation to oxidative stress, the cell cycle and F-actin assembly. Toxicol Lett 220:229–237. https://doi.org/10.1016/j.toxlet.2013.05.004

Cohen R, Sexton KG, Yeatts KB (2013) Hazard assessment of United Arab Emirates (UAE) incense smoke. Sci Total Environ 458–460:176–186. https://doi.org/10.1016/j.scitotenv.2013.03.101

Dalibalta S, Elsayed Y, Alqtaishat F, Gomes I, Fernandes N (2015) A health risk assessment of Arabian incense (Bakhour) smoke in the United Arab Emirates. Sci Total Environ 511:684–691. https://doi.org/10.1016/j.scitotenv.2014.12.024

Dhaware D, Deshpande A, Khandekar RN, Chowgule R (2009) Determination of toxic metals in Indian smokeless tobacco products. Sci World J 9:1140–1147. https://doi.org/10.1100/tsw.2009.132

Elihn K, Berg P, Lidén G (2011) Correlation between airborne particle concentrations in seven industrial plants and estimated respiratory tract deposition by number, mass and elemental composition. J Aerosol Sci 42:127–141. https://doi.org/10.1016/j.jaerosci.2010.12.003

Elsayed Y, Dalibalta S, Gomes I, Fernandes N, Alqtaishat F (2016) Chemical composition and potential health risks of raw Arabian incense (Bakhour). J Saudi Chem Soc 20:465–473. https://doi.org/10.1016/j.jscs.2014.10.005

EPA (1989) Risk assessment guidance for superfund. Volume I: Human Health Evaluation Manual (Part A), EPA/540/1–89/002

Fang G-C, Chang C-N, Chu C-C, Wu YS, Pi-Cheng Fu P, Chang SC, Yang IL (2003) Fine (PM2.5), coarse (PM2.5–10), and metallic elements of suspended particulates for incense burning at Tzu Yun Yen temple in central Taiwan. Chemosphere 51:983–991. https://doi.org/10.1016/S0045-6535(03)00124-3

Grosjean D, Grosjean E, Moreira LFR (2002) Speciated ambient carbonyls in Rio de Janeiro, Brazil. Environ Sci Technol 36:1389–1395. https://doi.org/10.1021/es0111232

He Y-Q, Xue W-Q, Shen G-P, Tang LL, Zeng YX, Jia WH (2015) Household inhalants exposure and nasopharyngeal carcinoma risk: a large-scale case-control study in Guangdong, China. BMC Cancer 15:1022. https://doi.org/10.1186/s12885-015-2035-x

He J-R, Wei D-M, Chan F-F, Luan YZ, Tu S, Lu JH, Li WD, Yuan MY, Chen NN, Chen QZ, Lam KBH, Cheng KK, Xia HM, Qiu X (2018) Associations between maternal exposure to incense burning and blood pressure during pregnancy. Sci Total Environ 610–611:1421–1427. https://doi.org/10.1016/j.scitotenv.2017.08.134

Heys KA, Shore RF, Pereira MG, Jones KC, Martin FL (2016) Risk assessment of environmental mixture effects. RSC Adv 6:47844–47857. https://doi.org/10.1039/C6RA05406D

Ho KF, Lee SC, Louie PKK, Zou SC (2002) Seasonal variation of carbonyl compound concentrations in urban area of Hong Kong. Atmos Environ 36:1259–1265. https://doi.org/10.1016/S1352-2310(01)00570-2

Ho C-K, Tseng W-R, Yang C-Y (2005) Adverse respiratory and irritant health effects in temple workers in Taiwan. J Toxic Environ Health A 68:1465–1470. https://doi.org/10.1080/15287390590967405

Huang C-L, Bao L-J, Luo P, Wang ZY, Li SM, Zeng EY (2016) Potential health risk for residents around a typical e-waste recycling zone via inhalation of size-fractionated particle-bound heavy metals. J Hazard Mater 317:449–456. https://doi.org/10.1016/j.jhazmat.2016.05.081

Hussain T, Al-Attas OS, Al-Daghri NM et al (2014) Induction of CYP1A1, CYP1A2, CYP1B1, increased oxidative stress and inflammation in the lung and liver tissues of rats exposed to incense smoke. Mol Cell Biochem 391:127–136. https://doi.org/10.1007/s11010-014-1995-5

Hwang Y-H, Lin Y-S, Lin C-Y, Wang I-J (2014) Incense burning at home and the blood lead level of preschoolers in Taiwan. Environ Sci Pollut Res 21:13480–13487. https://doi.org/10.1007/s11356-014-3273-1

ICRP. (1994) Human respiratory tract model for radiological protection. ICRP Publication 66. Annals of the 1CRP 24 (1–3), Elsevier Science Ltd., Oxford

Kasumba J, Hettick B, French A, Wickliffe JK, Lichtveld MY, Hawkins WB, van Sauers-Muller A, Klein D (2016) Analysis of pesticides and toxic heavy metals contained in mosquito coils. Bull Environ Contam Toxicol 97:614–618. https://doi.org/10.1007/s00128-016-1938-9

Lai C-H, Lin C-H, Liao C-C (2017) Respiratory deposition and health risk of inhalation of particle-bound heavy metals in the carbon black feeding area of a tire manufacturer. Air Qual Atmos Health 10:1281–1289. https://doi.org/10.1007/s11869-017-0515-7

Lai C-H, Lin C-H, Liao C-C, Chuang KY, Peng YP (2018) Effects of heavy metals on health risk and characteristic in surrounding atmosphere of tire manufacturing plant, Taiwan. RSC Adv 8:3041–3050. https://doi.org/10.1039/C7RA10994F

Lee Y-L, Lin Y-C, Hsiue T-R, Hwang BF, Guo YL (2003) Indoor and outdoor environmental exposures, parental atopy, and physician-diagnosed asthma in Taiwanese schoolchildren. PEDIATRICS 112:e389–e389. https://doi.org/10.1542/peds.112.5.e389

Lin T-C, Yang C-R, Chang F-H (2007) Burning characteristics and emission products related to metallic content in incense. J Hazard Mater 140:165–172. https://doi.org/10.1016/j.jhazmat.2006.06.052

Lin T-C, Krishnaswamy G, Chi DS (2008) Incense smoke: clinical, structural and molecular effects on airway disease. Clin Mol Allergy 6:3. https://doi.org/10.1186/1476-7961-6-3

Lin C-H, Lai C-H, Peng Y-P, Wu PC, Chuang KY, Yen TY, Xiang YK (2019) Comparative health risk of inhaled exposure to organic solvents, toxic metals, and hexavalent chromium from the use of spray paints in Taiwan. Environ Sci Pollut Res 26:33906–33916. https://doi.org/10.1007/s11356-018-2669-8

Lui KH, Bandowe BAM, Ho SSH, Chuang HC, Cao JJ, Chuang KJ, Lee SC, Hu D, Ho KF (2016) Characterization of chemical components and bioreactivity of fine particulate matter (PM2.5) during incense burning. Environ Pollut 213:524–532. https://doi.org/10.1016/j.envpol.2016.02.053

Lyu Y, Zhang K, Chai F, Cheng T, Yang Q, Zheng Z, Li X (2017) Atmospheric size-resolved trace elements in a city affected by non-ferrous metal smelting: indications of respiratory deposition and health risk. Environ Pollut 224:559–571. https://doi.org/10.1016/j.envpol.2017.02.039

Madureira J, Slezakova K, Silva AI, Lage B, Mendes A, Aguiar L, Pereira MC, Teixeira JP, Costa C (2020) Assessment of indoor air exposure at residential homes: inhalation dose and lung deposition of PM10, PM2.5 and ultrafine particles among newborn children and their mothers. Sci Total Environ 717:137293. https://doi.org/10.1016/j.scitotenv.2020.137293

Manoukian A, Quivet E, Temime-Roussel B, Nicolas M, Maupetit F, Wortham H (2013) Emission characteristics of air pollutants from incense and candle burning in indoor atmospheres. Environ Sci Pollut Res 20:4659–4670. https://doi.org/10.1007/s11356-012-1394-y

MFTS-Ministry of Finance trade statistics, Ministry of Finance, Republic of China (2020) Available at: http://web02.mof.gov.tw/njswww/WebProxy.aspx?sys=100&funid=edefjsptgl (Accessed 01 Mar 2020)

MHW-Department of Traditional Chinese Medicine, Ministry of Health and Welfare, Republic of China (2020) Available at: https://dep.mohw.gov.tw/DOCMAP/cp-4384-38404-108.html (Accessed 01 Mar 2020)

Navasumrit P, Arayasiri M, Hiang OMT, Leechawengwongs M, Promvijit J, Choonvisase S, Chantchaemsai S, Nakngam N, Mahidol C, Ruchirawat M (2008) Potential health effects of exposure to carcinogenic compounds in incense smoke in temple workers. Chem Biol Interact 173:19–31. https://doi.org/10.1016/j.cbi.2008.02.004

Palaniappan PLRM, Karthikeyan S (2009) Bioaccumulation and depuration of chromium in the selected organs and whole body tissues of freshwater fish Cirrhinus mrigala individually and in binary solutions with nickel. J Environ Sci 21:229–236. https://doi.org/10.1016/S1001-0742(08)62256-1

Pan A, Clark ML, Li-Wei A et al (2014) Incense use and cardiovascular mortality among Chinese in Singapore: the Singapore Chinese Health Study. Environ Health Perspect 122:1279–1284. https://doi.org/10.1289/ehp.1307662

See SW, Balasubramanian R, Joshi UM (2007) Physical characteristics of nanoparticles emitted from incense smoke. Sci Technol Adv Mater 8:25–32. https://doi.org/10.1016/j.stam.2006.11.016

Shepson PB, Hastie DR, Schiff HI, Polizzi M, Bottenheim JW, Anlauf K, Mackay GI, Karecki DR (1991) Atmospheric concentrations and temporal variations of C1-C3 carbonyl compounds at two rural sites in central Ontario. Atmos Environ Part A 25:2001–2015. https://doi.org/10.1016/0960-1686(91)90280-K

Smith H (1994) Human respiratory tract model for radiological protection. ICRP Publication 66

Tang L, Wei-Yen L, Philip E et al (2010) Lung cancer in Chinese women: evidence for an interaction between tobacco smoking and exposure to inhalants in the indoor environment. Environ Health Perspect 118:1257–1260. https://doi.org/10.1289/ehp.0901587

Tarrago O, & Brown MJ (2017) Lead toxicity. What are possible health effects from lead exposure. Case Studies In Environmental Medicine (CSEM): lead Toxicity. Environmental Health and Medicine Education

Tong X, Chen X-C, Chuang H-C, Cao JJ, Ho SSH, Lui KH, Ho KF (2019) Characteristics and cytotoxicity of indoor fine particulate matter (PM2.5) and PM2.5-bound polycyclic aromatic hydrocarbons (PAHs) in Hong Kong. Air Qual Atmos Health 12:1459–1468. https://doi.org/10.1007/s11869-019-00762-0

USEPA (1999). Compendium of methods for the determination of toxic organic compounds in ambient air second edition: compendium method TO-11A determination of formaldehyde in ambient air using adsorbent cartridge followed by high performance liquid chromatography (HPLC), U.S. Environmental Protection Agency, Cincinnati, OH 45268

Višić B, Kranjc E, Pirker L, Bačnik U, Tavčar G, Škapin S, Remškar M (2018) Incense powder and particle emission characteristics during and after burning incense in an unventilated room setting. Air Qual Atmos Health 11:649–663. https://doi.org/10.1007/s11869-018-0572-6

Vu TV, Ondracek J, Zdímal V, Schwarz J, Delgado-Saborit JM, Harrison RM (2017) Physical properties and lung deposition of particles emitted from five major indoor sources. Air Qual Atmos Health 10:1–14. https://doi.org/10.1007/s11869-016-0424-1

Wang I-J, Tsai C-H, Chen C-H, Tung KY, Lee YL (2011) Glutathione S-transferase, incense burning and asthma in children. Eur Respir J 37:1371–1377. https://doi.org/10.1183/09031936.00137210

Wong A, Lou W, Ho K, Yiu BKF, Lin S, Chu WCW, Abrigo J, Lee D, Lam BYK, Au LWC, Soo YOY, Lau AYL, Kwok TCY, Leung TWH, Lam LCW, Ho K, Mok VCT (2020) Indoor incense burning impacts cognitive functions and brain functional connectivity in community older adults. Sci Rep 10:1–11. https://doi.org/10.1038/s41598-020-63568-6

Xie S-H, Yu IT, Tse LA, Au JSK, Wang F, Lau JSM, Zhang B (2014) Domestic incense burning and nasopharyngeal carcinoma: a case-control study in Hong Kong Chinese. Environ Mol Mutagen 55:751–756. https://doi.org/10.1002/em.21894

Xu X, Li Y, Wang Y, Wang Y (2011) Assessment of toxic interactions of heavy metals in multi-component mixtures using sea urchin embryo-larval bioassay. Toxicol in Vitro 25:294–300. https://doi.org/10.1016/j.tiv.2010.09.007

Yang TT, Lin TS, Wu JJ, Jhuang FJ (2012) Characteristics of polycyclic aromatic hydrocarbon emissions of particles of various sizes from smoldering incense. Bull Environ Contam Toxicol 88:271–276. https://doi.org/10.1007/s00128-011-0446-1

Yang T-T, Ho S-C, Chuang L-T, Chuang HC, Li YT, Wu JJ (2017) Characterization of particulate-phase polycyclic aromatic hydrocarbons emitted from incense burning and their bioreactivity in RAW264.7 macrophage. Environ Pollut 220:1190–1198. https://doi.org/10.1016/j.envpol.2016.11.016

Zhou R, An Q, Pan XW, Yang B, Hu J, Wang YH (2015) Higher cytotoxicity and genotoxicity of burning incense than cigarette. Environ Chem Lett 13:465–471. https://doi.org/10.1007/s10311-015-0521-7

Zhou W, Shen M, Lam JCW, Zhu M, Liu L, Chen H, du B, Zeng L, Zeng EY (2018) Size-dependent distribution and inhalation exposure characteristics of particle-bound chlorinated paraffins in indoor air in Guangzhou, China. Environ Int 121:675–682. https://doi.org/10.1016/j.envint.2018.10.004
Acknowledgments
We are grateful for the help provided by Y.C. Chang, professor, and the project team members of National Chi Nan University, Taiwan.
Funding
This research was funded by the practice program of the University of Social Responsibility (Development of Green Sazum: Intelligence × Pollution Reduction × Recycle), Ministry of Education in Taiwan.
Additional information
Publisher's note
Springer Nature remains neutral with regard to jurisdictional claims in published maps and institutional affiliations.
Responsible Editor: Constantini Samara
Electronic supplementary material
About this article
Cite this article
Chen, K., Tsai, Y., Lai, C. et al. Human health-risk assessment based on chronic exposure to the carbonyl compounds and metals emitted by burning incense at temples. Environ Sci Pollut Res (2020). https://doi.org/10.1007/s11356-020-10313-1
Received:

Accepted:

Published:
Keywords
Temple

Incense burning

Size distributions

Heavy metals

Carbonyl compounds

Health-risk assessment