Abstract
Swine farms are one of the important sources of antibiotics in the environment. In this study, 42 samples of compound feed and feces of swine collected at different growth stages from intensive farms were evaluated for the occurrence and concentrations of three tetracyclines (TCs, namely oxytetracycline, chlortetracycline, and doxycycline) and three sulfonamides (SAs, namely sulfadiazine, sulfadimidine, and sulfamethoxazole). To check for other additional sources of antibiotic administration, ratios (R) of the measured and the predicted levels of each antibiotic excreted via feces were also estimated. Our results showed that the maximum concentration of TCs was 376,210 μg kg−1 and 541,020 μg kg−1 in the feeds and feces, respectively, both for oxytetracycline. In contrast, the highest concentration of SAs were 16.98 μg kg−1 for sulfadimidine in the feeds and 14.70 μg kg−1 for sulfadiazine in the feces. The concentrations of ΣTCs (sum of the three tetracyclines) in swine feeds and feces were found to be 1–4 orders of magnitude higher than those of ΣSAs (sum of the three sulfonamides). Approximately 36% of the R values were found to be greater than one, indicating other sources of administration such as injection and/or oral administration (via drinking water) may also contribute to the presence of antibiotics in feces. Most of the higher R values were found in starter pigs, which were generally administrated with antibiotics by multiple routes to prevent disease and promote swine growth. Our study suggests that comprehensive measures may be undertaken to control antibiotic use in intensive swine farms.
This is a preview of subscription content, log in to check access.
Access options
Buy single article
Instant access to the full article PDF.
US$ 39.95
Price includes VAT for USA
Subscribe to journal
Immediate online access to all issues from 2019. Subscription will auto renew annually.
US$ 99
This is the net price. Taxes to be calculated in checkout.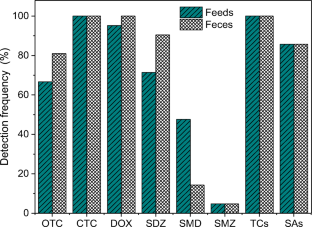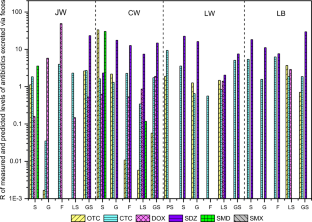 References
An J, Chen H, Wei S, Gu J (2015) Antibiotic contamination in animal manure, soil, and sewage sludge in Shenyang, Northeast China. Environ Earth Sci 74(6):5077–5086

Becker GS (2010) Antibiotic use in agriculture: background and legislation. Paper presented at the Congressional Research Service Reports, MA, USA

Chen Y, Zhang H, Luo Y, Song J (2012) Occurrence and assessment of veterinary antibiotics in swine manures: a case study in East China. Chin Sci Bull 57(6):606–614

Collignon P, Voss A (2015) China, what antibiotics and what volumes are used in food production animals? Antimicrobial Resistance Infection Control 4(1):16

Conde-Cid M, Álvarez-Esmorís C, Paradelo-Núñez R, Nóvoa-Muñoz JC, Arias-Estévez M, Álvarez-Rodríguez E, Fernández-Sanjurjo MJ, Núñez-Delgado A (2018) Occurrence of tetracyclines and sulfonamides in manures, agricultural soils and crops from different areas in Galicia (NW Spain). J Clean Prod 197:491–500

Daghrir R, Drogui P (2013) Tetracycline antibiotics in the environment: a review. Environ Chem Lett 11(3):209–227

Diana A, Boyle LA, Leonard FC, Carroll C, Sheehan E, Murphy D, Manzanilla EG (2019) Removing prophylactic antibiotics from pig feed: how does it affect their performance and health? BMC Vet Res 15(1):67

Feinman SE, Matheson JC (1978) Draft environmental impact statement: subtherapeutic antibacterial agents in animal feeds. Bureau of Veterinary Medicine. Food and Drug Admin, Rockville, MD

García-Galán MJ, Silvia Díaz-Cruz M, Barceló D (2008) Identification and determination of metabolites and degradation products of sulfonamide antibiotics. TrAC Trends Anal Chem 27(11):1008–1022

General Administration of Quality Supervision, Inspection and Quarantine of the People's Republic of China (GAQSIQPRC) and Standardization Administration of the People's Republic of China (SAPRC). (2017). Fertilizer Classification and Requirements (draft). Beijing: National Technical Committee for Standardization of Fertilizers and Soil Conditioners. Available at <http://www.miit.gov.cn/n1146285/n1146352/n3054355/n3057497/n3057502/c5948963/content.html>. (in Chinese)

Guo Y, Wang N, Hao L, Zhi Y, Xu J, Wang Z, Shan Z (2015) Hyper-performance liquid chromatography/tandem mass spectrometry simultaneous determination of 25 antibiotics in soil and feces. Chin J Anal Chem 1:13–20 (in Chinese)

Halling-Sørensen B, Jensen J, Tjørnelund J, Montforts M (2001) Worst-case estimations of predicted environmental soil concentrations (PEC) of selected veterinary antibiotics and residues used in Danish agriculture. Pharmaceuticals in the Environment (pp. 143–157). Berlin: Springer

He Y, Luo J, Wu Z, Lu W, Xie G (2010) The influence of feedstuffs on fecal production and fecal pollutants. Feed Industry 31(15):51–54 (in Chinese)

Henderson KLD, Coats JR (2010) Veterinary pharmaceuticals in the environment: an introduction. In Veterinary Pharmaceuticals in the Environment (Vol. 1018, pp. 3–7): ACS symposium series. American Chemical Society. Washington, DC

Institute of Environment and Sustainable Development in Agricultural, CAAS. (IESDA) and Nanjing Institute of Environmental Science, MEE. (NIES) (2009) Handbook for the first national pollution source survey on source production and discharge coefficient of livestock and poultry breeding industry. Office of Leading Group of the First National Pollution Source Census, Beijing (in Chinese)

Inyinbor AA, Bello OS, Fadiji AE, Inyinbor HE (2018) Threats from antibiotics: a serious environmental concern. Journal of Environmental Chemical Engineering 6(1):784–793

Kemper N (2008) Veterinary antibiotics in the aquatic and terrestrial environment. Ecol Indic 8(1):1–13

Lamshöft M, Sukul P, Zühlke S, Spiteller M (2007) Metabolism of 14C-labelled and non-labelled sulfadiazine after administration to pigs. Analytical Bioanalytical Chemistry 388(8):1733–1745

Lamshöft M, Sukul P, Zühlke S, Spiteller M (2010) Behaviour of 14C-sulfadiazine and 14C-difloxacin during manure storage. Sci Total Environ 408(7):1563–1568

Lekagul A, Tangcharoensathienb V, Yeunga S (2019) Patterns of antibiotic use in global pig production: a systematic review. Veterinary & Animal Science 7:10058–10069

Li YX, Zhang XL, Li W, Lu XF, Liu B, Wang J (2013) The residues and environmental risks of multiple veterinary antibiotics in animal faeces. Environ Monit Assess 185(3):2211–2220

Luo Y, Xu L, Rysz M, Wang Y, Zhang H, Alvarez PJJ (2011) Occurrence and transport of tetracycline, sulfonamide, quinolone, and macrolide antibiotics in the Haihe River basin, China. Environmental Science & Technology 45(5):1827–1833

McEvoy JDG (2002) Contamination of animal feedingstuffs as a cause of residues in food: a review of regulatory aspects, incidence and control. Anal Chim Acta 473(1):3–26

Ministry of Agriculture of the People's Republic of China (MAPRC) (2004) Feeding standard of swine (NY/T 65–2004). MAPRC, Beijing (in Chinese)

Ministry of Agriculture of the People's Republic of China (MAPRC) (2001) Specifications for the use of drug additives in animal feeds. MAPRC, Beijing (in Chinese)

Pan X, Qiang Z, Ben W, Chen M (2011) Residual veterinary antibiotics in swine manure from concentrated animal feeding operations in Shandong Province, China. Chemosphere 84(5):695–700

Peng M, Salaheen S, Biswas D (2014) Animal health: global antibiotic issues. In: Van Alfen NK (ed) Encyclopedia of agriculture and food systems. Academic Press, Oxford, pp 346–357

Piddock LJV (2016) Reflecting on the final report of the O'Neill review on antimicrobial resistance. Lancet Infect Dis 16(7):767–768

Qiu J, Zhao T, Liu Q, He J, He D, Wu G, Li Y, Jiang C, Xu Z (2016) Residual veterinary antibiotics in pig excreta after oral administration of sulfonamides. Environ Geochem Health 38(2):549–556

Ronquillo MG, Hernandez JCA (2017) Antibiotic and synthetic growth promoters in animal diets: review of impact and analytical methods. Food Control 72:255–267

Sarmah AK, Meyer MT, Boxall ABA (2006) A global perspective on the use, sales, exposure pathways, occurrence, fate and effects of veterinary antibiotics (VAs) in the environment. Chemosphere 65(5):725–759

Van Boeckel TP, Brower C, Gilbert M, Grenfell BT, Levin SA, Robinson TP et al (2015) Global trends in antimicrobial use in food animals. Proc Natl Acad Sci 112(18):5649–5654

Van Epps A, Blaney L (2016) Antibiotic residues in animal waste: occurrence and degradation in conventional agricultural waste management practices. Current Pollution Reports 2(3):135–155

Wang J, Ben W, Yang M, Zhang Y, Qiang Z (2016) Dissemination of veterinary antibiotics and corresponding resistance genes from a concentrated swine feedlot along the waste treatment paths. Environ Int 92-93:317–323

Winckler C, Grafe A (2001) Use of veterinary drugs in intensive animal production. J Soils Sediments 1(2):66–70

Zhao L, Dong YH, Wang H (2010) Residues of veterinary antibiotics in manures from feedlot livestock in eight provinces of China. Sci Total Environ 408(5):1069–1075

Zhou L, Ying G, Zhao J, Yang J, Wang L, Yang B et al (2011) Trends in the occurrence of human and veterinary antibiotics in the sediments of the Yellow River, Hai River and Liao River in northern China. Environ Pollut 159(7):1877–1885

Zhou L, Ying G, Liu S, Zhang R, Lai H, Chen Z et al (2013) Excretion masses and environmental occurrence of antibiotics in typical swine and dairy cattle farms in China. Sci Total Environ 444:183–195

Zhu Z, Dong H, Shang B, Kang G, Zhu H, Shi Y (2006) Measurement of solid manure collection coefficient and composition on a concentrated pig farm. Transactions of the Chinese Society of Agricultural Engineering 22(14):179–182 (in Chinese)
Funding
This work was financially supported by the National Key Research and Development Program of China (2017YFD0801403), the Construction Project of Science and Technology Innovation Capacity of the Beijing Academy of Agriculture and Forestry Sciences (KJCX20180407), and the Beijing Natural Science Foundation (8182021).
Additional information
Publisher's note
Springer Nature remains neutral with regard to jurisdictional claims in published maps and institutional affiliations.
Responsible Editor: Ester Heath
Electronic supplementary material
About this article
Cite this article
Xu, M., Li, H., Li, S. et al. The presence of tetracyclines and sulfonamides in swine feeds and feces: dependence on the antibiotic type and swine growth stages. Environ Sci Pollut Res (2020). https://doi.org/10.1007/s11356-020-10266-5
Received:

Accepted:

Published:
Keywords
Swine farms

Feeds

Feces

Antibiotic levels

Tetracyclines

Sulfonamides