Abstract
Previous papers that study the relationship between air pollution and happiness have not paid much attention to subjective air pollution. This paper attempts to explore the influence of subjective air pollution on happiness, the heterogeneity of the effects, and people's subjective willingness for improving air quality. We match the data of Chinese General Social Survey with local air quality and mainly based on the method of regression discontinuity. Our study shows that the public's subjective air pollution perception has significant negative effects on their happiness. The negative effects on happiness of unhealthy people and middle-aged/old people are greater than that of healthy people and young people. Moreover, residents who are relatively vulnerable to the harm of air pollution appear to be more willing to pay for the improvement of air quality. These results indicate that in order to improve air quality more rationally and effectively, not only should the government concentrate on the improvement of objective air quality but also pay attention to the public's subjective feelings, as well as taking the subjective needs of local residents into consideration in the process of air pollution control.
Access options
Buy single article
Instant access to the full article PDF.
USD 39.95
Price excludes VAT (USA)
Tax calculation will be finalised during checkout.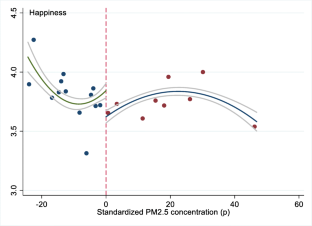 References
Ambrey CL, Fleming CM, Chan YC (2014) Estimating the cost of air pollution in south east Queensland: an application of the life satisfaction non-market valuation approach. Ecol Econ 97:172–181

Brody SD, Peck BM, Highfield WE (2004) Examining localized patterns of air quality perception in Texas: a spatial and statistical analysis. Risk Anal 24(6):1561–1574

Brollo F, Nannicini T, Perotti R, Tabellini G (2013) The political resource curse. Am Econ Rev 103(5):1759–1796

Cuñado J, Gracia FPD (2013) Environment and happiness: new evidence for Spain. Soc Indic Res 112(3):549–567

Dai Z, Hu Y, Zhao G (2017) The suitability of different nighttime light data for GDP estimation at different spatial scales and regional levels. Sustainability. 9(2):305–319

Deguen S, Ségala C, Pédrono G, Mesbah M (2012) A new air quality perception scale for global assessment of air pollution health effects. Risk Anal 32(12):2043–2054

Dons E, Laeremans M, Anaya-Boig E, Avila-Palencia I, Brand C, De Nazelle A et al (2018) Concern over health effects of air pollution is associated to NO2 in seven European cities. Air Qual Atmos Health 11:591–599

Easterlin RA (1995) Will raising the incomes of all increase the happiness of all? J Econ Behav Organ 27(1):35–47

Fang D, Wang Q, Li H (2016) Mortality effects assessment of ambient PM2.5 pollution in the 74 leading cities of China. Sci Total Environ 569:1545–1552

Ferrer-I-Carbonell A, Gowdy JM (2007) Environmental degradation and happiness. Ecol Econ 60(3):509–516

Folkman S, Lazarus RS (1980) An analysis of coping in a middle-aged community sample. J Health Soc Behav 21(3):219–239

Frugoli PA, Almeida CMVB, Agostinho F, Giannetti BF, Huisingh D (2015) Can measures of well-being and progress help societies to achieve sustainable development? J Clean Prod 90:370–380

Guo S, Wang WW, Zhang M (2020) Exploring the impact of environmental regulations on happiness: new evidence from China. Environ Sci Pollut Res 27:19484–19501

Kim SG, Cho SH, Lambert DM, Roberts RK (2010) Measuring the value of air quality: application of the spatial hedonic model. Air Qual Atmos Health. 3(1):41–51

Landau MJ, Meier BP, Keefer LA (2010) A metaphor-enriched social cognition. Psychol Bull 136(6):1045–1067

Lemieux LT (2010) Regression discontinuity designs in economics. J Econ Lit 48(2):281–355

Levinson A (2012) Valuing public goods using happiness data: the case of air quality. J Public Econ 96:860–880

Li Z, Folmer H, Xue J (2014) To what extent does air pollution affect happiness? The case of the Jinchuan mining area. China Ecol Econ 99:88–99

Li Y, Guan D, Tao S, Wang X, He K (2018) A review of air pollution impact on subjective well-being: survey versus visual psychophysics. J Cleaner Prod 184:959–968

Liao PS, Shaw D, Lin YM (2015) Environmental quality and life satisfaction: subjective versus objective measures of air quality. Soc Indic Res 124(2):599–616

Liu X, Wu Y, Hu Y, Liu D, Zhang J, Chen C, Yuan Z, Lu Y (2016) Government employees' perception of urban air pollution and willingness to pay for improved quality: a cross-sectional survey study in Nanchang, China. Environ Sci Pollut Res 23(21):22183–22189

Mackerron G, Mourato S (2009) Life satisfaction and air quality in London. Ecol Econ 68(5):1441–1453

Maji KJ, Ye WF, Arora M, Nagendra SMS (2018) PM2.5-related health and economic loss assessment for 338 Chinese cities. Environ Int 121:392–403

Malenko N, Shen Y (2016) The role of proxy advisory firms: evidence from a regression-discontinuity design. Rev Financ Stud 29(12):3394–3427

McCrary J (2008) Manipulation of the running variable in the regression discontinuity design: a density test. J Econ 142:698–714

Nam K, Zhang X, Zhong M, Saikawa E, Zhang X (2019) Health effects of ozone and particulate matter pollution in China: a province-level CGE analysis. Ann Reg Sci 63:269–293

Scheier MF, Carver CS (1992) Effects of optimism on psychological and physical well-being: theoretical overview and empirical update. Cogn Ther Res 16(2):201–228

Simoni M, Baldacci S, Maio S, Cerrai S, Sarno G, Viegi G (2015) Adverse effects of outdoor pollution in the elderly. J Thoracic Dis 7(1):34–45

Song Y, Guo S, Zhang M (2019a) Will environmental regulations affect subjective well-being? – a across-region analysis in China. Environ Sci Pollut Res 26(1):29191–29211

Song Y, Li M, Zhang M, Sun XR (2019b) Study on the impact of air pollution control on urban residents' happiness from microscopic perspective. J Clean Prod 229:1307–1318

Song Y, Zhou A, Zhang M, Wang H (2019c) Assessing the effects of haze pollution on subjective well-being based on Chinese General Social Survey. J Clean Prod 235:574–582

Thoits PA (1995) Stress, coping, and social support processes: where are we? What next? J Health Soc Behav 9(1):53–79

Wahl F (2017) Does European development have Roman roots? Evidence from the German Limes. J Econ Growth 22(3):313–349

Weinhold D (2013) The happiness-reducing costs of noise pollution. J Reg Sci 53(2):292–303

Welsch H (2007) Environmental welfare analysis: a life satisfaction approach. Ecol Econ 62(3–4):544–551

Yuan L, Shin K, Managi S (2018) Subjective well-being and environmental quality: the impact of air pollution and green coverage in China. Ecol Econ 153:124–138

Zhang L, Yuan Z, Maddock JE, Zhang P, Jiang Z, Lee T, Zou J, Lu Y (2014) Air quality and environmental protection concerns among residents in Nanchang, China. Air Qual Atmos Health 7(4):441–448

Zhang X, Zhang X, Chen X (2017a) Happiness in the air: how does a dirty sky affect mental health and subjective well-being. J Environ Econ Manag 85:81–94

Zhang X, Zhang X, Chen X (2017b) Valuing air quality using happiness data: the case of China. Ecol Econ 137:29–36
Acknowledgments
The authors would like to thank the anonymous referees for their helpful suggestions and corrections on the earlier draft of our paper, upon which we have improved the content.
Funding
This study was financially supported by the National Natural Science Foundation of China (71874189) and the College Students Innovation Fund of China University of Mining and Technology (DCXM201934).
Additional information
Responsible editor: Baojing Gu
Publisher's note
Springer Nature remains neutral with regard to jurisdictional claims in published maps and institutional affiliations.
Appendix
Appendix
About this article
Cite this article
Song, Y., Zhou, A. & Zhang, M. Exploring the effect of subjective air pollution on happiness in China. Environ Sci Pollut Res 27, 43299–43311 (2020). https://doi.org/10.1007/s11356-020-10255-8
Received:

Accepted:

Published:

Issue Date:

DOI: https://doi.org/10.1007/s11356-020-10255-8
Keywords
Subjective air pollution

Happiness

Heterogeneity

Willingness to pay