Abstract
The copper pots with an inner coating layer of tin have been remarkably used in many countries for a long time. In this study, leaching of some metals from tin-lined copper pots into food simulators at different pHs (4, 5.5, 7, and 8.5) during boiling processing (95 °C for 1, 2, and 3 h) or refrigerated storage (4 °C for 1, 2, and 3 days) was investigated. Citric acid and sodium hydroxide were used to adjust the pH of food simulators. The leaching concentrations of metals were analyzed by inductively coupled plasma optical emission spectrometers (ICP-OES). Scanning electron microscopy (SEM) was used to indicate the surface morphological properties of cookware. Based on the preliminary experiments, metals including Al, Sn, Cu, Mn, Fe, Ca, Na, Cr, Mg, and Zn were selected to analyze in acidic treatments. Furthermore, Al, Cu, Sn, Na, and Ca were analyzed for neutral and alkaline ones. Results showed that the boiling temperature for 3 h resulted in a much higher migration of metals compared with cold storage for 3 days. Mn and Cr showed the lowest metal concentration during cooking and cold storage, respectively. The concentration of Sn in acidic simulators was remarkably higher than the other metals during both cooking and refrigerated storage. However, Ca during cold storage, as well as Na during both cooking and cold storage, showed the most migration in alkaline solutions, among the other pHs. An acidic simulator with pH 4 showed the most considerable release of metals from copper pots. SEM results indicated more intense surface corrosion by acidic solution (pH 4) than alkaline one. In general, longer cooking and cold storage durations led to increasing metals release. The migration of the studied metals demonstrates the impurities of the tin layer of these cookwares that may lead to acute and/or chronic diseases.
Access options
Buy single article
Instant access to the full article PDF.
USD 39.95
Price includes VAT (USA)
Tax calculation will be finalised during checkout.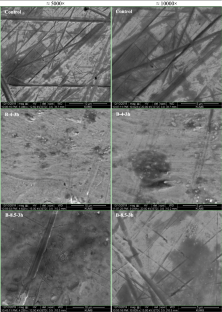 References
Aderemi TA, Adenuga AA, Oyekunle JAO, ogunfowokan a O (2017) High level leaching of heavy metals from colorful ceramic foodwares: a potential risk to human. Environ Sci Pollut Res 24:17116–17126

Ashish B, Neeti K, Himanshu K (2013) Copper toxicity: a comprehensive study. Res J Recent Sci ISSN 2277:2502

Atapour M, Wei Z, Chaudhary H, Lendel C, Wallinder IO, Hedberg Y (2019) Metal release from stainless steel 316L in whey protein-And simulated milk solutions under static and stirring conditions. Food Control 101:163–172

Bağda E, Altundağ H, Soylak M (2017) Highly simple deep eutectic solvent extraction of manganese in vegetable samples prior to its ICP-OES analysis. Biol Trace Elem Res 179:334–339

Blunden S, Wallace T (2003) Tin in canned food: a review and understanding of occurrence and effect. Food Chem Toxicol 41:1651–1662

Boogaard PJ, Boisset M, Blunden S, Davies S, Ong TJ, Taverne j-p (2003) Comparative assessment of gastrointestinal irritant potency in man of tin (II) chloride and tin migrated from packaging. Food Chem Toxicol 41:1663–1670

Bost M, Houdart S, Oberli M, Kalonji E, Huneau J-F, Margaritis I (2016) Dietary copper and human health: Current evidence and unresolved issues. J Trace Elem Med Biol 35:107–115

Brewer GJ (2009) Risks of copper and iron toxicity during aging in humans. Chem Res Toxicol 23:319–326

da Boa Morte ES, dos Santos Barbosa I, Santos EC, Nóbrega JA, Korn MDGA (2012) Axial view inductively coupled plasma optical emission spectrometry for monitoring tin concentration in canned tomato sauce samples. Food Chem 131:348–352

Dechen AR, Carmello QADC, Monteiro FA, Nogueirol R (2016) Role of magnesium in food production: an overview. Crop Pasture Sci 66:1213–1218

Demont M, Boutakhrit K, Fekete V, Bolle F, Van Loco J (2012) Migration of 18 trace elements from ceramic food contact material: Influence of pigment, pH, nature of acid and temperature. Food Chem Toxicol 50:734–743

FAO/WHO 2017. The Joint FAO/WHO Codex Committee on Contaminants in Food (WHO, 2017).

FDA (2016) Interactive Nutrition Facts Label. Chart, Vitamins and Minerals

FDA (2018) Food Labeling: Revision of the Nutrition and Supplement Facts Labels and Serving Sizes of Foods That Can Reasonably Be Consumed at One Eating Occasion. In: Dual-Column Labeling; Updating, Modifying, and Establishing Certain Reference Amounts Customarily Consumed; Serving Size for Breath Mints; and Technical Amendments. Compliance Dates (Final Rule), Extension of

Gao JG, Zhao FW, Li CP, Sun ZJ, Zhang S, Gao J, Zhang QQ & Song XY (2016) Determination of migration of hazardous elements from non-stick pan materials in five food simulants by ICP-MS. Materials Science Forum. Trans Tech Publ, 72-77.

Idris M, Oyewale A, Lawal A (2015) Assessment of leaching of some heavy metals from domestic ceramic wares. Niger J Chem Res 20:29–38

JECFA W (2000) stannous chloride.

Jokar M, Correia M, Loeschner K (2018) Behavior of silver nanoparticles and ions in food simulants and low fat cow milk under migration conditions. Food Control 89:77–85

Kamerud KL, Hobbie KA, Anderson KA (2013) Stainless steel leaches nickel and chromium into foods during cooking. J Agric Food Chem 61:9495–9501

Kaplan JH, Maryon EB (2016) How mammalian cells acquire copper: an essential but potentially toxic metal. Biophys J 110:7–13

Lee SM (1990) Metals in food: a literature survey, British Food Manufacturing Industries Research Association.

Lomolino G, Crapisi A, Cagnin M (2016) Study of elements concentrations of European seabass (Dicentrarchus labrax) fillets after cooking on steel, cast iron, teflon, aluminum and ceramic pots. Int J Gastron Food Sci 5:1–9

Millour S, Noël L, Kadar A, Chekri R, Vastel C, Sirot V, Leblanc J-C, Guérin T (2011) Pb, Hg, Cd, As, Sb and Al levels in foodstuffs from the 2nd French total diet study. Food Chem 126:1787–1799

Mohammad J, Khan S, Shah MT, Islam-Ud-Din AA (2015) Essential and nonessential metal concentrations in morel mushroom (Morchella esculenta) in Dir-Kohistan, Pakistan. Pak J Bot SI 47:133–138

Nsengimana H, Munyentwali A, Muhayimana P, Muhizi T (2012) Assessment of heavy metals leachability from traditional clay pots "inkono" and "ibibindi" used as food contact materials. Rwanda Journal 25:52–65

Ntim SA, Norris S, Scott K, Thomas TA, Noonan GO (2018) Consumer use effects on nanoparticle release from commercially available ceramic cookware. Food Control 87:31–39

Perring L, Basic-Dvorzak M (2002) Determination of total tin in canned food using inductively coupled plasma atomic emission spectroscopy. Anal Bioanal Chem 374:235–243

Praveena S, Omar N (2017) Heavy metal exposure from cooked rice grain ingestion and its potential health risks to humans from total and bioavailable forms analysis. Food Chem 235:203–211

Rivera-Mancía S, Pérez-Neri I, Ríos C, Tristán-López L, Rivera-Espinosa L, MONTES S (2010) The transition metals copper and iron in neurodegenerative diseases. Chem Biol Interact 186:184–199

Semwal AD, Padmashree A, Khan MA, Sharma GK, Bawa AS (2006) Leaching of aluminium from utensils during cooking of food. J Sci Food Agric 86:2425–2430

Shaligram S, Campbell A (2013) Toxicity of copper salts is dependent on solubility profile and cell type tested. Toxicol in Vitro 27:844–851

Shimbo S, Watanabe T, Nakatsuka H, Yaginuma-Sakurai K, IKEDA M (2013) Dietary tin intake and association with canned food consumption in Japanese preschool children. Environ Health Prev Med 18:230–236

Street RA, Mathee A, Tanda S, Hauzenberger C, Naidoo S, Goessler W (2020) Recycling of scrap metal into artisanal cookware in the informal sector: a public health threat from multi metal exposure in South Africa. Sci Total Environ 699:134324

Sun N, Wu H, Du M, Tang Y, Liu H, Fu Y, Zhu B (2016) Food protein-derived calcium chelating peptides: a review. Trends Food Sci Technol 58:140–148

Taylor C, Doyle M & Webb D (2018) "The safety of sodium reduction in the food supply: a cross-discipline balancing act"—Workshop proceedings. Critical reviews in food science and nutrition, 58, 1650-1659.

Tepe Y (2013) Toxic Metals: Trace Metals - Chromium, Nickel, Copper, and Aluminum.

Toby Amidor, M., RD, CDN TODAY'S DIETITIAN 2009. Chapter 4 Equipment, Utensils, and Linens

Weidenhamer JD, Fitzpatrick MP, Biro AM, Kobunski PA, Hudson MR, Corbin RW, Gottesfeld P (2017) Metal exposures from aluminum cookware: an unrecognized public health risk in developing countries. Sci Total Environ 579:805–813

Weidenhamer JD, Kobunski PA, Kuepouo G, Corbin RW, Gottesfeld P (2014) Lead exposure from aluminum cookware in Cameroon. Sci Total Environ 496:339–347

Yang H-R, Kim E-S, Ko Y-S, Jung K, Kim J-H, Watanabe T, Nakatsuka H, Moon C-S, Shimbo S, Ikeda M (2015) Food intake survey of kindergarten children in Korea: part 2 increased dietary intake of tin possibly associated with canned foods. Environ Health Prev Med 20:302–306

Zahra N (2014) Studies of various adsorbents for the removal of copper (II) from Drinking water: a review. Asian J Adv Basic Sci 2:70–76
Acknowledgments
This study was performed as partial fulfillment of the requirements for the degree of Master of Science (M.Sc.) in Food Hygiene and Safety of the first author (P. Banavi).
Funding
The authors thankfully acknowledge the Research Council of Kermanshah University of Medical Sciences (Grant Number: 97733) for financial support.
Ethics declarations
Conflicts of interest
The authors declare that they have no conflict of interest.
Additional information
Publisher's note
Springer Nature remains neutral with regard to jurisdictional claims in published maps and institutional affiliations.
Responsible Editor: Philippe Garrigues
About this article
Cite this article
Banavi, P., Sadeghi, E., Garavand, F. et al. Release behavior of metals from tin-lined copper cookware into food simulants during cooking and cold storage. Environ Sci Pollut Res 27, 38591–38601 (2020). https://doi.org/10.1007/s11356-020-09970-z
Received:

Accepted:

Published:

Issue Date:
Keywords
Cold storage

Cooper cookware

Heat treatment

Heavy metals

Leaching

Tin-lined