Abstract
Nitrogen (N) inputs originated from shrimp farming effluents were evaluated for potential changes in the net N mineralization for mangrove soils from Northeastern Brazil. Our study provides notable information and assessment for the potential enhancement of N mineralization in preserved and shrimp-impacted semi-arid mangrove soils of the Jaguaribe River estuary, which is one of the largest shrimp producers of Brazil, using an analytical and daily tidal variation experimental approach. Nitrogen-rich effluents promoted a significant (p value < 0.001) increase of the total soil N content (1998 ± 201 mg kg−1 on average) compared with the preserved sites (average: 1446 ± 295 mg kg−1). The effluents also increased the N mineralization in the shrimp-impacted sites (N-min: 86.6 ± 37.5 mg kg−1), when compared with preserved mangroves (N-min: 56.5 ± 23.8 mg kg−1). Over a daily tidal variation experiment, we found that just 30% (36.2 ± 20.6 mg kg−1) of mineralized N remains stored in the soil, whereas 70% (102.9 ± 38.8 mg kg−1) was solubilized in tidal waters. Therefore, the N mineralization process may trigger eutrophication by increasing N inorganic bioavailability in mangrove soils receiving N-rich effluents from shrimp ponds, which in turn might increase primary producers' activity. This approach has not been studied so far in semi-arid mangroves, where the shrimp farming activity is one of the most important economic activities.
Access options
Buy single article
Instant access to the full article PDF.
USD 39.95
Price excludes VAT (USA)
Tax calculation will be finalised during checkout.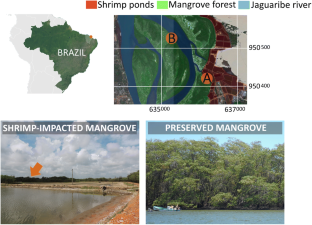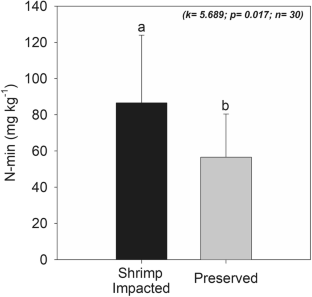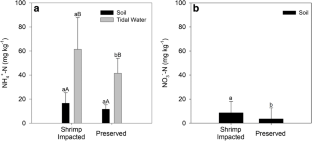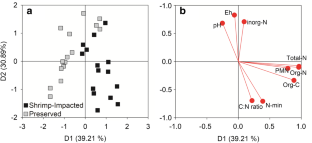 References
Alongi DM (2002) Present state and future of the world 's mangrove forests. Environ Conserv 29:331–349. https://doi.org/10.1017/S0376892902000231

Alongi DM (2005) Mangrove-microbe-soil relations. In: Interactions between macro- and microorganisms in marine sediments, pp 85–103

Alongi D (2018) Impact of global change on nutrient dynamics in mangrove forests. Forests 9:596. https://doi.org/10.3390/f9100596

Barcellos D, Queiroz HM, Nóbrega GN, de Oliveira Filho RL, Santaella ST, Otero XL, Ferreira TO (2019) Phosphorus enriched effluents increase eutrophication risks for mangrove systems in northeastern Brazil. Mar Pollut Bull 142:58–63. https://doi.org/10.1016/j.marpolbul.2019.03.031

Basyuni M, Putri LAP, Nainggolan B, Sihaloho PE (2014) Growth and biomass in response to salinity and subsequent fresh water in mangrove seedlings Avicennia marina and Rhizophora stylosa. J Manaj Hutan Trop (J Trop Manag) 20:17–25. https://doi.org/10.7226/jtfm.20.1.17

Bianchi TS (2011) The role of terrestrially derived organic carbon in the coastal ocean: a changing paradigm and the priming effect. Proc Natl Acad Sci 108:19473–19481. https://doi.org/10.1073/pnas.1017982108

Bidwell JP, Spotte S (1985) Artificial seawaters: formulas and methods. Jones and Bartlett Publishers, Califórnia

Blagodatskaya E, Kuzyakov Y (2008) Mechanisms of real and apparent priming effects and their dependence on soil microbial biomass and community structure: critical review. Biol Fertil Soils 45:115–131

Boto KG (2017) Nutrients and mangroves. In: Connell DW, Hawker DW (eds) Pollution in tropical aquatic systems, 1st edn. CRC Press, Boca Raton, p 260

Boyd CE, Gautier D (2000) Effluent composition and water quality standards. Glob Aquac Advocate 3:61–66

Bremner JM, Mulvaney CS (1982) Nitrogen—total. In: methods of soil analysis. Part 2. Chemical and microbiological properties, 2nd edn. American Society of Agronomy, Soil Science Society of America, pp 595–624

Briggs MRP, Fvnge-Smith SJ (1994) A nutrient budget of some intensive marine shrimp ponds in Thailand. Aquac Res 25:789–811. https://doi.org/10.1111/j.1365-2109.1994.tb00744.x

Campbell C, Curtin D (2007) Mineralizable Nitrogen. In: Soil sampling and methods of analysis. CRC Press, Second Edition, pp 599–606

Canfield DE, Thamdrup B, Hansen JW (1993) The anaerobic degradation of organic matter in Danish coastal sediments: iron reduction, manganese reduction, and sulfate reduction. Geochim Cosmochim Acta 57:3867–3883. https://doi.org/10.1016/0016-7037(93)90340-3

Cartaxana P, Caçador I, Vale C, Falcão M, Catarino F (1999) Seasonal variation of inorganic nitrogen and net mineralization in a salt marsh ecosystem. Mangrove Salt Marshes 3:127–134. https://doi.org/10.1023/A:1009941219215

Chen GC, Tam NFY, Ye Y (2012) Spatial and seasonal variations of atmospheric N2O and CO2 fluxes from a subtropical mangrove swamp and their relationships with soil characteristics. Soil Biol Biochem 48:175–181. https://doi.org/10.1016/j.soilbio.2012.01.029

Chen R, Senbayram M, Blagodatsky S, Myachina O, Dittert K, Lin X, Blagodatskaya E, Kuzyakov Y (2014) Soil C and N availability determine the priming effect: microbial N mining and stoichiometric decomposition theories. Glob Chang Biol 20:2356–2367. https://doi.org/10.1111/gcb.12475

Chen G, Chen B, Yu D, Tam NFY, Ye Y, Chen S (2016) Soil greenhouse gas emissions reduce the contribution of mangrove plants to the atmospheric cooling effect. Environ Res Lett 11:124019. https://doi.org/10.1088/1748-9326/11/12/124019

Cleveland CC, Liptzin D (2007) C:N:P stoichiometry in soil: is there a "Redfield ratio" for the microbial biomass? Biogeochemistry 85:235–252. https://doi.org/10.1007/s10533-007-9132-0

Craft C (2016) Peatlands. In: Craft C (ed) Creating and restoring wetlands, 1st edn. Elsevier, Bloomington, pp 161–192

Dalgaard P (2008) Introductory statistics with R. Springer New York, New York, NY

Donato DC, Kauffman JB, Murdiyarso D, Kurnianto S, Stidham M, Kanninen M (2011) Mangroves among the most carbon-rich forests in the tropics. Nat Geosci 4:293–297. https://doi.org/10.1038/ngeo1123

Fauzi A, Skidmore AK, Heitkönig IMA, van Gils H, Schlerf M (2014) Eutrophication of mangroves linked to depletion of foliar and soil base cations. Environ Monit Assess 186:8487–8498. https://doi.org/10.1007/s10661-014-4017-x

Feller IC (1995) Effects of nutrient enrichment on growth and herbivory of dwarf red mangrove (Rhizophora mangle). Ecol Monogr 65:477–505. https://doi.org/10.2307/2963499

de Figueirêdo MCB, de FP Araújo L, de F Rosa M et al (2006) Impactos ambientais da carcinicultura de águas interiores. Eng Sanit Ambient 11:231–240. https://doi.org/10.1590/S1413-41522006000300006

Fontaine S, Mariotti A, Abbadie L (2003) The priming effect of organic matter: a question of microbial competition? Soil Biol Biochem 35:837–843. https://doi.org/10.1016/S0038-0717(03)00123-8

Frota FF, Truccolo EC, Schettini CAF (2016) Tidal and sub-tidal sea level variability at the northern shelf of the Brazilian northeast region. An Acad Bras Cienc 88:1371–1386. https://doi.org/10.1590/0001-3765201620150162

Godoy MDP, de Lacerda LD (2015) Mangroves response to climate change: a review of recent findings on mangrove extension and distribution. An Acad Bras Cienc 87:651–667. https://doi.org/10.1590/0001-3765201520150055

Guenet B, Danger M, Abbadie L, Lacroix G (2010) Priming effect: bridging the gap between terrestrial and aquatic ecology. Ecology 91:2850–2861. https://doi.org/10.1890/09-1968.1

Guenet B, Danger M, Harrault L, Allard B, Jauset-Alcala M, Bardoux G, Benest D, Abbadie L, Lacroix G (2014) Fast mineralization of land-born C in inland waters: first experimental evidences of aquatic priming effect. Hydrobiologia 721:35–44. https://doi.org/10.1007/s10750-013-1635-1

Howard J, Hoyt S, Isensee K, et al (2014) Coastal blue carbon: methods for assessing carbon stocks and emissions factors in mangroves, tidal salt marshes, and seagrasses. Conservation International, Intergovernmental Oceanographic Commission of UNESCO, International Union for Conservation of Nature, Arlington, VA, USA

Howarth RW, Marino R (2006) Nitrogen as the limiting nutrient for eutrophication in coastal marine ecosystems: evolving views over three decades. Limnol Oceanogr 51:364–376. https://doi.org/10.4319/lo.2006.51.1_part_2.0364

Howarth R, Paerl HW (2008) Coastal marine eutrophication: control of both nitrogen and phosphorus is necessary. Proc Natl Acad Sci 105:E103–E103. https://doi.org/10.1073/pnas.0807266106

Howarth R, Chan F, Conley DJ, Garnier J, Doney SC, Marino R, Billen G (2011) Coupled biogeochemical cycles: eutrophication and hypoxia in temperate estuaries and coastal marine ecosystems. Front Ecol Environ 9:18–26. https://doi.org/10.1890/100008

Inoue T, Nohara S, Takagi H, Anzai Y (2011) Contrast of nitrogen contents around roots of mangrove plants. Plant Soil 339:471–483. https://doi.org/10.1007/s11104-010-0604-y

Jackson C, Preston N, Thompson PJ, Burford M (2003) Nitrogen budget and effluent nitrogen components at an intensive shrimp farm. Aquaculture 218:397–411. https://doi.org/10.1016/S0044-8486(03)00014-0

Jeronimo CE, Balbino CP (2012) Caracterização Físico-Química De Efluentes Da Carcinicultura E Seus Impactos Ao Meio Ambiente. Rev Eletrônica em Gestão, Educ e Tecnol Ambient 8:1639–1650. https://doi.org/10.5902/223611706273

Kaiser D, Kowalski N, Böttcher M, Yan B, Unger D (2015) Benthic nutrient fluxes from mangrove sediments of an anthropogenically impacted estuary in southern China. J Mar Sci Eng 3:466–491. https://doi.org/10.3390/jmse3020466

Kauffman JB, Bernardino AF, Ferreira TO et al (2018) Shrimp ponds lead to massive loss of soil carbon and greenhouse gas emissions in northeastern Brazilian mangroves. Ecol Evol 8:5530–5540. https://doi.org/10.1002/ece3.4079

Keeney DR, Bremner JM (1966) Comparison and evaluation of laboratory methods of obtaining an index of soil nitrogen availability. Agron J 58:498–503. https://doi.org/10.2134/agronj1966.00021962005800050013x

Keeney DRA, Nelson DW (1982) Nitrogen—inorganic forms. In: Weaver chair RW, Angle S, Bottomley P et al. (eds) Methods of soil analysis. Part 2. Chemical and microbiological properties, 2nd edn. American Society of Agronomy, Soil Science Society of America, Madison, Wisconsin, pp 643–698

Keuskamp JA, Schmitt H, Laanbroek HJ, Verhoeven JTA, Hefting MM (2013) Nutrient amendment does not increase mineralisation of sequestered carbon during incubation of a nitrogen limited mangrove soil. Soil Biol Biochem 57:822–829. https://doi.org/10.1016/j.soilbio.2012.08.007

Keuskamp JA, Hefting MM, Dingemans BJJ, Verhoeven JTA, Feller IC (2015) Effects of nutrient enrichment on mangrove leaf litter decomposition. Sci Total Environ 508:402–410. https://doi.org/10.1016/j.scitotenv.2014.11.092

Gee GW, Bauder JW (1986) Particle-size analysis. In: Klute A (ed) Methods of soil analysis: Part 1—Physical and mineralogical methods, 2nd edn. Soil Science Society of America, American Society of Agronomy, Madison, pp 383–411

Kristensen E, Andersen F, Holmboe N, Holmer M, Thongtham N (2000) Carbon and nitrogen mineralization in sediments of the Bangrong mangrove area, Phuket, Thailand. Aquat Microb Ecol 22:199–213. https://doi.org/10.3354/ame022199

Lacerda LD (2008) Inputs of nitrogen and phosphorus to estuaries of northeastern Brazil from intensive shrimp farming. Braz J Aquat Sci Technol 10:13. https://doi.org/10.14210/bjast.v10n2.p13-27

Lacerda LD, Vaisman AG, Maia LP et al (2006) Relative importance of nitrogen and phosphorus emissions from shrimp farming and other anthropogenic sources for six estuaries along the NE Brazilian coast. Aquaculture 253:433–446. https://doi.org/10.1016/j.aquaculture.2005.09.005

Lewis DB, Brown JA, Jimenez KL (2014) Effects of flooding and warming on soil organic matter mineralization in Avicennia germinans mangrove forests and Juncus roemerianus salt marshes. Estuar Coast Shelf Sci 139:11–19. https://doi.org/10.1016/j.ecss.2013.12.032

Li X, Hou L, Liu M, Lin X, Li Y, Li S (2015) Primary effects of extracellular enzyme activity and microbial community on carbon and nitrogen mineralization in estuarine and tidal wetlands. Appl Microbiol Biotechnol 99:2895–2909. https://doi.org/10.1007/s00253-014-6187-4

Lin X, Hou L, Liu M, Li X, Yin G, Zheng Y, Deng F (2016) Gross nitrogen mineralization in surface sediments of the Yangtze estuary. PLoS One 11:1–16. https://doi.org/10.1371/journal.pone.0151930

Meireles AJ d A, Cassola RS, Tupinambá SV, Queiroz L d S (2007) Impactos Ambientais Decorrentes Das Atividades Da Carcinicultura Ao Longo Do Litoral Cearense, Nordeste Do Brasil. Mercat - Rev Geogr da UFC 6:83–106. https://doi.org/10.4215/RM0000.0000.0000

Mole P, Bunge J (2002) Shrimp Farming in Brazil: an industry overview. Report prepared under the World Bank, NACA, WWF and FAO, Consortium Program on Shrimp Farming and the Environment, São Paulo

Molnar N, Welsh DT, Marchand C, Deborde J, Meziane T (2013) Impacts of shrimp farm effluent on water quality, benthic metabolism and N-dynamics in a mangrove forest (New Caledonia). Estuar Coast Shelf Sci 117:12–21. https://doi.org/10.1016/j.ecss.2012.07.012

Moura ÍJM, dos Santos DF, de M Pinheiro FG, de Oliveira CJ (2015) Caracterização Dos Períodos Seco E Chuvoso Da Cidade De Fortaleza (Ce). Ciência Nat 37:3–7. https://doi.org/10.5902/2179460X16206

Muñoz-Hincapié M, Morell JM, Corredor JE (2002) Increase of nitrous oxide flux to the atmosphere upon nitrogen addition to red mangroves sediments. Mar Pollut Bull 44:992–996. https://doi.org/10.1016/S0025-326X

Naidoo G (2009) Differential effects of nitrogen and phosphorus enrichment on growth of dwarf Avicennia marina mangroves. Aquat Bot 90:184–190. https://doi.org/10.1016/j.aquabot.2008.10.001

Némery J, Gratiot N, Doan PTK, Duvert C, Alvarado-Villanueva R, Duwig C (2016) Carbon, nitrogen, phosphorus, and sediment sources and retention in a small eutrophic tropical reservoir. Aquat Sci 78:171–189. https://doi.org/10.1007/s00027-015-0416-5

Nóbrega GN, Ferreira TO, Romero RE et al (2013) Iron and sulfur geochemistry in semi-arid mangrove soils (Ceará, Brazil) in relation to seasonal changes and shrimp farming effluents. Environ Monit Assess 185:7393–7407. https://doi.org/10.1007/s10661-013-3108-4

Nóbrega GN, Ferreira TO, Siqueira Neto M et al (2019) The importance of blue carbon soil stocks in tropical semiarid mangroves: a case study in northeastern Brazil. Environ Earth Sci 78:369. https://doi.org/10.1007/s12665-019-8368-z

Nunes AJP, Rocha I de P (2015) Overview and latest developments in shrimp and Tilapia aquaculture in Northeast Brazil. World Aquac 46:10–17

Páez-Osuna F, Guerrero-Galván SR, Ruiz-Fernández AC (1999) Discharge of nutrients from shrimp farming to coastal waters of the Gulf of California. Mar Pollut Bull 38:585–592. https://doi.org/10.1016/S0025-326X(98)00116-7

Pérez A, Machado W, Gutiérrez D, Borges AC, Patchineelam SR, Sanders CJ (2018) Carbon accumulation and storage capacity in mangrove sediments three decades after deforestation within a eutrophic bay. Mar Pollut Bull 126:275–280. https://doi.org/10.1016/j.marpolbul.2017.11.018

Queiroz L, Rossi S, Meireles J, Coelho C (2013) Shrimp aquaculture in the federal state of Ceará, 1970–2012: trends after mangrove forest privatization in Brazil. Ocean Coast Manag 73:54–62. https://doi.org/10.1016/j.ocecoaman.2012.11.009

Queiroz HM, Nóbrega GN, Otero XL, Ferreira TO (2018) Are acid volatile sulfides (AVS) important trace metals sinks in semi-arid mangroves? Mar Pollut Bull 126:318–322. https://doi.org/10.1016/j.marpolbul.2017.11.020

Queiroz HM, Artur AG, Taniguchi CAK, Silveira MRS, Nascimento CS, Nóbrega GN, Otero XL, Ferreira TO (2019) Hidden contribution of shrimp farming effluents to greenhouse gas emissions from mangrove soils. Estuar Coast Shelf Sci 221:8–14. https://doi.org/10.1016/j.ecss.2019.03.011

Rahaman SMB, Sarder L, Rahaman MS, Ghosh AK, Biswas SK, Siraj SMS, Huq KA, Hasanuzzaman AFM, Islam SS (2013) Nutrient dynamics in the Sundarbans mangrove estuarine system of Bangladesh under different weather and tidal cycles. Ecol Process 2:29. https://doi.org/10.1186/2192-1709-2-29

Reimann C, Filzmoser P, Garrett RG, Dutter R (2008) Statistical data analysis explained. John Wiley & Sons, Ltd, Chichester

Reis CRG, Nardoto GB, Oliveira RS (2017) Global overview on nitrogen dynamics in mangroves and consequences of increasing nitrogen availability for these systems. Plant Soil 410:1–19. https://doi.org/10.1007/s11104-016-3123-7

Roughan BL, Kellman L, Smith E, Chmura GL (2018) Nitrous oxide emissions could reduce the blue carbon value of marshes on eutrophic estuaries. Environ Res Lett 13:044034. https://doi.org/10.1088/1748-9326/aab63c

Sanders CJ, Eyre BD, Santos IR, Machado W, Luiz-Silva W, Smoak JM, Breithaupt JL, Ketterer ME, Sanders L, Marotta H, Silva-Filho E (2014) Elevated rates of organic carbon, nitrogen, and phosphorus accumulation in a highly impacted mangrove wetland. Geophys Res Lett 41:2475–2480. https://doi.org/10.1002/2014GL059789

Silva EV da, Souza MM de A (2006) Main forms of use and occupation of the mangroves of the state of Ceará. Cult Sci Period 1:12–20

Suárez-Abelenda M, Ferreira TO, Camps-Arbestain M et al (2014) The effect of nutrient-rich effluents from shrimp farming on mangrove soil carbon storage and geochemistry under semi-arid climate conditions in northern Brazil. Geoderma 213:551–559. https://doi.org/10.1016/j.geoderma.2013.08.007

Tahim EF, de Araújo Junior IF (2014) A carcinicultura do nordeste brasileiro e sua inserção em cadeias globais de produção: foco nos APLs do Ceará. Rev Econ Sociol Rural 52:567–586. https://doi.org/10.1590/S0103-20032014000300009

Tam NFY, Wong YS (1996) Retention of wastewater-borne nitrogen and phosphorus in mangrove soils. Environ Technol 17:851–859. https://doi.org/10.1080/09593331708616453

Tian Y, Chen G, Lu H, Zhu H, Ye Y (2019) Effects of shrimp pond effluents on stocks of organic carbon, nitrogen and phosphorus in soils of Kandelia obovata forests along Jiulong River estuary. Mar Pollut Bull 149:110657. https://doi.org/10.1016/j.marpolbul.2019.110657

Trott LA, McKinnon AD, Alongi DM et al (2004) Carbon and nitrogen processes in a mangrove creek receiving shrimp farm effluent. Estuar Coast Shelf Sci 59:197–207. https://doi.org/10.1016/j.ecss.2003.08.008

Verhoeven JTA, Laanbroek HJ, Rains MC, Whigham DF (2014) Effects of increased summer flooding on nitrogen dynamics in impounded mangroves. J Environ Manag 139:217–226. https://doi.org/10.1016/j.jenvman.2014.02.035

Voss M, Larsen B, Leivuori M, Vallius H (2000) Stable isotope signals of eutrophication in Baltic Sea sediments. J Mar Syst 25:287–298. https://doi.org/10.1016/S0924-7963(00)00022-1

Wong YS, Lan CY, Chen GZ, Li SH, Chen XR, Liu ZP, Tam NFY (1995) Effect of wastewater discharge on nutrient contamination of mangrove soils and plants. In: Asia-Pacific symposium on mangrove ecosystems. Springer Netherlands, Dordrecht, pp 243–254

Zhang A, Bian R, Pan G, Cui L, Hussain Q, Li L, Zheng J, Zheng J, Zhang X, Han X, Yu X (2012) Effects of biochar amendment on soil quality, crop yield and greenhouse gas emission in a Chinese rice paddy: a field study of 2 consecutive rice growing cycles. For Crop Res 127:153–160. https://doi.org/10.1016/j.fcr.2011.11.020
Funding
The authors thank the financial research support from Conselho Nacional de Desenvolvimento Científico e Tecnológico (CNPq, grant no. 446457/2014-0; 305996/2018-5; 409593/2018-4), Coordenação de Aperfeiçoamento de Pessoal de Nível Superior—Brasil (CAPES)—Finance Code 001, Fundação Cearense de Apoio ao Desenvolvimento Científico e Tecnológico (FUNCAP, public notice 15/2013), Fundação Carlos Chagas Filho de Amparo à Pesquisa do Estado do Rio de Janeiro (GNN, JCNE Grant E-26/202.757/2019), and Fundação de Amparo à Pesquisa do Estado de São Paulo—FAPESP (grants no. HMQ: 2018/04259-2; DB: 2019/02855-0).
Additional information
Responsible editor: Philippe Garrigues
Publisher's note
Springer Nature remains neutral with regard to jurisdictional claims in published maps and institutional affiliations.
About this article
Cite this article
Queiroz, H.M., Ferreira, T.O., Taniguchi, C.A.K. et al. Nitrogen mineralization and eutrophication risks in mangroves receiving shrimp farming effluents. Environ Sci Pollut Res 27, 34941–34950 (2020). https://doi.org/10.1007/s11356-020-09720-1
Received:

Accepted:

Published:

Issue Date:

DOI: https://doi.org/10.1007/s11356-020-09720-1
Keywords
Inorganic nitrogen

Mangrove soils

Soil pollution