Abstract
The poultry industry in the European Union produces 13 million tons of manure annually, which represents a major health and environmental challenge. Composting is an environmental-friendly technique for the management of manure, but there are few studies about antibiotic residues and antimicrobial resistances at a field scale. The goal of this study was to determine if the composting of poultry manure at a field scale would result in the reduction of antibiotic residues, pathogenic bacteria, and antibiotic resistance genes (ARGs) in the final fertilizer product. A 10-week composting of poultry manure spiked with enrofloxacin, doxycycline, and ciprofloxacin was performed. The determination of antibiotics residues and 22 selected ARGs was carried out together with the identification of bacteria by metagenomics. In the case of ciprofloxacin and doxycycline, a 90% decrease was observed after composting for 3 weeks. Sixteen ARGs were detected at the beginning of the experiment; 12 of them decreased from week 0 to week 10 (reduction of 73.7–99.99%). The presence of potentially pathogenic bacteria, such as, Campylobacter coli or commensal bacteria such as Escherichia coli decreases along the composting process. In conclusion, 10-week composting of poultry manure promotes the reduction of antibiotic residues and most of the ARGs and pathogenic bacteria.
Access options
Buy single article
Instant access to the full article PDF.
USD 39.95
Price excludes VAT (USA)
Tax calculation will be finalised during checkout.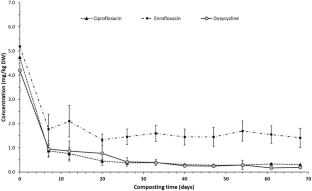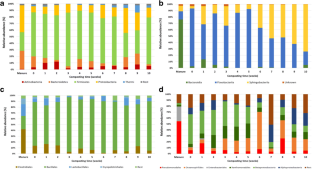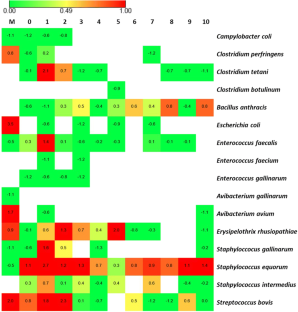 References
Antunes LP, Martins LF, Pereira RV, Thomas AM, Barbosa D, Lemos LN, Silva GMM, Moura LMS, Epamino GWC, Digiampietri LA (2016) Microbial community structure and dynamics in thermophilic composting viewed through metagenomics and metatranscriptomics. Sci Rep 6:38915

APHA, AWWA, WPCF (2005) Standard methods for the examination of water and wastewater, 21st edn. American Public Health Association, American Water Works Association and Water Environment Federation, Washington

Augère-Granier ML (2019) The EU poultry meat and egg sector: main features, challenges and prospects. https://www.europarl.europa.eu/RegData/etudes/IDAN/2019/644195/EPRS_IDA(2019)644195_EN.pdf. Accessed 26 February 2020.

Bengtsson-Palme J, Larsson DG (2016) Concentrations of antibiotics predicted to select for resistant bacteria: proposed limits for environmental regulation. Environ Int 86:140–149

Berry ED, Millner PD, Wells JE, Kalchayanand N, Guerini MN (2013) Fate of naturally occurring Escherichia coli O157:H7 and other zoonotic pathogens during minimally managed bovine feedlot manure composting processes. J Food Prot 76:1308–1321

Bouissou-Schurtz C, Houeto P, Guerbet M, Bachelot M, Casellas C, Mauclaire AC, Panetier P, Delval C, Masset D (2014) Ecological risk assessment of the presence of pharmaceutical residues in a French national water survey. Regul Toxicol Pharmacol 69:296–303

Bremner J, Mulvaney C (1982) Nitrogen—Total. In: Page et al.(ed.) Methods of soil analysis. Part 2. Agron. Monogr. 9. ASA and SSSA, Madison, pp 595–624

Cevidanes A, Esperón F, Di Cataldo S, Neves E, Sallaberry-Pincheira N, Millán J (2020) Antimicrobial resistance genes in Andean foxes inhabiting anthropized landscapes in central Chile. Sci Total Environ 724:138247

Chee-Sanford JC, Mackie RI, Koike S, Krapac IG, Lin YF, Yannarell AC, Maxwell S, Aminov RI (2009) Fate and transport of antibiotic residues and antibiotic resistance genes following land application of manure waste. J Environ Qual 38:1086–1108

Cheng W, Chen H, Su C, Yan S (2013) Abundance and persistence of antibiotic resistance genes in livestock farms: a comprehensive investigation in eastern China. Environ Int 61:1–7

Clewell DB, Flannagan SE (1993) The conjugative transposons of Gram-positive bacteria. In: Clewell DB (ed) Bacterial conjugation. Plenum Press, New York, pp 369–393

Cui E, Wu Y, Zuo Y, Chen H (2016) Effect of different biochars on antibiotic resistance genes and bacterial community during chicken manure composting. Bioresour Technol 203:11–17

Dorival-Garcia N, Labajo-Recio C, Zafra-Gomez A, Juarez-Jimenez B, Vilchez JL (2015) Improved sample treatment for the determination of 17 strong sorbed quinolone antibiotics from compost by ultra high performance liquid chromatography tandem mass spectrometry. Talanta 138:247–257

EC - European Commission (2003) Technical Guidance Document (TGD). Part II. Ispra (IT): Joint Research Centre. EUR 2020418 EN/2. https://echa.europa.eu/documents/10162/16960216/tgdpart2_2ed_en.pdf

Edrington TS, Fox WE, Callaway TR, Anderson RC, Hoffman DW, Nisbet DJ (2009) Pathogen prevalence and influence of composted dairy manure application on antimicrobial resistance profiles of commensal soil bacteria. Foodborne Pathog Dis 6:217–224

EMA - European Medicines Agency (2019) Sales of veterinary antimicrobial agents in 31 European countries in 2017: Trends from 2010 to 2017. Ninth ESVAC report. EMA/294674/2019. https://www.ema.europa.eu/en/documents/report/sales-veterinary-antimicrobial-agents-31-european-countries-2017_en.pdf. Accessed 26 February 2020

EMEA - European Medicines Agency (2006) Guideline on the environmental risk assessment of medicinal products for human use. London (UK): Committee for Medicinal Products for Human Use (CHMP), EMEA. Final report: EMEA/CHMP/SWP/4447/00 corr 2

Erickson MC, Smith C, Jiang X, Flitcroft ID, Doyle MP (2015) Manure source and age affect survival of zoonotic pathogens during aerobic composting at sublethal temperatures. J Food Prot 78:302–310

Ernervik A (2011) A risk analysis of the potential harm on the soil environment caused by antibiotics in biosolids. Lund University, Bachelor Degree. Available at lup.lub.lu.se/student-papers/record/2343139/file/2343175.pdf

Fealy R, Schröder JJ (2008) Assessment of manure transport distances and their impact on economic and energy costs. Proceedings 642, International Fertiliser Society (IFS), York

Foged H, Flotats Ripoll X, Bonmatí Blasi A, Palatsi Civit J, Magrí Aloy A, Schelde KM (2012a) Inventory of manure processing activities in Europe. Technical Report No. I concerning "Manure Processing Activities in Europe" to the European Commission, Directorate-General Environment. 138 pp

Foged H, Flotats Ripoll X, Bonmatí Blasi A, Palatsi Civit J, Magrí Aloy A (2012b) Assessment of economic feasibility and environmental performance of manure processing technologies. Technical Report No. IV to the European Commission, Directorate-General Environment. Unpublished draft. 130 pp.

Foged H, Flotats Ripoll X, Bonmatí Blasi A, Palatsi Civit J, Magrí Aloy A (2012c) End and by-products from livestock manure processing-general types, chemical composition, fertilising quality and feasibility for marketing. Technical Report No. I concerning "Manure Processing Activities in Europe" to the European Commission, Directorate-General Environment. 78 pp

Ghosh S, LaPara TM (2007) The effects of subtherapeutic antibiotic use in farm animals on the proliferation and persistence of antibiotic resistance among soil bacteria. ISME J 1:191–203

Hamidian M, Holt KE, Hall RM (2015) Genomic resistance island AGI1 carrying a complex class 1 integron in a multiply antibiotic-resistant ST25 Acinetobacter baumannii isolate. J Antimicrob Chemother 70:2519–2523

He LY, Liu YS, Su HC, Zhao JL, Liu SS, Chen J, Liu WR, Ying GG (2014) Dissemination of antibiotic resistance genes in representative broiler feedlots environments: Identification of indicator ARGs and correlations with environmental variables. Environ Sci Technol 48:13120–13129

Hesse PR (1971) Total nitrogen: the Kjeldahl Process. A Texbook of soil chemical analysis. Murray, London

Huhe JC, Wu Y, Cheng Y (2017) Bacterial and fungal communities and contribution of physicochemical factors during cattle farm waste composting. Microbiol Open 6:e518

Ikem A, Lin CH, Broz B, Kerley M, Thi HL (2017) Occurrence of enrofloxacin in overflows from animal lot and residential sewage lagoons and a receiving-stream. Heliyon 3:e00409

Jones-Dias D, Manageiro V, Ferreira E, Barreiro P, Vieira L, Moura IB, Canica M (2016) Architecture of Class 1, 2, and 3 Integrons from Gram negative bacteria recovered among fruits and vegetables. Front Microbiol 7:1400

Karadag D, Özkaya B, Ölmez E, Nissilä ME, Çakmakçı M, Yıldız Ş, Puhakka JA (2013) Profiling of bacterial community in a full-scale aerobic composting plant. Int Biodeterior Biodegradation 77:85–90

Keener HM, Dick WA, Hoitink HA (2000) Composting and beneficial utilization of composted by-product materials. Soil Science Society of America Book Series 315-342.

Kheiri R, Akhtari L (2016) Antimicrobial resistance and integron gene cassette arrays in commensal Escherichia coli from human and animal sources in IRI. Gut Pathog 8:40

Koczura R, Krysiak N, Taraszewska A, Mokracka J (2015) Coliform bacteria isolated from recreational lakes carry class 1 and class 2 integrons and virulence-associated genes. J Appl Microbiol 119:594–603

Le Devendec L, Mourand G, Bougeard S, Leaustic J, Jouy E, Keita A, Couet W, Rousset N, Kempf I (2016) Impact of colistin sulfate treatment of broilers on the presence of resistant bacteria and resistance genes in stored or composted manure. Vet Microbiol 194:98–106

Leal RM, Figueira RF, Tornisielo VL, Regitano JB (2012) Occurrence and sorption of fluoroquinolones in poultry litters and soils from Sao Paulo State, Brazil. Sci Total Environ 432:344–349

Li B, Yang Y, Ma L, Ju F, Guo F, Tiedje JM, Zhang T (2015) Metagenomic and network analysis reveal wide distribution and co-occurrence of environmental antibiotic resistance genes. ISME J 9:2490–2502

Li H, Duan M, Gu J, Zhang Y, Qian X, Ma J, Zhang R, Wang X (2017) Effects of bamboo charcoal on antibiotic resistance genes during chicken manure composting. Ecotoxicol Environ Saf 140:1–6

Lillenberg M, Litvin S, Nei L, Roasto M, Sepp K (2010) Enrofloxacin and ciprofloxacin uptake by plants from soil. Agron Res 8:807–814

Lin M, Liang J, Zhang X, Wu X, Yan Q, Luo Z (2015) Genetic diversity of three classes of integrons in antibiotic-resistant bacteria isolated from Jiulong River in southern China. Environ Sci Pollut Res 22:11930–11939

Lopes GV, Michael GB, Cardoso M, Schwarz S (2014) Identification and characterization of Salmonella enterica subsp. enterica serovar Derby isolates carrying a new aadA26 gene cassette in a class 1 integron obtained at pig slaughterhouses. FEMS Microbiol Lett 356:71–78

Mao H, Wang K, Wang Z, Peng J, Ren N (2020) Metabolic function, trophic mode, organics degradation ability and influence factor of bacterial and fungal communities in chicken manure composting. Bioresour Technol 302:122883

MAPA-Ministerio de Agricultura Pesca y Alimentación (2019) El sector de la avicultura de carne en cifras: Principales indicadores económicos. https://www.mapa.gob.es/es/ganaderia/temas/produccion-y-mercados-ganaderos/indicadoresaviculturacarneparapublicar2018_tcm30-419674.pdf. Accessed 26 February 2020

McKay TL, Ko J, Bilalis Y, DiRienzo JM (1995) Mobile genetic elements of Fusobacterium nucleatum. Plasmid 33:15–25

Mignard S, Flandrois JP (2006) 16S rRNA sequencing in routine bacterial identification: a 30-month experiment. J Microbiol Methods 67:574–581

Nieto-Claudin A, Esperón F, Blake S, Deem SL (2019) Antimicrobial resistance genes present in the faecal microbiota of free-living Galapagos tortoises (Chelonoidis porteri). Zoonoses Public Health 66:900–908

Ou Q, Li W, Li B, Yu C (2017) Prevalence of carbapenem-resistant Klebsiella Pneumoniae (CRKP) and the distribution of Class 1 integron in their strains isolated from a hospital in Central China. Chin Med Sci J 32:107–102

Pikkemaat M, Yassin H, Fels-Klerkx H, Berendsen B (2016) Antibiotic residues and resistance in the environment. RIKILT Wageningen UR

Qian X, Sun W, Gu J, Wang XJ, Zhang YJ, Duan ML, Li HC, Zhang RR (2016) Reducing antibiotic resistance genes, integrons, and pathogens in dairy manure by continuous thermophilic composting. Bioresour Technol 220:425–432

Ren G, Xu X, Qu J, Zhu L, Wang T (2016) Evaluation of microbial population dynamics in the co-composting of cow manure and rice straw using high throughput sequencing analysis. World J Microbiol Biotechnol 32:101

Riaz L, Mahmood T, Khalid A, Rashid A, Ahmed Siddique MB, Kamal A, Coyne MS (2018) Fluoroquinolones (FQs) in the environment: a review on their abundance, sorption and toxicity in soil. Chemosphere 191:704–720

Rice LB (1998) Tn916 family conjugative transposons and dissemination of antimicrobial resistance determinants. Antimicrob Agents Chemother 42:1871–1877

Rusu A, Hancu G, Uivaroşi V (2015) Fluoroquinolone pollution of food, water and soil, and bacterial resistance. Environ Chem Lett 13:21–36

Sacristán I, Esperón F, Acuña F, Aguilar E, García S, López MJ, Cevidanes A, Neves E, Cabello J, Hidalgo-Hermoso E, Poulin E, Millán J, Napolitano C (2020) Antibiotic resistance genes as landscape anthropization indicators: using a wild felid as sentinel in Chile. Sci Total Environ 703:134900

Santonja GG, Georgitzikis K, Scalet BM, Montobbio P, Roudier S, Sancho LD (2017) Best available techniques (BAT) Reference document for the intensive rearing of poultry or pigs EUR 28674 EN. https://doi.org/10.2760/020485

Sharma M, Reynnells R (2016) Importance of soil amendments: survival of bacterial pathogens in manure and compost used as organic fertilizers. Microbiol Spectrum 4: PFS-0010-2015

Shi H, Wang XC, Li Q, Jiang S (2016) Degradation of typical antibiotics during human feces aerobic composting under different temperatures. Environ Sci Pollut Res 23:15076–15087

Singha P, Chanda D, Maurya A, Paul D, Chakravarty A, Bhattacharjee A (2016) Distribution of Class II integrons and their contribution to antibiotic resistance within Enterobacteriaceae family in India. Indian J Med Microbiol 34:303–307

Slana M, Zigon D, Sollner-Dolenc M (2017) Enrofloxacin degradation in broiler chicken manure under field conditions and its residuals effects to the environment. Environ Sci Pollut Res 24:13722–13731

Song C, Li M, Jia X, Wei Z, Zhao Y, Xi B, Zhu C, Liu D (2014) Comparison of bacterial community structure and dynamics during the thermophilic composting of different types of solid wastes: anaerobic digestion residue, pig manure and chicken manure. Microb Biotechnol 7:424–433

Tkachuk VL, Krause DO, Knox NC, Hamm AC, Zvomuya F, Ominski KH, McAllister TA (2014) Targeted 16S rRNA high-throughput sequencing to characterize microbial communities during composting of livestock mortalities. J Appl Microbiol 116:1181–1194

Toleman MA, Bennett PM, Walsh TR (2006) ISCR elements: Novel gene-capturing systems of the 21st century? Microbiol Mol Biol Rev 70:296–316

Vazquez-Roig P, Andreu V, Blasco C, Pico Y (2012) Risk assessment on the presence of pharmaceuticals in sediments, soils and waters of the Pego-Oliva Marshlands (Valencia, eastern Spain). Sci Total Environ 440:24–32

Videnska P, Rahman MM, Faldynova M, Babak V, Matulova ME, Prukner-Radovcic E, Krizek I, Smole-Mozina S, Kovac J, Szmolka A, Nagy B, Sedlar K, Cejkova D, Rychlik I (2014a) Characterization of egg laying hen and broiler fecal microbiota in poultry farms in Croatia, Czech Republic, Hungary and Slovenia. PLoS One 9:e110076

Videnska P, Sedlar K, Lukac M, Faldynova M, Gerzova L, Cejkova D, Sisak F, Rychlik I (2014b) Succession and replacement of bacterial populations in the caecum of egg laying hens over their whole life. PLoS One 9:e115142

Wang M, Sun Y, Liu P, Sun J, Zhou Q, Xiong W, Zeng Z (2017) Fate of antimicrobial resistance genes in response to application of poultry and swine manure in simulated manure-soil microcosms and manure-pond microcosms. Environ Sci Pollut Res 24:20949–20958

White PA, McIver CJ, Rawlinson WD (2001) Integrons and gene cassettes in the Enterobacteriaceae. Antimicrob Agents Chemother 45:2658–2661

Xia W, Xu T, Qin T, Li P, Liu Y, Kang H, Gu B, Ma P (2016) Characterization of integrons and novel cassette arrays in bacteria from clinical isloates in China, 2000-2014. J Biomed Res 30:292–303

Xie WY, Yang XP, Li Q, Wu LH, Shen QR, Zhao FJ (2016) Changes in antibiotic concentrations and antibiotic resistome during commercial composting of animal manures. Environ Pollut 219:182–190

Yang B, Meng L, Xue N (2018) Removal of five fluoroquinolone antibiotics during broiler manure composting. Environ Technol 39:373–381

Zhao JY, Mu XD, Zhu YQ, Xi L, Xiao Z (2015) Identification of an integron containing the quinolone resistance gene qnrA1 in Shewanella xiamenensis. FEMS Microbiol Lett 362:fnv146

Zhou X, Qiao M, Wang F-H, Zhu Y-G (2017) Use of commercial organic fertilizer increases the abundance of antibiotic resistance genes and antibiotics in soil. Environ Sci Pollut Res 24:701–710

Zhu L, Liao R, Wu N, Zhu G, Yang C (2019) Heat stress mediates changes in fecal microbiome and functional pathways of laying hens. Appl Microbiol Biotechnol 103:461–472
Acknowledgments
The authors also want to thank Elena Neves for her technical support.
Funding
This work has been funded by the Spanish Government (RTA2014-00012).
Additional information
Responsible Editor: Diane Purchase
Publisher's note
Springer Nature remains neutral with regard to jurisdictional claims in published maps and institutional affiliations.
Electronic supplementary material
About this article
Cite this article
Esperón, F., Albero, B., Ugarte-Ruíz, M. et al. Assessing the benefits of composting poultry manure in reducing antimicrobial residues, pathogenic bacteria, and antimicrobial resistance genes: a field-scale study. Environ Sci Pollut Res 27, 27738–27749 (2020). https://doi.org/10.1007/s11356-020-09097-1
Received:

Accepted:

Published:

Issue Date:

DOI: https://doi.org/10.1007/s11356-020-09097-1
Keywords
Antimicrobial resistance

Antibiotics

Avian manure

Composting

Metagenomics analysis

Risk assessment