Abstract
A better understanding of the relationship between urbanization and the eco-environment is necessary to guide sustainable urban development and formulate environmental policies. In this study, the city of Qingdao was taken as an example. We evaluated the quantitative evolution of the relationship between urbanization and the eco-environment development from 2000 to 2018 by establishing the comprehensive index system and applying it to the coupling coordination model. Results showed the following: (1) The economic urbanization and eco-environment states offer the greatest contribution to the urbanization and eco-environment systems, respectively. (2) The coupling coordination relationship between urbanization and eco-environment conforms to an S-shaped curve, and the two systems have gradually moved from a "seriously uncoordinated and urbanization lag" stage at the beginning into a "good coordination and eco-environment lag" stage by the end of the research period. (3) Finally, the economic urbanization and response subsystems are essential determinants in the coupling relationship between urbanization and eco-environment. The research results can help the government better understand the complex coupling relationship and then formulate sustainable urbanization development strategies to better balance urbanization and eco-environmental protection.
Access options
Buy single article
Instant access to the full article PDF.
USD 39.95
Price excludes VAT (USA)
Tax calculation will be finalised during checkout.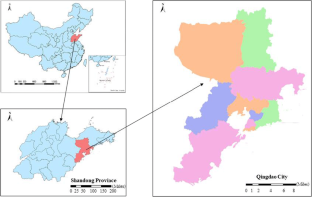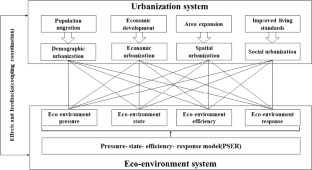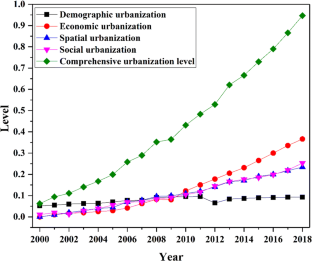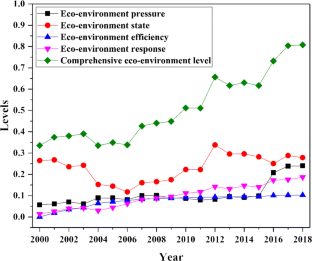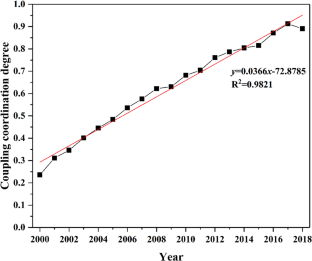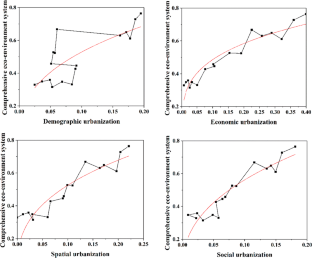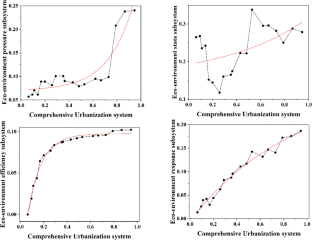 References
Ahmed K, Ahmed S (2018) A predictive analysis of CO2 emissions, environmental policy stringency, and economic growth in China. Environ Sci Pollut Res 25:16091–16100

Ahmed K, Ozturk I (2018) What new technology means for the energy demand in China? A sustainable development perspective. Environ Sci Pollut Res 25:29766–29771

Bai X, Shi P, Liu Y (2014) Society: realizing China's urban dream. NATURE 509:158–160

Bian J, Zhang Y, Shuai C, Shen L, Ren H, Wang Y (2020) Have cities effectively improved ecological well-being performance? Empirical analysis of 278 Chinese cities. J Clean Prod 245:118913

Cao W, Li R, Chi X, Chen N, Chen J, Zhang H, Zhang F (2017) Island urbanization and its ecological consequences: a case study in the Zhoushan Island, East China. Ecol Indic 76:1–14

Franco S, Mandla VR, Ram Mohan Rao K (2017) Urbanization, energy consumption and emissions in the Indian context a review. Renew Sust Energ Rev 71:898–907

Guo Y, Wang H, Nijkamp P, Xu J (2015) Space–time indicators in interdependent urban–environmental systems: a study on the Huai River Basin in China. Habitat Int 45:135–146

He J, Wang S, Liu Y, Ma H, Liu Q (2017) Examining the relationship between urbanization and the eco-environment using a coupling analysis: case study of Shanghai, China. Ecol Indic 77:185–193

Huang J, Liao I, Chung Y, Chen K (2013) Shielding wireless sensor network using Markovian intrusion detection system with attack pattern mining. Inf Sci 231:32–44

Huang Z, Du X, Castillo CSZ (2019) How does urbanization affect farmland protection? Evidence from China. Resour Conserv Recycl 145:139–147

Jia X, Wang S, Li Z, Wang F, Tan RR, Qian Y (2018) Pinch analysis of GHG mitigation strategies for municipal solid waste management: a case study on Qingdao City. J Clean Prod 174:933–944

Li W, Hai X, Han L, Mao J, Tian M (2020) Does urbanization intensify regional water scarcity? Evidence and implications from a megaregion of China. J Clean Prod 244:118592

Li W, Yi P (2020) Assessment of city sustainability—coupling coordinated development among economy, society and environment. J Clean Prod 256:120453

Li Y, Li Y, Zhou Y, Shi Y, Zhu X (2012) Investigation of a coupling model of coordination between urbanization and the environment. J Environ Manag 98:127–133

Li Y, Commenges H, Bordignon F, Bonhomme C, Deroubaix J (2019) The Tianjin Eco-City model in the academic literature on urban sustainability. J Clean Prod 213:59–74

Lin B, Zhu J (2018) Changes in urban air quality during urbanization in China. J Clean Prod 188:312–321

Liu N, Liu C, Xia Y, Da B (2018b) Examining the coordination between urbanization and eco-environment using coupling and spatial analyses: a case study in China. Ecol Indic 93:1163–1175

Liu W, Jiao F, Ren L, Xu X, Wang J, Wang X (2018a) Coupling coordination relationship between urbanization and atmospheric environment security in Jinan City. J Clean Prod 204:1–11

Mamipour S, Yahoo M, Jalalvandi S (2019) An empirical analysis of the relationship between the environment, economy, and society: results of a PCA-VAR model for Iran. Ecol Indic 102:760–769

Maurya SP, Singh PK, Ohri A, Singh R (2020) Identification of indicators for sustainable urban water development planning. Ecol Indic 108:105691

Meng J, Wang T, Wang P, Zhang Y, Li Q, Lu Y, Giesy JP (2015) Are levels of perfluoroalkyl substances in soil related to urbanization in rapidly developing coastal areas in North China? Environ Pollut 199:102–109

Ngor PB, Legendre P, Oberdorff T, Lek S (2018) Flow alterations by dams shaped fish assemblage dynamics in the complex Mekong-3S river system. Ecol Indic 88:103–114

Peng W, Wang X, Li X, He C (2018) Sustainability evaluation based on the emergy ecological footprint method: a case study of Qingdao, China, from 2004 to 2014. Ecol Indic 85:1249–1261

Pissourios IA (2013) An interdisciplinary study on indicators: a comparative review of quality-of-life, macroeconomic, environmental, welfare and sustainability indicators. Ecol Indic 34:420–427

Ren L, Cui E, Sun H (2014) Temporal and spatial variations in the relationship between urbanization and water quality. Environ Sci Pollut Res 21:13646–13655

Shahbaz M, Loganathan N, Muzaffar AT, Ahmed K, Ali Jabran M (2016) How urbanization affects CO 2 emissions in Malaysia? The application of STIRPAT model. Renew Sust Energ Rev 57:83–93

Song J, Tang B, Zhang J, Dou X, Liu Q, Shen W (2018) System dynamics simulation for optimal stream flow regulations under consideration of coordinated development of ecology and socio-economy in the Weihe River Basin, China. Ecol Eng 124:51–68

Srinivasan V, Seto KC, Emerson R, Gorelick SM (2013) The impact of urbanization on water vulnerability: a coupled human–environment system approach for Chennai, India. Glob Environ Chang 23:229–239

Wang Q, Wang Q, Yuan X, Yuan X, Ma C, Ma C, Zhang Z, Zhang Z, Zuo J, Zuo J (2012) Research on the impact assessment of urbanization on air environment with urban environmental entropy model: a case study. Stoch Env Res Risk A 26:443–450

Wang S, Ma H, Zhao Y (2014) Exploring the relationship between urbanization and the eco-environment—a case study of Beijing–Tianjin–Hebei region. Ecol Indic 45:171–183

Wei Y, Bao L, Wu C, He Z, Zeng EY (2015) Assessing the effects of urbanization on the environment with soil legacy and current-use insecticides: a case study in the Pearl River Delta, China. Sci Total Environ 514:409–417

Weil KK, Cronan CS, Lilieholm RJ, Danielson TJ, Tsomides L (2019) A statistical analysis of watershed spatial characteristics that affect stream responses to urbanization in Maine, USA. Appl Geogr 105:37–46

Wu H, Gai Z, Guo Y, Li Y, Hao Y, Lu Z (2020) Does environmental pollution inhibit urbanization in China? A new perspective through residents' medical and health costs. Environ Res 182:109128

Wu P, Tan M (2012) Challenges for sustainable urbanization: a case study of water shortage and water environment changes in Shandong, China. Procedia Environ Sci 13:919–927

Yuan Y, Song D, Wu W, Liang S, Wang Y, Ren Z (2016) The impact of anthropogenic activities on marine environment in Jiaozhou Bay, Qingdao, China: a review and a case study. Reg Stud Mar Sci 8:287–296

Yu Y, Tong Y, Tang W, Yuan Y, Chen Y (2018) Identifying spatiotemporal interactions between urbanization and eco-environment in the urban agglomeration in the middle reaches of the Yangtze River, China. Sustainability-Basel 10:290

Zhao Y, Wang S, Zhou C (2016) Understanding the relation between urbanization and the eco-environment in China's Yangtze River Delta using an improved EKC model and coupling analysis. Sci Total Environ 571:862–875

Zhao Y, Wang S, Ge Y, Liu Q, Liu X (2017) The spatial differentiation of the coupling relationship between urbanization and the eco-environment in countries globally: a comprehensive assessment. Ecol Model 360:313–327

Zhu Y, Xia Y (2019) Industrial agglomeration and environmental pollution: evidence from China under new urbanization. Energy Environ 30(6):1010–1026

Zhou C, Wang S, Wang J (2019) Examining the influences of urbanization on carbon dioxide emissions in the Yangtze River Delta, China: Kuznets curve relationship. Sci Total Environ 675:472–482

Zhou D, Xu J, Lin Z (2017) Conflict or coordination? Assessing land use multi-functionalization using production-living-ecology analysis. Sci Total Environ 577:136–147

Zhou Y, Kong Y, Wang H, Luo F (2020) The impact of population urbanization lag on eco-efficiency: a panel quantile approach. J Clean Prod 244:118664

Zou ZH, Yun Y, Sun JN (2006) Entropy method for determination of weight of evaluating indicators in fuzzy synthetic evaluation for water quality assessment. J Environ Sci (China) 18:1020–1023
Acknowledgments
We thank the reviewers for their valuable comments and suggestions. We thank shinewrite.com for its linguistic assistance during the preparation of this manuscript.
Funding
This research is supported by the National Natural Science Foundation of China (no. 41301649).
Additional information
Responsible Editor: Philippe Garrigues
Publisher's note
Springer Nature remains neutral with regard to jurisdictional claims in published maps and institutional affiliations.
Highlights
• "Pressure–state–efficiency–response" (PSER) model was adopted to select eco-environmental indicators.
• Coupling coordination degree model between urbanization and eco-environment system was established.
• Relationship between urbanization and eco-environment subsystems was investigated.
About this article
Cite this article
Fu, S., Zhuo, H., Song, H. et al. Examination of a coupling coordination relationship between urbanization and the eco-environment: a case study in Qingdao, China. Environ Sci Pollut Res 27, 23981–23993 (2020). https://doi.org/10.1007/s11356-020-08683-7
Received:

Accepted:

Published:

Issue Date:

DOI: https://doi.org/10.1007/s11356-020-08683-7
Keywords
Urbanization

Eco-environment

Coupling coordination degree

Regression analysis

Pressure–state–efficiency–response

Qingdao