Abstract
With increasing attentions on climate change, solid wastes, over-tourism, and improved environmental awareness worldwide, eco-tourism has been widely promoted worldwide. This requires that governmental agencies at different levels should prepare appropriate policies to facilitate eco-tourism and local communities should take necessary actions to preserve their natural resources, protect their environment, and support sustainable tourism. Academically, literatures on eco-tourism have increased faster with an annual growth rate of 10–30% during the recent years. Under such a circumstance, it is important to conduct a comprehensive review so that research progress on eco-tourism can be summarized and future research directions can be identified. Based on 1771 publications published during 2001–2018, a systematic method combining bibliometric analysis and network analysis is applied in this study to uncover the dynamic trends, academic collaboration, and research hotspots related with eco-tourism. Results show that the total number of relevant publications has gradually increased. Key journals include Journal of Hospitality and Tourism Management, Annals of Tourism Research, Conservation Biology, and Biological Conservation. Authors from USA have the most publications and international co-authorships, while the most influential institution is the Chinese Academy of Science. Moreover, research keywords have been identified, including eco-tourism, management, biodiversity, national park, sustainability, and sustainable tourism. Research findings of this study provide valuable insights to further improve eco-tourism research so that this emerging research field can be proactively fostered.
Access options
Buy single article
Instant access to the full article PDF.
US$ 39.95
Tax calculation will be finalised during checkout.
Subscribe to journal
Immediate online access to all issues from 2019. Subscription will auto renew annually.
US$ 79
Tax calculation will be finalised during checkout.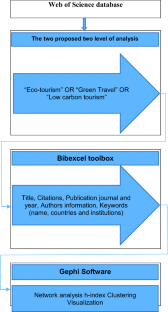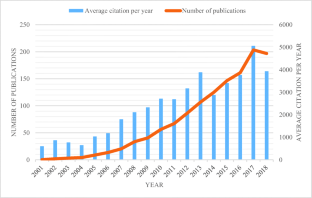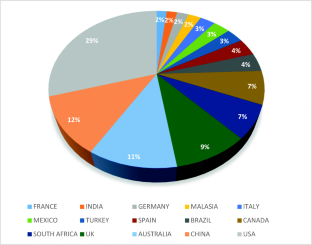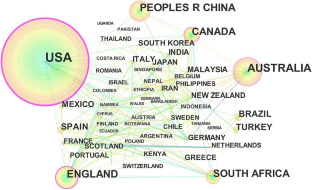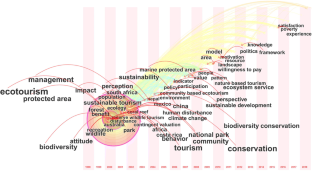 References
Alonso S, Cabrerizo FJ, Herrera-Viedma E, Herrera F (2009) h-index: a review focused in its variants, computation and standardization for different scientific fields. J Informetr 3:273–289

Ardoin NM, Biedenweg K, O'Connor K (2015) Evaluation in residential environmental education: an applied literature review of intermediary outcomes. Appl Environ Educ Commun 14:43–56

Balmford A, Beresford J, Green J, Naidoo R, Walpole M (2009) A global perspective on trends in nature-based tourism. PLoS Biol 7(6):1–6

Bashar MA (2018) Vision on biodiversity: ecotourism and biodiversity conservation in Bangladesh. J Biodivers Conserv Bioresource Manag 4(1):1–10

Bellis DN (2009) Bibliometric and citation analysis: from the science citation index to cybermetrics. Scarecrow Press, Maryland. ISBN 0-8108-6713-3, 417

Bishop PL (2000) Pollution prevention: Fundamentals and practice, McGraw-Hill, London, UK.

Bjork P (2000) Ecotourism from a conceptual perspective, an extended definition of a unique tourism. Int J Tour Res 2(3):189–202

Blaxter L, Hughes C, Tight M (2006) How to research, 3rd edn. McGraw-Hill Education, New York

Bloor M, Frankland J, Thomas M, Robson K (2001) Focus groups in social research. Sage Publications Inc., Thousand Oaks, CA

Bornmann L, Daniel HD (2007) What do we know about the h index? J Assoc Inf Sci Technol 58(9):1381–1385

Brown MT, Ulgiati S (2004) Energy quality, emergy, and transformity: H.T. Odum's contributions to quantifying and understanding systems. Ecol Model 178:201–213

Brown MT, Martínez A, Uche J (2010) Emergy analysis applied to the estimation of the recovery of costs for water services under the European Water Framework Directive. Ecol Model 221:2123–2132

Buela-Casal G, Zych I (2012) What do the scientists think about the impact factor? Scientometrics. 92:281–292

Burnham J (2006) Scopus database: a review. Biomedical Digital Libraries 3(8):1–8

Butler RW (1999) Sustainable tourism: a state of the art review. Tour Geogr 1(1):7–25

Carrington PJ, Scott J, Wasserman S (2005) Models and methods in social network analysis. Cambridge University Press, Cambridge

Ceballos-Lascurain H (1996) Tourism, ecotourism and protected areas. Gland, Switzerland: IUCN

Chandel A, Mishra S (2016) Ecotourism revisited: last twenty-five years. Czech J Tour 5(2):135–154

Chaudhuri D, Ghosh SK, Mukhopadhyay AR, (2009) A discursion on the issues of questionnaire design for sample survey. International Referred Research Journal, 60-62

Chiu YTH, Lee WI, Chen TH (2014a) Environmentally responsible behavior in ecotourism: exploring the role of destination image and value perception. Asia Pac J Tour Res 19(8):876–889

Chiu YTH, Lee WI, Chen TH (2014b) Environmentally responsible behavior in ecotourism: antecedents and implications. Tour Manag 40:321–329

Clarivate Analytics. (2017) Web of Science product webpage. Retrieved from https://clarivate.com/products/web-of-science/ (accessed 12 January 2020)

Coria J, Calfucura E (2012) Ecotourism and the development of indigenous communities: the good, the bad, and the ugly. Ecol Econ 73:47–55

Crowe S, Cresswell K, Robertson A, Huby G, Avery A, Sheikh A (2011) The case study approach. BMC Med Res Methodol 11:100. https://doi.org/10.1186/1471-2288-11-100

Cushing FH (1895) "Zuni Fetishes." In Second Annual Report of the Bureau of Ethnology to the Secretary of the Smithsonian Institution, 1880–1881, edited by John Wesley Powell. Washington: Smithsonian Institution, 1883. Kindle edition

DeWalt KM, DeWalt BR (2002) Participant observation: a guide for fieldworkers. AltaMira Press, Walnut Creek, CA

Dolnicar S (2006) Nature conserving tourists: the need for a broader perspective. Anatolia. 17(2):235–256

Drumm A, Moore A, Soles A, Patterson C, Terborgh J (2004) Ecotourism development - a manual for conservation planners and managers. Volume I - An Introduction to Ecotourism Planning, The Nature Conservancy, Arlington, Virginia, USA

Filimonau V, Dickinson JE, Robbins D, Reddy MV (2011) A critical review of methods for tourism climate change appraisal: life cycle assessment as a new approach. J Sustain Tour 19(3):301–324

Francis G (1870) Barometric predictions of weather. Nature, 2:501–503. URL http://www.mugu.com/galton/essays/galton-barometric-predictions.pdf.21 (accessed 21 December 2018)

Freud S (1909) Analysis of a phobia of a five year old boy. In The Pelican Freud Library (1977), Case Histories 1. 8, 169-306

Fu HZ, Ho YS, Sui YM, Li ZS (2010) A bibliometric analysis of solid waste research during the period 1993-2008. Waste Manag 30:2410–2417

Garfield E (2006) The history and meaning of the journal impact factor. JAMA 295(1):90–93

Geng Y, Sarkis J, Ulgiati S, Zhang P (2013) Measuring China's circular economy. Science 33:1526–1527

Geng Y, Chen W, Liu Z, Chiu A, Han W, Liu W, Zhong S, Qian Y, Cui X (2017) A bibliometric review: energy consumption and greenhouse gas emissions in the residential sector. J Clean Prod 159:301–316

Glaser BG, Strauss AL (1967) The discovery of grounded theory: strategies for qualitative research. Aldine Transaction; New Brunswick NJ: 1967

Grace M (2001) Proceedings from seminar on planning, development and management of ecotourism in Africa: development of ecotourism in protected and other natural areas of Uganda: the case of the Budongo Forest Reserve. Maputo, Mozambique

Haddle JB (2005) Community residents' perceptions of ecotourism impacts and conservation issues in rural Creole Belize: a case of crooked tree wildlife sanctuary

Handriana T, Ambara R (2016) Responsible environmental behavior intention of travelers on ecotourism sites. Tour Hosp Manag 22(2):135–150

Hirsch JE (2005) An index to quantify an individual's scientific research output. Proc Natl Acad Sci 102(46):16569–16572

Hirsch JE, Buela-Casal G (2014) The meaning of the h-index. Int J Clin Health Psychol 14(2):161–164

Ho D (2006) The focus group interview: rising the challenge in qualitative research methodology. Aust Rev Appl Ling, 29(1):5. 1-19

Ho JA, Chia KW, Ng SI, Ramachandran S (2017) Problems and stakeholder responsibilities in island tourism: the case of Tioman Island in Malaysia. J Hosp Tour Res 41(4):445–474

Honey, M., 2008. Ecotourism and sustainable development: who owns paradise? USA: Island Press, 531

Hou Q, Mao GZ, Zhao L, Du HB, Zuo J (2015) Mapping the scientific research on life cycle assessment: a bibliometric analysis. Int J Life Cycle Assess 20:541–555

Jamal T, Watt EM (2011) Climate change pedagogy and performative action: toward community-based destination governance. J Sustain Tour 19(4–5):571–588

Jonker G, Harmsen J (2012) Engineering for sustainability: a practical guide for sustainable design, Elsevier, Amsterdam

Kang D (2015) Emergy evaluation of the Korean economy and environment: implications for the valuation of marine ecosystem services. J Korean Soc Mar Environ Energy 18:102–115

Kiper T (2013) Role of ecotourism in sustainable development, advances in landscape architecture www.intechopen.com/books/advances-in-landscape-architecture/role-of-ecotourism-in-sustainable-development (accessed 05 January 2018)

Kiss A (2004) Is community-based ecotourism a good use of biodiversity conservation funds? Trends Ecol Evol 19(5):232–237

Kontogeorgopoulos N (2004) Conventional tourism and ecotourism in Phuket, Thailand: conflicting paradigms or symbiotic partners? J Ecotour 3(2):87–108

Korman LB (2015) The impacts and implications of whale shark ecotourism: a case study of three ecotourism sites. Undergraduate Honors Theses

Kvale S (1996) Interviews an introduction to qualitative research interviewing, Sage publications

Li W, Han L (2009) Ecotourism management in China's nature reserves. AMBIO: A Journal of the Human Environment 30:62–63

Lindsey P, Alexander R, Mills M, Woodroffe R, Romañach S (2007) Wildlife viewing preferences of visitors to protected areas in South Africa: implications for the role of ecotourism in conservation. J Ecotour 6:19–33

Liu X, Zhang L, Hong S (2011) Global biodiversity research during 1900-2009: a bibliometric analysis. Biodivers Conserv 20(4):807–826

Luo J, Zheng J (2008) Ecotourism in nature reserves in China: current situation, problems and solutions. J For Stud China 10(2):130–133

Marshall C, Rossman GB (1989) Designing qualitative research. Sage, Newbury Park, CA

Maslin M (2013) Beyond the science: facing the challenge of climate change, http://climatica.org.uk/beyond-the-science-facing-the-challenge-of-climate-change (accessed 06 October 2018)

Merton R (1987) The focused group interview and focus groups: continuities and discontinuities. Public Opin Q 51:550–566

Mfune O (2013) Extending conservation to farmlands in Zambia: prescribed practices and reality. J Sustain Dev 7:46–59

Muhanna E (2006) Sustainable tourism development and environmental management for developing countries. Probl Perspect Manag 4(2):14–30

Muralikrishna IV, Manickam V (2017) Environmental management: science and engineering for industry, 1st edn. Butterworth-Heinemann, Oxford, UK, pp 495–570

Newman MEJ (2001) Scientific collaboration networks. I. Network construction and fundamental results. Phys Rev E 64(1):1–8

Niñerola A, Sánchez-Rebull MV, Hernández-Lara AB (2019) Tourism research on sustainability: a bibliometric analysis. Sustainability 11:1377

Odum HT (1996) Environmental accounting: Emergy and environmental decision making; Wiley: New York, NY, USA

Ogutu ZA (2002) The impact of ecotourism on livelihood and natural resource management in Eselenkei, Amboseli ecosystem, Kenya. Land Degradation & Development 13:251–256

Pedersen A (1991) Issues, problems, and lessons learned from ecotourism planning projects. In: J. Kusler (Ed.), Ecotourism and resource conservation (pp. 61-74). Selected papers from the 2nd International Symposium: Ecotourism and Resource Conservation, Madison: Omnipress

Persson O, Glanzel W, Danell R (2004) Inflationary bibliometric values: the role of scientific collaboration and the need for relative indicators in evaluative studies. Scientometrics 60(3):421–432

Powell RA, Single HM, Lloyd KR (1996) Focus groups in mental health research: enhancing the validity of user and provider questionnaires. Int J Soc Psychol 42(3):193–206

Pritchard J (1969) Statistical-bibliography or bibliometrics? J Doc 25(4):348–349

Raja F (2017) Anxiety level in students of public speaking: causes and remedies. Journal of Education and Educational Development 4(1):95–110.

Richards, S.W (2006) An empirical assessment of ecotourism destination image of the Central Balkan National Park in Bulgaria. Doctoral Dissertation. The Ohio State University

Robson C (2002) Real World research: a resource for social scientists and practitioner-researchers (2nd ed). Blackwell, Oxford

Ross S, Wall G (1999) Ecotourism: towards congruence between theory and practice. Tour Manag 20(1):123–132

Sangpikul A (2008) Travel motivations of Japanese senior travellers to Thailand. Int J Tour Res, 10(1):81–94

Scott J (2017) Social network analysis. Sage

Scott D, Hall CM, Gössling S (2012) Tourism and climate change: impacts, adaptation and mitigation. Routledge, London

Sirakaya E, Sasidharan V, Sonmez S (1999) Redefining ecotuorism: the need for a supply-side view. J Travel Res 38(2):168–172

Stokes B, Wike R, Carle J (2015) Concern about climate change and its consequences, http://www.pewglobal.org/2015/11/05/1-concern-about-climate-change-and-its-consequences/ (accessed 31 October 2018)

Stylidis D, Sit J, Biran A (2016) An exploratory study of residents' perception of place image: the case of Kavala. J Travel Res 55(5):659–674

Sue B (2006) Community development through tourism. Landlinks Press, Collingwood, Australia

The International Ecotourism Society (TIES) (2015) What is ecotourism? http://www.ecotourism.org/what-is-ecotourism (accessed on 20 October 2018)

Tsay M-Y (2008) A bibliometric analysis of hydrogen energy literature, 1965–2005. Scientometrics. 75(3):421–438

Valderrama-Zurián JC, Aguilar-Moya R, Melero-Fuentes D, Aleixandre-Benavent R (2015) A systematic analysis of duplicate records in Scopus. J Informetr 9(3):570–576

Valentine P (1993) Ecotourism and nature conservation: a definition with some recent developments in Micronesia. Tour Manag 14(2):107–115

Van Raan AFJ (2005) For your citations only? Hot topics in bibliometric analysis. Meas Interdisc Res Perspect 3(1):50–62

Vengesayi S, Mavondo F, Reisinger Y (2009) Tourism destination attractiveness: attractions, facilities, and people as predictors. Tour Anal 14:621–636

Vieira E, Gomes J (2009) A comparison of Scopus and Web of Science for a typical university. Scientometrics 81(2):587–600

Wackernagel M, Rees WE (1996) Our ecological footprint: reducing human impact on the earth. New Society Publishers, Gabriola Island, BC, Canada

Wackernagel M, Onisto L, Bello P, Linares AC, Falfán ISL, Garcıa JM, Guerrero MGS (1999) National natural capital accounting with the ecological footprint concept. Ecol Econ 29:375–390

Walker K, Moscardo G (2014) Encouraging sustainability beyond the tourist experience: ecotourism, interpretation and values. J Sustain Tour 22(8):1175–1196

Wasserman S, Faust K (1994) Social network analysis. Cambridge University Press, Cambridge

Weaver DB (2005) Comprehensive and minimalist dimensions of ecotourism. Ann Tour Res 32(2):439–455

Weaver DB, Lawton LJ (2007) Twenty years on: the state of contemporary ecotourism research. Tour Manag 28:1168–1179

White HD, McCain KW (1989) Bibliometrics. Annual Review of Information Science and Technology 24:119-186.

Wichramasinghe K (2009) Proceedings from environmental and economic policy series no. In: 12: ecotourism as a tool for sustainable forest management in Sri Lanka. Sri Lanka, Columbo

Widheden J, Ringström E (2007) Handbook for cleaning/decontamination of surfaces. Elsevier Science, New York, pp 929–938

Wight P (1993) Ecotourism: ethics or eco-sell. J Travel Res 31(3):3–9

Wood EM, Gatz F, Lindberg K (1991) The ecotourism society: an action agenda. In: J. Kusler (Ed.), Ecotourism and resource conservation (pp. 75-79). Selected papers from the 2nd international symposium: ecotourism and resource conservation, Madison: Omnipress

Wood P, Sheil D, Syaf R, Warta Z (2014) The implementation and sustainability of village conservation agreements around Kerinci Seblat National Park, Indonesia. Soc Nat Res Int J 27(6):602–620

Yin RK (1984) Case study research: design and methods. Sage Publications, Beverly Hills, Calif

Yin RK (2009) Case study research: design and methods, 4th ed. Thousand Oaks, California, Sage Publications

Yu X, Geng Y, Dong H, Ulgiati S, Liu Z, Liu Z et al (2016) Sustainability assessment of one industrial region: a combined method of emergy analysis and IPAT (Human Impact Population Affluence Technology). Energy 107:818–830

Zainal Z (2003) An investigation into the effects of discipline-specific knowledge, proficiency and genre on reading comprehension and strategies of Malaysia ESP students. Unpublished Ph.D. Thesis, University of Reading

Zhang P, Yan F, Du C (2015) A comprehensive analysis of energy management strategies for hybrid electric vehicles based on bibliometrics. Renew Sust Energ Rev 48:88–104

Zhong LZ, Liu L (2017) Ecotourism development in China: achievements, problems and strategies. J Resour Ecol 8(5):441–448
Funding
This study is financially supported by National Natural Science Foundation of China (71810107001; 71690241) and the big data project funded by Shanghai Jiao Tong University (SJTU-2019UGBD-03).
Additional information
Publisher's note
Springer Nature remains neutral with regard to jurisdictional claims in published maps and institutional affiliations.
Responsible Editor: Philippe Garrigues
About this article
Cite this article
Shasha, Z.T., Geng, Y., Sun, Hp. et al. Past, current, and future perspectives on eco-tourism: a bibliometric review between 2001 and 2018. Environ Sci Pollut Res 27, 23514–23528 (2020). https://doi.org/10.1007/s11356-020-08584-9
Received:

Accepted:

Published:

Issue Date:
Keywords
Eco-tourism

Green travel

Low-carbon tourism

Bibliometric review

Network analysis

Governance