Abstract
Rosemary is a restorative plant that has numerous utilizations in traditional medicine. In this investigation, rosemary leaf extracts were examined for their antimicrobial and antioxidant activities. The antimicrobial activity was tested against 8 bacterial strains. The antioxidant feature of rosemary extract on rat testicular tissue after exposure to the electromagnetic field. Sixty adult male albino rats weighing 180–200 g (aged 2 months) were divided into six groups: control group, rosemary group (receiving rosemary extract at a dose of 5 mg/kg b.wt), EMF (2 h) group (exposed to 50 Hz and 5.4 kV per meter of magnetic field for 2 h), EMF (4 h) group (exposed to 50 Hz and 5.4 kV per meter of magnetic field for 4 h), EMF (2 h) + rosemary group (receiving both magnetic field for 2 h and extract), and EMF (4 h) + rosemary group (receiving both magnetic field for 4 h and extract). After 30 days, the rats were sacrificed, and some estimates were determined. Results exhibited that the ethanolic extract of rosemary leaves was active against pathogenic bacteria. Results also demonstrated that exposure to EMF diminished level of male hormones (e.g., follicle stimulating hormone (FSH), testosterone, and luteinizing hormone (LH)) in serum and catalase (CAT) activity remarkably and increased the malondialdehyde (MDA) levels in comparison to the control group. Signs of improvement in the male hormones, CAT activity, and MDA levels were noticed during the treatments with rosemary. Histological results showed that the rosemary extract inhibited the destructive effect of electromagnetic fields on testicular tissue. This research reveals that the ethanolic extract of rosemary has many beneficial effects that can be compelling in supporting individuals living with EMF ecological contamination.
This is a preview of subscription content,
to check access.
Access this article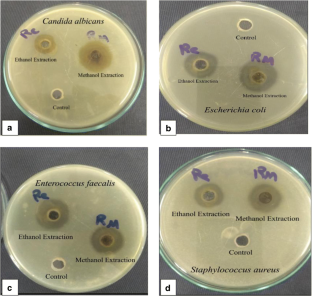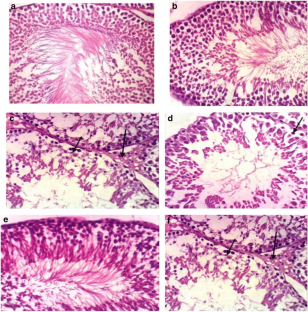 Similar content being viewed by others
References
Abramovic H, Terpinc P, Generalic I, Skroza D, Klancnik A, Katalinic V, Možina SS (2012) Antioxidant and antimicrobial activity of extracts obtained from rosemary (Rosmarinus officinalis) and vine (Vitis vinifera) leaves. Croat J Food Sci Technol:41–48

Aebi H (1984) Catalase in vitro. Methods Enzymol 105:121–126

Al Masoudi SB, Aly MM, Al humidi NQ, Halwani M (2013) Incidence and prevalence of Acinetobacter baumannii in King Fahd General Hospital., Saudi Arabia. Life Sci J 10:1702–1710

Al-Ajlani MM, Hasnain S (2006) Simple and rapid isolation of a novel antibiotic from Bacillus subtilis Mz-7″. J Liquid Chromatogr Relat Technol 29:639–647

Altunkaynak BZ, Akgül N, Yahyazedeh A, Makarac E, Akgül HM (2019) A stereological study of the effects of mercury inhalation on the cerebellum. Biotech Histochem 94:42–47

Aydın A, Çoban J, Dogan-Ekici I, Dogru-Abbasoglu S, Uysal M, Koçak-Toker N (2014) Carnosine and vitamin E–a promising pair in the combat against testicular oxidative stress in aged rats. Andrologia 10:1131–1138

Bernabò N, Tettamanti E, Pistilli MG, Nardinocchi D, Berardinelli P, Mattioli M, Barboni B (2007) Effects of 50 Hz extremely low frequency magnetic field on the morphology and function of boar spermatozoa capacitated in vitro. Theriogenology 67:801–815

Bozin B, Mimica-Dukic N, Samojlik I, Jovin E (2007) Antimicrobial and antioxidant properties of rosemary and sage (Rosmarinus officinalis L. and Salvia officinalis L. Lamiaceae) essential oils. J Agric Food Chem 55:7879–7885

Budziosz J, Stanek A, Sieroń A, Witkoś J, Cholewka A, Sieroń K (2018) Effects of low-frequency electromagnetic field on oxidative stress in selected structures of the central nervous system. Oxidative Med Cell Longev 2018 Article ID 1427412, 8 pages

El Sayed KE, Amany AEA, Engy ME (2015) Ameliorating effect of thymoquinone on the deleterious effects of mobile phone radiation in the rat brain. Az. J. Pharm Sci 52:124–139

El-Masry MH, Khalil AI, Hassouna MS, Ibrahim HAH (2002) In situ and in vitro suppressive effect of agricultural composts and their water extracts on some phytopathogenic fungi. World J Microb Biotechnol 8:551–558

Fu YJ, Zu YG, Chen LY, Shi XHG, Wang Z, Sun S, Efferth T (2007) Antimicrobial activity of clove and rosemary essential oils alone and in combination. Phytother Res 21:989–994

Gang CH (2000) Effect of electromagnetic field exposure on chemically induced differentiation of friend erythroleukemia cells. Environ. Health Perspect 108:967–972

Gazwi HSS (2019) Preventive effect of lemongrass (Cymbopogon citratus) against oxidation in soybean oil. Proc Natl Acad Sci India Sect B Biol Sci. https://doi.org/10.1007/s40011-019-01091-z

Gazwi HSS, Mahmoud ME (2018) Nephroprotective effect of Malva sylvestris extract against CCl4 induced nephrotoxicity in albino rats. J Food Dairy Sci., 3rd Mansoura International Food Congress (MIFC):37–43

Ghasemzadeh A, Jaafar H, Rahmat A (2011) Effects of solvent type on phenolics and flavonoids content and antioxidant activities in two varieties of young ginger (Zingiber officinale Roscoe) extracts. J Med Plant Res 5:1147–1154

Hales DB, Allen JA, Shankara T, Janus P, Buck S, Diemer T, Hales KH (2005) Mitochondrial function in Leydig cell steroidogenesis. Ann N Y Acad Sci 1061:120–134

Ho C, Ferraro T, Chen Q, Rosen R, Huang M (1994) Phytochemicals in teas and rosemary and their cancer preventive properties. In: Food Phytochemicals for Cancer Prevention. Am. Chem. Soc, Washington DC, pp 2–19

Holdcraft RW, Braun RE (2004) Hormonal regulation of spermatogenesis. Int J Androl 27:335–342

Jafar SR (1996) Examination, effects of EMF on spermatogenesis process in rat. Med Maga Univ Med Sci 31:55–55

Khaki A, Heidari M, Ghaffari NM, Khaki AA (2008) Adverse effects of ciprofloxacin on testis apoptosis and sperm parameters in rats. Iranian J Reprod Med 6:14–20

Khaki A, Fathiazad F, Nouri M, Khaki AA (2011) Effects of basil, Ocimum basilicum on spermatogenesis in rats. J Med Plant Res 5:4601–4604

Kiafar E, Nasrabadi HT, Abedelahi A, Shoorei H, Seghinsara AM (2018) Protective effects of vitamin E and selenium on liver tissue damages induced by electromagnetic field: an ultrastructural study. Crescent J Med Biol Sci 5:338–344

Lai H, Seattle WA (2001) Coenetic effects of non-ionizing electromagnetic fields. Proceedings of the international workshop on biological effects of ionizing radiation, electromagnetic fields and chemical toxic agents in Sinaia. Romania, pp 2–6

Lundberg L, Sienkiewicz Z, Anthony DC, Broom KA (2019) Effects of 50 Hz magnetic fields on circadian rhythm control in mice. Bioelectromagnetics. https://doi.org/10.1002/bem.22188

Martinez-Samano JTP, Rez-Oropeza MA, Elias-Vinas D, Verdugo-Díaz L (2010) Effects of acute electromagnetic field exposure and movement restraint on antioxidant system in liver, heart, kidney and plasma of Wistar rats: a preliminary report. Int J Radiat Biol 86:1088–1094

Moreno S, Scheyer T, Romano CS, Vojnov AA (2006) Antioxidant and antimicrobial activities of rosemary extracts linked to their polyphenol composition. Free Radic Res 40:223–231

Nur AA, Suryandari DA, Sari P (2018) Effect of extremely low frequency electromagnetic field exposure on pachytene spermatocyte cell quantity in Webster strain male mice. J Phys Conf Ser 1073:062047

Okechukwu CA (2020) Effects of radiofrequency electromagnetic field exposure on neurophysiology. Adv. Hum Biol 10(1):6–10

Parekh J, Nair R, Chanda S (2005) Preliminary screening of some folkloric plants from Western India for potential antimicrobial activity. Ind J Pharmacol 37:408–409

Rangan C, Barceloux DG (2009) Food additives and sensitivities. Dis Mon 55:292–311

Rašković A, Milanović I, Pavlović N, Ćebović T, Vukmirović S, Mikov M (2014) Antioxidant activity of rosemary (Rosmarinus officinalis L.) essential oil and its hepatoprotective potential. BMC Complement Altern Med 14:225

Rasoulian B, Jafari M, Noroozzadeh A, Mehrani H, Wahhab-Aghai H, Hashemi-Madani SM et al (2008) Effects of ischemia-reperfusion on rat renal tissue antioxidant systems and lipid peroxidation. Acta Med Austriaca 46:353–436

Reiner R (1984) Antibiotic: an introduction. New Horn Publishing Co, Ibadan 172

Ribeiro-Santos R, Carvalho-Costa D, Cavaleiro C, Costa HS, Albuquerque TG, Castilho MC (2015) A novel insight on an ancient aromatic plant: the rosemary (Rosmarinus officinalis L.). Trends Food Sci Technol 45:355–368

Sepehrimanesh M, Saeb M, Nazifi S, Kazemipour N, Jelodar G, Saeb S (2014) Impact of 900 MHz electromagnetic field exposure on main male reproductive hormone levels: a Rattus norvegicus model. Int J Biometeorol 58:1657–1663

Serel TA, Ozguner F, Soyupek S (2004) Prevention of shock wave induced renal oxidative stress by melatonin: an experimental study. Urol Res 32:69–71

Stocks J, Dormandy TL (1971) The autoxidation of human red cell lipids induced by hydrogen peroxide. Br J Haematol 20:95–111

Ulubay M, Yahyazadeh A, Deniz ÖG, Kıvrak EG, Altunkaynak BZ, Erdem G, Kaplan S (2015) Effects of prenatal 900 MHz electromagnetic field exposures on the histology of rat kidney. Int J Radiat Biol 91(1):35–41. https://doi.org/10.3109/09553002.2014.950436

Yahyazadeh A, Altunkaynak BZ (2019a) Investigation of the neuroprotective effects of thymoquinone on rat spinal cord exposed to 900 MHz electromagnetic field. J Chem Neuroanat 101657

Yahyazadeh A, Altunkaynak BZ (2019b) Protective effects of luteolin on rat testis following exposure to 900 MHz electromagnetic field. Biotech Histochem:1–10

Yahyazadeh A, Deniz ÖG, Kaplan AA, Altun G, Yurt KK, Davis DB (2018) The genomic effects of cell phone exposure on the reproductive system. Environ Res 167:684–693

Yahyazadeh A, Altunkaynak BZ, Kaplan S (2019) Biochemical, immunohistochemical and morphometrical investigation of the effect of thymoquinone on the rat testis following exposure to a 900-MHz electromagnetic field. Acta Histochem:11–26. https://doi.org/10.1016/j.acthis.2019.151467

Zaghloul MS (2009) Histological study on the effects of electromagnetic field on the liver of albino rats. Egypt J Histol 32:165–172
Additional information
Responsible Editor: Philippe Garrigues
Publisher's note
Springer Nature remains neutral with regard to jurisdictional claims in published maps and institutional affiliations.
About this article
Cite this article
Gazwi, H.S.S., Mahmoud, M.E. & Hamed, M.M. Antimicrobial activity of rosemary leaf extracts and efficacy of ethanol extract against testicular damage caused by 50-Hz electromagnetic field in albino rats. Environ Sci Pollut Res 27, 15798–15805 (2020). https://doi.org/10.1007/s11356-020-08111-w
Received:

Accepted:

Published:

Issue Date:

DOI: https://doi.org/10.1007/s11356-020-08111-w
Keywords