Abstract
For a potential and efficient solution in the mitigation of aquatic pollution, this study reported a well-designed and developed protected granulated activated carbon (GAC) material which ensures high strength property and adsorption performance to meet the industrial application. The prepared GAC material was shaped into a spherical core using natural binders basically assumed to constitute waste solids materials. Then after, the granulated carbon core (GAC core) was protected by a porous ceramic shell which confined the material with strong protection and high mechanical strength to resist against degeneration and pressure drop as a limiting factor for most sorbents employed in solution. The CSGAC characterization results proved that the ceramic shell has a smaller thickness (0.1 cm), good mechanical strength (2.0 MPa), and additionally, it presents larger porous channels which promote the fast and higher adsorption performance making it the desired material for the application in the real liquid environment. The test results showed that the prepared material had higher removal of triclosan (TCS) (30–40 mg/L) than BPA counterpart from the aqueous solutions. Moreover, it showed higher adsorption performance compared to the unprotected carbon materials. Furthermore, the mechanisms of BPA and TCS adsorption by core-shell granulated activated carbon (CSGAC) were discussed.
This is a preview of subscription content, log in to check access.
Access options
Buy single article
Instant access to the full article PDF.
US$ 39.95
Price includes VAT for USA
Subscribe to journal
Immediate online access to all issues from 2019. Subscription will auto renew annually.
US$ 99
This is the net price. Taxes to be calculated in checkout.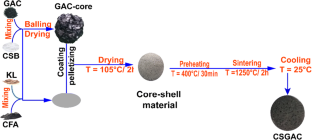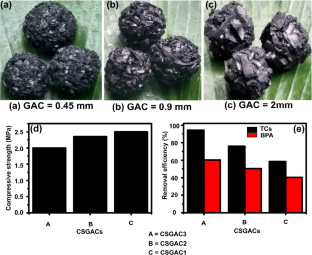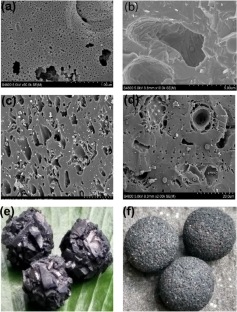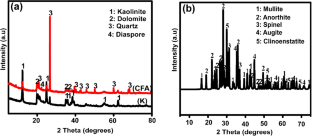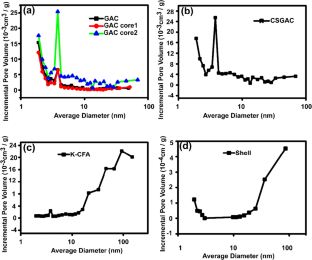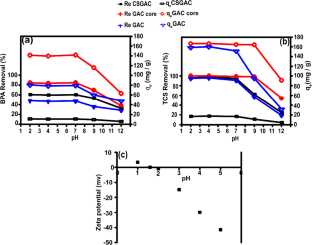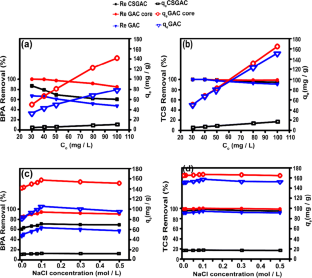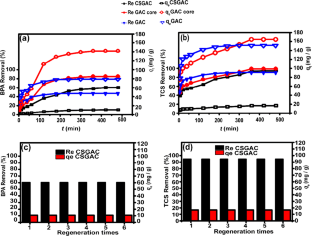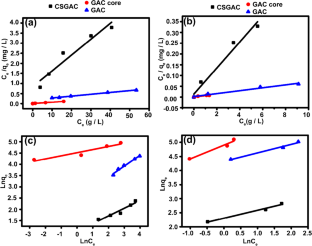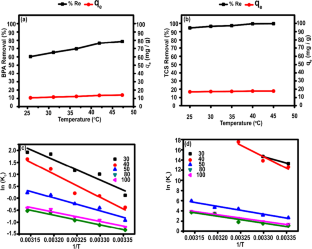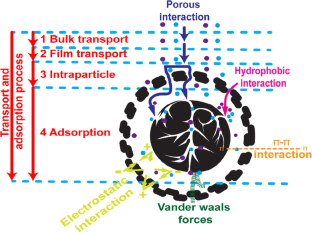 Acknowledgments
This research was supported by the Strategic Priority Research Program of the Chinese Academy of Sciences [Grant 467 No.XDA23030301, XDA23020500], China-Japan Research Cooperative Program [Grant No. 2016YFE0118000], the Natural Science Foundation of Fujian Province (2019J01135), the Science and technology program of Xiamen [3502Z20193076]; and support provided by CAS-TWAS President's Fellowship Program.
Additional information
Publisher's note
Springer Nature remains neutral with regard to jurisdictional claims in published maps and institutional affiliations.
Responsible editor: Tito Roberto Cadaval Jr
Electronic supplementary material
About this article
Cite this article
Ndagijimana, P., Liu, X., Li, Z. et al. The synthesis strategy to enhance the performance and cyclic utilization of granulated activated carbon-based sorbent for bisphenol A and triclosan removal. Environ Sci Pollut Res 27, 15758–15771 (2020). https://doi.org/10.1007/s11356-020-08095-7
Received:

Accepted:

Published:

Issue Date:
Keywords
Adsorption

Bisphenol A

Granulated activated carbon

Porous ceramic shell

Triclosan