Abstract
Because compounds accumulate through dry periods and enter aquatic systems in just a few seasonal events such as snowmelt and summer storms, surface waters in semi-arid, cold regions, such as the Canadian Prairies, are particularly vulnerable to loading of contaminant from runoff events from surfaces. This study assessed concentrations of metals and selected trace organics entering a river via surface runoff from an urban region and how these semi-arid regions with large seasonal variations in temperature might differ from more temperate regions. Selected potentially harmful elements (PHEs) including, Mn with Cr, Cu, Zn, Ba and U all exceeded guideline discharge values set by the Canadian Council of the Ministers of the Environment (CCME) by as much as 16-fold. Variation among discharges during spring, summer and winter was observed. For example, across the whole city, an estimated 6 kg of zinc was discharged in a spring storm, 36 kg in a summer storm and 17 tonnes in snowmelt. The mass of Zn discharged is similar to the annual loading estimated for Stockholm, Sweden, but in Saskatoon, Saskatchewan, Canada, the bulk of runoff was during snowmelt. The mean sum of poly- and per-fluoroalkyl substances (PFAS) in stormwater was 9.0 ng L−1, which is consistent with concentrations observed in other Canadian cities (6.5–16 ng L−1). These concentrations of PFAS are likely due to dispersed sources and orders of magnitude less than thresholds for toxicity to fish and aquatic invertebrates.
This is a preview of subscription content, log in to check access.
Access options
Buy single article
Instant access to the full article PDF.
US$ 39.95
Tax calculation will be finalised during checkout.
Subscribe to journal
Immediate online access to all issues from 2019. Subscription will auto renew annually.
US$ 99
Tax calculation will be finalised during checkout.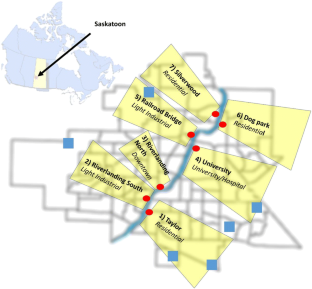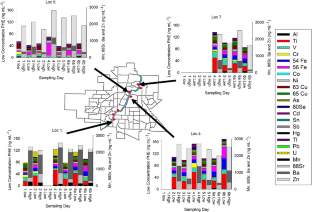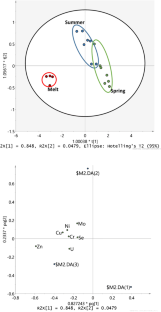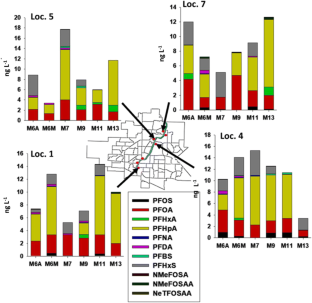 References
(UNEP), U. N. E. P. (1999) International Energy Annual. Energy Information Administration. US DOE (Department of Energy). Washington DC. DOE/EIA-0219(99)

Ahrens L, Gerwinski W, Theobald N, Ebinghaus R (2010) Sources of polyfluoroalkyl compounds in the North Sea, Baltic Sea and Norwegian Sea: evidence from their spatial distribution in surface water. Mar Pollut Bull 60(2):255–260

Allen HE, Hansen DJ (1996) The importance of trace metal speciation to water quality criteria. Water Environ Res 68(1):42–54

Anitha T, Kumar PS, Kumar KS, Ramkumar B, Ramalingam S (2015a) Adsorptive removal of Pb (II) ions from polluted water by newly synthesized chitosan–polyacrylonitrile blend: equilibrium, kinetic, mechanism and thermodynamic approach. Process Saf Environ Prot 98:187–197

Anitha T, Senthil Kumar P, Sathish Kumar K (2015b) Binding of Zn(II) ions to chitosan–PVA blend in aqueous environment: adsorption kinetics and equilibrium studies. Environ Prog Sustain Energy 34(1):15–22

Birch GF, Rochford L (2010) Stormwater metal loading to a well-mixed/stratified estuary (Sydney Estuary, Australia) and management implications. Environ Monit Assess 169(1):531–551

Biswas AK (2003) In: Biswas AK (ed) Water and urban areas. Water Resources of North America. Springer, Berlin, pp 43–49

Buffleben MS, Zayeed K, Kimbrough D, Stenstrom MK, Suffet IH (2002) Evaluation of urban non-point source runoff of hazardous metals entering Santa Monica Bay, California. Water Sci Technol 45:263–268

Burton GA Jr, Pitt R (2001) Stormwater effects handbook: a toolbox for watershed managers, scientists, and engineers. CRC Press

CCME (2001) Canadian sediment quality guidelines for the protection of aquatic life: summary tables. Canadian Environmental Quality Guidelines, 1999. Canadian Council of Ministers of the Environment, Winnipeg

CCME (2009) "CCME summary table: chemical table." from http://www.ccme.ca/en/current_priorities/water/index.html

CCME (2011) "Canadian environmental quality guidelines summary table water quality guidelines for the protection of aquatic life, Canadian Council of Ministers of the Environment "

Cobas M, Meijide J, Sanromán M, Pazos M (2016) Chestnut shells to mitigate pesticide contamination. J Taiwan Inst Chem Eng 61:166–173

Codling G, Halsall C, Ahrens L, Del Vento S, Wiberg K, Bergknut M, Laudon H, Ebinghaus R (2014a) The fate of per- and polyfluoroalkyl substances within a melting snowpack of a boreal forest. Environ Pollut 191:190–198

Codling G, Vogt A, Jones PD, Wang T, Wang P, Lu YL, Corcoran M, Bonina S, Li A, Sturchio NC, Rockne KJ, Ji K, Khim J-S, Naile JE, Giesy JP (2014b) Historical trends of inorganic and organic fluorine in sediments of Lake Michigan. Chemosphere 114:203–209

Davis AP, Shokouhian M, Ni S (2001) Loading estimates of lead, copper, cadmium, and zinc in urban runoff from specific sources. Chemosphere 44(5):997–1009

Djukić A, Lekić B, Rajaković-Ognjanović V, Veljović D, Vulić T, Djolić M, Naunovic Z, Despotović J, Prodanović D (2016) Further insight into the mechanism of heavy metals partitioning in stormwater runoff. J Environ Manag 168:104–110

Eriksson L, Jaworska J, Worth AP, Cronin MT, McDowell RM, Gramatica P (2003) Methods for reliability and uncertainty assessment and for applicability evaluations of classification-and regression-based QSARs. Environ Health Perspect 111(10):1361–1375

Eriksson L, Trygg J, Wold S (2008) CV-ANOVA for significance testing of PLS and OPLS® models. J Chemom 22(11–12):594–600

Gasperi J, Zgheib S, Cladière M, Rocher V, Moilleron R, Chebbo G (2012) Priority pollutants in urban stormwater: part 2–case of combined sewers. Water Res 46(20):6693–6703

Gauthier PT, Norwood WP, Prepas EE, Pyle GG (2014) Metal–PAH mixtures in the aquatic environment: a review of co-toxic mechanisms leading to more-than-additive outcomes. Aquat Toxicol 154:253–269

Göbel P, Dierkes C, Coldewey WG (2007) Storm water runoff concentration matrix for urban areas. J Contam Hydrol 91(1–2):26–42

Goonetilleke A, Thomas E, Ginn S, Gilbert D (2005) Understanding the role of land use in urban stormwater quality management. J Environ Manag 74(1):31–42

Gunasundari E, Kumar S (2017) Adsorption isotherm, kinetics and thermodynamic analysis of Cu (II) ions onto the dried algal biomass (Spirulina platensis). J Ind Eng Chem 56:129–144

Hamelink J, Landrum PF, Bergman H, Benson WH (1994) Bioavailability: physical, chemical, and biological interactions. CRC Press

Hecht L, Cuney M (2000) Hydrothermal alteration of monazite in the Precambrian crystalline basement of the Athabasca Basin (Saskatchewan, Canada): implications for the formation of unconformity-related uranium deposits. Mineral Deposita 35(8):791–795

Horner, R. R. (1994). "Fundamentals of urban runoff management: technical and institutional issues."

Hullmann, H. and U. Kraft (2002). "Kupfer- und Zinkabschwemmungen von Metalldächern. Wasser." Luft und Boden 10: 26–31

Hvitved-Jacobsen T, Vollertsen J, Nielsen AH (2010) Urban and highway stormwater pollution: concepts and engineering. Press, CRC

Kadlec, R. H. and R. L. Knight (1996). Treatment wetlands. Baca Raton, CRC Press

Karlsson K, Viklander M, Scholes L, Revitt M (2010) Heavy metal concentrations and toxicity in water and sediment from stormwater ponds and sedimentation tanks. J Hazard Mater 178(1–3):612–618

Kumar PS, Ramalingam S, Abhinaya R, Thiruvengadaravi K, Baskaralingam P, Sivanesan S (2011) Lead (II) adsorption onto sulphuric acid treated cashew nut shell. Sep Sci Technol 46(15):2436–2449

Leppard GCE (2013) Trace element speciation in surface waters and its ecological implications. Springer Science & Business Media

Liu E, Yan T, Birch G, Zhu Y (2014) Pollution and health risk of potentially toxic metals in urban road dust in Nanjing, a mega-city of China. Sci Total Environ 476–477:522–531

Loganathan BG, Irvine KN, Kannan K, Pragatheeswaran V, Sajwan KS (1997) Distribution of selected PCB congeners in the Babcock street sewer district: a multimedia approach to identify PCB sources in combined sewer overflows (CSOs) discharging to the Buffalo River, New York. Arch Environ Contam Toxicol 33(2):130–140

Luthy RG, Allen-King RM, Brown SL, Dzombak DA, Fendorf SE, Giesy JP, Hughes JB, Luoma SN, Malone LA, Menzie CA, Roberts SM, Ruby MV, Schultz TW, Smeets BF (2003) Bioavailability of contaminants in soils and sediments: processes, tools and applications. National Academy Press, Washington, DC

Marsalek J, Ng HYF (1989) Evaluation of pollution loadings from urban nonpoint sources: methodology and applications. J Great Lakes Res 15(3):444–451

Marsalek J, Cisneros BJ, Karamouz M, Malmquist PA, Goldenfum JA, C. B. (2008) Urban water cycle processes and interactions: urban water series-UNESCO-IHPU. CRC Press

Meyer T, Lei YD, Wania F (2011) Transport of polycyclic aromatic hydrocarbons and pesticides during snowmelt within an urban watershed. Water Res 45(3):1147–1156

Neeraj G, Krishnan S, Senthil Kumar P, Shriaishvarya KR, Vinoth Kumar V (2016) Performance study on sequestration of copper ions from contaminated water using newly synthesized high effective chitosan coated magnetic nanoparticles. J Mol Liq 214:335–346

Palm V, Östlund C (1996) Lead and zinc flows from technosphere to biosphere in a city region. Sci Total Environ 192(1):95–109

Paul AG, Jones KC, Sweetman AJ (2009) A first global production, emission, and environmental inventory for perfluorooctane sulfonate. Environ Sci Technol 43(2):386–392

Plassmann MM, Meyer T, Lei YD, Wania F, McLachlan MS, Berger U (2011) Laboratory studies on the fate of perfluoroalkyl carboxylates and sulfonates during snowmelt. Environ Sci Technol 45(16):6872–6878

Prabu D, Parthiban R, Senthil Kumar P, Kumari N, Saikia P (2016) Adsorption of copper ions onto nano-scale zero-valent iron impregnated cashew nut shell. Desalin Water Treat 57(14):6487–6502

Rossi L, de Alencastro L, Kupper T, Tarradellas J (2004) Urban stormwater contamination by polychlorinated biphenyls (PCBs) and its importance for urban water systems in Switzerland. Sci Total Environ 322(1–3):179–189

Santore RC, Di Toro DM, Paquin PR, Allen HE, Meyer JS (2001) Biotic ligand model of the acute toxicity of metals. 2. Application to acute copper toxicity in freshwater fish and Daphnia. Environ Toxicol Chem 20(10):2397–2402

Saravanan A, Kumar PS, Renita AA (2018) Hybrid synthesis of novel material through acid modification followed ultrasonication to improve adsorption capacity for zinc removal. J Clean Prod 172:92–105

Saskatoon, C. o. (2015) " "Population growth and rate of change"." City of Saskatoon 2015-07-01

Saskatoon, C.o (2016) "Lead pipes in drinking water." from https://www.saskatoon.ca/services-residents/power-water/water-wastewater/drinking-water/lead-pipes-drinking-water

Skutlarek D, Exner M, Farber H (2006) Perfluorinated surfactants in surface and drinking waters. Environ Sci Pollut Res Int 13(5):299–307

Sörme L, Lagerkvist R (2002) Sources of heavy metals in urban wastewater in Stockholm. Sci Total Environ 298(1–3):131–145

Stern BR (2010) Essentiality and toxicity in copper health risk assessment: overview, update and regulatory considerations. J Toxic Environ Health A 73(2–3):114–127

Suganya S, Kumar S (2018) Influence of ultrasonic waves on preparation of active carbon from coffee waste for the reclamation of effluents containing Cr (VI) ions. J Ind Eng Chem 60:418–430

Tobiszewski M, Namieśnik J (2012) PAH diagnostic ratios for the identification of pollution emission sources. Environ Pollut 162:110–119

Vardy DW, Oellers J, Doering JA, Hollert H, Giesy JP, Hecker M (2013) Sensitivity of early life stages of white sturgeon, rainbow trout, and fathead minnow to copper. Ecotoxicology 22(1):139–147

Vardy DW, Santore R, Ryan A, Giesy JP, Hecker M (2014) Acute toxicity of copper, lead, cadmium, and zinc to early life stages of white sturgeon (Acipenser transmontanus) in laboratory and Columbia River water. Environ Sci Pollut Res 21(13):8176–8187

Westerbeek-Vopicka K (2009) Sediment assessment of stormwater retention ponds within the urban environment of Calgary, Canada. Water Qual Res J Can 44(1):81–91

Woodruff TJ, Zota AR, Schwartz JM (2011) Environmental chemicals in pregnant women in the United States: NHANES 2003-2004. Environ Health Perspect 119(6):878–885

Zushi Y, Masunaga S (2009) First-flush loads of perfluorinated compounds in stormwater runoff from Hayabuchi River basin, Japan served by separated sewerage system. Chemosphere 76(6):833–840
Acknowledgements
This research was part of the Global Institute for Water Security, in Saskatoon Canada. The authors wish to acknowledge the support of the staff and students of the University of Saskatchewan's Toxicology Centre for sample collection including but not limited to Bryan Sarauer and Eric Higley.
Funding
A Discovery Grant from the Natural Science and Engineering Research Council of Canada (Project # 326415-07) and a grant from the Western Economic Diversification Canada (Project # 6578 and 6807) also supported the research, in part. This research was supported by the RECETOX Research Infrastructure (LM2015051, LM2018121 and CZ.02.1.01/0.0/0.0/16_013/0001761) and the European Structural and Investment Funds (CETOCOEN PLUS: CZ.02.1.01/0.0/0.0/15_003/0000469). Professors Giesy and Hecker were supported by the Canada Research Chairs Program of the Natural Science and Engineering Research Council of Canada (NSERC).
Additional information
Publisher's note
Springer Nature remains neutral with regard to jurisdictional claims in published maps and institutional affiliations.
Responsible editor: Philippe Garrigues
Electronic supplementary material
About this article
Cite this article
Codling, G., Yuan, H., Jones, P.D. et al. Metals and PFAS in stormwater and surface runoff in a semi-arid Canadian city subject to large variations in temperature among seasons. Environ Sci Pollut Res 27, 18232–18241 (2020). https://doi.org/10.1007/s11356-020-08070-2
Received:

Accepted:

Published:

Issue Date:
Keywords
Inorganic

Organic

Contaminants

Stormwater

Snowmelt

Seasonality

PFAS

North America

Prairies