Abstract
Arsenic is a major environmental toxicant of concern, affecting both female and male reproductive systems. The present study was conducted to investigate the toxic effects of arsenic on semen quality and reproductive hormones of Teddy bucks, an important domestic species in regions of Pakistan. In addition to arsenic, vitamin C was fed to a subset of animals to determine if there were ameliorative effects on reproductive parameters. Sixteen adult Teddy bucks were randomly divided into four experimental groups: A (control), B (arsenic 5 mg/kg BW/day orally), and C (arsenic 5 mg/kg BW/day plus vitamin C of an oral dose of 200 mg/kg BW/day). The animals in experimental group D were given only vitamin C (oral dose of 200 mg/kg BW/day). Animals were fed treated food once a day for 12 weeks. Semen quality parameters (volume, motility, count, sperm morphology, live dead ratio, sperm membrane integrity, and sperm DNA integrity) of bucks from each experimental group were evaluated on a weekly basis. Hematology and the level of arsenic in the blood were assessed every 2 weeks. Serum was collected fortnightly to measure reproductive and stress hormones (testosterone, luteinizing hormone, follicle-stimulating hormones, and cortisol). At the end of the study, all the animals were slaughtered, and the testes of all the animals were collected and evaluated for histopathology. Semen parameters in arsenic-treated bucks were significantly reduced (p < 0.05) compared with controls. Moreover, the levels of male hormones (testosterone, luteinizing hormone, and follicle-stimulating hormone) were significantly decreased in arsenic-treated animals, while cortisol was significantly increased with arsenic exposure. The histopathological lesions in the testes were present in the form of the loss of germinal epithelium and atrophy of Leydig cells. Supplementation of vitamin C however ameliorated the adverse effects of arsenic on semen quality and hormones. The histopathological lesions were also ameliorated due to vitamin C treatment. This study demonstrates that arsenic can adversely affect reproductive endpoints in Teddy goat bucks and supports the hypothesis that vitamin C is an effective treatment in arsenic-induced toxicosis. This study has high significance for Pakistan, as water contaminated with arsenic is a top health concern and is a recurring issue for both domestic animals and humans.
Access options
Buy single article
Instant access to the full article PDF.
USD 39.95
Price excludes VAT (USA)
Tax calculation will be finalised during checkout.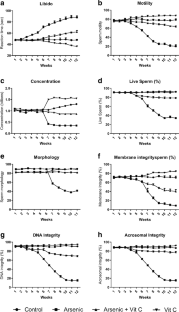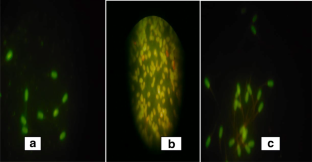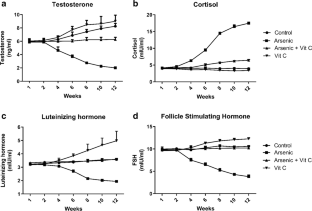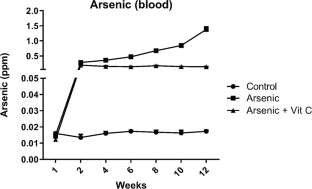 References
Alamdar A, Xi G, Huang Q, Tian M, Eqani SA, Shen H (2017) Arsenic activates the expression of 3β-HSD in mouse Leydig cells through repression of histone H3K9 methylation. Toxicol Appl Pharmacol 326:7–14

Ahmed KA, Korany RMS, El Halawany HA, Ahmed KS (2019) Spirulina platensis alleviates arsenic-induced toxicity in male rats: biochemical, histopathological and immunohistochemical studies. Adv Anim Vet Sci 7(8):701–710

Amer Sayed AM, Al-Zahrani Yousif AA, AL-Harbi MS (2019) The ameliorative effect of green tea, garlic and vitamin c on arsenic toxicity in male mice: biochemical and histological forensic perspectives. Arab Journal of Forensic Sciences & Forensic Medicine. https://doi.org/10.26735/16586794.2019.001

Akter J, Islam MZ, Hassan J, Ghosh A, Awal MA (2010) Physio-biochemical changes in goats due to arsenic induced toxicity. Int J Biol Res 2:15–20

Awal MA, Alam J, Hossain MM, Matsumoto M (2015) Effect of arsenic (as) on the spermatogenesis of black Bengal goat (Capra hircus) reared at the arsenic prone area of Mymensingh District in Bangladesh. British Biot J 5:13–23

Balakumar BS, Ramanathan K, Umaresan SK, Suresh R (2010) DNA damage by sodium arsenite in experimental rats: ameliorative effects of antioxidant vitamins C and E. Indian J Sci Technol 3:322–327

Bancroft JD, Gamble M (2007) Theory and practice of histological techniques, 6th edn. Churchill Livingstone, London, pp 125–138

Bernstam L, Nriagu J (2000) Molecular aspects of arsenic stress. J Toxicol Environ Halth Prt- b- Critl Rev, 3:93–322

Bouaziz H, Soudania N, Essafia M, Ben Amara I, Hakim A, Jamoussi K, Zeghal K, Zeghal N (2015) Hepatotoxicity induced by arsenic trioxide in adult mice and their progeny. Inter J Biol Biomol Agri Food Biotechnol Eng 9(3):232–237

Bustos-Obregón E, Poblete D, Catriao R, Sol MD, Fernandes FH (2013) Melatonin protective role in mouse cauda epipidymal spermatozoa damage induced by sodium arsenite. Int J Morphol, 31:1251–1256

Campbell AC (2014) Effect of arsenic trioxide poisoning on hematological parameters, liver marker enzymes and kidney of male albino rats. Pinn BiolSci 2:2

Catani MV, Savini I, Rossi A, Melino G, Avigliano L (2005) Biological role of vitamin C in keratinocytes. Nutr Rev 63:81–90

Chiou TJ, Chu ST, Tzeng WF, Huang YC, Liao CJ (2008) Arsenic trioxide impairs spermatogenesis via reducing gene expression levels in testosterone synthesis pathway. Chem Res Toxicol 21:1562–1569

Cindy D, Eric D, Uthus EO, John WF (2000) Dietary selenium and arsenic affect DNA methylation in vitro in caco-2 cells and in vivo in rat liver and colon. J Nutr 130:2903–2909

Cárdenas-González M, Osorio-Yáñez C, Gaspar-Ramírez O, Pavković M, Ochoa-Martínez A, López-Ventura D, Medeiros M, Barbier OC, Pérez-Maldonado IN, Sabbisetti VS, Bonventre JV, Vaidya VS (2016) Environmental exposure to arsenic and chromium in children is associated with kidney injury molecule-1. Environ Res 150:653–662. https://doi.org/10.1016/j.envres.2016.06.032

Das J, Ghosh J, Manna P, Sinha M, Parames SC (2009) Taurine protects rat testes against NaAsO2-induced oxidative stress and apoptosis via mitochondrial dependent and independent pathways. Toxicol Lett 187:201–210

Das TK, Mani V, Kaur H, Kewalramani N, Agarwal A (2012) Effect of vitamin E supple- mentation on hematological and plasma biochemical parameters during long term exposure of arsenic in goats. Asian-Australas J Anim Sci 25:1262–8

Dawson EB, Harris WA, Powell LC (1990) Relationship between ascorbic acid and male fertility. World Rev Nutr Diet 62:1–26

Erslev AJ, Gabuzda TG (1979) Pathophysiology of hematologic disorder. In: Sodeman WA, Sodeman TM (eds) Pathologic physiology, mechanisms of diseases, 6th edn. WB Saunders Company, Philadelphia, pp 587–741

Fouad AA, Albuali HW, Jresat I (2014) Protective effect of thymoquinone against arsenic-induced testicular toxicity in rats. Int J Med Health Pharm Bio Eng 8(2):98–101

Ford JD, Okere C, Bolden-Tiller O (2009) Libido Test Scores, Body Conformation and testicular traits in Boer and Kiko goat bucks ARPN. J Agric Biolog Sci 4(5):54–61

Gang LS, Song DY, Qiang N, Zhi XS, Juan PL, Lin MR, Xia JM, Ling FG, Ming LJ, Xia GS (2015) Grape seed proanthocyanidin extract alleviates arsenic-induced oxidative reproductive toxicity in male mice. Biomed Environ Sci 28(4):272–280

Hasan M, Awal MA, Ara A, Rashid MB, Azam MG, Ali MH (2015) Study on prevention of induced arsenic toxicity in rats by using Spirulina and Thankuni. Scholars J Appl Med Sci 3(2D):828–832

Iftikhar B, Arif S, Siddiqui S, Khattak R (2014) Assessment of toxic metals in dairy milk and animal feed in Peshawar, Pakistan. British Biotechnology J 4(8):883–893

Jana K, Jana S, Samanta PK (2006) Effects of chronic exposure to sodium arsenite on hypothalamo-pituitary-testicular activities in adult rats: possible an estrogenic mode of action. ReprodBiolEndocrinol 4(9):1–13

Jeyendran RS, Vander-Ven HH, Perez-Pelaez M, Crabo BG, Zanevld LJD (1984) Development of an assay to assess the functional integrity of the human sperm membrane and its relationship to other semen characters. J Repord Fertil 70:219–228

Jahan S, Iftikhar N, Ullah H, Rukh G, Hussain I (2015) Alleviative effect of quercetin on rat testis against arsenic: a histological and biochemical study. Syst Biol Reprod Med 61(2):89–95

Korany RMS, Ahmed KS, El Halawany HA, Ahmed KA (2019) Pathological and immunohistochemical studies on the ameliorating effect of Spirulina platensis against arsenic induced reproductive toxicity in female albino rats. Inter J Vet Sci 8(2):113–119

Kojo S (2004) Vitamin C basic metabolism and its function as an index of oxidative stress. Curr Med Chem 11:1041–1064

Li SG, Xu SZ, Niu Q, Ding YS, Pang LJ, Ma RL, Jing MX, Wang K, Ma XM, Feng GL, Liu JM, Zhang XF, Xiang HL, Li F (2015) Lutein alleviates arsenic-induced reproductive toxicity in male mice via Nrf2 signaling. Human Experimen. Toxicol. 35(5):491–500

Maji C, Sarkar S, Biswas S, Patra PH, Datta BK, Bandyopadhyay S, Biswas TK, Jana C, Mandal TK (2016) Experimental assessment of arsenic toxicity in garole sheep in India. Emerg Contam 2:128–134

Meligy AMA, Waheed MM, El-Bahr SM (2019) Effect of heavy metals arsenic, cadmium, and lead on the semen variables of dromedary camels (Camelus dromedarius). Anim Reprod Sci. https://doi.org/10.1016/j.anireprosci.2019.106115

Momeni HR, Eskandari N (2012) Effect of vitamin E on sperm parameters and DNA integrity in sodium arsenite-treated rats. Iran J Reprod Med 10:249–256

Mondal R, Biswas S, Chatterjee A, Mishra R, Mukhopadhyay A, Bhadra RK, Mukhopadhyay PK (2016) Protection against arsenic-induced hematological and hepatic anomalies by supplementation of vitamin C and vitamin E in adult male rats. Journal of J Basic Clin Physiol Pharmacol 27(6):643–652

Noman AS, Dilruba S, Mohanto NC, Rahman L, Khatun Z, Riad W, Al Mamun A, Alam S, Aktar S, Chowdhury S, Saud ZS, Rahman Z, Hossain K, Haque A (2015) Arsenic-induced histological alterations in various organs of mice. J Cytol Histol 6(3):323

Ohaeri CC, Eluwa MC (2011) Abnornal biochemical and hematological indices in trypanosomiasisas a threat to herd production. Vet Parasitol 177:199–202

Rana T, Bera AK, Das S, Pan D, Bandyopadhyay S, Bhattacharya D, De S, Sikdar S, Das SK (2010) Effect of ascorbic acid on blood oxidative stress in experimental chronic arsenicosis in rodents. Food ChemToxicol 48:1072–1077

Roshni PA, Purushothaman R, Reghu MV (2015) Environmental and occupational risk factors associated with lung cancer. World J Pharm Pharm Sci 4:722–730. https://doi.org/10.1007/BF03040363

Sakurai T, Ohta T, Tomita N, Kojima C, Hariya Y, Mizukami A, Fujiwara K (2006) Evaluation of immunotoxic and immunodisruptive effects of inorganicarsenite on human monocytes/macrophages. Int Immunopharmacol 6:304–315

Salisbury GW, Van-Demark NL, Lodge JR, 1985. Physiology of reproduction and artificial insemination of cattle. C.B.S. Publishers and Distributers, New Delhi, India

Seadawy IEE, Walid S, El-Nattat, Magda M, El-Tohamy, Hassan A, El-Rahman A (2014) The influence of curcumin and ascorbic acid on libido and semen characteristics of arsenic-exposed rabbit bucks. World Appl Sci J 32:1789–1794

Sexena DP, Shukla SK, Kumar R (2011) Efficacy studies of in vitro screening of antiplasmodial activity by crude extracts of Diospyrosmelanoxylem. Res J Med Plant 5:312–320

Simonato JD, Guedes CL, Martinez CB (2008) Biochemical, physiological and histological changes in the neotropical fish Prochiloduslineatusexposed to diesel oil. Ecotoxicol Environ Saf 69:112–120

Sivakumar AVN, Singh G, Varshney VP (2010) Antioxidants supplementation on acid base balance during heat stress in goats. Asian-Aust J AnimSci 11:1462–1468

Souza AC, Marchesi SC, Ferraz RP, Lima GD, Oliveira JA, Machado-Neves M (2016) Effects of sodium arsenate and arsenite on male reproductive functions in wistar rats. J Toxicol Environ Health 79(6):274–286

Souza ACF, Bastos DSS, Sertorio MN, Santos FC, Ervilha LOG, de Oliveira LL, Machado-Neves M (2019) Combined effects of arsenic exposure and diabetes on male reproductive functions. Andrology 7(5):730–740

Susan A, Rajendran K, Sathvasivam K, krishnan Um (2019) An overview of plant-based interventions to ameliorate arsenic toxicity. Biomedicine & Pharmacotherapy 109:838–852

Tejada R, Mitchell IJC, Norman A, Marik JJ, Friedman S (1984) A test for the practical evaluation of male fertility by acridine orange (AO) fluorescence. FertilSteril 42:87–91

Wares MA, Awal MA, Das SK, Hannan MA, Anas MA, Latif MA, Masud N (2015) Chronic natural arsenic exposure affecting histoarchitecture of gonads in Black Bengal goats (Capra aegagrushircus). J Adv Vet Anim Res 2:128–133

Zubair M, Ahmad M, Jamil H, Deeba F (2016) Toxic effects of arsenic on semen and hormonal profile and their amelioration with vitamin E in teddy goat bucks. Andrologia. 48:1220–1228
Ethics declarations
Conflict of interest
The authors declare that they have no conflict of interest.
Additional information
Responsible Editor: Mohamed Abdel-Daim
Publisher's note
Springer Nature remains neutral with regard to jurisdictional claims in published maps and institutional affiliations.
About this article
Cite this article
Zubair, M., Ahmad, M., Saleemi, M.K. et al. Sodium arsenite toxicity on hematology indices and reproductive parameters in Teddy goat bucks and their amelioration with vitamin C. Environ Sci Pollut Res 27, 15223–15232 (2020). https://doi.org/10.1007/s11356-020-08049-z
Received:

Accepted:

Published:

Issue Date:

DOI: https://doi.org/10.1007/s11356-020-08049-z
Keywords
Semen

Blood

Hormones

Arsenic and bucks