Abstract
In the present lifestyle, we are continuously exposed to radiofrequency electromagnetic field (RF-EMF) radiation generated mainly by mobile phones (MP). Among other organs, our brain and hippocampus in specific, is the region where effect of any environmental perturbation is most pronounced. So, this study was aimed to examine changes in major parameters (oxidative stress, level of pro-inflammatory cytokines (PICs), hypothalamic-pituitary-adrenal (HPA) axis hormones, and contextual fear conditioning) which are linked to hippocampus directly or indirectly, upon exposure to mobile phone radiofrequency electromagnetic field (MP-RF-EMF) radiation. Exposure was performed on young adult male Wistar rats for 16 weeks continuously (2 h/day) with MP-RF-EMF radiation having frequency, power density, and specific absorption rate (SAR) of 1966.1 MHz, 4.0 mW/cm2, and 0.36 W/kg, respectively. Another set of animals kept in similar conditions without any radiation exposure serves as control. Towards the end of exposure period, animals were tested for fear memory and then euthanized to measure hippocampal oxidative stress, level of circulatory PICs, and stress hormones. We observed significant increase in hippocampal oxidative stress (p < 0.05) and elevated level of circulatory PICs viz. IL-1beta (p < 0.01), IL-6 (p < 0.05), and TNF-alpha (p < 0.001) in experimental animals upon exposure to MP-RF-EMF radiation. Adrenal gland weight (p < 0.001) and level of stress hormones viz. adrenocorticotropic hormone (ACTH) (p < 0.01) and corticosterone (CORT) (p < 0.05) were also found to increase significantly in MP-RF-EMF radiation-exposed animals as compared with control. However, alteration in contextual fear memory was not significant enough. In conclusion, current study shows that chronic exposure to MP-RF-EMF radiation emitted from mobile phones may induce oxidative stress, inflammatory response, and HPA axis deregulation. However, changes in hippocampal functionality depend on the complex interplay of several opposing factors that got affected upon MP-RF-EMF exposure.
Access options
Buy single article
Instant access to the full article PDF.
USD 39.95
Price excludes VAT (USA)
Tax calculation will be finalised during checkout.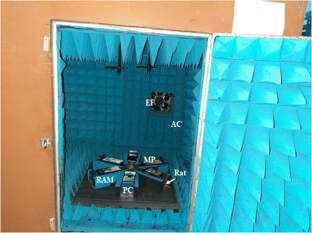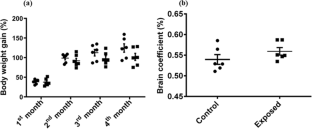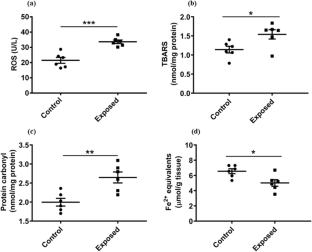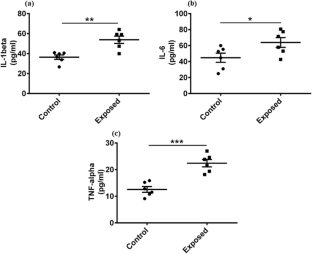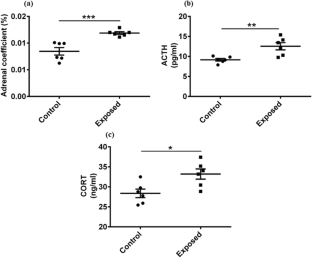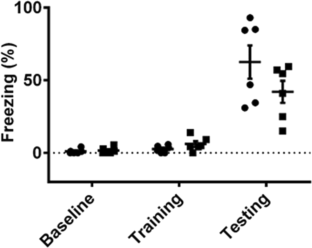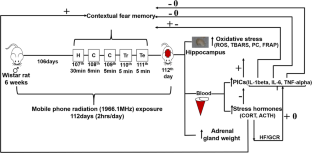 References
Arendash GW, Sanchez-Ramos J, Mori T, Mamcarz M, Lin X, Runfeldt M, Wang L, Zhang G, Sava V, Tan J, Cao C (2010) Electromagnetic field treatment protects against and reverses cognitive impairment in Alzheimer's disease mice. J Alzheimers Dis 19:191–210

Avci B, Akar A, Bilgici B, Tunçel ÖK (2012) Oxidative stress induced by 1.8 GHz radio frequency electromagnetic radiation and effects of garlic extract in rats. Int J Radiat Biol 88:799–805

Barthélémy A, Mouchard A, Bouji M, Blazy K, Puigsegur R, Villégier A-S (2016) Glial markers and emotional memory in rats following acute cerebral radiofrequency exposures. Environ Sci Pollut Res 23:25343–25355

Benzie IF, Strain JJ (1996) The ferric reducing ability of plasma (FRAP) as a measure of "antioxidant power": the FRAP assay. Anal Biochem 239:70–76

Besedovsky HO, del Rey A (1996) Immune-neuro-endocrine interactions: facts and hypotheses. Endocr Rev 17:64–102

Bilgici B, Akar A, Avci B, Tuncel OK (2013) Effect of 900 MHz radiofrequency radiation on oxidative stress in rat brain and serum. Electromagn Biol Med 32:20–29

Boitard C, Cavaroc A, Sauvant J, Aubert A, Castanon N, Layé S, Ferreira G (2014) Impairment of hippocampal-dependent memory induced by juvenile high-fat diet intake is associated with enhanced hippocampal inflammation in rats. Brain Behav Immun 40:9–17

Bouji M, Lecomte A, Hode Y, De Seze R, Villégier A-S (2012) Effects of 900 MHz radiofrequency on corticosterone, emotional memory and neuroinflammation in middle-aged rats. Exp Gerontol 47:444–451

Brigelius-Flohé R, Banning A, Kny M, Böl G-F (2004) Redox events in interleukin-1 signaling. Arch Biochem Biophys 423:66–73

Burton MD, Sparkman NL, Johnson RW (2011) Inhibition of interleukin-6 trans-signaling in the brain facilitates recovery from lipopolysaccharide-induced sickness behavior. J Neuroinflammation 8:54

Capuron L, Miller AH (2004) Cytokines and psychopathology: lessons from interferon-α. Biol Psychiatry 56:819–824

Chen YB et al (2011) Effect of electromagnetic pulses (EMP) on associative learning in mice and a preliminary study of mechanism. Int J Radiat Biol 87:1147–1154

Cibelli M, Fidalgo AR, Terrando N, Ma D, Monaco C, Feldmann M, Takata M, Lever IJ, Nanchahal J, Fanselow MS, Maze M (2010) Role of interleukin-1β in postoperative cognitive dysfunction. Ann Neurol 68:360–368

Cohen S, Janicki-Deverts D, Doyle WJ, Miller GE, Frank E, Rabin BS, Turner RB (2012) Chronic stress, glucocorticoid receptor resistance, inflammation, and disease risk. Proc Natl Acad Sci 109:5995–5999

Cole SW (2008) Social regulation of leukocyte homeostasis: the role of glucocorticoid sensitivity. Brain Behav Immun 22:1049–1055

Conrad CD, Magariños AM, LeDoux JE, McEwen BS (1999) Repeated restraint stress facilitates fear conditioning independently of causing hippocampal CA3 dendritic atrophy. Behav Neurosci 113:902

Corda S, Laplace C, Vicaut E, Duranteau J (2001) Rapid reactive oxygen species production by mitochondria in endothelial cells exposed to tumor necrosis factor-α is mediated by ceramide. Am J Respir Cell Mol Biol 24:762–768

Dantzer R (2004) Cytokine-induced sickness behaviour: a neuroimmune response to activation of innate immunity. Eur J Pharmacol 500:399–411

de Quervain D, Schwabe L, Roozendaal B (2017) Stress, glucocorticoids and memory: implications for treating fear-related disorders. Nat Rev Neurosci 18:7

Donzis EJ, Tronson NC (2014) Modulation of learning and memory by cytokines: signaling mechanisms and long term consequences. Neurobiol Learn Mem 115:68–77

Doyon P, Johansson O (2017) Electromagnetic fields may act via calcineurin inhibition to suppress immunity, thereby increasing risk for opportunistic infection: conceivable mechanisms of action. Med Hypotheses 106:71–87

Dubey A, Forster MJ, Lal H, Sohal RS (1996) Effect of age and caloric intake on protein oxidation in different brain regions and on behavioral functions of the mouse. Arch Biochem Biophys 333:189–197

Dubreuil D, Jay T, Edeline J-M (2003) Head-only exposure to GSM 900-MHz electromagnetic fields does not alter rat's memory in spatial and non-spatial tasks. Behav Brain Res 145:51–61

Durney CH, Iskander MF, Massoudi H, Johnson CC (1979) An empirical formula for broad-band SAR calculations of prolate spheroidal models of humans and animals. IEEE Trans Microwave Theory Tech 27:758–763

Elenkov IJ, Chrousos GP (1999) Stress hormones, Th1/Th2 patterns, pro/anti-inflammatory cytokines and susceptibility to disease. Trends Endocrinol Metab 10:359–368

Ertilav K, Uslusoy F, Ataizi S, Nazıroğlu M (2018) Long term exposure to cell phone frequencies (900 and 1800 MHz) induces apoptosis, mitochondrial oxidative stress and TRPV1 channel activation in the hippocampus and dorsal root ganglion of rats. Metab Brain Dis 33:753–763

Eyre MD, Richter-Levin G, Avital A, Stewart MG (2003) Morphological changes in hippocampal dentate gyrus synapses following spatial learning in rats are transient. Eur J Neurosci 17:1973–1980

Foster KR, Glaser R (2007) Thermal mechanisms of interaction of radiofrequency energy with biological systems with relevance to exposure guidelines. Health Phys 92:609–620

Friedman J, Kraus S, Hauptman Y, Schiff Y, Seger R (2007) Mechanism of short-term ERK activation by electromagnetic fields at mobile phone frequencies. Biochem J 405:559–568

Gautam R, Singh KV, Nirala J, Murmu NN, Meena R, Rajamani P (2018) Oxidative stress-mediated alterations on sperm parameters in male Wistar rats exposed to 3G mobile phone radiation. Andrologia:e13201

Glowinski J, Iversen LL (1966) Regional studies of catecholamines in the rat brain-I: the disposition of [3H] norepinephrine, [3H] dopamine and [3H] dopa in various regions of the brain. J Neurochem 13:655–669

Goosens KA, Sapolsky RM (2007) Stress and glucocorticoid contributions to normal and pathological aging. In: Riddle DR (ed) Brain aging: models, methods, and mechanisms. CRC Press, p 305

Goshen I, Avital A, Kreisel T, Licht T, Segal M, Yirmiya R (2009) Environmental enrichment restores memory functioning in mice with impaired IL-1 signaling via reinstatement of long-term potentiation and spine size enlargement. J Neurosci 29:3395–3403

Hao D, Yang L, Chen S, Tong J, Tian Y, Su B, Wu S, Zeng Y (2013) Effects of long-term electromagnetic field exposure on spatial learning and memory in rats. Neurol Sci 34:157–164

Hayashi I, Morishita Y, Imai K, Nakamura M, Nakachi K, Hayashi T (2007) High-throughput spectrophotometric assay of reactive oxygen species in serum. Mutat Res 631:55–61. https://doi.org/10.1016/j.mrgentox.2007.04.006

Hein AM et al (2010) Sustained hippocampal IL-1β overexpression impairs contextual and spatial memory in transgenic mice. Brain Behav Immun 24:243–253

Hirose H, Sasaki A, Ishii N, Sekijima M, Iyama T, Nojima T, Ugawa Y (2010) 1950 MHz IMT-2000 field does not activate microglial cells in vitro. Bioelectromagnetics 31:104–112

Holland PC, Bouton ME (1999) Hippocampus and context in classical conditioning. Curr Opin Neurobiol 9:195–202

Hu S, Peterson PK, Chao CC (1998) κ-Opioid modulation of human microglial cell superoxide anion generation. Biochem Pharmacol 56:285–288

ICNIRP (1998) Guidelines for limiting exposure to time-varying electric, magnetic, and electromagnetic fields (up to 300 GHz). Health Phys 74:494–522

Jin YB, Choi H-D, Kim BC, Pack J-K, Kim N, Lee Y-S (2012) Effects of simultaneous combined exposure to CDMA and WCDMA electromagnetic fields on serum hormone levels in rats. J Radiat Res 54:430–437

Kaur J, Dhaunsi GS, Turner RB (2004) Interleukin-1 and nitric oxide increase NADPH oxidase activity in human coronary artery smooth muscle cells. Med Princ Pract 13:26–29

Kesari KK, Meena R, Nirala J, Kumar J, Verma H (2014) Effect of 3G cell phone exposure with computer controlled 2-D stepper motor on non-thermal activation of the hsp27/p38MAPK stress pathway in rat brain. Cell Biochem Biophys 68:347–358

Koivisto M, Krause CM, Revonsuo A, Laine M, Hämäläinen H (2000) The effects of electromagnetic field emitted by GSM phones on working memory. Neuroreport 11:1641–1643

Kumlin T, Iivonen H, Miettinen P, Juvonen A, van Groen T, Puranen L, Pitkäaho R, Juutilainen J, Tanila H (2007) Mobile phone radiation and the developing brain: behavioral and morphological effects in juvenile rats. Radiat Res 168:471–479

Lauer O, Frei P, Gosselin MC, Joseph W, Röösli M, Fröhlich J (2013) Combining near-and far-field exposure for an organ-specific and whole-body RF-EMF proxy for epidemiological research: a reference case. Bioelectromagnetics 34:366–374

Lemaire V, Koehl M, Le Moal M, Abrous DN (2000) Prenatal stress produces learning deficits associated with an inhibition of neurogenesis in the hippocampus. Proc Natl Acad Sci 97:11032–11037

Li J, Li HX, Shou XJ, Xu XJ, Song TJ, Han SP, Zhang R, Han JS (2016) Effects of chronic restraint stress on social behaviors and the number of hypothalamic oxytocin neurons in male rats. Neuropeptides 60:21–28

Lu Y et al (2014) Differential pro-inflammatory responses of astrocytes and microglia involve STAT3 activation in response to 1800 MHz radiofrequency fields. PLoS One 9:e108318

Maier R, Greter SE, Maier N (2004) Effects of pulsed electromagnetic fields on cognitive processes—a pilot study on pulsed field interference with cognitive regeneration. Acta Neurol Scand 110:46–52

Marin I, Kipnis J (2013) Learning and memory… and the immune system. Learn Mem 20:601–606

Marino AA, Wolcott RM, Chervenak R, Jourd'heuil F, Nilsen E, Frilot C II, Pruett SB (2001) Coincident nonlinear changes in the endocrine and immune systems due to low-frequency magnetic fields. Neuroimmunomodulation 9:65–77

Megha K, Deshmukh PS, Banerjee BD, Tripathi AK, Ahmed R, Abegaonkar MP (2015) Low intensity microwave radiation induced oxidative stress, inflammatory response and DNA damage in rat brain. Neurotoxicology 51:158–165

Melmed S, Polonsky K, Larsen P, Kronenberg H (2011) The physiology and pathology of the female reproductive axis. In: Williams textbook of endocrinology, 12th edn. Elsevier-Health Sciences Division, Philadelphia, pp 541–615

Mendes AF, Caramona M, Carvalho A, Lopes M (2003) Hydrogen peroxide mediates interleukin-1β-induced AP-1 activation in articular chondrocytes: implications for the regulation of iNOS expression. Cell Biol Toxicol 19:203–214

Mokuno K, Ohtani K, Suzumura A, Kiyosawa K, Hirose Y, Kawai K, Kato K (1994) Induction of manganese superoxide dismutase by cytokines and lipopolysaccharide in cultured mouse astrocytes. J Neurochem 63:612–616

Moore AH, Wu M, Shaftel SS, Graham KA, O'Banion MK (2009) Sustained expression of interleukin-1β in mouse hippocampus impairs spatial memory. Neuroscience 164:1484–1495

Mostafa RM, Mostafa YM, Ennaceur A (2002) Effects of exposure to extremely low-frequency magnetic field of 2 G intensity on memory and corticosterone level in rats. Physiol Behav 76:589–595

Narayanan SN, Kumar RS, Karun KM, Nayak SB, Bhat PG (2015) Possible cause for altered spatial cognition of prepubescent rats exposed to chronic radiofrequency electromagnetic radiation. Metab Brain Dis 30:1193–1206

Narayanan SN, Mohapatra N, John P, Nalini K, Kumar RS, Nayak SB, Bhat PG (2018) Radiofrequency electromagnetic radiation exposure effects on amygdala morphology, place preference behavior and brain caspase-3 activity in rats. Environ Toxicol Pharmacol 58:220–229

Nittby H, Grafström G, Tian DP, Malmgren L, Brun A, Persson BR, Salford LG, Eberhardt J (2008) Cognitive impairment in rats after long-term exposure to GSM-900 mobile phone radiation. Bioelectromagnetics 29:219–232

Ntzouni M, Stamatakis A, Stylianopoulou F, Margaritis L (2011) Short-term memory in mice is affected by mobile phone radiation. Pathophysiology 18:193–199

Ohkawa H, Ohishi N, Yagi K (1979) Assay for lipid peroxides in animal tissues by thiobarbituric acid reaction. Anal Biochem 95:351–358

Othman H, Ammari M, Sakly M, Abdelmelek H (2017) Effects of repeated restraint stress and WiFi signal exposure on behavior and oxidative stress in rats. Metab Brain Dis 32:1459–1469

Özmen İ, Nazıroğlu M, Alici HA, Şahin F, Cengiz M, Eren I (2007) Spinal morphine administration reduces the fatty acid contents in spinal cord and brain by increasing oxidative stress. Neurochem Res 32:19–25

Paulraj R, Behari J (2004) Radio frequency radiation effects on protein kinase C activity in rats' brain. Mutat Res 545:127–130

Pawlyk AC, Jha SK, Brennan FX, Morrison AR, Ross RJ (2005) A rodent model of sleep disturbances in posttraumatic stress disorder: the role of context after fear conditioning. Biol Psychiatry 57:268–277

Petitdant N, Lecomte A, Robidel F, Gamez C, Blazy K, Villégier AS (2016) Cerebral radiofrequency exposures during adolescence: impact on astrocytes and brain functions in healthy and pathologic rat models. Bioelectromagnetics 37:338–350

Prochnow N et al (2011) Electromagnetic field effect or simply stress? Effects of UMTS exposure on hippocampal longterm plasticity in the context of procedure related hormone release. PLoS One 6:e19437

Roozendaal B (2002) Stress and memory: opposing effects of glucocorticoids on memory consolidation and memory retrieval. Neurobiol Learn Mem 78:578–595

Saikhedkar N, Bhatnagar M, Jain A, Sukhwal P, Sharma C, Jaiswal N (2014) Effects of mobile phone radiation (900 MHz radiofrequency) on structure and functions of rat brain. Neurol Res 36:1072–1079

Sandi C, Merino JJ, Cordero MI, Touyarot K, Venero C (2001) Effects of chronic stress on contextual fear conditioning and the hippocampal expression of the neural cell adhesion molecule, its polysialylation, and L1. Neuroscience 102:329–339

Sapolsky RM, Krey LC, McEwen BS (1984) Glucocorticoid-sensitive hippocampal neurons are involved in terminating the adrenocortical stress response. Proc Natl Acad Sci 81:6174–6177

Shehu A, Mohammed A, Magaji RA, Muhammad MS (2016) Exposure to mobile phone electromagnetic field radiation, ringtone and vibration affects anxiety-like behaviour and oxidative stress biomarkers in albino Wistar rats. Metab Brain Dis 31:355–362

Silverman MN, Pearce BD, Biron CA, Miller AH (2005) Immune modulation of the hypothalamic-pituitary-adrenal (HPA) axis during viral infection. Viral Immunol 18:41–78

Song C, Phillips AG, Leonard B (2003) Interleukin 1 beta enhances conditioned fear memory in rats: possible involvement of glucocorticoids. Eur J Neurosci 18:1739–1743

Szemerszky R, Zelena D, Barna I, Bárdos G (2010) Stress-related endocrinological and psychopathological effects of short-and long-term 50 Hz electromagnetic field exposure in rats. Brain Res Bull 81:92–99

Thorlin T et al (2006) Exposure of cultured astroglial and microglial brain cells to 900 MHz microwave radiation. Radiat Res 166:409–421

Tracey KJ (2002) The inflammatory reflex. Nature 420:853

Tuschl H, Novak W, Molla-Djafari H (2006) In vitro effects of GSM modulated radiofrequency fields on human immune cells. Bioelectromagnetics 27:188–196

Webster JI, Tonelli L, Sternberg EM (2002) Neuroendocrine regulation of immunity. Annu Rev Immunol 20:125–163

Wilson CB, McLaughlin LD, Nair A, Ebenezer PJ, Dange R, Francis J (2013) Inflammation and oxidative stress are elevated in the brain, blood, and adrenal glands during the progression of post-traumatic stress disorder in a predator exposure animal model. PLoS One 8:e76146

Yakymenko I, Tsybulin O, Sidorik E, Henshel D, Kyrylenko O, Kyrylenko S (2016) Oxidative mechanisms of biological activity of low-intensity radiofrequency radiation. Electromagnetic Biology and Medicine 35:186–202

Yang D, Elner SG, Bian Z-M, Till GO, Petty HR, Elner VM (2007) Pro-inflammatory cytokines increase reactive oxygen species through mitochondria and NADPH oxidase in cultured RPE cells. Exp Eye Res 85:462–472

Yang X et al (2010) The role of the JAK2-STAT3 pathway in pro-inflammatory responses of EMF-stimulated N9 microglial cells. J Neuroinflammation 7:54

Yirmiya R, Goshen I (2011) Immune modulation of learning, memory, neural plasticity and neurogenesis. Brain Behav Immun 25:181–213

Yirmiya R, Winocur G, Goshen I (2002) Brain interleukin-1 is involved in spatial memory and passive avoidance conditioning. Neurobiol Learn Mem 78:379–389

Ziegler DR, Herman JP (2002) Neurocircuitry of stress integration: anatomical pathways regulating the hypothalamo-pituitary-adrenocortical axis of the rat. Integr Comp Biol 42:541–551
Acknowledgments
The authors are thankful to the Council of Scientific and Industrial Research (CSIR, Award no. 09/263(1005)/2013-EMR-I), New Delhi for the fellowship and the Advanced Instrumentation Research Facility (AIRF), JNU, New Delhi for assistance in experiments.
Additional information
Responsible editor: Philippe Garrigues
Publisher's note
Springer Nature remains neutral with regard to jurisdictional claims in published maps and institutional affiliations.
About this article
Cite this article
Singh, K.V., Gautam, R., Meena, R. et al. Effect of mobile phone radiation on oxidative stress, inflammatory response, and contextual fear memory in Wistar rat. Environ Sci Pollut Res 27, 19340–19351 (2020). https://doi.org/10.1007/s11356-020-07916-z
Received:

Accepted:

Published:

Issue Date:

DOI: https://doi.org/10.1007/s11356-020-07916-z
Keywords