Abstract
By collecting daily data on measles cases, air pollutants, and meteorological data from 2005 to 2009 in Chengguan District of Lanzhou City, semi-parametric generalized additive model (GAM) was used to quantitatively study the impact of air pollutants and meteorological factors on daily measles cases. The results showed that air pollutants and meteorological factors had effect on the number of daily measles cases, and there was a certain lag effect. Except for SO2 and relative humidity, other factors showed statistically significant associations with daily measles cases: NO2 lag 6 days, PM10 and maximum temperature lag 5 days, minimum temperature and average temperature and average air pressure lag 4 days, visibility, and wind speed lag 3 days had the greatest impact on the number of daily measles cases. Under the optimum lag conditions, the number of daily measles cases increased by 15.1%, 17.6%, 7.0%, 116.6%, 98.6%, 85.7%, and 14.4% with the increase of 1 IQR in SO2, NO2, PM10, maximum temperature, minimum temperature, average temperature, and wind speed; with the increase of 1 IQR in average pressure, relative humidity, visibility, and daily measles cases decreased by 12.8%, 9.7%, and 13.1%, respectively. And different factors showed different seasonal effects. The effects of SO2 and temperature factors on daily measles cases were greater in spring and winter, but PM10 in summer.
Access options
Buy single article
Instant access to the full article PDF.
USD 39.95
Price excludes VAT (USA)
Tax calculation will be finalised during checkout.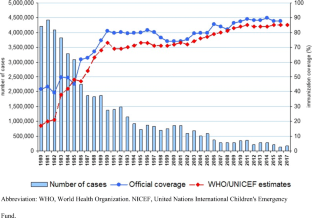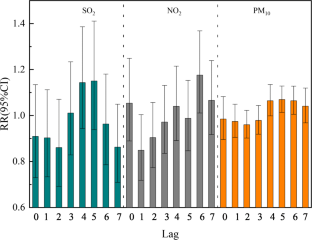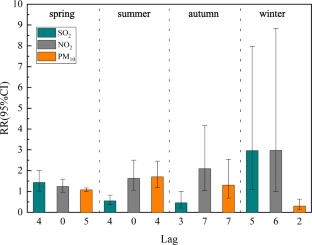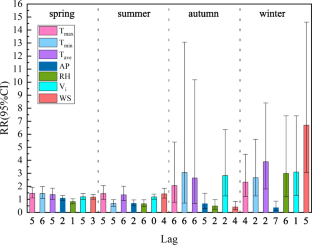 References
Akaike H (1970) Statistical predictor identification. Ann Inst Stat Math 22(1):203–217

Arnold C (2014) Disease burdens associated with PM2.5 exposure: how a new model provided global estimates. Environ. Health Perspect 122(4):397–403

Chauhan AJ (2003) Air pollution and infection in respiratory illness. Br Med Bull 68(1):95–112

Chen PS, Tsai FT, Lin CK, Yang CY, Chan CC, Young CY, Lee CH (2010) Ambient influenza and avian influenza virus during dust storm days and background days. Environ Health Perspect 118(9):1211–1216

Chen BH, Sumi A, Toyoda S, Hu Q, Zhou DJ, Mise K et al (2015) Time series analysis of reported cases of hand, foot, and mouth disease from 2010 to 2013 in WuHan, China. BMC Infect Dis 15(1):495–509

Chen G, Zhang W, Li S, Williams G, Liu C, Morgan GG, Jaakkola JJK, Guo Y (2017) Is short-term exposure to ambient fine particles associated with measles incidence in China? A multi-city study. Environ Res 156:306–311

Chow JC (2006) Health effects of fine particulate air pollution: lines that connect. J Air Waste Manage Assoc 56(6):707–708

Cui J, Yin P, Wang LJ, Liu SW, Li YC, Liu YN et al (2016) Burden of chronic obstructive pulmonary disease attributable to ambient ozone pollution in 1990 and 2013 in China. Chin J Prev Med 50(5):391–396

De Jong JG (1965) The survival of measles virus in air, in relation to the epidemiology of measles. Arch Gesamte Virusforsch 16:97–102

De Jong JG, Winkler KC (1963) Survival of measles virus in air. Antonie Van Leeuwenhoek 29(1):327–328

Dockery DW (2009) Health effects of particulate air pollution. Ann Epidemiol 19:257–263

Dominici F, Mcdermott A, Zeger SL, Samet JM (2002) On the use of generalized additive models in time-series studies of air pollution and health. Am J Epidemiol 156(3):193–203

Faustini A, Rapp R, Forastiere F (2014) Nitrogen dioxide and mortality: review and meta-analysis of long-term studies. Eur Respir J 44(3):744–753

Forouzanfar MH, Alexander L, Anderson HR, Bachman VF, Biryukov S, Brauer M et al (2015) Global, regional, and national comparative risk assessment of 79 behavioural, environmental and occupational, and metabolic risks or clusters of risks in 188 countries, 1990~2013: a systematic analysis for the Global Burden of Disease Study, 2013. Lancent. 386:2287–2323

Hao L, Ma C, Ma J, An Z, Luo H, Liang X (2010) Analysis on epidemiological characteristics of measles in China from 2008-2009. Chin J Vaccines Vaccination 16(04):293-296+370

Harigane K, Sumi A, Mise K, Kobayashi N (2015) The role of temperature in reported chickenpox cases from 2000 to 2011 in Japan. Epidemiol Infect 143(12):2666–2678

Hastie TJ, Tibshirani RJ (1986) Generalized additive models. Stat Sci 1(3):297–310

Holzmann H, Hengel H, Tenbusch M, Doerr HW (2016) Eradication of measles: remaining challenges. Med Microbiol Immunol 205(3):201–208

Hong YC, Leem JH, Ha EH, Christiani DC (1999) PM(10) exposure, gaseous pollutants, and daily mortality in Inchon, South Korea. Environ Health Perspect 107(11):873–878

Jiang DB, Wang SG, Lang XM, Shang KZ, Yang DB (2001) The characteristics of stratification of lower-layer atmospheric temperature and their relations with air pollution in Lanzhou proper. J Lanzhou Univ (04):133–138

Katsouyanni K, Touloumi G, Spix C, Schwartz J, Balducci F, Medina S, Rossi G, Wojtyniak B, Sunyer J, Bacharova L, Schouten JP, Ponka A, Anderson HR (1997) Short term effects of ambient sulphur dioxide and particulate matter on mortality in 12 European cities: results from time series data from the aphea project. BMJ 314(7095):1658–1663

Lee JT, Kim H, Hong YC, Kwon HJ, Schwartz J, Christiani DC (2000) Air pollution and daily mortality in seven major cities of Korea, 1991-1997. Environ Res 84(3):247–254

Liu YY, Liu ZD, Lao JH, Zhang J, Jiang BF (2018) Effect of meteorological factors and their interaction on hand-foot-mouth disease in Nanning city, China during 2008 to 2011. J Shandong Univ Health Sci 56(8):95–100

Ma YX (2007) Spatio-temporal distribution characteristics of several major infectious diseases in Gansu Province and their response and prediction to climate change. Doctoral dissertation, Lanzhou University

Ma C, Luo HM, An ZJ, Zhang P, Wen N, Xia W et al (2008) Analysis on epidemiological characteristic and measures of measles control in China during 2006-2007. Chin J Vaccines Immun (03):208–213

Ma C, Jia HM, Su QR (2016) Surveillance and response to measles outbreaks in China, 2009-2015. Chin J Vaccines Immun (5):481–486

Ma YX, Zhou J, Yang S, Zhao Y, Zheng X (2017) Assessment for the impact of dust events on measles incidence in western China. Atmos Environ 157:1–9

Maji S, Ahmed S, Siddiqui WA, Ghosh S (2016) Short term effects of criteria air pollutants on daily mortality in Delhi, India. Atmos Environ 150:210–219

Moss WJ (2017) Measles. Lancet 390(10111):2490–2502

Nel A (2005) Atmosphere: enhanced: air pollution-related illness: effects of particles. Science 308(5723):804–806

Qi HC, Chen Y, Xu DL, Su HL, Zhan LW, Xu ZY, Huang Y, He Q, Hu Y, Lynn H, Zhang Z (2018) Impact of meteorological factors on the incidence of childhood hand, foot, and mouth disease (hfmd) analyzed by dlnms-based time series approach. Infect Dis Poverty 7(1):7–17

Qian Z, He Q, Lin HM, Kong L, Bentley CM, Liu W, Zhou D (2008) High temperatures enhanced acute mortality effects of ambient particle pollution in the "oven" city of Wuhan, China. Environ Health Perspect 116(9):1172–1178

Ren C, Tong S (2006) Temperature modifies the health effects of particulate matter in Brisbane, Australia. Int J Biometeorol 51(2):87–96

Ruiz MC, Leon T, Diaz Y, Michelangeli F (2009) Molecular biology of rotavirus entry and replication. Sci World J 9:1476–1497

Sedlmaier N, Hoppenheidt K, Krist H, Lehmann S, Lang HM, Büttner (2009) Generation of avian influenza virus (aiv) contaminated fecal fine particulate matter (pm2.5): genome and infectivity detection and calculation of immission. Vet Microbiol 139(1–2):156–164

Sun WJ, Liu M, Yin Q, Tong JL, Huang ZW (2016) Changes of air pollution in Lanzhou in recent ten years and suggestions for its control. Sci Tech Inf Gansu 45(10):8–13

Tao Y, Song J, Qiang L, Wang Y, Li ZB (2014) Time series analysis between meteorological factors and measles in Chengguan District, Lanzhou. China Environ Sci (11):2964–2969

Tian L, Liang F, Xu M, Jia L, Pan X, Clements ACA (2018) Spatio-temporal analysis of the relationship between meteorological factors and hand-foot-mouth disease in Beijing, China. BMC Infect Dis 18(1):158–168

Wang WJ, Zhang J, Zhang CJ, Zhang CZ, Huang FS (2018) A case crossover study on the impact of daily average temperature on the incidence of measles, Jining city. Prev Med Trib 24(020):81–83

WHO (2019) Media centre: measles. https://www.who.int/en/news-room/fact-sheets/detail/measles. Date accessed: 15 Aug 2019

Wolfson LJ, Hersh BS, Strebel PM, Gacic-Dobo M, Hoekstra EJ, Mcfarland JW (2007) Has the 2005 measles mortality reduction goal been achieved? A natural history modelling study. Lancet. 369(9557):191–200

Wong CM, Ou CQ, Chan KP, Chau YK, Thach TQ, Yang L, Chung RY, Thomas GN, Peiris JS, Wong TW, Hedley AJ, Lam TH (2008) The effects of air pollution on mortality in socially deprived urban areas in Hong Kong, China. Environ Health Perspect 116(9):1189–1194

Wu PY, Li YC, Wu HDI (2007) Risk factors for chickenpox incidence in Taiwan from a large-scale computerized database. Int J Dermatol 46(4):362–366

Xue XP, Zhang ZQ, Zhang YP (2009) The relationship between measles incidence and climate change in Taiyuan. Prev Med Trib 15(11):1071–1073

Yang Q, Fu C, Wang N, Dong Z, Hu W, Wang M (2014) The effects of weather conditions on measles incidence in Guangzhou, southern China. Hum Vaccines Immunother 10(4):1104–1110

Yang Y, Geng X, Liu X, Wang W, Zhang J (2016) Association between the incidence of varicella and meteorological conditions in Jinan, eastern China, 2012–2014. BMC Infect Dis 16(1):179–187

Zhang HM, Ruan CL, Guo LP, Wang H (2014) The meteorological epidemiological characteristic analysis and discussion of measles onset in Handan during 1972-2010. Chinese J Pest Control (5):480–483

Zhang MX, Ai JW, Li Y, Zhang BY, Zhang WH (2016) Measles outbreak among adults, northeastern china, 2014. Emerging Infect Dis 22(1):144–146
Acknowledgments
We appreciate the Center for Disease Control and Prevention of the Chengguan District of Lanzhou for providing disease data, Environmental Monitoring Station of Lanzhou for providing ambient air pollution data, and the Meteorological Bureau of Gansu Province for providing meteorological data. Also, we thank the editors and reviewers for helping improve the quality of this article.
Funding
This work was supported by the Premium Funding Project for Academic Human Resources Development in Beijing Union University: BPHR2017CZ03 and the National Key R&D Program of China under contract 2016YFC0206201.
Additional information
Responsible Editor: Philippe Garrigues
Publisher's note
Springer Nature remains neutral with regard to jurisdictional claims in published maps and institutional affiliations.
Electronic supplementary material
About this article
Cite this article
Peng, L., Zhao, X., Tao, Y. et al. The effects of air pollution and meteorological factors on measles cases in Lanzhou, China. Environ Sci Pollut Res 27, 13524–13533 (2020). https://doi.org/10.1007/s11356-020-07903-4
Received:

Accepted:

Published:

Issue Date:

DOI: https://doi.org/10.1007/s11356-020-07903-4
Keywords
Measles

Air pollution

Meteorological factors

Generalized additive model

Lanzhou