Abstract
The present study assessed the phytotoxic and cytotoxic potential of the essential oil (EO) extracted from aboveground parts of Mentha longifolia (L.) Huds. Gas chromatography–mass spectrometry revealed 39 compounds constituting 99.67% of the EO. The EO was rich in monoterpenoids (mostly oxygenated monoterpenes), which accounted for 89.28% of the oil. The major components in EO were monoterpene ketones such as piperitone oxide (53.83%) and piperitenone oxide (11.52%), followed by thymol (5.80%), and (E)-caryophyllene (4.88%). The phytotoxic activities of EO were estimated against Cyperus rotundus, Echinochloa crus-galli, and Oryza sativa (rice) through pre- and post-emergence assays at concentrations ranging from 10 to 250 μg/ml and 0.5–5%, respectively. In pre-emergence assay, the phytotoxic effect of EO was most pronounced on C. rotundus, thereby significantly affecting percent germination, plantlet growth, and chlorophyll content. On the contrary, the impact was comparatively lesser on rice, with ~ 40% germination in response to 250 μg/ml of EO treatment. In the post-emergence assay, the spray treatment of EO caused a loss of chlorophyll and wilting in test plants, and subsequently affected the growth of plants, even leading to death in some cases. The cytotoxic activity of EO (at 2.5–50 μg/ml) was studied in meristem cells in onion (Allium cepa L.) root tips. EO exposure to the onion roots induced various chromosomal aberrations such as chromosomal bridges, c-mitosis, stickiness, vagrant chromosomes, etc., and negatively affected the mitotic index. At 50 μg/ml, EO treatment triggered the complete death of roots. The study concludes that M. longifolia EO has phytotoxic activities due to the mito-depressive effect, along with other physiological effects on target plants. Therefore, EO of M. longifolia could be developed into a novel bioherbicide for sustainable management of weeds in agricultural systems.
Access options
Buy single article
Instant access to the full article PDF.
US$ 39.95
Tax calculation will be finalised during checkout.
Subscribe to journal
Immediate online access to all issues from 2019. Subscription will auto renew annually.
US$ 79
Tax calculation will be finalised during checkout.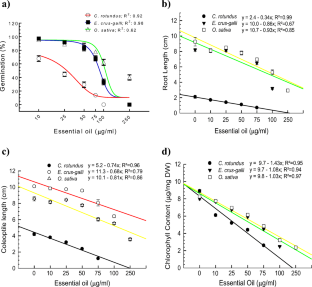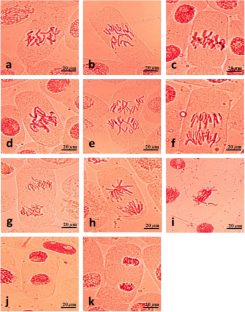 References
Adams RP (2007) Identification of essential oil components by gas chromatography/mass spectrometry, 4th edn. Allured Publishing Corporation, Carol Stream

Amri I, Gargouri S, Hamrouni L, Hanana M, Fezzani T, Jamoussi B (2012) Chemical composition, phytotoxic and antifungal activities of Pinus pinea essential oil. J Pest Sci 85:199–207. https://doi.org/10.1007/s10340-012-0419-0

Angelini LG, Carpanese G, Cioni PL, Morelli I, Macchia M, Flamini G (2003) Essential oils from Mediterranean Lamiaceae as weed germination inhibitors. J Agric Food Chem 51:6158–6164. https://doi.org/10.1021/jf0210728

Anwar F, Alkharfy KM, Najeeb-ur-Rehman AEHK, Gilani AUH (2017) Chemo-geographical variations in the composition of volatiles and the biological attributes of Mentha longifolia (L.) essential oils from Saudi Arabia. Int J Pharmacol 13:408–424. https://doi.org/10.3923/ijp.2017.408.424

Aragão FB, Palmieri MJ, Ferreira A, Costa AV, Queiroz VT, Pinheiro PF, Andrade-Vieira LF (2015) Phytotoxic and cytotoxic effects of Eucalyptus essential oil on lettuce (Lactuca sativa L.). Allelopathy J 35:259–272

Arnon DI (1949) Copper enzymes in isolated chloroplasts: polyphenoloxidase in Beta vulgaris. Plant Physiol 24:1–15. https://doi.org/10.1104/pp.24.1.1

Asghari B, Zengin G, Bahadori MB, Abbas-Mohammadi M, Dinparast L (2018) Amylase, glucosidase, tyrosinase, and cholinesterases inhibitory, antioxidant effects, and GC-MS analysis of wild mint (Mentha longifolia var. calliantha) essential oil: a natural remedy. Eur J Integr Med 22:44–49. https://doi.org/10.1016/j.eujim.2018.08.004

Azirak S, Karaman S (2008) Allelopathic effect of some essential oils and components on germination of weed species. Acta Agr Scand B-S P 58:88–92. https://doi.org/10.1080/09064710701228353

Bakkali F, Averbeck S, Averbeck D, Idaomar M (2008) Biological effects of essential oils–a review. Food Chem Toxicol 46:446–475. https://doi.org/10.1016/j.fct.2007.09.106

Barra A (2009) Factors affecting chemical variability of essential oils: a review of recent developments. Nat Prod Commun 4:1147– 1154. https://doi.org/10.1177/1934578x0900400827

Batish DR, Singh HP, Kohli RK, Kaur S (2008) Eucalyptus essential oil as a natural pesticide. For Ecol Manag 256:2166–2174. https://doi.org/10.1016/j.foreco.2008.08.008

Batish DR, Singh HP, Kaur M, Kohli RK, Singh S (2012) Chemical characterization and phytotoxicity of volatile essential oil from leaves of Anisomeles indica (Lamiaceae). Biochem Syst Ecol 41:104–109. https://doi.org/10.1016/j.bse.2011.12.017

Brada M, Bezzina M, Marlier M, Lognay GC (2006) Chemical composition of the leaf oil of Mentha rotundifolia (L.) from Algeria. J Essent Oil Res 18:663–665. https://doi.org/10.1080/10412905.2006.9699198

Brahmi F, Khodir M, Mohamed C, Pierre D (2017) Chemical composition and biological activities of Mentha species, in Aromatic and Medicinal Plants - Back to Nature, ed Hany A. El-Shemy, IntechOpen, https://doi.org/10.5772/67291. Available from: https://www.intechopen.com/books/aromatic-and-medicinal-plants-back-to-nature/chemical-composition-and-biological-activities-of-mentha-species

Carvalho A, Leal F, Matos M, Lima-Brito J (2018) Effects of heat stress in the leaf mitotic cell cycle and chromosomes of four wine-producing grapevine varieties. Protoplasma 255:1725–1740. https://doi.org/10.1007/s00709-018-1267-4

Çelik TA, Aslantürk ÖS (2010) Evaluation of cytotoxicity and genotoxicity of Inula viscosa leaf extracts with Allium test. Biomed Res Int 2010(189252):1–8. https://doi.org/10.1155/2010/189252

de Assis Alves T, Pinheiro PF, Praça-Fontes MM, Andrade-Vieira LF, Corrêa KB, de Assis Alves T, da Cruz FA, Júnior VL, Ferreira A, Soares TCB (2018) Toxicity of thymol, carvacrol and their respective phenoxyacetic acids in Lactuca sativa and Sorghum bicolor. Ind Crop Prod 114:59–67. https://doi.org/10.1016/j.indcrop.2018.01.071

El-Ghamery AA, El-Kholy MA, El-Yousser MA (2003) Evaluation of cytological effects of Zn2+ in relation to germination and root growth of Nigella sativa L. and Triticum aestivum L. Mutat Res 537:29–41. https://doi.org/10.1016/S1383-5718(03)00052-4

Fagodia SK, Singh HP, Batish DR, Kohli RK (2017) Phytotoxicity and cytotoxicity of Citrus aurantiifolia essential oil and its major constituents: limonene and citral. Ind Crop Prod 108:708–715. https://doi.org/10.1016/j.indcrop.2017.07.005

Freitas AS, Cunha IMF, Andrade-Vieira LF, Techio VH (2016) Effect of SPL (spent pot liner) and its main components on root growth, mitotic activity and phosphorylation of histone H3 in Lactuca sativa L. Ecotoxicol Environ Saf 124:426–434. https://doi.org/10.1016/j.ecoenv.2015.11.017

Gaba S, Fried G, Kazakou E, Chauvel B, Navas ML (2014) Agroecological weed control using a functional approach: a review of cropping systems diversity. Agron Sust Develop 34:103–119. https://doi.org/10.1007/s13593-013-0166-5

Gogoi R, Loying R, Sarma N, Munda S, Pandey SK, Lal M (2018) A comparative study on antioxidant, anti-inflammatory, genotoxicity, anti-microbial activities and chemical composition of fruit and leaf essential oils of Litsea cubeba Pers. from north-East India. Ind Crop Prod 125:131–139. https://doi.org/10.1016/j.indcrop.2018.08.052

Hajlaoui H, Ben AF, Snoussi M, Noumi E, Bakhrouf A (2010) Effect of Mentha longifolia L. ssp. longifolia essential oil on the morphology of four pathogenic bacteria visualized by atomic force microscopy. Afr J Microbiol Res 4:1122–1127

Hazrati H, Saharkhiz MJ, Moein M, Khoshghalb H (2018) Phytotoxic effects of several essential oils on two weed species and tomato. Biocatal Agric Biotechnol 13:204–212. https://doi.org/10.1016/j.bcab.2017.12.014

Heap I (2019) The International Survey of Herbicide Resistant Weeds. Available at www.weedscience.org. Accessed 21 October 2019

Hiscox JD, Israelstam GF (1979) A method for extraction of chlorophyll from leaf tissue without maceration. Can J Bot 57:1332–1334. https://doi.org/10.1139/b79-163

Hussain AI, Anwar F, Nigam PS, Ashraf M, Gilani AH (2010) Seasonal variation in content, chemical composition and antimicrobial and cytotoxic activities of essential oils from four Mentha species. J Sci Food Agric 90:1827–1836. https://doi.org/10.1002/jsfa.4021

Ibáñez MD, Blázquez MA (2018) Phytotoxicity of essential oils on selected weeds: potential hazard on food crops. Plants (Basel) 7(4):79. https://doi.org/10.3390/plants704007

Isman MB (2004) Plant essential oils as green pesticides for pest and disease management. ACS Symp Ser 887:41–51. https://doi.org/10.1021/bk-2004-0887.ch004

Isman MB, Miresmailli S (2011) Plant essential oils as repellents and deterrents to agricultural pests. ACS Symp Ser 1090:67–77. https://doi.org/10.1021/bk-2011-1090.ch005

Joshi RK (2014) Aroma profile of Mentha arvensis Linn. Growing in Belgaum region of Karnataka, India. J Essent Oil Bear Pl 17:1397–1399. https://doi.org/10.1080/0972060X.2014.884776

Kansas State University (2016) Left uncontrolled, weeds would cost billions in economic losses every year. ScienceDaily. Retrieved August 16, 2019 from www.sciencedaily.com/releases/2016/05/160516130720.htm

Karioti A, Skaltsa H, Gbolade AA (2007) Analysis of the leaf oil of Syzygium malaccense Merr. et Perry from Nigeria. J Essent Oil Res 19:313–315. https://doi.org/10.1080/10412905.2007.9699290

Kaur S, Singh HP, Mittal S, Batish DR, Kohli RK (2010) Phytotoxic effects of volatile oil from Artemisia scoparia against weeds and its possible use as a bioherbicide. Ind Crop Prod 32:54–61. https://doi.org/10.1016/j.indcrop.2010.03.007

Laosinwattana C, Wichittrakarn P, Teerarak M (2018) Chemical composition and herbicidal action of essential oil from Tagetes erecta L. leaves. Ind Crop Prod 126:129–134. https://doi.org/10.1016/j.indcrop.2018.10.013

Mahdavikia F, Saharkhiz MJ (2015) Phytotoxic activity of essential oil and water extract of peppermint (Mentha× piperita L. CV. Mitcham). J Appl Res Med Aromat Plants 2:146–153. https://doi.org/10.1016/j.jarmap.2015.09.003

Mikaili P, Molaverrostami S, Moloudizargari M, Aghaianshakeri S (2013) Pharmacological and therapeutic effects of Mentha longifolia L. and its constituent menthol. Ancient Sci Life 33:129–136. https://doi.org/10.4103/0257-7941.139059

Nurzyńska-Wierdak R, Gruszecki R, Kosior M (2018) Does preservation modify the essential oil content and chemical composition of leaf celery (Apium graveolens L. var. secalinum Alef.)? Acta Sci Pol-Hortoru 17:27–36. https://doi.org/10.24326/asphc.2018.6.3

Okut N, Yagmur M, Selcuk N, Yildirim B (2017) Chemical composition of essential oil of Mentha longifolia L. subsp. longifolia growing wild. Pak J Bot 49:525–529

Pathiratne A, Hemachandra CK, De Silva N (2015) Efficacy of Allium cepa test system for screening cytotoxicity and genotoxicity of industrial effluents originated from different industrial activities. Environ Monit Assess 187:730. https://doi.org/10.1007/s10661-015-4954-z

Pavela R, Maggi F, Lupidi G, Mbuntcha H, Woguem V, Womeni HM, Barboni L, Tapondjou LA, Benelli G (2018) Clausena anisata and Dysphania ambrosioides essential oils: from ethno-medicine to modern uses as effective insecticides. Environ Sci Pollut Res 25:10493–10503. https://doi.org/10.1007/s11356-017-0267-9

Pinheiro PF, Costa AV, de Assis Alves T, Galter IN, Pinheiro CA, Pereira AF, Ramos Oliveira CM, Praca Fontes MM (2015) Phytotoxicity and cytotoxicity of essential oil from leaves of Plectranthus amboinicus, carvacrol, and thymol in plant bioassays. J Agric Food Chem 63:8981–8990. https://doi.org/10.1021/acs.jafc.5b03049

Qin R, Wang C, Chen D, Björn LO, Li S (2015) Copper-induced root growth inhibition of Allium cepa var. agrogarum L. involves disturbances in cell division and DNA damage. Environ Toxicol Chem 34:1045–1055. https://doi.org/10.1002/etc.2884

Radić S, Stipaničev D, Vujčić V, Rajčić MM, Širac S, Pevalek-Kozlina B (2010) The evaluation of surface and wastewater genotoxicity using the Allium cepa test. Sci Total Environ 408:1228–1233. https://doi.org/10.1016/j.scitotenv.2009.11.055

Rani D, Kohli RK (1991) Fresh matter is not an appropriate relation unit for chlorophyll content: experience from experiments on effects of herbicides and allelopathic substances. Photosynthetica 25:655–658

Rojas E, Herrera LA, Sordo M, Gonsebatt ME, Montero R, Rodriguez R, Ostrosky-Wegman P (1993) Mitotic index and cell proliferation kinetics for identification of antineoplastic activity. Anti-Cancer Drugs 4:637–640. https://doi.org/10.1097/00001813-199312000-00005

Saeidi K, Ghafari Z, Rostami S (2016) Effect of drying methods on essential oil content and composition of Mentha longifolia (L.) Hudson. J Essent Oil Bear Pl 19:391–396. https://doi.org/10.1080/0972060X.2015.1108246

Segev D, Nitzan N, Chaimovitsh D, Eshel A, Dudai N (2012) Chemical and morphological diversity in wild populations of Mentha longifolia in Israel. Chem Biodivers 9:577–588. https://doi.org/10.1002/cbdv.201100108

Shahi AK, Pal S, Dutt P (2002) Mentha longifolia (Linn.) Huds: a carvone rich chemotype in Jammu region. Indian Perfumer 46:63–65

Sharma A, Singh HP, Batish DR, Kohli RK (2019) Chemical profiling, cytotoxicity and phytotoxicity of foliar volatiles of Hyptis suaveolens. Ecotoxicol Environ Saf 171:863–870. https://doi.org/10.1016/j.ecoenv.2018.12.091

Singh HP, Batish DR, Kaur S, Kohli RK, Arora K (2006) Phytotoxicity of the volatile monoterpene citronellal against some weeds. Z Naturforsch 61:334–340. https://doi.org/10.1515/znc-2006-5-606

Singh HP, Batish DR, Mittal S, Dogra KS, Yadav S, Kohli RK (2008) Constituents of leaf essential oil of Mentha longifolia from India. Chem Nat Comp 44:528–529. https://doi.org/10.1007/s10600-008-9124-x

Skaltsa HD, Demetzos C, Lazari D, Sokovic M (2003) Essential oil analysis and antimicrobial activity of eight Stachys species from Greece. Phytochemistry 64:743–752. https://doi.org/10.1016/S0031-9422(03)00386-8

Soilhi Z, Rhimi A, Heuskin S, Fauconnier ML, Mekki M (2019) Essential oil chemical diversity of Tunisian Mentha spp. collection. Ind Crop Prod 131:330–340. https://doi.org/10.1016/j.indcrop.2019.01.041

Sudhakar R, Ninge Gowda KN, Venu G (2001) Mitotic abnormalities induced by silk dyeing industry effluents in the cells of Allium cepa. Cytologia 66:235–239. https://doi.org/10.1508/cytologia.66.235

Üstüner T, Kordali S, Bozhüyük AU (2018) Herbicidal and fungicidal effects of Cuminum cyminum, Mentha longifolia and Allium sativum essential oils on some weeds and fungi. Rec Nat Prod 12:619–629. https://doi.org/10.25135/rnp.80.18.05.106

Verma RS, Pandey V, Chauhan A, Tiwari R (2015) Essential oil composition of Mentha longifolia (L.) L. collected from Garhwal region of Western-Himalaya. J Essent Oil Bear Pl 18:957–966. https://doi.org/10.1080/0972060X.2014.897594

Xu QM, Wang YZ, Liu H, Cheng JS (2016) Physiological responses and chromosomal aberration in root tip cells of Allium sativum L. to cerium treatments. Plant Soil 409:447–458. https://doi.org/10.1007/s11104-016-2978-y

Zhang H, Jiang Z, Qin R, Zhang H, Zou J, Jiang W, Liu D (2014) Accumulation and cellular toxicity of aluminum in seedling of Pinus massoniana. BMC Plant Biol 14:264. https://doi.org/10.1186/s12870-014-0264-9

Zhang C, Hu R, Huang J, Huang X, Shi G, Li Y, Yin Y, Chen Z (2016) Health effect of agricultural pesticide use in China: implications for the development of GM crops. Sci Rep 6:34918. https://doi.org/10.1038/srep34918

Zouari-Bouassida K, Trigui M, Makni S, Jlaiel L, Tounsi S (2018) Seasonal variation in essential oils composition and the biological and pharmaceutical protective effects of Mentha longifolia leaves grown in Tunisia. Bio Med Res Int 2018:7856517. https://doi.org/10.1155/2018/7856517
Acknowledgments
NS is thankful to the Panjab University, Chandigarh, India, for financial support in the form of research fellowship. HPS and DRB are thankful to University Grants Commission, India, and Science and Engineering Research Board (SERB), Department of Science and Technology, India, for research support.
Ethics declarations
Conflict of interest
The authors declare that they have no competing or conflict of interest.
Additional information
Publisher's note
Springer Nature remains neutral with regard to jurisdictional claims in published maps and institutional affiliations.
Responsible editor: Giovanni Benelli
About this article
Cite this article
Singh, N., Singh, H.P., Batish, D.R. et al. Chemical characterization, phytotoxic, and cytotoxic activities of essential oil of Mentha longifolia. Environ Sci Pollut Res 27, 13512–13523 (2020). https://doi.org/10.1007/s11356-020-07823-3
Received:

Accepted:

Published:

Issue Date:
Keywords
Essential oil

Natural herbicides

Weeds

Cytotoxicity

Chromosomal abnormalities