Abstract
Pakistan is one of the most vulnerable countries especially in Southeast Asia experiencing floods and droughts as a result of climate change. Variation in climate adversely affects agriculture sector, ground water, nutrition, soil quality and soil organic matter, health conditions, and poverty. The main purpose of this study is to review the impact of climate change and adaptation strategies used at farm level in response to variation in temperature and precipitation. As per literature, Pakistani farmers adopt several adaptation strategies in response to climate change, like change in fertilizer, change in crop variety, pesticide, seed quality, water storage, farm diversification, plant shade trees, irrigation practices, off-farm activities, permanent and temporary migration, and selling of assets. Literature also showed that farmers living wetland area perceived less variation in climate than farm households living in dry area.
Access options
Buy single article
Instant access to the full article PDF.
USD 39.95
Price excludes VAT (USA)
Tax calculation will be finalised during checkout.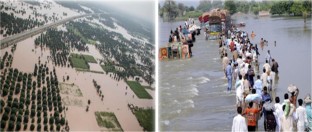 References
Abid M, Scheffran J, Schneider UA, Ashfaq M (2015) Farmers' perceptions of and adaptation strategies to climate change and their determinants: the case of Punjab province, Pakistan. Earth Syst Dyn 6:225–243

Adger WN, Arnell NW, Tompkins EL (2005) Successful adaptation to climate change across scales. Glob Environ Chang 15:77–86

Belliveau S, Smit B, Bradshaw B (2006) Multiple exposures and dynamic vulnerability: evidence from the grape industry in the Okanagan Valley, Canada. Glob Environ Chang 16:364–378

Bryan E, Deressa TT, Gbetibouo GA, Ringler C (2009) Adaptation to climate change in Ethiopia and South Africa: options and constraints. Environ Sci Pol 12:413–426

Bryan E, Ringler C, Okoba B (2013) Adapting agriculture to climate change in Kenya: Household strategies and determinants. J Environ Manag 114:26–35

Cooper PJM, Dimes J, Rao KPC, Shapiro B, Shiferaw B, Twomlow S (2008) Coping better with current climatic variability in the rain-fed farming systems of sub Saharan Africa: an essential first step in adapting to future climate change? Agric Ecosyst Environ 126:24–35

Deressa TT, Hassan RM, Ringler C (2009) Determinants of farmers' choice of adaptation methods to climate change in the Nile Basin of Ethiopia. Glob Environ Chang 19:248–255

Deressa TT, Hassan RM, Ringler C (2011) Perception of and adaptation to climate change by farmers in the Nile basin of Ethiopia. J Agric Sci 149:23–31

Easterling DR, Evans J, Groisman PY, Karl T, Kunkel KE, Ambenje P (2000) Observed variability and trends in extreme climate events: a brief review*. Bull Am Meteorol Soc 81:417–425

Edwards-Jones G, Plassmann K, Harris IM (2009) Carbon foot printing of lamb and beef production systems: insights from an empirical analysis of farms in Wales, UK. J Agric Sci 147:707–719

Fahad S, Jing W (2018) Evaluation of Pakistani farmers' willingness to pay for crop insurance using contingent valuation method: the case of Khyber Pakhtunkhwa province. Land Use Policy 72:570–577. https://doi.org/10.1016/j.landusepol.2017.12.024

Fahad S, Wang J (2018) Farmers' risk perception, vulnerability, and adaptation to climate change in rural Pakistance. Land Use Policy 79:301–309

Fahad S, Wang J, Hu GY, Wang H, Yang XY, Shah AA, Huong NTL, Bilal A (2018a) Empirical analysis of factors influencing farmers crop insurance decisions in Pakistan: evidence from Khyber Pakhtunkhwa province. Land Use Policy 75:459–467

Fahad S, Jing W, Khan AA, Ullah A, Ali U, Hossain MS, Khan SU, Huong NTL, Yang XY, Hu GY, Bilal A (2018b) Evaluation of farmers' attitude and perception toward production risk: lessons from Khyber Pakhtunkhwa Province, Pakistan. Hum Ecol Risk Assess Int J 24(6):1710–1722

FAO (2011) Framework programme on climate change adaptation. Food and Agriculture Organization of the United Nation, Rome

Field CB (2012) Managing the risks of extreme events and disasters to advance climate change adaptation: special report of the intergovernmental panel on climate change: Cambridge University Press

Füssel H-M, Klein RJT (2006) Climate change vulnerability assessments: an evolution of conceptual thinking. Clim Chang 75:301–329

Govt of Pakistan (2010) Pakistan economic survey. Finance Division, Govt of Pakistan

Greenough G, McGeehin M, Bernard SM, Trtanj J, Riad J and Engelberg D (2001) The potential impacts of climate variability and change on health impacts of extreme weather events in the United States. Environ Health Perspect 109(S2):191

Hay J, Mamura N (2010) The changing nature of extreme weather and climate events: risks to sustainable development. Geomatics, Nat Hazards Risk 1(1):3–18

Huong NTL, Yao SB, Fahad S (2017) Farmers' perception, awareness and adaptation to climate change: evidence from Northwest Vietnam. Int J Clim Chang Strateg Manag 9:555–576. https://doi.org/10.1108/IJCCSM-02-2017-0032

Huong NTL, Bo YS, Fahad S (2018a) Economic impact of climate change on agriculture using Ricardian approach: a case of northwest Vietnam. J Saudi Soc Agric Sci. https://doi.org/10.1016/j.jssas.2018.02.006

Huong NTL, Yao SB, and Fahad S (2018b) Assessing household livelihood vulnerability to climate change: the case of Northwest Vietnam. Hum Ecol Risk Assess Int J. https://doi.org/10.1080/10807039.2018.1460801

IPCC (2007) Synthesis Report. Contribution of Working Groups I, II and III to the Fourth Assessment Report of the Intergovernmental Panel on Climate Change. IPCC, Geneva, Switzerland

IPCC (2014) Climate change 2014: impacts, adaptation, and vulnerability. Part A: global and sectoral aspects. Contribution of Working Group II to the Fifth Assessment Report of the Intergovernmental Panel on Climate Change. Intergovernmental Panel on Climate Change

Karl TR, Meehl GA, Miller CD, Hassol SJ, Walpe AM, Murray WL (2008) Weather and climate extremes in a changing climate. Synthesis and Assessment Product 3.3. Report by the US Climate Change Science Programme (CCSP) and the subcommittee on global change research, Department of Commerce, NOAA National Climate Data Center, Washington, DC

Khan JA, Fee L (2014) Cities and climate change initiative-abridged report: Islamabad Pakistan, climate change vulnerability assessment. United Nations Human Settlements Programme (UN-Habitat) (Available at: http://www.fukuoka.unhabitat.org/programmes/ccci/pdf/Islamabad(Pakistan)_23_February_2015_FINAL(5th_revision).pdf. (Last access: 07.10.2015)

Kohler T, Maseli D (2009) Mountains and Climate change -from understanding to action, Bern, Switzerland: Published by Geographica Bernensia with support of the Swiss Agency for Development and Cooperation (SDC) and an international team of contributors

Kreft S, Eckstein D (2013) Global Climate Risk Index 2014: who suffers most from extreme weather events? Weather-Related Loss Events in 2012 and 1993 to 2012. Germanwatch eV, Bonn

Kristiansen S (2011) Climate change impacts and adaptations among Ethiopian farmers

McCarthy JJ (2001) Climate change 2001 In: Impacts, adaptation, and vulnerability: contribution of working group II to the third assessment report of the Intergovernmental Panel on Climate Change. Cambridge university press, Cambridge

Mendelsohn R, Dinar A (2009) Climate change and agriculture: an economic analysis of global impacts, adaptation and distributional effects. Edward Elgar Publishing, Cheltenham

Mendelsohn R, Dinar A, Sanghi A (2001) The effect of development on the climate sensitivity of agriculture. Environ Dev Econ 6:85–101

Mirza MMQ (2003) Climate change and extreme weather events: can developing countries adapt? Clim Pol 3:233–248

Mueller V, Gray C, Kosec K (2014) Heat stress increases long-term human migration in rural Pakistan. Nat Clim Chang 4(3):182–185

Nomman MA, Schmitz M (2011) Economic assessment of the impact of climate change on the agriculture of Pakistan. Business Econ Horiz (4):1–12

O'Brien G, O'Keefe P, Rose J, Wisner B (2006) Climate change and disaster management. Disasters 30:64–80

Patt A, Peterson N, Carter M, Velez M, Hess U, Suarez P (2009) Making index insurance attractive to farmers. Mitig Adapt Strateg Glob Chang 8:737–753

Qasim S, Khan AN, Shrestha RP, Qasim M (2015) Risk perception of the people in the flood prone Khyber Pakhtunkhwa province of Pakistan. Int J Disaster Risk Reduction 14:373–378

Schilling J, Vivekananda J, Khan MA, Pandey N (2013) Vulnerability to environmental risks and effects on community resilience in mid-west Nepal and south-east Pakistan. Environ Nat Resour Res 3:27–45

Skoufias E, Rabassa M, Olivieri S (2011) The poverty impacts of climate change. Economic Premise, vol 5622. Worldbank

Smit B, Skinner MW (2002) Adaptation options in agriculture to climate change: a typology. Mitig Adapt Strateg Glob Chang 7:85–114

Tingju Z, Xie H, Waqas A, Ringler C, Iqbal MM, Goheer MA, Sulser T (2014) Climate change and extreme events, impacts on Pakistan's agriculture. International Food Policy Research Institute (IFPRI) (PSSP Policy Note 002)

UNFCCC, COP 13 (2008) "Report of the Conference of the Parties on its thirteenth session, held in Bali from 3to 15 December 2007, Addendum part two: Action taken by the Conference of the Parties at its thirteenth session

Wandel J, Smit B (2000) Agricultural risk management in light of climate variability and change. Agricultural and environmental sustainability in the New countryside. Hignell Printing Limited, Winnipeg, pp 30–39

Wheeler T, Von Braun J (2013) Climate change impacts on global food security. Sci. 341:508–513

WHO (2002) The World Health Report 2002, Reducing risks, promoting healthy life. World Health Organization, Geneva http://www.who.int/whr/previous/en/index.html, (accessed on 14.04.2007)
Acknowledgements
The authors extend their sincere thanks to the editor of this journal and the anonymous reviewers for their invaluable comments and suggestions that have significantly improved the manuscript. This study is supported by China Postdoctoral Project Grant No. 2019M660262
Additional information
Responsible editor: Philippe Garrigues
Publisher's note
Springer Nature remains neutral with regard to jurisdictional claims in published maps and institutional affiliations.
About this article
Cite this article
Fahad, S., Wang, J. Climate change, vulnerability, and its impacts in rural Pakistan: a review. Environ Sci Pollut Res 27, 1334–1338 (2020). https://doi.org/10.1007/s11356-019-06878-1
Received:

Accepted:

Published:

Issue Date:

DOI: https://doi.org/10.1007/s11356-019-06878-1
Keywords