Abstract
Composting is one of the environmentally desirable methods for the management of sewage sludge. In this process, the organic matters were decomposed by microorganisms. However, different treatments can improve their qualities. This study aimed to investigate the effect of two agricultural waste wheat straw (WS) and green waste eucalyptus tree leaves (ETL) treatments on the quality of the compost produced from dewatered sewage sludge. So that, the variation trend of heavy metals, temperature, moisture, PH, and C/N ratio was considered during the composting process. The results showed that the variation of some parameters in WS and ETL such as temperature (24.68 ± 0.26 and 23.41 ± 1.35), moisture (4.5 ± 2.64 and 7.66 ± 2.51), pH (5.66 ± 0.35 and 5.97 ± 0.41), and C/N ratio (250 ± 4.08 and 60 ± 3.21) was suitable in both windrows, respectively. Likewise, trend of mineralization was suitable in both masses, because TVS (43 to 78 mg/g DW for WS and 45 to 69 mg/g DW for ETL) and TDS (21 to 55 mg/g DW for WS and 2.6 to 38 mg/g DW for ETL) decreased and increased, respectively, in the composting process. While fecal coliform (2.72 MPN/g DW) and EC (2.4mmho/cm) at WS was more than Iran's agricultural standard. As a consequence, although the quality of both masses was suitable and similar, there are some limitations for using treated compost by WS in agricultural lands due to higher levels of EC, fecal coliforms, and manganese. Therefore, quality of dewatered sludge treated compared with ETL is higher than WS. Furthermore, improvement process and application of some pretreatments are necessary for decreasing the heavy metals.
Access options
Buy single article
Instant access to the full article PDF.
US$ 39.95
Tax calculation will be finalised during checkout.
Subscribe to journal
Immediate online access to all issues from 2019. Subscription will auto renew annually.
US$ 79
Tax calculation will be finalised during checkout.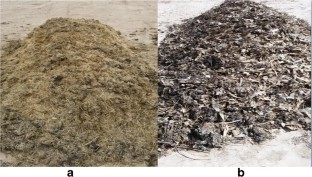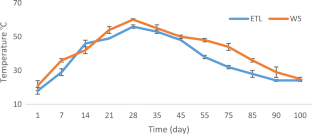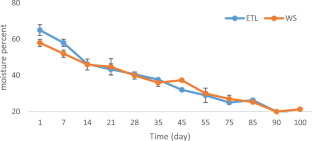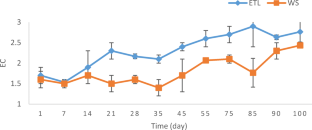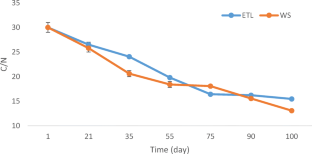 References
Abbasi F, Samaei MR. 2018. The effect of temperature on airborne filamentous fungi in the indoor and outdoor space of a hospital. Environ Sci Pollut Res Int

Abbasi F, Mohammadreza S, Hossein K, Ali K, Hoshang M (2016a) Effects of materials recovery facility construction on the release of fungal bioaerosols: a case study in southern of Iran. Fresenius Environ Bull 25(5):1513–1519

Abbasi F, Samaei M, KhodadadiH KA, Maleknia H (2016b) Effects of materials recovery facility construction on the release of fungal bioaerosols: a case study in southern Iran. Fresenius Environ Bull 5:1512–1518

Alidadi H, Najafpoor A, editors (2011) Determining the compost maturity time in biosolids of municipal wastewater treatment plant. Journal of Mazandaran University of Medical Sciences: Mashhad university of medical sciences

Asgharzadeh F, Ghaneian MT, Amouei A, Barari R (2014) Evaluation of cadmium, lead and zinc content of compost produced in babol composting plant. Iranian J Health Sci 2(1):62–67

Bina B, Movahhedian Attar H, Amini AA (2004) Survey of dried sludge refinery of Esfahan and the quality of its application for different purposes. J Water Res 15(1):34–42

Cherif H, Fathia A, Hadda O, Massimo M, Lorenzo B, Naceur J, Abdennaceur H, Daniele D (2009) Effects of municipal solid waste compost, farmyard manure and chemical fertilizers on wheat growth, soil composition and soil bacterial characteristics under Tunisian arid climate. Eur J Soil Biol 45:138–145

Fang W, Yonghong W, Jianguo L (2016a) Comparative characterization of sewage sludge compost and soil: heavy metal leaching characteristics. J Hazard Mater 310:1–10

Fang W, Yonghong W, Jianguo L, Kosson David S, van der Sloot Hans A, Peng Z (2016b) Effects of aerobic and anaerobic biological processes on leaching of heavy metals from soil amended with sewage sludge compost. Waste Manag 58:324–334

Fang W, Delapp Rossane C, Kosson David S, van der Sloot Hans A, Jianguo L (2017) Release of heavy metals during long-term land application of sewage sludge compost: percolation leaching tests with repeated additions of compost. Chemosphere 169:271–280

Forbes BA et al (2005) Diagnostic microbiology. Mosby, St Louis. Giusti, L., 2009. A review of waste management practices and their impact on human health. Waste Manag 29:2227–2239

Goyal S, Dhull SK, Kapoor KK (2005) Chemical and biological changes during composting of different organic wastes and assessment of compost maturity. Bioresour Technol 96:1584–1591

Hashemi H, Hajizadeh Y, Amin M, Bina B, Ebrahimi A, Khodabakhshi (2016) Macropollutants removal from compost leachate using membrane separation process. Desalin Water Treat 57:7149–7154

Institute of Standards and Industrial Research of IRAN Central Office: No. 10716, 1st. edition Valiaser Ave. Vanak corner, Tehran, Iran؛WWW. isiri.org

Jalili M, Mehdi M, Fariba A, Reza G, Asghar EA (2019) Toxicity evaluation and management of co-composting pistachio wastes combined with cattle manure and municipal sewage sludge. Ecotoxicol Environ Saf 179:798–840

Liang J, Yang Z, Lin T, Guangming Z, Yu M, Xiaodong L, Wu H, Yingying Q, Xuemei L, Luo Y (2017) Changes in heavy metal mobility and availability from contaminated wetland soil remediated with combined biochar-compost. Chemosphere 181:281e288

Liu W, Rong H, Xu J, Liang S, Jijin L, Tongke Z, Wang S (2017) Effects of biochar on nitrogen transformation and heavy metals in sludge composting. Bioresour Technol 235:43–49

Manáková B, Jan K, Markéta S, Jakub H (2014) Effects of combined composting and vermicomposting of waste sludge on arsenic fate and bioavailability. J Hazard Mater 280:544–551

Mohee R, Nuhaa S (2014) Comparison of heavy metals content in compost against vermicompost of organic solid waste: past and present resources. Conserv Recycl 92:206–213

Mokhtari M, Vaziri AS, Zareyi T, Jalili M (2017) An investigation on feasibility of composting of Yazd WWT dewatered sludge with windrow method using different treatments. J Health Environ 9:493–502

Parvaresh A, Movahedyan H, Bazrafshan E (2002) Additional fixation of south of Isfahans refinery dewatered sludge using aerobic compost by adding the bulk materials. Res Med Sci 6: 287–91

Qazi MA, Akram M, Ahmad N, Artiola Janick F, Tuller M (2009) Economical and environmental implications of solid waste compost applications to agricultural fields in Punjab, Pakistan. Waste Manag 29:2437–2445

Song X, Manqiang L, Wu D, Lin Q, Chenglong Y, Jiaguo J, Hu F (2014) Heavy metal and nutrient changes during vermicomposting animal manure spiked with mushroom residues. Waste Manag 34:1977–1983

Soobhany N, Romeela M (2015) Garg Vinod Kumar. Comparative assessment of heavy metals content during the composting and vermicomposting of Municipal Solid Waste employing Eudrilus eugeniae. Waste Manag 39:130–145

Suthar S, Poonam S, Kapil K (2014) Vermiremediation of heavy metals in wastewater sludge from paper and pulp industry using earthworm Eisenia fetida. Ecotoxicol Environ Saf 109:177–184

Wang Y, Freddy W (2016a) Application of Contois, Tessier, and first-order kinetics for modeling and simulation of a composting decomposition process. Bioresour Technol 220:384–393

Wang Q, Wang Z, Kumar AM, Yahui J, Ronghua L, Xiuna R, Junchao Z, Feng S, Meijing W, Zengqiang Z (2016b) Evaluation of medical stone amendment for the reduction of nitrogen loss and bioavailability of heavy metals during pig manure composting. Bioresour Technol 220:297–304

WEF, et al. (1995) Standard methods for examination of water and waste water. American Public Health Association, Washington

Winarso S, Pandutama Martinus H, Dwi PL (2016) Effectivity of humic substance extracted from palm oil compost as liquid fertilizer and heavy metal bioremediation. Agric Agric Sci Procedia 9:146–157
Additional information
Publisher's note
Springer Nature remains neutral with regard to jurisdictional claims in published maps and institutional affiliations.
Responsible editor: Philippe Garrigues
About this article
Cite this article
Abbasi, F., Mokhtari, M. & Jalili, M. The impact of agricultural and green waste treatments on compost quality of dewatered sludge. Environ Sci Pollut Res 26, 35757–35766 (2019). https://doi.org/10.1007/s11356-019-06618-5
Received:

Accepted:

Published:

Issue Date:
Keywords
Co-composting

Agricultural waste

Green waste

Dewatered sludge