Abstract
Hydrogeochemical methods were integrated to delineate the geochemical factors controlling fluoride (F-) contamination in groundwater at four sites in the districts of Lahore (Samada) and Kasur (Sari Chimba, Kot Maiga, and Chah Fatehwala) in Panjab province of Pakistan. Hydrochemical data and stoichiometric ratios indicate Na–Cl and Na–HCO3 as the dominant water types with silicate weathering influencing overall hydrogeochemistry of the study area. The groundwater F- concentrations ranged between 0.54 mg/L and 17.5 mg/L, with more than 70% samples having F- concentrations above the World Health Organization (WHO) provisional drinking water guideline (1.5 mg/L). Saturation indices determined that 100% samples were saturated with respect to calcite and 96% samples were undersaturated with respect to fluorite, indicating the influence of calcite precipitation on fluoride enrichment. A positive correlation was observed between fluoride with pH, Na+, and HCO3−, confirming that high fluoride concentrations were the result of weathering of silicate minerals and the exchange of OH- on clay surface under the alkaline pH conditions. The isotopic values of δ18O and δ2H in groundwater ranged from 9.14 to − 5.51‰ and 56.57 to − 39.5‰, respectively. The stable isotope data indicated the meteoric origin of groundwater with some evaporative effect, which is partly influencing groundwater quality such as high pH and salinity, as a result facilitating anion exchange (OH- for F-) on clays surface. The research indicates that the groundwater quality of the study area is not recommendable for drinking due to its high total dissolved solids (TDS) and elevated fluoride concentrations.
Access options
Buy single article
Instant access to the full article PDF.
US$ 39.95
Tax calculation will be finalised during checkout.
Subscribe to journal
Immediate online access to all issues from 2019. Subscription will auto renew annually.
US$ 79
Tax calculation will be finalised during checkout.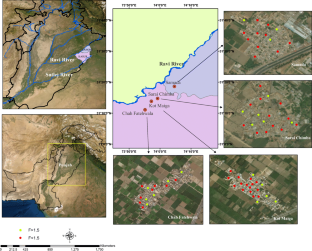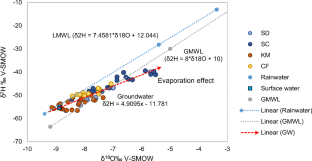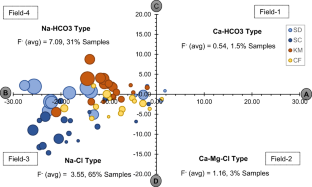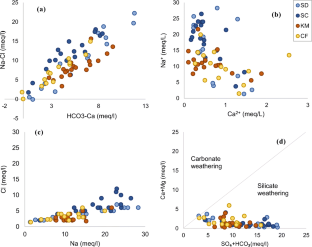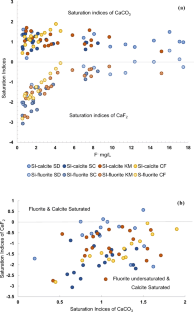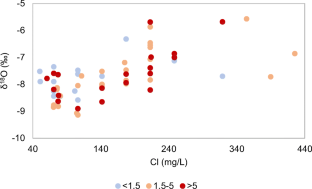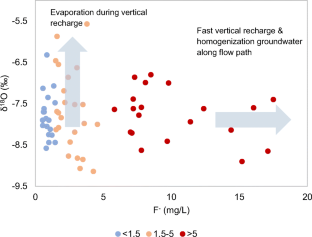 References
Adimalla N, Li P (2018) Occurrence, health risks and geochemical mechanisms of fluoride and nitrate in groundwater of the rock-dominant semi-arid region, Telangana State, India. Hum Ecol Risk Assess. https://doi.org/10.1080/10807039.2018.1480353

Aggarwal PK, Froehlich K, Kulkarni KM (2009) Environmental isotopes in groundwater studies. Groundwater 2:69

Anjum MN, Shah MT, Ali F, Hussain E, Ali L (2013) Geochemical studies of fluoride in drinking water of union council ganderi, district nowshera, Khyber Pakhtunkhwa, Pakistan. World Appl Sci J 27:632–636

APHA (2005) Standard methods for the examination of water and wastewater, Federation, Water Environmental American Public Health Association, Washington, DC, USA

Ayenew T (2008) The distribution and hydrogeological controls of fluoride in the groundwater of central Ethiopian rift and adjacent highlands. Environ Geol 54:1313–1324

Barnes C, Allison G (1988) Tracing of water movement in the unsaturated zone using stable isotopes of hydrogen and oxygen. J Hydrol 100:143–176

Battaleb-Looie S, Moore F, Jacks G, Ketabdari MR (2012) Geological sources of fluoride and acceptable intake of fluoride in an endemic fluorosis area, southern Iran. Environ Geochem Health 34:641–650

Brahman KD, Kazi TG, Afridi HI, Naseem S, Arain SS, Ullah N (2013) Evaluation of high levels of fluoride, arsenic species and other physicochemical parameters in underground water of two sub districts of Tharparkar, Pakistan: a multivariate study. Water Res 47:1005–1020

Chadha D (1999) A proposed new diagram for geochemical classification of natural waters and interpretation of chemical data. Hydrogeol J 7:431–439

Chae G-T, Yun S-T, Kim K, Mayer B (2006) Hydrogeochemistry of sodium-bicarbonate type bedrock groundwater in the Pocheon spa area, South Korea: water–rock interaction and hydrologic mixing. J Hydrol 321:326–343

Chae G-T, Yun S-T, Mayer B, Kim K-H, Kim S-Y, Kwon J-S, Kim K, Koh Y-K (2007) Fluorine geochemistry in bedrock groundwater of South Korea. Sci Total Environ 385:272–283

Chen J, He D, Cui S (2003) The response of river water quality and quantity to the development of irrigated agriculture in the last 4 decades in the Yellow River Basin, China. Water Resour Res 39

Clark ID, Fritz P (2013) Environmental isotopes in hydrogeology. CRC press

Datta P, Deb D, Tyagi S (1997) Assessment of groundwater contamination from fertilizers in the Delhi area based on 18O, NO− 3 and K+ composition. Water Resour Res 27:249–262

Deng Y, Wang Y, Ma T (2009) Isotope and minor element geochemistry of high arsenic groundwater from Hangjinhouqi, the Hetao Plain, Inner Mongolia. Appl Geochem 24:587–599

Dissanayake C (1991) The fluoride problem in the ground water of Sri Lanka—environmental management and health. Int J Environ Stud 38:137–155

Farooqi A, Masuda H, Firdous N (2007) Toxic fluoride and arsenic contaminated groundwater in the Lahore and Kasur districts, Punjab, Pakistan and possible contaminant sources. Environ Pollut 145:839–849

Fawell J, Bailey K, Chilton J, Dahi E, Magara Y (2006) Fluoride in drinking-water. IWA publishing

Fianko JR, Adomako D, Osae S, Ganyaglo S, Kortatsi BK, Tay CK, Glover E (2010) The hydrochemistry of groundwater in the Densu River Basin, Ghana. Environ Monit Assess 167:663–674

Gilani I (2015) River Ravi pollution puts lives at risk, The Nation. Nawa-i-Waqt Group, Lahore

Goller R, Wilcke W, Leng M, Tobschall H, Wagner K, Valarezo C, Zech W (2005) Tracing water paths through small catchments under a tropical montane rain forest in south Ecuador by an oxygen isotope approach. J Hydrol 308:67–80

Greenman D, Swarzenski W, Bennett G 1967 Ground-water hydrology of the Punjab region of West Pakistan, with emphasis on problems caused by canal irrigation, USGPO

Griffioen J (2001) Potassium adsorption ratios as an indicator for the fate of agricultural potassium in groundwater. J Hydrol 254:244–254

Grynkiewicz M, Polkowska Z, Zygmunt B, Namiesnik J (2003) Atmospheric precipitation sampling for analysis. Pol J Environ Stud 12

Guo Q, Wang Y, Ma T, Ma R (2007) Geochemical processes controlling the elevated fluoride concentrations in groundwaters of the Taiyuan Basin, Northern China. J Geochem Explor 93:1–12

Guo Q, Wang Y, Guo Q (2010) Hydrogeochemical genesis of groundwaters with abnormal fluoride concentrations from Zhongxiang City, Hubei Province, central China. Environ Earth Sci 60:633–642

Guo X, Feng Q, Liu W, Li Z, Wen X, Si J, Xi H, Guo R, Jia B (2015) Stable isotopic and geochemical identification of groundwater evolution and recharge sources in the arid Shule River Basin of Northwestern China. Hydrol Process 29:4703–4718

Handa B (1975) Geochemistry and genesis of Fluoride-Containing ground waters in india. Groundwater 13:275–281

Herczeg A, Dogramaci S, Leaney F (2001) Origin of dissolved salts in a large, semi-arid groundwater system: Murray Basin, Australia. Mar Freshw Res 52:41–52

Hu S, Luo T, Jing C (2013) Principal component analysis of fluoride geochemistry of groundwater in Shanxi and Inner Mongolia, China. J Geochem Explor 135:124–129

Huang T, Pang Z (2012) The role of deuterium excess in determining the water salinisation mechanism: a case study of the arid Tarim River Basin, NW China. Appl Geochem 27:2382–2388

Kim Y, Kim J-Y, Kim K (2011) Geochemical characteristics of fluoride in groundwater of Gimcheon, Korea: lithogenic and agricultural origins. Environ Earth Sci 63:1139–1148

Lakshmanan E, Kannan R, Kumar MS (2003) Major ion chemistry and identification of hydrogeochemical processes of ground water in a part of Kancheepuram district, Tamil Nadu, India. Environ Geosci 10:157–166

Li P, Qian H, Wu J, Chen J, Zhang Y, Zhang H (2014) Occurrence and hydrogeochemistry of fluoride in shallow alluvial aquifer of Weihe River, China. Environ Earth Sci 71(7):3133–3145. https://doi.org/10.1007/s12665-013-2691-6

Li C, Gao X, Wang Y (2015) Hydrogeochemistry of high-fluoride groundwater at Yuncheng Basin, northern China. Sci Total Environ 508:155–165

Li P, Wu J, Qian H (2016) Hydrochemical appraisal of groundwater quality for drinking and irrigation purposes and the major influencing factors: a case study in and around Hua County, China. Arab J Geosci 9(1):15. https://doi.org/10.1007/s12517-015-2059-1

Li P, Wu J, Tian R, He S, He X, Xue C, Zhang K (2018) Geochemistry, hydraulic connectivity and quality appraisal of multilayered groundwater in the Hongdunzi Coal Mine, Northwest China. Mine Water Environ 37(2):222–237. https://doi.org/10.1007/s10230-017-0507-8

Li P, He X, Li Y, Xiang G (2019) Occurrence and health implication of fluoride in groundwater of loess aquifer in the Chinese Loess Plateau: a case study of Tongchuan, Northwest China. Expo Health 11(2):95–107. https://doi.org/10.1007/s12403-018-0278-x

Meybeck M (1987) Global chemical weathering of surficial rocks estimated from river dissolved loads. Am J Sci 287:401–428

Mondal D, Gupta S (2015) Fluoride hydrogeochemistry in alluvial aquifer: an implication to chemical weathering and ion-exchange phenomena. Environ Earth Sci 73:3537–3554

Mushtaq N, Younas A, Mashiatullah A, Javed T, Ahmad A, Farooqi A (2018) Hydrogeochemical and isotopic evaluation of groundwater with elevated arsenic in alkaline aquifers in Eastern Punjab, Pakistan. Chemosphere 200:576–586

Naseem S, Rafique T, Bashir E, Bhanger MI, Laghari A, Usmani TH (2010) Lithological influences on occurrence of high-fluoride groundwater in Nagar Parkar area, Thar Desert, Pakistan. Chemosphere 78:1313–1321

Ngoye E, Machiwa JF (2004) The influence of land-use patterns in the Ruvu river watershed on water quality in the river system. Phy Chem Earth 29:1161–1166

Oruc N (2008) Occurrence and problems of high fluoride waters in Turkey: an overview. Environ Geochem Health 30:315–323

Panda UC, Sundaray SK, Rath P, Nayak BB, Bhatta D (2006) Application of factor and cluster analysis for characterization of river and estuarine water systems–a case study: Mahanadi River (India). J Hydrol 331:434–445

Piper AM (1944) A graphic procedure in the geochemical interpretation of water-analyses. Trans Am Geophys Union 25:914–928

Qian H, Li P, Wu J, Zhou Y (2013) Isotopic characteristics of precipitation, surface and ground waters in the Yinchuan Plain, Northwest China. Environ Earth Sci 70(1):57–70. https://doi.org/10.1007/s12665-012-2103-3

Qian H, Wu J, Zhou Y, Li P (2014) Stable oxygen and hydrogen isotopes as indicators of lake water recharge and evaporation in the lakes of the Yinchuan Plain. Hydrol Process 28:3554–3562. https://doi.org/10.1002/hyp.9915

Rafique T, Naseem S, Usmani TH, Bashir E, Khan FA, Bhanger MI (2009) Geochemical factors controlling the occurrence of high fluoride groundwater in the Nagar Parkar area, Sindh, Pakistan. J Hazard Mater 171:424–430

Rafique T, Naseem S, Ozsvath D, Hussain R, Bhanger MI, Usmani TH (2015) Geochemical controls of high fluoride groundwater in Umarkot sub-district, Thar Desert, Pakistan. Sci Total Environ 530:271–278

Rango T, Bianchini G, Beccaluva L, Ayenew T, Colombani N (2009) Hydrogeochemical study in the Main Ethiopian Rift: new insights to the source and enrichment mechanism of fluoride. Environ Geol 58:109–118

Rao NS (2011) High-fluoride groundwater. Environ Monit Assess 176:637–645

Rao NS, Devadas DJ (2003) Fluoride incidence in groundwater in an area of Peninsular India. Environ Geol 45:243–251

Raza M, Farooqi A, Niazi NK, Ahmad A (2016) Geochemical control on spatial variability of fluoride concentrations in groundwater from rural areas of Gujrat in Punjab, Pakistan. Environ Earth Sci 75:1364

Selvam S (2015) A preliminary investigation of lithogenic and anthropogenic influence over fluoride ion chemistry in the groundwater of the southern coastal city, Tamilnadu, India. Environ Monit Assess 187:106

Shah MT, Danishwar S (2003) Potential fluoride contamination in the drinking water of Naranji area, northwest frontier province, Pakistan. Environ Geochem Health 25:475–481

Sheikhy Narany T, Ramli MF, Aris AZ, Sulaiman WNA, Juahir H, Fakharian K (2014) Identification of the hydrogeochemical processes in groundwater using classic integrated geochemical methods and geostatistical techniques, in Amol-Babol plain, Iran. Sci World J 2014

Srinivasamoorthy K, Chidambaram S, Prasanna M, Vasanthavihar M, Peter J, Anandhan P (2008) Identification of major sources controlling groundwater chemistry from a hard rock terrain—a case study from Mettur taluk, Salem district, Tamil Nadu, India. J Earth Sys Sci 117:49

Stallard R, Edmond J (1983) Geochemistry of the Amazon: 2. The influence of geology and weathering environment on the dissolved load. J Geophys Res Oceans 88:9671–9688

Tahir M, Rasheed H (2013) Fluoride in the drinking water of Pakistan and the possible risk of crippling fluorosis. Drinking Water Eng Sci 6:17–23

Thivya C, Chidambaram S, Rao M, Thilagavathi R, Prasanna M, Manikandan S (2017) Assessment of fluoride contaminations in groundwater of hard rock aquifers in Madurai district, Tamil Nadu (India). Appl Water Sci 7:1011–1023

Valenzuela-Vasquez L, Ramirez-Hernandez J, Reyes-Lopez J, Sol-Uribe A, Lazaro-Mancilla O (2006) The origin of fluoride in groundwater supply to Hermosillo City, Sonora, Mexico. Environ Geol 51:17–27

van Geen A, Farooqi A, Kumar A, Khattak JA, Mushtaq N, Hussain I, Ellis T, Singh CK (2019) Field testing of over 30,000 wells for arsenic across 400 villages of the Punjab plains of Pakistan and India: Implications for prioritizing mitigation. Sci Total Environ 654:1358–1363

Viero A, Roisenberg C, Roisenberg A, Vigo A (2009) The origin of fluoride in the granitic aquifer of Porto Alegre, Southern Brazil. Environ Geol 56:1707

Wei C, Guo H, Zhang D, Wu Y, Han S, An Y, Zhang F (2016) Occurrence and hydrogeochemical characteristics of high-fluoride groundwater in Xiji County, southern part of Ningxia Province, China. Environ Geochem Health 38:275–290

Wen X, Wu Y, Su J, Zhang Y, Liu F (2005) Hydrochemical characteristics and salinity of groundwater in the Ejina Basin, Northwestern China. Environ Geol 48:665–675

WHO (1994) Fluorides and oral health Report of a WHO expert committee on oral health status and fluoride use

Wu J, Li P, Qian H, Duan Z, Zhang X (2014) Using correlation and multivariate statistical analysis to identify hydrogeochemical processes affecting the major ion chemistry of waters: Case study in Laoheba phosphorite mine in Sichuan, China. Arab J Geosci 7(10):3973–3982. https://doi.org/10.1007/s12517-013-1057-4

Wu J, Li P, Qian H (2015) Hydrochemical characterization of drinking groundwater with special reference to fluoride in an arid area of China and the control of aquifer leakage on its concentrations. Environ Earth Sci 73(12):8575–8588. https://doi.org/10.1007/s12665-015-4018-2

Wu J, Li P, Wang D, Ren X, Wei M (2019) Statistical and multivariate statistical techniques to trace the sources and affecting factors of groundwater pollution in a rapidly growing city on the Chinese Loess Plateau. Hum Ecol Risk Assess. https://doi.org/10.1080/10807039.2019.1594156

Xie X, Wang Y, Su C, Duan M (2013) Effects of recharge and discharge on δ2H and δ18O composition and chloride concentration of high arsenic/fluoride groundwater from the Datong Basin, Northern China. Water Environ Res 85:113–123
Acknowledgments
The authors are thankful to Higher Education Commission (HEC, PAK-US) and TWAS for providing funds necessary for the completion of the project. We are also thankful to Pakistan Institute of Nuclear Science and Technology (PINSTECH) for providing laboratory assistance.
Additional information
Publisher's note
Springer Nature remains neutral with regard to jurisdictional claims in published maps and institutional affiliations.
Responsible editor: Philippe Garrigues
Electronic supplementary material
About this article
Cite this article
Younas, A., Mushtaq, N., Khattak, J.A. et al. High levels of fluoride contamination in groundwater of the semi-arid alluvial aquifers, Pakistan: evaluating the recharge sources and geochemical identification via stable isotopes and other major elemental data. Environ Sci Pollut Res 26, 35728–35741 (2019). https://doi.org/10.1007/s11356-019-06610-z
Received:

Accepted:

Published:

Issue Date:
Keywords
Fluoride (F-)

Geochemistry

Saturation indices

Stable isotopes

Silicate weathering

Evaporation