Abstract
Concentrated leachate from membrane processes, which contains a mass of refractory organics and salt, has become a new problem for wastewater engineers. In this study, removal of organic contaminants in concentrated landfill leachate was investigated by applying the ferrous ion (Fe2+) catalyzed O3/H2O2 process. The maximum chemical oxygen demand (COD) and absorbance at 254 nm (UV254) removal efficiencies under the optimal conditions (initial pH = 3.0, Fe2+ dosage = 6.500 mM, H2O2 dosage = 18.8 mM and O3 dosage = 52.65 mg min−1) were 48.82% and 63.59%, respectively. These were higher than those achieved using the Fe2+/O3, O3/H2O2, and O3 processes, and biodegradability of the leachate was improved significantly. Moreover, compared with other processes, the Fe2+ had a stronger catalytic effect. Molecular distribution analysis and three-dimensional excitation and emission matrix analysis both indicated that the fulvic acid and humic acid in the concentrated leachate were greatly degraded. Ultraviolet-visible spectra showed that the Fe2+/O3/H2O2 process mainly destroyed unsaturated bonds and decreased the aromatic degree of the leachate. The reaction mechanism of the Fe2+/O3/H2O2 process mainly was attributed to three factors: (1) O3 and H2O2 reacting to produce •OH; (2) H2O2 and O3 decomposing into •OH through the oxidation of Fe2+ to Fe3+; and (3) coagulation by Fe (OH)3. The •OH can rapidly degrade recalcitrant organics, and coagulation also increases the removal of organic matter. Therefore, the Fe2+/O3/H2O2 process was an effective method for treating concentrated landfill leachate.
Access options
Buy single article
Instant access to the full article PDF.
US$ 39.95
Tax calculation will be finalised during checkout.
Subscribe to journal
Immediate online access to all issues from 2019. Subscription will auto renew annually.
US$ 79
Tax calculation will be finalised during checkout.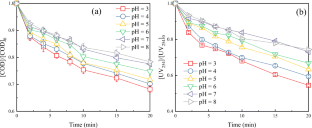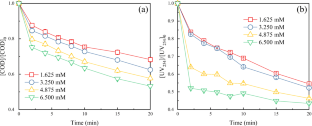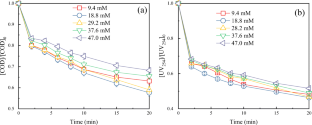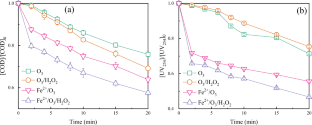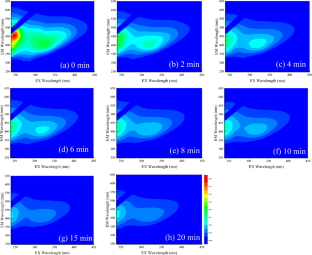 References
Abu Amr SS, Aziz HA (2012) New treatment of stabilized leachate by ozone/Fenton in the advanced oxidation process. Waste Manag 32:1693–1698

Abu Amr SS, Aziz HA, Adlan MN, Bashir MJK (2013) Pretreatment of stabilized leachate using ozone/persulfate oxidation process. Chem Eng J 221:492–499

Arslan I (2001) Treatability of a simulated disperse dye-bath by ferrous iron coagulation, ozonation, and ferrous iron-catalyzed ozonation. J Hazard Mater 85:229–241

Atmaca E (2009) Treatment of landfill leachate by using electro-Fenton method. J Hazard Mater 163:109–114

Babuponnusami A, Muthukumar K (2014) A review on Fenton and improvements to the Fenton process for wastewater treatment. J Environ Chem Eng 2:557–572

Bello MM, Abdul Raman AA, Asghar A (2019) A review on approaches for addressing the limitations of Fenton oxidation for recalcitrant wastewater treatment. Process Saf Environ Prot 126:119–140

Birchler Deborah R, Milke Mark W, Marks AL, Luthy Richard G (1994) Landfill leachate treatment by evaporation. J Environ Eng 120:1109–1131

Birchler DR, Milke MW, Marks AL, Luthy RG (1994) Landfill leachate treatment by evaporation. J Environ Eng 120:1109–1131

Butt TE, Oduyemi KOK (2003) A holistic approach to concentration assessment of hazards in the risk assessment of landfill leachate. Environ Int 28:597–608

Calabrò PS, Sbaffoni S, Orsi S, Gentili E, Meoni C (2010) The landfill reinjection of concentrated leachate: findings from a monitoring study at an Italian site. J Hazard Mater 181:962–968

Calabrò PS, Gentili E, Meoni C, Orsi S, Komilis D (2018) Effect of the recirculation of a reverse osmosis concentrate on leachate generation: a case study in an Italian landfill. Waste Manag 76:643–651

Cañizares P, Paz R, Sáez C, Rodrigo MA (2009) Costs of the electrochemical oxidation of wastewaters: a comparison with ozonation and Fenton oxidation processes. J Environ Manag 90:410–420

Cardoso JC, Bessegato GG, Boldrin Zanoni MV (2016) Efficiency comparison of ozonation, photolysis, photocatalysis and photoelectrocatalysis methods in real textile wastewater decolorization. Water Res 98:39–46

Chamarro E, Marco A, Esplugas S (2001) Use of fenton reagent to improve organic chemical biodegradability. Water Res 35:1047–1051

Chelme-Ayala P, El-Din MG, Smith DW, Adams CD (2011) Oxidation kinetics of two pesticides in natural waters by ozonation and ozone combined with hydrogen peroxide. Water Res 45:2517–2526

Chen W, Westerhoff P, Leenheer JA, Booksh K (2003) Fluorescence excitation− emission matrix regional integration to quantify spectra for dissolved organic matter. Environ Sci Technol 37:5701–5710

Chen W, Zhang A, Gu Z, Li Q (2018) Enhanced degradation of refractory organics in concentrated landfill leachate by Fe0/H2O2 coupled with microwave irradiation. Chem Eng J 354:680–691

Chen C, Feng H, Deng Y (2019a) Re-evaluation of sulfate radical based–advanced oxidation processes (SR-AOPs) for treatment of raw municipal landfill leachate. Water Res 153:100–107

Chen W, Gu Z, Wen P, Li Q (2019b) Degradation of refractory organic contaminants in membrane concentrates from landfill leachate by a combined coagulation-ozonation process. Chemosphere 217:411–422

Chen W, Zhang A, Jiang G, Li Q (2019c) Transformation and degradation mechanism of landfill leachates in a combined process of SAARB and ozonation. Waste Manag 85:283–294

Coble PG (1996) Characterization of marine and terrestrial DOM in seawater using excitation-emission matrix spectroscopy. Mar Chem 51:325–346

Cortez S, Teixeira P, Oliveira R, Mota M (2011) Evaluation of Fenton and ozone-based advanced oxidation processes as mature landfill leachate pre-treatments. J Environ Manag 92:749–755

De Laat J, Gallard H, Ancelin S, Legube B (1999) Comparative study of the oxidation of atrazine and acetone by H2O2/UV, Fe (III)/UV, Fe (III)/H2O2/UV and Fe (II) or Fe (III)/H2O2. Chemosphere 39:2693–2706

Del Moro G, Mancini A, Mascolo G, Di Iaconi C (2013) Comparison of UV/H2O2 based AOP as an end treatment or integrated with biological degradation for treating landfill leachates. Chem Eng J 218:133–137

Di Palma L, Ferrantelli P, Merli C, Petrucci E (2002) Treatment of industrial landfill leachate by means of evaporation and reverse osmosis. Waste Manag 22:951–955

Ding J, Wang K, Wang S, Zhao Q, Wei L, Huang H, Yuan Y, Dionysiou DD (2018) Electrochemical treatment of bio-treated landfill leachate: Influence of electrode arrangement, potential, and characteristics. Chem Eng J 344:34–41

Du Y, Zhou M, Lei L (2006) Role of the intermediates in the degradation of phenolic compounds by Fenton-like process. J Hazard Mater 136:859–865

Fares Al M, Mo'ayyad S, Ahmad S, Mohammad A-S (2008) Impact of Fenton and ozone on oxidation of wastewater containing nitroaromatic compounds. J Environ Sci 20:675–682

Francois V, Feuillade G, Matejka G, Lagier T, Skhiri N (2007) Leachate recirculation effects on waste degradation: study on columns. Waste Manag 27:1259–1272

Gu Z, Chen W, Li Q, Wang Y, Wu C, Zhang A (2018) Degradation of recalcitrant organics in landfill concentrated leachate by a microwave-activated peroxydisulfate process. RSC Adv 8:32461–32469

He R, Tian B-H, Zhang Q-Q, Zhang H-T (2015) Effect of Fenton oxidation on biodegradability, biotoxicity and dissolved organic matter distribution of concentrated landfill leachate derived from a membrane process. Waste Manag 38:232–239

Hermosilla D, Cortijo M, Huang CP (2009) Optimizing the treatment of landfill leachate by conventional Fenton and photo-Fenton processes. Sci Total Environ 407:3473–3481

Jiang F, Qiu B, Sun D (2018) Advanced degradation of refractory pollutants in incineration leachate by UV/peroxymonosulfate. Chem Eng J 349:338–346

Kurniawan TA, Lo W-h, Chan G (2006a) Radicals-catalyzed oxidation reactions for degradation of recalcitrant compounds from landfill leachate. Chem Eng J 125:35–57

Kurniawan TA, Lo W-h, Chan GYS (2006b) Physico-chemical treatments for removal of recalcitrant contaminants from landfill leachate. J Hazard Mater 129:80–100

Kwon BG, Lee DS, Kang N, Yoon J (1999) Characteristics of p-chlorophenol oxidation by Fenton's reagent. Water Res 33:2110–2118

Li M, Zeng Z, Li Y, Arowo M, Chen J, Meng H, Shao L (2015) Treatment of amoxicillin by O3/Fenton process in a rotating packed bed. J Environ Manag 150:404–411

Li C, Jiang F, Sun D, Qiu B (2017) Catalytic ozonation for advanced treatment of incineration leachate using (MnO2-Co3O4)/AC as a catalyst. Chem Eng J 325:624–631

Long Y, Xu J, Shen D, Du Y, Feng H (2017) Effective removal of contaminants in landfill leachate membrane concentrates by coagulation. Chemosphere 167:512–519

Mansouri L, Sabelfeld M, Geissen S-U, Bousselmi L (2015) Catalysed ozonation for removal of an endocrine-disrupting compound using the O3/Fenton reagents system. Environ Technol 36:1721–1730

Poyatos JM, Muñio M, Almecija M, Torres J, Hontoria E, Osorio F (2010) Advanced oxidation processes for wastewater treatment: state of the art. Water Air Soil Pollut 205:187

Ranjbar Vakilabadi D, Hassani AH, Omrani G, Ramavandi B (2017) Catalytic potential of Cu/Mg/Al-chitosan for ozonation of real landfill leachate. Process Saf Environ Prot 107:227–237

Renou S, Givaudan JG, Poulain S, Dirassouyan F, Moulin P (2008) Landfill leachate treatment: review and opportunity. J Hazard Mater 150:468–493

Rocha EMR, Vilar VJP, Fonseca A, Saraiva I, Boaventura RAR (2011) Landfill leachate treatment by solar-driven AOPs. Sol Energy 85:46–56

Schirman JP, Delavarenne SY (1979) Hydrogen peroxide in organic chemistry. Edition et Documentation Industrielle, Paris

Shen Y, Xu Q, Gao D, Shi H (2017) Degradation of an anthraquinone dye by Ozone/Fenton: response surface approach and degradation pathway. Ozone Sci Eng 39:219–232

Sonntag Cv, Gunten Uv (2012) Chemistry of ozone in water and wastewater treatment: from basic principles to applications

Sruthi T, Gandhimathi R, Ramesh ST, Nidheesh PV (2018) Stabilized landfill leachate treatment using heterogeneous Fenton and electro-Fenton processes. Chemosphere 210:38–43

Tizaoui C, Bouselmi L, Mansouri L, Ghrabi A (2007) Landfill leachate treatment with ozone and ozone/hydrogen peroxide systems. J Hazard Mater 140:316–324

Vedrenne M, Vasquez-Medrano R, Prato-Garcia D, Frontana-Uribe BA, Ibanez JG (2012) Characterization and detoxification of a mature landfill leachate using a combined coagulation–flocculation/photo Fenton treatment. J Hazard Mater 205-206:208–215

Viollier E, Inglett PW, Hunter K, Roychoudhury AN, Van Cappellen P (2000) The ferrozine method revisited: Fe (II)/Fe (III) determination in natural waters. Appl Geochem 15:785–790

Volk C, Roche P, Joret J-C, Paillard H (1997) Comparison of the effect of ozone, ozone-hydrogen peroxide system and catalytic ozone on the biodegradable organic matter of a fulvic acid solution. Water Res 31:650–656

von Gunten U (2003) Ozonation of drinking water: Part I. Oxidation kinetics and product formation. Water Res 37:1443–1467

Wang H, Shen Y, Lou Z, Zhu N, Yuan H, Liu C (2019) Hydroxyl radicals and reactive chlorine species generation via E+-ozonation process and their contribution for concentrated leachate disposal. Chem Eng J 360:721–727

Wiszniowski J, Robert D, Surmacz-Gorska J, Miksch K, Weber JV (2006) Landfill leachate treatment methods: A review. Environ Chem Lett 4:51–61

Wu C-H (2008) Decolorization of C.I. Reactive Red 2 in O3, Fenton-like and O3/Fenton-like hybrid systems. Dyes Pigments 77:24–30

Ye Z, Zhang H, Zhang X, Zhou D (2016) Treatment of landfill leachate using electrochemically assisted UV/chlorine process: effect of operating conditions, molecular weight distribution and fluorescence EEM-PARAFAC analysis. Chem Eng J 286:508–516

Yetilmezsoy K, Sakar S (2008) Improvement of COD and color removal from UASB treated poultry manure wastewater using Fenton's oxidation. J Hazard Mater 151:547–558

Yoon J, Cho S, Cho Y, Kim S (1998) The characteristics of coagulation of Fenton reaction in the removal of landfill leachate organics. Water Sci Technol 38:209–214

Žgajnar Gotvajn A, Zagorc-Končan J, Cotman M (2011) Fenton's oxidative treatment of municipal landfill leachate as an alternative to biological process. Desalination 275:269–275

Zhang H, Choi HJ, Huang C-P (2005) Optimization of Fenton process for the treatment of landfill leachate. J Hazard Mater 125:166–174

Zhang Q-Q, Tian B-H, Zhang X, Ghulam A, Fang C-R, He R (2013) Investigation on characteristics of leachate and concentrated leachate in three landfill leachate treatment plants. Waste Manag 33:2277–2286

Zhang J, Huang G-Q, Liu C, Zhang R-N, Chen X-X, Zhang L (2018) Synergistic effect of microbubbles and activated carbon on the ozonation treatment of synthetic dyeing wastewater. Sep Purif Technol 201:10–18

Zhao Y (2018) Chapter 2 - Physical and Chemical Treatment Processes for Leachate. In: Youcai Z (Ed.) Pollution Control Technology for Leachate from Municipal Solid Waste. Butterworth-Heinemann, pp. 31-183

Zheng Z, Zhang H, He P-J, Shao L-M, Chen Y, Pang L (2009) Co-removal of phthalic acid esters with dissolved organic matter from landfill leachate by coagulation and flocculation process. Chemosphere 75:180–186

Zouboulis AI, Chai X-L, Katsoyiannis IA (2004) The application of bioflocculant for the removal of humic acids from stabilized landfill leachates. J Environ Manag 70:35–41
Funding
The authors gratefully acknowledge the financial support from China's National Students' Platform for Innovation and Entrepreneurship Training Program (201810636158).
Additional information
Publisher's note
Springer Nature remains neutral with regard to jurisdictional claims in published maps and institutional affiliations.
Responsible editor: Vítor Pais Vilar
Electronic supplementary material
About this article
Cite this article
Huang, Z., Gu, Z., Wang, Y. et al. Improved oxidation of refractory organics in concentrated leachate by a Fe2+-enhanced O3/H2O2 process. Environ Sci Pollut Res 26, 35797–35806 (2019). https://doi.org/10.1007/s11356-019-06592-y
Received:

Accepted:

Published:

Issue Date:
Keywords
Fe2+/O3/H2O2

Concentrated leachate

Biodegradability

UV-Vis

3D-EEM