Abstract
This study investigated the prevalence of antibiotic-resistant bacteria and genes in fecal sludge and soil in Ho Chi Minh City, Vietnam, and identified the factors contributing to the survival of antibiotic-resistant bacteria in soil. Sludge and soil samples (n = 24 and 55, respectively) were collected from residential septic systems and environmental reservoirs (i.e., canals, rivers, and parks) in twelve districts of Ho Chi Minh City and tested against a library of 12 antibiotic-resistant genes and 1 integron gene. The susceptibility of isolated Escherichia coli from sludge and soil (n = 104 and 129, respectively) was tested against nine antibiotics. Over 60% of sludge and soil samples harbored sul1, ere(A), intI1, cmIA, and tet(A) genes. The three most common phenotypic resistances found in E. coli isolated from sludge and soil were to ampicillin, tetracycline, and sulfamethoxazole/trimethoprim. In a temporal microcosm study of antibiotic-susceptible and multi-drug-resistant E. coli inoculated in soil, temperature (21.4 vs. 30 °C), resistance phenotype, and soil background microbial community were associated with E. coli decay rates over 73 days. This is the first study that provides insights into the high prevalence of antibiotic resistance in septic systems and environmental reservoirs in Ho Chi Minh City, Vietnam. Findings highlight that the fecal sludge and soil environments in Vietnam are likely reservoirs for dissemination of and human exposure to antibiotic resistance.
Access options
Buy single article
Instant access to the full article PDF.
US$ 39.95
Tax calculation will be finalised during checkout.
Subscribe to journal
Immediate online access to all issues from 2019. Subscription will auto renew annually.
US$ 79
Tax calculation will be finalised during checkout.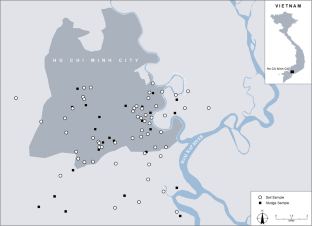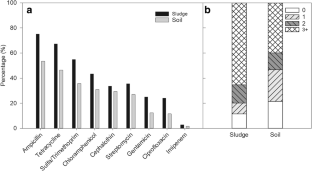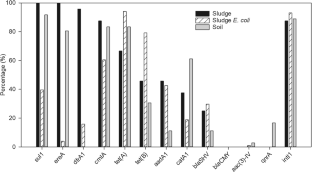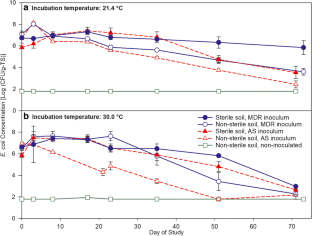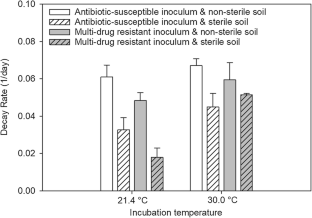 References
Abraham W-R (2011) Megacities as sources for pathogenic bacteria in rivers and their fate downstream. Int J Microbiol 2011:1–13

Aminov RI (2010) A brief history of the antibiotic era: lessons learned and challenges for the future. Front Microbiol 1:134

APHA (2017) Standard methods for the examination of water and wastewater. 23rd ed. American Water Works Association, Washington, DC.

Thuy HTT, Tobschall HJ, An PV (2000) Distribution of heavy metals in urban soils – a case study of Danang-Hoian Area (Vietnam). Environ Geol 39(6):603–610

Andam CP, Gogarten JP (2011) Biased gene transfer in microbial evolution. Nat Rev Micorobiol 9(7):543–555

Baker-Austin C, Wright MS, Stepanauskas R, McArthur JV (2006) Co-selection of antibiotic and metal resistance. Trends Microbiol 14(4):176–182

Balasubramaniam A, Eswaran MA, Suresh P, Sukumar K (2014) Detection of tetracycline resistance determinant tet A gene and antimicrobial resistance pattern in Escherichia coli isolates recovered from healthy layer chickens. Vet World 7(9):635–638

Bauernfeind A, Stemplinger I, Jungwirth R, Wilhelm R, Chong Y (1996) Comparative characterization of the cephamycinase bla CMY-1 gene and its relationship with other beta-lactamase genes. Antimicrob Agents Chemother 40(8):1926–1930

Blackett I (2015) Improving on-site sanitation and connections to sewers in Southeast Asia: insights from Indonesia and Vietnam. Water and Sanitation Program: Research Brief, The World Bank.

Brolund A, Sundqvist M, Kahlmeter G, Grape M (2010) Molecular characterisation of trimethoprim resistance in Escherichia coli and Klebsiella pneumoniae during a two year intervention on trimethoprim use. PLoS One 5(2):e9233

Burch TR, Sadowsky MJ, LaPara TM (2014) Fate of antibiotic resistance genes and class 1 integrons in soil microcosms following the application of treated residual municipal wastewater solids. Environ Sci Technol 48(10):5620–5627

CDC (2013) Antibiotic resistance threats in the United States, U.S. Department of Health and Human Services, Centers for Disease Control and Prevention.

CLSI (2015) Performance standards for antimicrobial disk susceptibility tests, 12th edn. Clinical and Laboratory Standards Institute, M02-A12, Wayne

Fahrenfeld N, Ma Y, O'Brien M, Pruden A (2013) Reclaimed water as a reservoir of antibiotic resistance genes: distribution system and irrigation implications. Front Microbiol 4:130

Franz E, Schijven J, De Roda Husman AM, Blaak H (2014) Meta-regression analysis of commensal and pathogenic Escherichia coli survival in soil and water. Environ Sci Technol 48(12):6763–6771

Gillings MR, Gaze WH, Pruden A, Smalla K, Tiedje JM, Zhu YG (2015) Using the class 1 integron-integrase gene as a proxy for anthropogenic pollution. ISME J 9(6):1269-1279

Hill KE, Top EM (1998) Gene transfer in soil systems using microcosms. FEMS Microbiol Ecol 25(4):319–329

Hoang PH, Awasthi SP, Nguyen PD, Nguyen NLH, Nguyen DTA, Le NH, Dang CV, Hinenoya A, Yamasaki S (2017) Antimicrobial resistance profiles and molecular characterization of Escherichia coli strains isolated from healthy adults in Ho Chi Minh City, Vietnam. J Vet Med Sci 79(3):479–485

Ishii S, Ksoll WB, Hicks RE, Sadowsky MJ (2006) Presence and growth of naturalized Escherichia coli in temperate soils from Lake Superior watersheds. Appl Environ Microbiol 72:612–621

Ishii S, Yan T, Vu H, Hansen DL, Hicks RE, Sadowsky MJ (2010) Factors controlling long-term survival and growth of naturalized Escherichia coli populations in temperate field soils. Microbes Environ 25:8–14

Jiang X, Morgan J, Doyle MP (2002) Fate of Escherichia coli O157:H7 in manure-amended soil. Appl Environ Microbiol 68:2605–2609

Karami N, Martner A, Enne VI, Swerkersson S, Adlerberth I, Wold AE (2007) Transfer of an ampicillin resistance gene between two Escherichia coli strains in the bowel microbiota of an infant treated with antibiotics. J Antimicrob Chemother 60(5):1142–1145

Knapp C, Callan A, Aitken B, Shearn R, Koenders A, Hinwood A (2017) Relationship between antibiotic resistance genes and metals in residential soil samples from Western Australia. Environ Sci Pollut Res 24(3):2484–2494

Lafuente R, Maymo-Gattel X, Mas-Castella J, Guerrero R (1996) Influence of Environmental Factors on Plasmid Transfer in Soil Microcosms. Curr Microbiol 32:213–220

Lu Y, Tang C, Chen J, Sakura Y (2008) Impact of septic tank systems on local groundwater quality and water supply in the Pearl River Delta, China: case study. Hydrol Process 450(2):443–450

Martinez JL (2008) Antibiotics and antibiotic resistance genes in natural environments. Science 321(5887):365–367

McCambridge JM, McMeekin TA (1980) Effect of temperature on activity of predators of Salmonella typhimurium and Escherichia coli in estuarine water. Mar Freshw Res 31(6):851–855

Momtaz H, Rahimi E, Moshkelani S (2012) Molecular detection of antimicrobial resistance genes in E. coli isolated from slaughtered commercial chickens in Iran. Vet Med-Czech 57(4):193–197

Montealegre MC, Roy S, Böni F, Hossain MI, Navab-Daneshmand T, Caduff L, Faruque ASG, Islam MA, Julian TR (2018) Risk factors for detection, survival, and growth of antibiotic-resistant and pathogenic Escherichia coli in household soils in rural Bangladesh. Appl Environ Microbiol 84(24):e01978–e01918

Munir M, Xagoraraki I (2011) Levels of antibiotic resistance genes in manure, biosolids, and fertilized soil. J Environ Qual 40(1):248–255

Munir M, Wong K, Xagoraraki I (2011) Release of antibiotic resistant bacteria and genes in the effluent and biosolids of five wastewater utilities in Michigan. Water Res 45(2):681–693

Nakayama T, Tuyet Hoa TT, Harada K, Warisaya M, Asayama M, Hinenoya A, Lee JW, Phu TM, Ueda S, Sumimura Y, Hirata K, Phuong NT, Yamamoto Y (2017) Water metagenomic analysis reveals low bacterial diversity and the presence of antimicrobial residues and resistance genes in a river containing wastewater from backyard aquacultures in the Mekong Delta, Vietnam. Environ Pollut 222:294-306

Nga DTT, Chuc NTK, Hoa NP, Hoa NQ, Nguyen NTT, Loan HT, Toan TK, Phuc HD, Horby P, Yen NV, Kinh NV, Wertheim HFL (2014) Antibiotic sales in rural and urban pharmacies in northern Vietnam: an observational study. BMC Pharmacol Toxicol 15(6):10

Nordmann P, Poirel L (2005) Emergence of plasmid-mediated resistance to quinolones in Enterobacteriaceae. J Antimicrob Chemother 56(3):463–469

Oguri T, Suzuki G, Matsukami H, Uchida N, Minh N, Huu L (2018) Exposure assessment of heavy metals in an e-waste processing area in northern Vietnam. Sci Total Environ 621:1115–1123

O'Neill J (2016) Review on antimicrobial resistance: tackling drug-resistant infections globally. Welcome Trust and HM Government, London

Palumbi SR (2001a) Humans as the world's greatest evolutionary force. Science 293(5536):1786–1790

Palumbi SR (2001b) The evolution explosion: how humans cause rapid evolutionary change. Norton & Company, New York

Parry CM, Diep TOS, Wain J, Thi N, Hoa T, Gainsborough M, Nga D, Davies C, Phu NH, Hien TT, White NJ, Farrar JJ (2000) Nasal carriage in Vietnamese children of Streptococcus pneumoniae resistant to multiple antimicrobial agents. Antimicrob Agents Ch 44(3):484–488

Pruden A (2014) Balancing water sustainability and public health goals in the face of growing concerns about antibiotic resistance. Environ Sci Technol 48(1):5–14

Pruden A, Pei R, Storteboom H, Carlson KH (2006) Antibiotic resistance genes as emerging contaminants: studies in northern Colorado. Environ Sci Technol 40(23):7445–7450

Salyers AA, Gupta A, Wang Y (2004) Human intestinal bacteria as reservoirs for antibiotic resistance genes. Trends Microbiol 12(9):412–416

Sidrach-Cardona R, Hijosa-Valsero M, Marti E, Balcazar JL, Becares E (2014) Prevalence of antibiotic-resistant fecal bacteria in a river impacted by both an antibiotic production plant and urban treated discharges. Sci Total Environ 488:220–227

Song J, Jung S, Ko KS, Kim NY, Son JS, Chang H, Ki HK, Oh WS, Suh JY, Peck KR, Lee NY, Yang YH, Lu Q, Chongthaleong A, Chiu CH, Lalitha MK, Perera J, Yee TT, Kumarasinghe G, Jamal F, Kamarulzaman A, Parasakthi N, Yan PH, Carlos C, So T, Ng TK, Shibl A (2004) High prevalence of antimicrobial resistance among clinical Streptococcus pneumoniae isolates in Asia (an ANSORP study). Antimicrob Agents Ch 48(6):2101–2107

Thu T, Van H, Chin J, Chapman T, Thuoc L, Coloe PJ (2008) Safety of raw meat and shell fish in Vietnam: an analysis of Escherichia coli isolations for antibiotic resistance and virulence genes. Int J Food Microbiol 124(3):217–223

Van Elsas JD, Semenov A, Costa R, Trevors J (2011) Survival of Escherichia coli in the environment: fundamental and public health aspects. ISME J 5:173–183

Van Nguyen K, Do NT, Chandna A, Nguyen TV, Pham CV, Doan PM, Nguyen AQ, Nguyen CKT, Larsson M, Escalante S, Olowokure B, Laximinarayan R, Gelband H, Horby P, Ngo HBT, Hoang MT, Farrar J, Hien TT, Wertheim HFL (2013) Antibiotic use and resistance in emerging economies: a situation analysis for Viet Nam. BMC Public Health 13:1158

Vien LTM, Minh NNQ, Thuong TC, Khuong HD, Nga TVT, Thompson C, Campbell JI, de Jong M, Farrar JJ, Schultsz C, Van Doorn HR, Baker S (2012) The co-selection of fluoroquinolone resistance genes in the gut flora of Vietnamese children. PLoS One 7(8):e42919

Wachino J, Hiroshi K, Satowa S, Kunikazu Y, Naohiro S, Kouji K, Yasuyoshi I, Yoshichika A (2006) Horizontal transfer of bla CMY-bearing plasmids among clinical Escherichia coli and Klebsiella pneumoniae isolates and emergence of cefepime-hydrolyzing CMY-19. Antimicrob Agents Chemother 50(2):534–541

Wang HZ, Wei G, Yao ZY, Lou J, Xiao KC, Wu LS, Wu JJ, Xu JM (2014) Response of Escherichia coli O157:H7 survival to pH of cultivated soils. J Soils Sediments 14:1841–1849

Wellington EMH, Boxall ABA, Cross P, Feil EJ, Gaze WH, Hawkey PM, Johnson-Rollings AS, Jones DL, Lee NM, Otten W, Thomas CM, Williams AP (2013) The role of the natural environment in the emergence of antibiotic resistance in gram-negative bacteria. Lancet Infect Dis 13(2):155–165

WHO (2015) Global action plan on antimicrobial resistance. World Health Organization, Geneva.

Wilbers G, Becker M, Thi L, Sebesvari Z, Renaud FG (2014) Spatial and temporal variability of surface water pollution in the Mekong Delta, Vietnam. Sci Total Environ 485:653–665

Winnepenninckx B, Backeljau T, De Wachter R (1993) Extraction of high molecular weight DNA from mollusks. Trends Genet 9(12):407

Wu J, Ko W, Tsai S, Yan J (2007) Prevalence of plasmid-mediated quinolone resistance determinants QnrA, QnrB, and QnrS among clinical isolates of Enterobacter cloacae in a Taiwanese hospital. Antimicrob Agents Ch 51(4):1223–1227

Yen-Phi VT, Rechenburg A, Vinneras B, Clemens J, Kistemann T (2010) Pathogens in septage in Vietnam. Sci Total Environ 408(9):2050–2053
Acknowledgments
We thank Nicole Palmer from GSI Water Solutions, Inc. for her help with mapping sampling locations.
Funding
This study received funding support from the Oregon State University start-up funds and Evans Family Fellowship.
Ethics declarations
Conflict of interest
The authors declare that they have no conflict of interest.
Additional information
Publisher's note
Springer Nature remains neutral with regard to jurisdictional claims in published maps and institutional affiliations.
Responsible editor: Diane Purchase
About this article
Cite this article
Schutzius, G., Nguyen, M. & Navab-Daneshmand, T. Antibiotic resistance in fecal sludge and soil in Ho Chi Minh City, Vietnam. Environ Sci Pollut Res 26, 34521–34530 (2019). https://doi.org/10.1007/s11356-019-06537-5
Received:

Accepted:

Published:

Issue Date:
Keywords
Fecal sludge

Soil

Antibiotic-resistant bacteria

Antibiotic-resistant genes

E. coli

Vietnam