Abstract
Egypt's limited water resources, rapid population growth, and climate change are increasing the gap between water demand and supply. Meanwhile, significant amounts of rain fall in some regions in Egypt during specific storm events, which in some cases, lead to disasters like flash floods and inundations. Rainwater harvesting (RWH) can be considered as a sustainable promising solution to water shortage and inundation problems. In this work, the feasibility of RWH for urban areas was assessed over 22 cities throughout Egypt. Results show that the annual volume of rainwater harvested can reach 142.5 MCM in the considered cities, provided that all rain falling on the urban areas is collected. High potential of rainfall harvesting was found for cities that located on the North Coast, e.g., the potential water saving from the share of RWH in Alexandria can satisfy around 12% of its future supplementary domestic water needs. In contrast, rainfall over the cities located on the middle and the south of the country is insignificant to be harvested. A case study for the 5th settlement region in Cairo was discussed in terms of groundwater recharge and surface runoff estimation for two conditions: No–RWH and RWH systems by implementing recharge wells to store rainwater into the aquifer. Land cover classification maps of urban areas were created by using the ARCGIS software to estimate equivalent infiltration coefficients. The results demonstrate that the implementation of such RWH system has a significant impact on the regional water cycle, where the effective infiltration coefficient increased from 10% (No–RWH) to 75% (RWH) in the case study. Accordingly, the runoff coefficient decreased in the case study from 0.8 (No–RWH) to 0.15 (RWH), and the volume of runoff decreased in the case of RWH by around 82% lower than that of the No–RWH condition. Thus, direct infiltration of RWH into an aquifer can play an important role in sound water management for urban environments, as this may lead to a significant reduction in risks of flooding and expenses of municipal drainage systems installation and operation.
Access options
Buy single article
Instant access to the full article PDF.
USD 39.95
Price excludes VAT (USA)
Tax calculation will be finalised during checkout.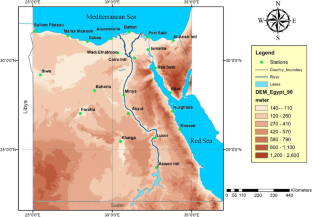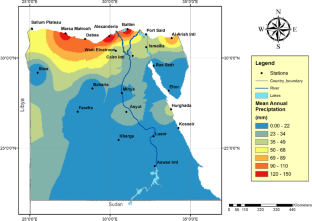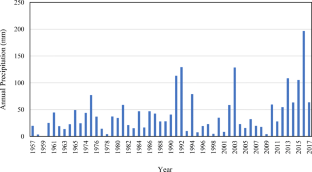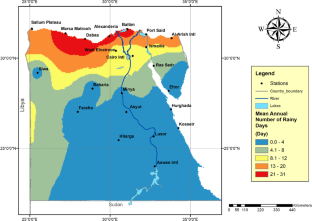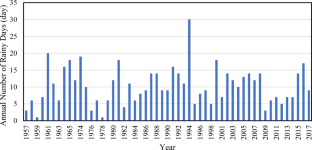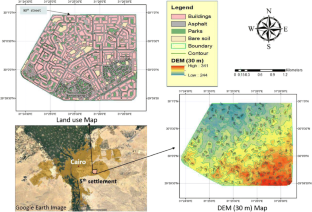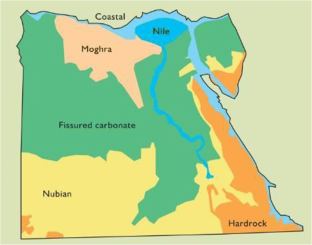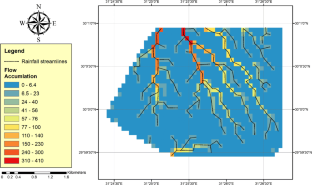 References
Abdel-Shafy HI, Kamel AH (2016) Groundwater in egypt issue: resources, location, amount, contamination, protection, renewal, future overview. Egypt J Chem 59(3):321–362

Abdulla FA, Al-Shareef AW (2009) Roof rainwater harvesting systems for household water supply in Jordan. Desalination 243:195–207

Ahram Online (2018) http://english.ahram.org.eg/NewsContent/1/64/298329/Egypt/Politics-/Rainfall-floods-roads,-causes-power-cuts,-property.aspx

Al-Zayed IS, Ribbe L, Al-Salhi A (2013) Water harvesting and flashflood mitigation-wadi watier case study (South Sinai, Egypt). Int J Water Resour Arid Environ 2(2):102–109 ISSN 2079-7079

ASTER GDEM (2011) ASTER GDEM is a product of METI and NASA, http://www.gds.aster.ersdac.or.jp/gds_www2002/service_e/inq.c_e/set_inq.c_e.html

Babak O, Deutsch CV (2009) Statistical approach to inverse distance interpolation. Stoch Env Res Risk A 23(5):543–553. https://doi.org/10.1007/s00477-008-0226-6

Behzadian K, Kapelan Z, Mousavi SJ, Alani A (2018) Can smart rainwater harvesting schemes result in the improved performance of integrated urban water systems? Environ Sci Pollut Res 25:19271–19282. https://doi.org/10.1007/s11356-017-0546-5

CONOCO (1987) Geological Maps of Egypt scale 1:500,000. Sheet Nos. NG 36 NW Cairo, The Egyptian General Petroleum Corporation, Egypt

Cools J, Vanderkimpen P, El-Afandi G, Abdelkhalek A, Fockedey S, El-Sammany M, Abdallah G, El-Bihery M, Bauwens W, Huygens M (2012) An early warning system for flash floods in hyper-arid Egypt. Nat Hazards Earth Syst Sci 12:443–457. https://doi.org/10.5194/nhess-12-443-2012

Coombes PJ, Argue JR, Kuczera G (2000) Figtree place: a case study in water sensitive urban design (WSUD). Urban Water 1(4):335–343

Daily mail (2011) https://www.dailymail.co.uk/sciencetech/article-1361374/Water-demand-outstrip-supply-40-20-years-climate-change-populationgrowth.html?ITO=1490. Accessed 10 April 2019

Dillon P (2005) Future management of aquifer recharge. Hydrogeol J 13:313–316. https://doi.org/10.1007/s10040-004-0413-6

El-Afandi G, Morsy M, El-Hussieny F (2013) Heavy rainfall simulation over Sinai Peninsula using the weather research and forecasting model. Int J Atmos Sci Hindawi Publishing Corporation 2013:241050

El-Sayed EAH (2011) Generation of rainfall intensity duration frequency curves for ungauged sites. Nile Basin Water Sci Eng J 4:1

El-Sayed SA (2018) Study of groundwater in Northeast Cairo Area, Egypt. J Geosci Environ Protect 6:229–251. https://doi.org/10.4236/gep.2018.64014

El-Shafie AH, El-Shafie A, El Mazoghi HG, Shehata A, Taha MR (2011) Artificial neural network technique for rainfall forecasting applied to Alexandria, Egypt. Int J Physical Sci 6(6):1306–1316. https://doi.org/10.5897/IJPS11.143

Fathy I, Negm AM, El-Fiky M, Nassar M, Al-Sayed E (2014) Intensity duration frequency curves for Sinai Peninsula, Egypt. IMPACT: IJRET, 2(6):105–112, ISSN (E): 2321-8843; ISSN (P): 2347-4599

Gado TA (2017) Statistical characteristics of extreme rainfall events in Egypt. Twentieth International Water Technology Conference, IWTC20, (May), pp 18–20. Available at: http://iwtc.info/wp-content/uploads/2017/05/44.pdf

Gado TA, El-Hagrsy RM, Rashwan IMH (2019) Spatial and temporal rainfall changes in Egypt. Environ Sci Pollut Res. https://doi.org/10.1007/s11356-019-06039-4

Ghisi E, Montibeller A, Schmidt R (2006) Potential for potable water savings by using rainwater: An analysis over 62 cities in southern Brazil. Build Environ 41:204–210

HCWW (2015) Unpublished data from the Holding Company for Water and Wastewater, Egypt

Hermann T, Schmida U (1999) Rainwater utilisation in Germany: efficiency, dimensioning, hydraulic and environmental aspects. Urban Water 1(4):307–316

Ibrahim S, El-Afandi G (2014) Short-range rainfall prediction over Egypt using the Weather research and forecasting model. Open Journal of Renewable Energy and Sustainable Development 1(2)

Jarvis A, Reuter H I, Nelson A, Guevara E (2008) Hole-filled seamless SRTM data V4, International Centre for Tropical Agriculture (CIAT), available from http://srtm.csi.cgiar.org. Accessed 10 April 2019

Jenson SK, Domingue JO (1988) Extracting topographic structure from digital elevation data for geographic information system analysis. Photogramm Eng Remote Sens 54(11):1593–1600

Lúcio C, Silva CM, Sousa V (2019) A scale-adaptive method for urban rainwater harvesting simulation. Environ Sci Pollut Res. https://doi.org/10.1007/s11356-019-04889-6

Lundy L, Revitt M, Ellis B (2018) An impact assessment for urban stormwater use. Environ Sci Pollut Res 25:19259–19270. https://doi.org/10.1007/s11356-017-0547-4

Moawad MB (2013) Analysis of the flash flood occurred on 18 January 2010 in wadi El Arish, Egypt (a case study). Geomatics, Natural Hazards and Risk 4(3):254–274. https://doi.org/10.1080/19475705.2012.731657

Moawad MB, Abdelaziz AO, Mamtimin B (2016) Flash floods in the Sahara: a case study for the 28 January 2013 flood in Qena, Egypt. Geomatics, Natural Hazards and Risk 7(1):215–236. https://doi.org/10.1080/19475705.2014.885467

MWRI (2005) National Water Resources Plan for Egypt – 2017, Ministry of Water Resources and Irrigation, Planning Sector, Arab Republic of Egypt

MWRI (2015) Water for the Future, National Water Resources Plan 2017. Available online: http://extwprlegs1.fao.org/docs/pdf/egy147082.pdf. Accessed 10 Feb 2019

Nachshona U, Netzerb L, Livshitz Y (2016) Land cover properties and rain water harvesting in urban environments. Sustain Cities Soc 27:398–406. https://doi.org/10.1016/j.scs.2016.08.008

Nashwan MS, Shahid S, Rahim NA (2018) Unidirectional trends in annual and seasonal climate and extremes in Egypt. Theor Appl Climatol 136:457–473. https://doi.org/10.1007/s00704-018-2498-1

Pauleit S, Duhme F (2000) Assessing the environmental performance of landcover types for urban planning. Landsc Urban Plan 52(1):1–20. https://doi.org/10.1016/s0169-2046(00)00109-2

Said MA, El-Geziry TM, Radwan AA (2012) Long-term trends of extreme climate events over Alexandria region, Egypt. INOC-CNRS, International Conference on "Land-Sea Interactions in the Coastal Zone" Jounieh - LEBANON, 06-08 November – 2012

Salama AM, Gado TA, Zeidan BA (2018) On selection of probability distributions for annual extreme rainfall series in Egypt. Twenty-first International Water Technology Conference, IWTC21 Ismailia, 28-30 June 2018

Shepard D (1968) A two-dimensional interpolation function for irregularly spaced data. Proceedings of the 1968 23rd ACM. ACM Press, New York

Soliman KH (1953) Rainfall over Egypt. QJR Meteorol Soc 79:389–397. https://doi.org/10.1002/qj.49707934106

Tarboton DG, Bras RL, Rodriguez–Iturbe I (1991) On the extraction of channel networks from digital elevation data. Hydrol Process 5:81–100

Wagdy A, El-Adway H, El-Gamal M (2008) Vegetation dynamics assisted hydrological analysis for Wady Degla; UNDP/GEF/Cairo University, Egypt

World bank (2017) https://data.worldbank.org/indicator/SP.POP.GROW. Accessed 10 April 2019

Yehia AG, Fahmy KM, Mehany MAS, Mohamed G (2017) Impact of extreme climate events on water supply sustainability in Egypt: case studies in Alexandria region and Upper Egypt. J Water Clim Chang 8:484–494. https://doi.org/10.2166/wcc.2017.111
Additional information
Responsible editor: Philippe Garrigues
Publisher's note
Springer Nature remains neutral with regard to jurisdictional claims in published maps and institutional affiliations.
About this article
Cite this article
Gado, T.A., El-Agha, D.E. Feasibility of rainwater harvesting for sustainable water management in urban areas of Egypt. Environ Sci Pollut Res 27, 32304–32317 (2020). https://doi.org/10.1007/s11356-019-06529-5
Received:

Accepted:

Published:

Issue Date:

DOI: https://doi.org/10.1007/s11356-019-06529-5
Keywords
Rainfall

Rainwater harvesting

Groundwater recharge

Water management

Infiltration coefficient

Water savings

Egypt