Abstract
This study focuses on CO2 emission trends and its decompositions as well as decoupling performance between CO2 emissions and economic growth of Turkish case for the period of 1990–2016. The drivers of CO2 emission changes are calculated by using an extended Kaya identity and the well-established logarithmic mean Divisia index (LMDI) method. Decomposition results indicate that economic growth and population effects are the main driving forces in increases in carbon emissions in Turkey throughout the whole period, while other technology-based driving factors' impacts have been rather minimal in reducing the emissions. Decoupling analysis results demonstrate that there is either no decoupling or weak decoupling in most of the years. Moreover, total decoupling effort index suggests that Turkey's performance has been worsened in recent years as we found no decoupling between CO2 emissions and economic growth over the period of 2013–2016. The overall findings suggest that Turkish economic growth is unsustainable both environmentally and economically. Based on these findings, some policy implications and recommendations are discussed for the possible emission reductions.
Access options
Buy single article
Instant access to the full article PDF.
USD 39.95
Price includes VAT (USA)
Tax calculation will be finalised during checkout.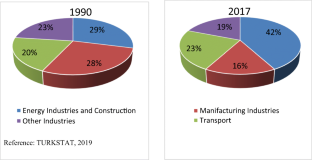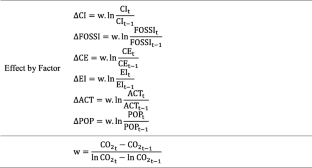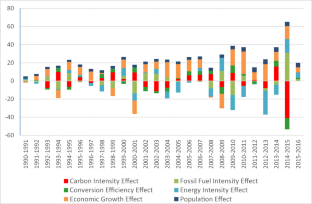 Notes
1.

In our extended model, we have used fossil fuel intensity effect (FOSS/TPES) to see the role of fossil fuel impact in total energy structure. Standard models with less economy-wide factors usually include FOSS/TFC in order to see the structural changes in energy consumption. Although not included in our model, we have calculated FOSS/TFC effect and found that the structural effects are less positive compared with the one presented in our model with FOSS/TPES.
References
Akbostancı E, Tunç Gİ, Türüt-Aşık S (2018) Drivers of fuel based carbon dioxide emissions: the case of Turkey. Renew Sust Energ Rev 81:2599–2608

Andreoni V, Galmarini S (2016) Drivers in CO2 emissions variation: a decomposition analysis for 33 world countries. Energy 103:27–37

Ang BW (2005) The LMDI approach to decomposition analysis: a practical guide. Energy Policy 33:867–871

Aşıcı AA (2015) On the sustainability of the economic growth path of Turkey: 1995–2009. Renew Sust Energ Rev 52:1731–1741

Aydın L (2018) Effects of increasing indigenous coal share in Turkey's electricity generation mix on key economic and environmental indicators: an extended input–output analysis. Energy Explor Exploit 36(2):230–245

Cansino JM, Moreno R (2018) Does forest matter regarding Chilean CO2 international abatement commitments? A multilevel decomposition approach. Carbon Manag 9(1):9–24

Climate Action Tracker (2018) Available online: https://climateactiontracker.org/countries/turkey/. Accessed on 25 Dec 2018

Diakoulaki D, Mandaraka M (2007) Decomposition analysis for assessing the progress in decoupling industrial growth from CO2 emissions in the EU manufacturing sector. Energy Econ 29(4):636–664

Ediger VS, Huvaz O (2006) Examining the sectoral energy use in Turkish economy (1980–2000) with the help of decomposition analysis. Energy Convers Manag 47:732–745

Engo J (2018) Decomposing the decoupling of CO2 emissions from economic growth in Cameroon. Environ Sci Pollut Res 25(35):35451–35463

Engo J (2019) Decomposition of Cameroon's CO2 emissions from 2007 to 2014: an extended Kaya identity. Environ Sci Pollut Res:1–13

Guevara Z, Rodrigues JF (2016) Structural transitions and energy use: a decomposition analysis of Portugal 1995–2010. Econ Syst Res 28(2):202–223

IEA (2017) Energy policies of IEA countries - Turkey - 2016 review. OECD/IEA, Paris

IEA (2018) CO2 emissions from fuel combustion 2018. International Energy Agency, Paris

IPCC (2018) "Global warming of 1.5°C", an IPCC special report on the impacts of global warming of 1.5°C above pre-industrial levels and related global greenhouse gas emission pathways

Karakaya E (2016) Paris İklim Anlaşması: İçeriği ve Türkiye Üzerine Bir Değerlendirme. Adnan Menderes Üniversitesi Sosyal Bilimler Enstitüsü Dergisi 2;3(1):1–12. https://doi.org/10.30803/adusobed.188842

Karakaya E, Özçağ M (2003) Türkiye Açısından Kyoto Protokolü'nün Değerlendirilmesi ve Ayrıştırma (Decomposition), Yöntemi ile CO2 Emisyonu Belirleyicilerinin Analizi. VII. ODTÜ İktisat Konferansı. Ankara

Karakaya E, Özçağ M (2005) Driving forces of CO2 emissions in Central Asia: a decomposition analysis of air pollution from fossil fuel combustion. Arid Ecosystem 11(26–27):49–57 https://cyberleninka.ru/article/n/driving-forces-of-co2-emissions-in-central-asia-a-decomposition-analysis-of-air-pollution-from-fossil-fuel-combustion.pdf

Kim S, Kim SK (2016) Decomposition analysis of the greenhouse gas emissions in Korea's electricity generation sector. Carbon Manag 7(5–6):249–260

Kolsuz G, Yeldan AE (2017) Economics of climate change and green employment: a general equilibrium investigation for Turkey. Renew Sust Energ Rev 70:1240–1250

Köne A, Büke T (2019) Factor analysis of projected carbon dioxide emissions according to the IPCC based sustainable emission scenario in Turkey. Renew Energy 133:914–918

Kumbaroğlu G (2011) A sectoral decomposition analysis of Turkish CO2 emissions over 1990–2007. Energy 36(5):2419–2433

Leal PA, Marques AC, Fuinhas JA (2019) Decoupling economic growth from GHG emissions: decomposition analysis by sectoral factors for Australia. Econ Anal Policy 62:12–26

Li H, Qin Q (2019) Challenges for China's carbon emissions peaking in 2030: a decomposition and decoupling analysis. J Clean Prod 207:857–865

Li YN, Cai M, Wu K, Wei J (2019) Decoupling analysis of carbon emission from construction land in Shanghai. J Clean Prod 210:25–34

Lima F, Nunes ML, Cunha J, Lucena AF (2016) A cross-country assessment of energy-related CO2 emissions: an extended Kaya Index Decomposition Approach. Energy 115:1361–1374

Lise W (2006) Decomposition of CO2 emissions over 1980–2003 in Turkey. Energy Policy 34(14):1841–1852

Lu Q, Yang H, Huang X, Chuai X, Wu C (2015) Multi-sectoral decomposition in decoupling industrial growth from carbon emissions in the developed Jiangsu Province, China. Energy 82:414–425

Ma L, Chong C, Zhang X, Liu P, Li W, Li Z, Ni W (2018) LMDI decomposition of energy-related CO2 emissions based on energy and CO2 allocation Sankey diagrams: the method and an application to China. Sustainability 10(2):344

Madaleno M, Moutinho V (2017) A new LDMI decomposition approach to explain emission development in the EU: individual and set contribution. Environ Sci Pollut Res 24(11):10234–10257

Madaleno M, Moutinho V (2018) Effects decomposition: separation of carbon emissions decoupling and decoupling effort in aggregated EU-15. Environ Dev Sustain 20(1):181–198

Mazlum SC (2009) Turkey's foreign policy on global atmospheric commons: climate change and ozone depletion. In: Climate Change and Foreign Policy. Routledge, pp 86–102

OECD (2002) Indicators to measure decoupling of environmental pressure from economic growth. Sustainable development SG/SD, Paris

OECD (2018) Climate change: OECD DAC external development finance statistics. Available online: http://www.oecd.org/dac/financing-sustainable-development/development-finance-topics/climate-change.htm. Accessed on 15 Dec 2018

Özçağ M, Yılmaz B, Sofuoğlu E (2017) Türkiye'de Sanayi ve Tarım Sektörlerinde Seragazı Emisyonlarının Belirleyicileri: İndeks Ayrıştırma Analizi. International Relations / Uluslararası İlişkiler 14(54):175–195

Peters GP, Andrew RM, Canadell JG, Fuss S, Jackson RB, Korsbakken JI, Le Quéré C, Nakicenovic N (2017) Key indicators to track current progress and future ambition of the Paris Agreement. Nat Clim Chang 7(2):118–122

Rockström J, Schellnhuber HJ, Hoskins B, Ramanathan V, Schlosser P, Brasseur GP, Gaffney O, Nobre C, Meinshausen M, Rogelj J, Lucht W (2016) The world's biggest gamble. Earth's Future 4(10):465–470

Roinioti A, Koroneos C (2017) The decomposition of CO2 emissions from energy use in Greece before and during the economic crisis and their decoupling from economic growth. Renew Sust Energ Rev 76:448–459

Román-Collado R, Cansino JM, Botia C (2018) How far is Colombia from decoupling? Two-level decomposition analysis of energy consumption changes. Energy 148:687–700

Shuai C, Chen X, Wu Y, Zhang Y, Tan Y (2019) A three-step strategy for decoupling economic growth from carbon emission: empirical evidences from 133 countries. Sci Total Environ 646:524–543

Tagliapietra S, Zachmann G (2017) A new strategy for European Union-Turkey energy cooperation (no. 2017/27). Bruegel Policy Contribution

Tapio P (2005) Towards a theory of decoupling: degrees of decoupling in the EU and the case of road traffic in Finland between 1970 and 2001. Transp Policy 12(2):137–151

Tunç GI, Türüt-Aşık S, Akbostancı E (2009) A decomposition analysis of CO2 emissions from energy use: Turkish case. Energy Policy 37(11):4689–4699

Turhan E, Cerit Mazlum S, Şahin Ü, Şorman AH, Cem Gündoğan A (2016) Beyond special circumstances: climate change policy in Turkey 1992–2015. Wiley Interdiscip Rev Clim Chang 7(3):448–460

UNFCCC (2018) COP24 web site. Available online: https://unfccc.int/sites/default/files/resource/inf2.pdf

UNFCCC (2019) Turkey: 2019 National Inventory Report (NIR). Available online: https://unfccc.int/documents/194819. Accessed on 10 July 2019

Wan L, Wang ZL, Ng JCY (2016) Measurement research on the decoupling effect of industries' carbon emissions-based on the equipment manufacturing industry in China. Energies 9(11):921

Wang Q, Zhao M, Li R, Su M (2018) Decomposition and decoupling analysis of carbon emissions from economic growth: a comparative study of China and the United States. J Clean Prod 197:178–184

Wen L, Zhang Z (2019) Probing the affecting factors and decoupling analysis of energy industrial carbon emissions in Liaoning, China. Environ Sci Pollut Res:1–11

World Bank (2018) Country Data. Available online: https://data.worldbank.org/country/turkey. 2 Dec 2018

Wu Y, Zhu Q, Zhu B (2018) Decoupling analysis of world economic growth and CO2 emissions: a study comparing developed and developing countries. J Clean Prod 190:94–103

Xie P, Gao S, Sun F (2019) An analysis of the decoupling relationship between CO2 emission in power industry and GDP in China based on LMDI method. J Clean Prod 211:598–606

Yang L, Yang Y, Zhang X, Tang K (2018) Whether China's industrial sectors make efforts to reduce CO2 emissions from production?-a decomposed decoupling analysis. Energy 160:796–809

Yeldan E, Voyvoda E (2015) Low carbon development pathways and priorities for Turkey. WWF-Turkey/Istanbul Policy Center-Sabanci University-Stiftung Mercator Initiative, Istanbul, Turkey

Yılmaz A, Ürüt-Kelleci S, Bostan A (2016) Türkiye Ekonomisinde Sektörel Enerji Tüketiminin Ayrıştırma Yöntemi ile Analizi. Dokuz Eylül Üniversitesi İktisadi ve İdari Bilimler Fakültesi Dergisi 31(2):1–27

Zhang YJ, Da YB (2015) The decomposition of energy-related carbon emission and its decoupling with economic growth in China. Renew Sust Energ Rev 41:1255–1266

Zhang K, Liu X, Yao J (2019) Identifying the driving forces of CO2 emissions of China's transport sector from temporal and spatial decomposition perspectives. Environ Sci Pollut Res:1–24

Zhao X, Zhang X, Li N, Shao S, Geng Y (2017) Decoupling economic growth from carbon dioxide emissions in China: a sectoral factor decomposition analysis. J Clean Prod 142:3500–3516
Additional information
Publisher's note
Springer Nature remains neutral with regard to jurisdictional claims in published maps and institutional affiliations.
Responsible editor: Muhammad Shahbaz
Electronic supplementary material
About this article
Cite this article
Karakaya, E., Bostan, A. & Özçağ, M. Decomposition and decoupling analysis of energy-related carbon emissions in Turkey. Environ Sci Pollut Res 26, 32080–32091 (2019). https://doi.org/10.1007/s11356-019-06359-5
Received:

Accepted:

Published:

Issue Date:
Keywords
CO2 emissions

Index decomposition analysis

LMDI

Decoupling effort index

Decoupling elasticity

Turkey