Abstract
A new Schiff base containing 1,2,4-triazole ring system (L) was synthesized and confirmed by 1HNMR, FTIR spectroscopy. The chemical modification of PVC with a new Schiff base (L) was synthesized to produce a homogenous blend (PVC-L). A homogenous blend (PVC-L) was added to copper chloride to produce PVC-L-Cu (II). The PVC films had been irradiated with ultraviolet light for a long period and confirmed by FTIR spectroscopy and weight loss; the surface morphology was inspected by scanning electron microscopy.
Access options
Buy single article
Instant access to the full article PDF.
US$ 39.95
Tax calculation will be finalised during checkout.
Subscribe to journal
Immediate online access to all issues from 2019. Subscription will auto renew annually.
US$ 79
Tax calculation will be finalised during checkout.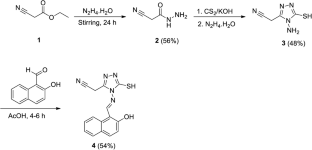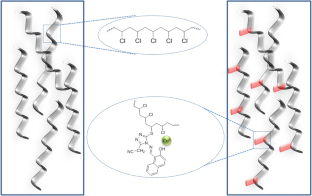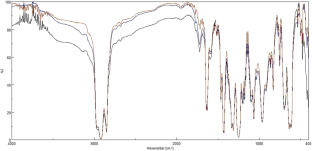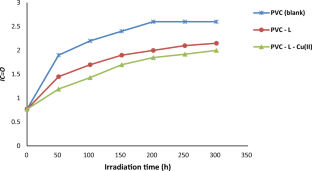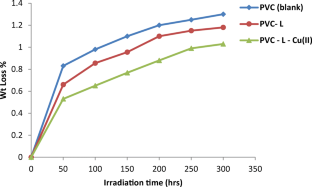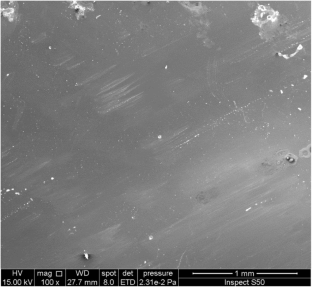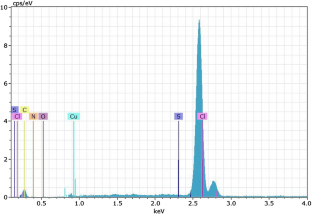 References
Al-Jibouri MNA, Al-Ameri SAH, Al-Jibouri WM, Al-Souz MAK (2013) Spectroscopic study of the effect of a new metal chelate on the stability of PVC. J Asso Arab Uni Basic and Appl Sci 14:67–74

Alotaibi MH, El-Hiti GA, Hashim H, Hameed AS, Ahmed DS, Yousif E (2018) SEM analysis of the tunable honeycomb structure of irradiated poly (vinyl chloride) films doped with polyphosphate. Heliyon 4:e01013

Amiri O, Salavati-Niasari M, Mir N, Beshkar F, Saadat M, Ansari F (2018) Plasmonic enhancement of dye-sensitized solar cells by using Au-decorated Ag dendrites as a morphology-engineered. Renew Energy 125:590–598

Bernard L, Cueff R, Bourdeaux D, Breysse C, Sautou V (2015) Analysis of plasticizers in poly (vinyl chloride) medical devices for infusion and artificial nutrition: comparison and optimization of the extraction procedures, a pre-migration test step. Anal Bioanal Chem 407:1651–1659

Chen J, Liu Z, Li X, Liu P, Jiang J, Nie X (2016) Thermal behavior of epoxidized cardanol diethyl phosphate as novel renewable plasticizer for poly (vinyl chloride). Polym Degrad Stab 126:58–64

Chiuzbăian SG, Brignolo S, Hague CF, Delaunay R, Guarise M, Nicolaou A, Yang Z, Zhou H, Mariot JM (2017) Spectroscopic evidence for superexchange in the ferromagnetic spinel FeCr2S4. J Phys Chem C 121:21935–21944

Ghoranneviss M, Shahidi S, Wiener J (2010) Surface modification of poly vinyl chloride (PVC) using low pressure argon and oxygen plasma. Plasma Sci Technol 12:204–207

Goodman S (2014) The microwave induced pyrolysis of problematic plastics enabling recovery and component reuse. Civil and Environmental Engineering. Imperial College London, London

Haishima Y, Isama K, Hasegawa C, Yuba T, Matsuoka A (2013) A development and biological safety evaluation of novel PVC medical devices with surface structures modified by UV irradiation to suppress plasticizer migration. J Biomed Mater Res A 101:2630–2643

Hashim H, El-Hiti GA, Alotaibi MH, Ahmed DS, Yousif E (2018) Fabrication of ordered honeycomb porous poly (vinyl chloride) thin film doped with a Schiff base and nickel (II) chloride. Heliyon 4:e00743

Huh M, Gauthier M, Yun S (2016) Honeycomb structured porous films prepared from arborescent graft polystyrenes via the breath figures method. Polymer 107:273–281

Jia P, Zhang M, Hu L, Wang R, Sun C, Zhou Y (2017) Cardanol groups grafted on poly (vinyl chloride)—synthesis, performance and plasticization mechanism. Polymers 9:621

Kameda T, Ono M, Grause G, Mizoguchi T, Yoshioka T (2009) Chemical modification of poly(vinyl chloride) by nucleophilic substitution. Polym Degrad Stab 94:107–112

Kameda T, Grause G, Yoshioka T (2010) Chemical modification of flexible and rigid poly (vinyl chloride) by nucleophilic substitution with thiocyanate using a phase-transfer catalyst. Mater Chem Phys 124:163–167

Lakshmi S, Jayakrishnan A (1998) Photocross-linking of dithiocarbamate-substituted PVC reduces plasticizer migration. Polymer 39:151–157

Li R, Ye L, Mai YW (1997) Application of plasma technologies in fibre-reinforcedpolymer composites: a review of recent developments. Compos Part A: Appl Sci Manuf 28:73–86

Liu C, Luo Y, Zhong B, Li S, Guo B, Jia D (2011) Enhancement of mechanical properties of poly (vinyl chloride) with polymethyl methacrylate-grafted halloysite nanotube. Express Polym Lett 5:591–603

Milenkovic J, Hrenovic J, Goic-Barisic I, Tomic M, Djonlagic J, Rajic N (2014) Synergistic anti-biofouling effect of Ag-exchanged zeolite and D-tyrosine on PVC composite against the clinical isolate of Acinetobacter baumannii. Biofouling 30:965–973

Moulay S (2010) Chemical modification of poly (vinyl chloride)—still on the run. Prog Polym Sci 35:303–331

Nikafshar S, Zabihi O, Ahmadi M, Mirmohseni A, Taseidifar M, Naebe M (2017) The effect of UV light on the chemical and mechanical properties of a transparent epoxy-diamine system in the presence of an organic UV absorber. Materials 10:180

Pittmann C (1980) In: Hodge P, Sherrington DC (eds) Polymer supported reactions in organic synthesis. Wiley, New York (Chapter 5)

Rahman MYA, Ahmad A, Lee TK, Farina Y, Dahlan HD (2011) Effect of ethylene carbonate (EC) plasticizer on (vinyl chloride)-liquid 50% epoxidised natural rubber (LENR50) based polymer electrolyte. Mater Sci Appl 2:817–825

Rhoo HJ, Kim HT, Park JK, Hwang TS (1997) Ionic conduction in plasticized PVCPMMA blend polymer electrolytes. Electrochim Acta 42:1571–1579

Sun D, Stylios G (2005) Investigating the plasma modification of natural fiberfabrics – the effect on fabric surface and mechanical properties. Text Res J 75:639–644

Wu TM, Lin YW, Liao CS (2005) Preparation and characterization of polyaniline/multiewalled carbon nanotube composites. Carbon 43:734–740

Yousif E, Ahmed DS, Ahmed AA, Hameed AS, Muhamed SH, Yusop RM, Redwan A, Mohammed SA (2019a) The effect of high UV radiation exposure environment on the novel PVC polymers. Environ Sci Pollut Res 26:9945–9954

Yousif E, Asaad N, Ahmed DS, Mohammed SA, Jawad AH (2019b) A spectral, optical, microscopic study, synthesis and characterization of PVC films containing Schiff base complexes. Baghdad Sci J 16:56–60

Yu J, Sun L, Ma C, Qiao Y, Yao H (2016) Thermal degradation of PVC: a review. Waste Manag 48:300–314
Acknowledgments
The authors would like to extend their appreciation to the Al-Nahrain University, Al-Mansour University College, University Kebangsaan Malaysia, and the University of Nizwa for continued support.
Ethics declarations
Conflict of interest
The authors declare that they have no conflict of interest.
Additional information
Publisher's note
Springer Nature remains neutral with regard to jurisdictional claims in published maps and institutional affiliations.
Responsible editor: Philippe Garrigues
About this article
Cite this article
Yousif, E., Ahmed, D.S., Ahmed, A. et al. Impact of stabilizer on the environmental behavior of PVC films reinforced 1,2,4-triazole moiety. Environ Sci Pollut Res 26, 26381–26388 (2019). https://doi.org/10.1007/s11356-019-05784-w
Received:

Accepted:

Published:

Issue Date:
Keywords
PVC

Films

1,2,4-triazole

UV-radiation

Surface modification