Abstract
This work demonstrated a simple, low-cost, rapid, and effective biochemical oxygen demand (BOD) estimation system based on a packed-bed bioreactor that can be easily self-built on-site at a particular wastewater treatment plant for continuous monitoring of the influent and effluent. The use of natural microbial consortium that were collected from the target wastewater and immobilized on a cheap porous carrier simply by adhesion resulted in an acceptable accuracy of over 95%. The newly developed semi-continuous operating mode with peak-type signals was shown to be able to continuously estimate BOD at a high flow rate to overcome the flow dependence of the oxygen electrode, limit clogging issues, enhance the response time, and lower the limit of detection. The resulting packed-bed bioreactors could work continuously for 22 h with a coefficient of variance (CoV) of only 1.8% or for 13 h a day for several days with a maximum CoV of 1.4% and their response was observed to be stable over 80 consecutive measurements. They exhibited stable responses at a wide pH range of 6.5–8.5, which is also the recommended range for aerobic wastewater treatment, emphasizing the greater ease of use of natural microorganisms for BOD estimation.
Access options
Buy single article
Instant access to the full article PDF.
USD 39.95
Price excludes VAT (USA)
Tax calculation will be finalised during checkout.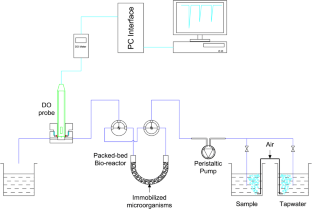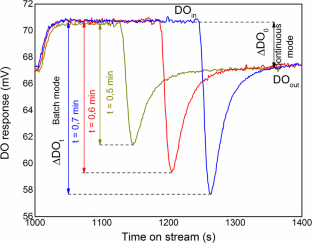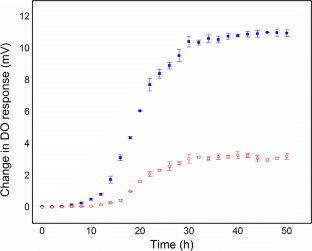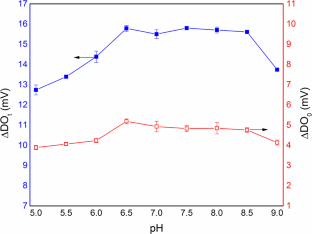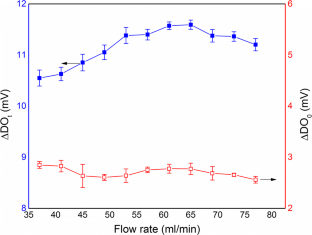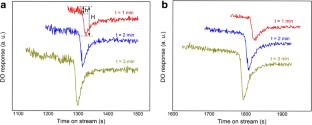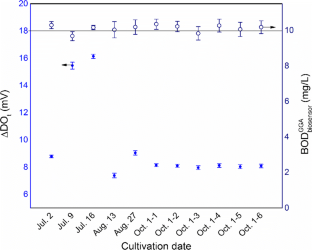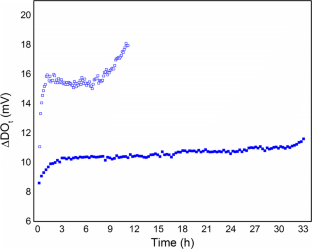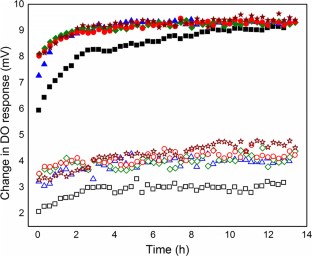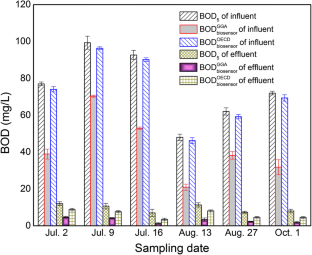 References
Arlyapov VA, Yudina NY, Asulyan LD, Alferov SV, Alferov VA, Reshetilov AN (2013) BOD biosensor based on the yeast Debaryomyces hansenii immobilized in poly(vinyl alcohol) modified by N-vinylpyrrolidone. Enzym Microb Technol 53:257–262. https://doi.org/10.1016/j.enzmictec.2013.05.004

Bahadır EB, Sezgintürk MK (2015) Applications of commercial biosensors in clinical, food, environmental, and biothreat/biowarfare analyses. Anal Biochem 478:107–120. https://doi.org/10.1016/j.ab.2015.03.011

Catterall K, Zhao H, Pasco N, John R (2003) Development of a rapid ferricyanide-mediated assay for biochemical oxygen demand using a mixed microbial consortium. Anal Chem 75:2584–2590. https://doi.org/10.1021/ac0206420

Chouler J, Bentley I, Vaz F, O'Fee A, Cameron PJ, Di Lorenzo M (2017) Exploring the use of cost-effective membrane materials for microbial fuel cell based sensors. Electrochim Acta 231:319–326. https://doi.org/10.1016/j.electacta.2017.01.195

Dimitrov S, Pavlov T, Nedelcheva D, Reuschenbach P, Silvani M, Bias R, Comber M, Low L, Lee C, Parkerton T, Mekenyan O (2007) A kinetic model for predicting biodegradation. SAR QSAR Environ Res 18:443–457. https://doi.org/10.1080/10629360701429027

Dzionek A, Wojcieszyńska D, Guzik U (2016) Natural carriers in bioremediation: a review. Electron J Biotechnol 23:28–36. https://doi.org/10.1016/j.ejbt.2016.07.003

Endress+Hauser BOD Measurement BIOX. http://www.axonautomation.ca/E+H%20Literature/TIs/menu/docs/TIs/Analysis/STIP/TI806CAE_STIP_BIOX_TI.pdf. Accessed 18 Oct 2018

Gössling S (2006) Tourism and water tourism & global environmental change. Routledge, London, pp 180–194

Gray NF (1989) Biology of waste water treatment. Oxford University Press

Guideline, ICH Harmonised Tripartite. Validation of analytical procedures: text and methodology Q2 (R1). In: International conference on harmonization, Geneva, Switzerland. 2005. pp 11–12

Helm I, Karina G, Jalukse L, Pagano T, Leito I (2018) Comparative validation of amperometric and optical analyzers of dissolved oxygen: a case study. Environ Monit Assess 190:1–18

Hu J, Li Y, Gao G, Xia S (2017) A mediated BOD biosensor based on immobilized B. subtilis on three-dimensional porous graphene-polypyrrole composite. Sensors 17:2594

Jia J, Tang M, Chen X, Qi L, Dong S (2003) Co-immobilized microbial biosensor for BOD estimation based on sol–gel derived composite material. Biosens Bioelectron 18:1023–1029. https://doi.org/10.1016/S0956-5663(02)00225-7

Jiang Y, Yang X, Liang P, Liu P, Huang X (2018) Microbial fuel cell sensors for water quality early warning systems: fundamentals, signal resolution, optimization and future challenges. Renew Sust Energ Rev 81:292–305. https://doi.org/10.1016/j.rser.2017.06.099

Jouanneau S, Recoules L, Durand MJ, Boukabache A, Picot V, Primault Y, Lakel A, Sengelin M, Barillon B, Thouand G (2014) Methods for assessing biochemical oxygen demand (BOD): a review. Water Res 49:62–82. https://doi.org/10.1016/j.watres.2013.10.066

Karube I, Matsunaga T, Mitsuda S, Suzuki S (1977) Microbial electrode BOD sensors. Biotechnol Bioeng 19:1535–1547

Kumlanghan A, Kanatharana P, Asawatreratanakul P, Mattiasson B, Thavarungkul P (2008) Microbial BOD sensor for monitoring treatment of wastewater from a rubber latex industry. Enzym Microb Technol 42:483–491. https://doi.org/10.1016/j.enzmictec.2008.01.012

LAR BioMonitor Series

Leduc R, Unny TE, McBean EA (1988) Stochastic models for first-order kinetics of biochemical oxygen demand with random initial conditions, inputs, and coefficients. Appl Math Model 12:565–572. https://doi.org/10.1016/0307-904X(88)90053-4

Li WW, Li XD, Zeng KM (2009) Aerobic biodegradation kinetics of tannic acid in activated sludge system. Biochem Eng J 43:142–148. https://doi.org/10.1016/j.bej.2008.09.010

Li Y, Sun J, Wang J, Bian C, Tong J, Li Y, Xia S (2016) A single-layer structured microbial sensor for fast detection of biochemical oxygen demand. Biochem Eng J 112:219–225. https://doi.org/10.1016/j.bej.2016.04.021

Li Y, Sun J, Wang J, Bian C, Tong J, Li Y, Xia S (2017) A microbial electrode based on the co-electrodeposition of carboxyl graphene and Au nanoparticles for BOD rapid detection. Biochemical Engineering Journal doi 123:86–94. https://doi.org/10.1016/j.bej.2017.03.015

Liu J, Björnsson L, Mattiasson B (2000) Immobilised activated sludge based biosensor for biochemical oxygen demand measurement. Biosens Bioelectron 14:883–893. https://doi.org/10.1016/S0956-5663(99)00064-0

Liu J, Olsson G, Mattiasson B (2004) Short-term BOD (BODst) as a parameter for on-line monitoring of biological treatment process: part I. A novel design of BOD biosensor for easy renewal of bio-receptor. Biosens Bioelectron 20:562–570. https://doi.org/10.1016/j.bios.2004.03.008

Liu C, Zhao H, Zhong L, Liu C, Jia J, Xu X, Liu L, Dong S (2012) A biofilm reactor-based approach for rapid on-line determination of biodegradable organic pollutants. Biosens Bioelectron 34:77–82. https://doi.org/10.1016/j.bios.2012.01.020

Liu C, Zhao H, Gao S, Jia J, Zhao L, Yong D, Dong S (2013) A reagent-free tubular biofilm reactor for on-line determination of biochemical oxygen demand. Biosens Bioelectron 45:213–218. https://doi.org/10.1016/j.bios.2013.01.041

Liu C, Li Z, Jiang D, Jia J, Zhang Y, Chai Y, Cheng X, Dong S (2016) Demonstration study of biofilm reactor based rapid biochemical oxygen demand determination of surface water. Sensing and Bio-Sensing Research 8:8–13. https://doi.org/10.1016/j.sbsr.2016.02.007

Nakamura H, Abe Y, Koizumi R, Suzuki K, Mogi Y, Hirayama T, Karube I (2007a) A chemiluminescence biochemical oxygen demand measuring method. Anal Chim Acta 602:94–100. https://doi.org/10.1016/j.aca.2007.08.050

Nakamura H et al (2007b) A new BOD estimation method employing a double-mediator system by ferricyanide and menadione using the eukaryote Saccharomyces cerevisiae. Talanta 72:210–216. https://doi.org/10.1016/j.talanta.2006.10.019

Niyomdecha S, Limbut W, Numnuam A, Asawatreratanakul P, Kanatharana P, Thavarungkul P (2017) A novel BOD biosensor based on entrapped activated sludge in a porous chitosan-albumin cryogel incorporated with graphene and methylene blue. Sensors Actuators B Chem 241:473–481. https://doi.org/10.1016/j.snb.2016.10.102

Nomura Y, Shimomura-Shimizu M, Karube I (2008) Environmental biochemical oxygen demand and related measurement. In: Marks RS, Cullen DC, Karube I, Lowe CR, Weetall HH (eds) Handbook of biosensors and biochips. https://doi.org/10.1002/9780470061565.hbb116

Nyholm N (1991) The European system of standardized legal tests for assessing the biodegradability of chemicals. Environmental Toxicology and Chemistry: An International Journal 10:1237–1246

OECD (2010) Test no. 209: activated sludge, respiration inhibition test (carbon and ammonium oxidation). https://doi.org/10.1787/9789264070080-en

Pasco N, Baronian K, Jeffries C, Webber J, Hay J (2004) MICREDOX®—development of a ferricyanide-mediated rapid biochemical oxygen demand method using an immobilised Proteus vulgaris biocomponent. Biosens Bioelectron 20:524–532. https://doi.org/10.1016/j.bios.2004.02.016

Pasternak G, Greenman J, Ieropoulos I (2017) Self-powered, autonomous biological oxygen demand biosensor for online water quality monitoring. Sensors Actuators B Chem 244:815–822. https://doi.org/10.1016/j.snb.2017.01.019

Project VUU, Unit HCMCS-PM (2003) Environmental impact assessment—Ho Chi Minh City Sub-Project vol 2A

Rastogi S, Kumar A, Mehra NK, Makhijani SD, Manoharan A, Gangal V, Kumar R (2003a) Development and characterization of a novel immobilized microbial membrane for rapid determination of biochemical oxygen demand load in industrial waste-waters. Biosens Bioelectron 18:23–29. https://doi.org/10.1016/S0956-5663(02)00108-2

Rastogi S, Rathee P, Saxena TK, Mehra NK, Kumar R (2003b) BOD analysis of industrial effluents: 5 days to 5 min. Curr Appl Phys 3:191–194. https://doi.org/10.1016/S1567-1739(02)00199-2

Raud M, Kikas T (2013) Bioelectronic tongue and multivariate analysis: a next step in BOD measurements. Water Res 47:2555–2562. https://doi.org/10.1016/j.watres.2013.02.026

Raud M, Tenno T, Jõgi E, Kikas T (2012) Comparative study of semi-specific Aeromonas hydrophila and universal Pseudomonas fluorescens biosensors for BOD measurements in meat industry wastewaters. Enzym Microb Technol 50:221–226. https://doi.org/10.1016/j.enzmictec.2012.01.003

Reshetilov A, Arlyapov V, Alferov V, Reshetilova T (2013) BOD biosensors: application of novel technologies and prospects for the development. In: State of the art in biosensors—environmental and medical applications. InTech

Rice EW, Baird RB, Eaton AD, Clesceri LS (2012) Standard methods for the examination of water and wastewater. APHA, AWWA, WPCR 1496, Washington

Sakaguchi T, Kitagawa K, Ando T, Murakami Y, Morita Y, Yamamura A, Yokoyama K, Tamiya E (2003) A rapid BOD sensing system using luminescent recombinants of Escherichia coli. Biosens Bioelectron 19:115–121. https://doi.org/10.1016/S0956-5663(03)00170-2

Sakaguchi T, Morioka Y, Yamasaki M, Iwanaga J, Beppu K, Maeda H, Morita Y, Tamiya E (2007) Rapid and onsite BOD sensing system using luminous bacterial cells-immobilized chip. Biosens Bioelectron 22:1345–1350. https://doi.org/10.1016/j.bios.2006.06.008

Seo KS, Choo KH, Chang HN, Park JK (2009) A flow injection analysis system with encapsulated high-density Saccharomyces cerevisiae cells for rapid determination of biochemical oxygen demand. Appl Microbiol Biotechnol 83:217–223

Shrivastava A, Gupta VB (2011) Methods for the determination of limit of detection and limit of quantitation of the analytical methods. Chronicles of Young Scientists 2:21

Suzuki H, Hirakawa T, Watanabe I, Kikuchi Y (2001) Determination of blood pO2 using a micromachined Clark-type oxygen electrode. Anal Chim Acta 431:249–259. https://doi.org/10.1016/S0003-2670(00)01325-8

Vanrolleghem PA, Kong Z, Rombouts G, Verstraete W (1994) An on-line respirographic biosensor for the characterization of load and toxicity of wastewaters. J Chem Technol Biotechnol 59:321–333. https://doi.org/10.1002/jctb.280590403

Wang J, Zhang Y, Wang Y, Xu R, Sun Z, Jie Z (2010) An innovative reactor-type biosensor for BOD rapid measurement. Biosens Bioelectron 25:1705–1709. https://doi.org/10.1016/j.bios.2009.12.018

Wang X, Lu X, Chen J (2014) Development of biosensor technologies for analysis of environmental contaminants. Trends in Environmental Analytical Chemistry 2:25–32. https://doi.org/10.1016/j.teac.2014.04.001

Willey JM, Sherwood L, Woolverton CJ (2008) Prescott, Harley, and Klein's microbiology. McGraw-Hill Higher Education, New York

Yang Z, Suzuki H, Sasaki S, McNiven S, Karube I (1997) Comparison of the dynamic transient- and steady-state measuring methods in a batch type BOD sensing system. Sensors Actuators B Chem 45:217–222. https://doi.org/10.1016/S0925-4005(97)00296-7

Zaitseva AS, Arlyapov VA, Yudina NY, Alferov SV, Reshetilov AN (2017) Use of one- and two-mediator systems for developing a BOD biosensor based on the yeast Debaryomyces hansenii. Enzym Microb Technol 98:43–51. https://doi.org/10.1016/j.enzmictec.2016.12.005

Zhao L, He L, Chen S, Zou L, Zhou K, Ao X, Liu S, Hu X, Han G (2017) Microbial BOD sensors based on Zr (IV)-loaded collagen fiber. Enzym Microb Technol 98:52–57. https://doi.org/10.1016/j.enzmictec.2016.11.010
Funding
We acknowledge the financial supports from the Kurita-AIT Research Grant and Vietnam Academy of Science and Technology, under VAST07.01/19-20 project.
Additional information
Responsible editor: Angeles Blanco
Publisher's note
Springer Nature remains neutral with regard to jurisdictional claims in published maps and institutional affiliations.
About this article
Cite this article
Pham, T.T.P., Nguyen, P.H.D., Nguyen, T.T.V. et al. Self-build packed-bed bioreactor for rapid and effective BOD estimation. Environ Sci Pollut Res 26, 25656–25667 (2019). https://doi.org/10.1007/s11356-019-05711-z
Received:

Accepted:

Published:

Issue Date:

DOI: https://doi.org/10.1007/s11356-019-05711-z
Keywords
Packed-bed bioreactor

Biochemical oxygen demand

Biosensor

Semi-continuous operating