Abstract
This study uses panel data for the period 1971–2013 to explore the implications of growth, wealth disparities, and per capita energy consumption on carbon emissions in a sample of Next Eleven (N-11) countries. It uses the first-generation (Pedroni and Kao) and second-generation (Westerlund) cointegration techniques to highlight a long-run interplay between the selected variables in carbon emission functions for all the N-11 countries. It also analyzes the long-run interactions among the series. Contrastingly, it also shows that economic growth, income inequalities, and per capita energy consumption accelerate CO2 emissions. Besides examining the effects of wealth disparity square, the study also uses the environmental Kuznets curve hypothesis in the context of the N-11 countries and discusses the policy implications of its findings.
This is a preview of subscription content, log in to check access.
Access options
Buy single article
Instant access to the full article PDF.
US$ 39.95
Price includes VAT for USA
Subscribe to journal
Immediate online access to all issues from 2019. Subscription will auto renew annually.
US$ 99
This is the net price. Taxes to be calculated in checkout.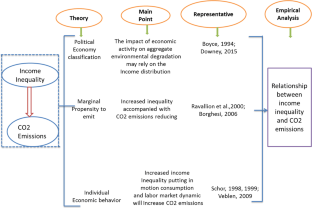 Notes
1.

Climate change is a huge threat to human health, global food security, and economic development, as well as to the natural environment. In light of its severe consequences for global well-being, international organizations and governments need to work together to mitigate its risks and cut greenhouse gas emissions that are leading to climate change.

2.

The N-11 countries are Bangladesh, Egypt, Indonesia, Iran, Mexico, Nigeria, Pakistan, the Philippines, Turkey, South Korea, and Vietnam.

3.

The inverted U-shaped hypothesis shows the non-linear relationship between the series indicating that economic growth initially increases income inequalities but narrows them after reaching a particular level.

4.

The turning point is calculated where ∂ ln co2/∂ ln gini = β3 + 2β4 ln gini = 0 or Gini = anti − log(β3/2β4).

5.

The first-generation cointegration tests (Pedroni 1999, 2004 and Kao 1999) examine the long-run relationships between the variables without cross-sectional dependence and putting common factor restrictions. Thus, we test for cointegration using the test suggested by Westerlund (2006, 2007). The cointegration test proposed by Westerlund (2007) can accommodate cross-sectional dependence and does not impose any common factor restrictions.

6.

The data sheet can be obtained in Excel file upon request.

7.

We detected the existence of multicollinearity due to overfitting GDP and Gini square in the models. We do not find the multicollinearity as a problem in the models as all coefficients in the regression Models 2 and 3 are statistically significant. The tests for multicollinearity are VIF = 3.655 for lnergy, 66.932 for lnGDP, 1.147 for lnGini, and 66.081 for lnGDP2 for model 2 and VIF = 2.825 for lnergy, 2.74 for lnGDP, 678.499 for lnGini, and 675.563 for lnGini2 for model 3.
References
Abid M (2015) The close relationship between informal economic growth and carbon emissions in Tunisia since 1980: the (ir) relevance of structural breaks. Sustain Cities Soc 15:11–21

Acaravci A, Ozturk I (2010) On the relationship between energy consumption, CO2 emissions and economic growth in Europe. Energy 35(12):5412–5420

Al-Iriani MA (2006) Energy–GDP relationship revisited: an example from GCC countries using panel causality. Energy Policy 34(17):3342–3350

Allali M, Tamali M, Rahli M (2015) The impact of CO2 emission on output in Algeria. Energy Procedia 74:234–242

Al-Mulali U, Sab CNBC, Fereidouni HG (2012) Exploring the bi-directional long run relationship between urbanization, energy consumption, and carbon dioxide emission. Energy 46(1):156–167

ALOnaizi, B., Gadhoum, Y. (2017). The next 11: emerging investment market. 1st International Conference on Advanced Research (ICAR-2017), Manama, Bahrain, ISBN: 978-0-995398-016, 53–62

Baek J, Gweisah G (2013) Does income inequality harm the environment?: empirical evidence from the United States. Energy Policy 62:1434–1437

Baloch A, Shah SZ, Noor ZM, Magsi HB (2018) The nexus between income inequality, economic growth and environmental degradation in Pakistan. Geo J 83(2):207–222

Begum RA, Sohag K, Abdullah SMS, Jaafar M (2015) CO2 emissions, energy consumption, economic and population growth in Malaysia. Renew Sust Energ Rev 41:594–601

Bilgili F, Öztürk İ, Koçak E, Bulut Ü, Pamuk Y, Muğaloğlu E, Bağlıtaş HH (2016) The influence of biomass energy consumption on CO2 emissions: a wavelet coherence approach. Environ Sci Pollut Res 23(19):19043–19061

Binatli AO (2012) Growth and income inequality: a comparative analysis. Economics Research International 2012:1–7

Borghesi S (2006) Income inequality and the environmental Kuznets curve. Environment, Inequality and Collective Action 33

Bowles S, Park Y (2005) Emulation, inequality, and work hours: was Thorsten Veblen right? Econ J 507:397–412

Boyce J (1994) Inequality as a cause of environmental degradation. Ecol Econ 11(3):169–178

Breitung, J. (2001). The local power of some unit root tests for panel data. In Nonstationary panels, panel cointegration, and dynamic panels (pp. 161–177). Emerald Group Publishing Limited.

Breitung J, Das S (2005) Panel unit root tests under cross-sectional dependence. Statistica Neerlandica 59(4):414–433

Caron J, Fally T (2018) Per capita income, consumption patterns, and carbon dioxide emissions. University of California Berkeley https://voxeu.org/article/capita-income-consumption-patterns-and-carbon-dioxide-emissions

Chang Y (2004) Bootstrap unit root tests in panels with cross-sectional dependency. J Econ 120:263–293

Chen Y (2003) Discriminating between competing STAR models. Econ Lett 79(2):161–167

Demir C, Cergibozan R, Gok A (2018) Income inequality and CO2 emissions: empirical evidence from Turkey. Energy Environ 0(0):1–18

Dollar D, Kraay A (2002) Growth is good for the poor. J Econ Growth 7(3):195–225

Drabo A (2011) Impact of income inequality on health: does environment quality matter? Environ Plan A 43(1):146–165

Dumitrescu EI, Hurlin C (2012) Testing for Granger non-causality in heterogeneous panels. Econ Model 29(4):1450–1460

Engle RF, Granger CW (1987) Co-integration and error correction: representation, estimation, and testing. Econometrica 55(2):251–276

Eriksson C, Persson J (2003) Economic growth, inequality, democratization, and the environment. Environ Resour Econ 25(1):1–16

Esfahani M, Rasoulinezhad E (2015) Will be there new CO2 emitters in the future? Evidence of long-run panel CO-integration for N-11 countries. Int J Energy Econ Policy 6(3):463–470

Esso LJ, Keho Y (2016) Energy consumption, economic growth and carbon emissions: cointegration and causality evidence from selected African countries. Energy 114:492–497

Fitzgerald J, Jorgenson A, Clark B (2015) Energy consumption and working hours: a longitudinal study of developed and developing nations, 1990–2008. Environ Sociol 3:213–223

Golley J, Meng X (2012) Income inequality and carbon dioxide emissions: the case of Chinese urban households. Energy Econ 34(6):1864–1872

Grossman GM, Krueger AB (1995) Economic growth and the environment. Q J Econ 110:353–377

Grunewald N, Klasen S, Martinez-Zarzoso I, Muris C (2017) The trade-off between income inequality and carbon dioxide emissions. Ecol Econ 142:249–256

Hadri K (2002) Testing for stationarity in heterogeneous panel data. Econ J 3(2):148. https://doi.org/10.1111/1368-423X.00043

Halicioglu F (2009) An econometric study of CO2emissions, energy consumption, income and foreign trade in Turkey. Energy Policy 37(3):1156–1164

Hallegatte S, Rozenberg J (2017) Climate change through a poverty lens. Nat Clim Chang 7(4):250–267

Hao Y, Chen H, Zhang Q (2016) Will income inequality affect environmental quality? Analysis based on China's provincial panel data. Ecol Indic 67:533–542

Hatemi A (2012) Asymmetric causality tests with an application. Empir Econ 43:447–456

Heil M, Selden T (2001) CO2 emissions and economic development: future trajectories based on historical experience. Environ Dev Econ 1:63–83

Holtz-Eakin D, Selden TM (1995) Stoking the fires? CO2 emissions and economic growth. J Public Econ 57(1):85–101

Hübler M (2017) The inequality-emissions nexus in the context of trade and development: a quantile regression approach. Ecol Econ 134:174–185

Im KS, Pesaran MH, Shin Y (2003) Testing for unit roots in heterogeneous panels. J Econ 115(1):53–74

Jorgenson AK, Schor JB, Huang X (2017) Income inequality and carbon emissions in the United States: a state-level analysis, 1997-2012. Ecol Econ 134:40–48

Kao C (1999) Spurious regression and residual-based tests for cointegration in panel data. J Econ 90(1):1–44

Kashwan P (2017) Inequality, democracy, and the environment: a cross-national analysis. Ecol Econ 132:139–151

Kasuga H, Takaya M (2017) Does inequality affect environmental quality? Evidence from major Japanese cities. J Clean Prod 142:3689–3701

Kijima M, Nishide K, Ohyama A (2010) Economic models for the environmental Kuznets curve: a survey. J Econ Dyn Control 34(7):1187–1201

Kivyiro P, Arminen H (2014) Carbon dioxide emissions, energy consumption, economic growth, and foreign direct investment: causality analysis for sub-Saharan Africa. Energy 74:595–606

Knight KW, Schor JB, Jorgenson AK (2017) Wealth inequality and carbon emissions in high-income countries. Social Currents 4:403–412

Kuznets S (1955) Economic growth and income inequality. Am Econ Rev 45(1):1–28

Lau LS, Choong CK, Eng YK (2014) Carbon dioxide emission, institutional quality, and economic growth: empirical evidence in Malaysia. Renew Energy 68:276–281

Laurent É (2015) Social-ecology: exploring the missing link in sustainable development. Documents de Travail de l'OFCE 2015-07. In: Observatoire Francais des Conjonctures Economiques. OFCE

Le Quéré C, Andrew RM, Friedlingstein P, Sitch S, Hauck J, Pongratz J, Pickers PA, Korsbakken JI, Peters GP, Canadell JG, Arneth A, Arora VK, Barbero L, Bastos A, Bopp L, Chevallier F, Chini LP, Ciais P, Doney SC, Gkritzalis T, Goll DS, Harris I, Haverd V, Hoffman FM, Hoppema M, Houghton RA, Hurtt G, Ilyina T, Jain AK, Johannessen T, Jones CD, Kato E, Keeling RF, Goldewijk KK, Landschützer P, Lefèvre N, Lienert S, Liu Z, Lombardozzi D, Metzl N, Munro DR, Nabel JEMS, Nakaoka S-I, Neill C, Olsen A, Ono T, Patra P, Peregon A, Peters W, Peylin P, Pfeil B, Pierrot D, Poulter B, Rehder G, Resplandy L, Robertson E, Rocher M, Rödenbeck C, Schuster U, Schwinger J, Séférian R, Skjelvan I, Steinhoff T, Sutton A, Tans PP, Tian H, Tilbrook B, Tubiello FN, van der Laan-Luijkx IT, van der Werf GR, Viovy N, Walker AP, Wiltshire AJ, Wright R, Zaehle S, Zheng B (2018) Global carbon budget 2018. Earth Syst Sci Data 10:2141–2194

Lee CC (2005) Energy consumption and GDP in developing countries: a cointegrated panel analysis. Energy Econ 27(3):415–427

Levin A, Lin CF, Chu C (2002) Unit root tests in panel data: asymptotic and finite sample properties. J Econ 108(1):1–24

Levinson A, O'Brien J (2019) Environmental Engel curves: indirect emissions of common air pollutants. Rev Econ Stat 101(1):121–133

Liu Q, Zhang W, Wang S (2018) Examining the effects of income inequality on CO2 emissions: evidence from non-spatial and spatial perspectives. Appl Energy 236:163–171

Mader S (2018) The nexus between social inequality and CO2 emissions revisited: challenging its empirical validity. Environ Sci Pol 89:322–329

Madsen J, Brochner M, Islam R, Doucouliagos H (2018) Inequality, financial development and economic growth in the OECD, 1870–2011. Eur Econ Rev 101:605–624

Magnani E (2000) The environmental Kuznets curve, environmental protection policy and income distribution. Ecol Econ 32(3):431–443

Mardani A, Streimikiene D, Cavallaro F, Loganathan N, Khoshnoudi M (2018) Carbon dioxide (CO2) emissions and economic growth: a systematic review of two decades of research from 1995 to 2017. Sci Total Environ 649(1):31–49

Mercan M, Karakaya E (2015) Energy consumption, economic growth and carbon emission: dynamic panel cointegration analysis for selected OECD countries. Procedia Economics and Finance 23:587–592

Narayan PK, Smyth R (2009) Multivariate Granger causality between electricity consumption, exports and GDP: evidence from a panel of Middle Eastern countries. Energy Policy 37(1):229–236

Nnaji CE, Chukwu JO, Nnaji M (2013) Electricity supply, fossil fuel consumption, CO2 emissions and economic growth: implications and policy options for sustainable development in Nigeria. Int J Energy Econ Policy 3(3):262

Nwosa P (2019) Income inequality ad economic growth in Nigeria: implications for economic development. Acta Universitatis Danubius Oeconomica Special Issue 15(1):108–116

O'Neill J (2018) The 'Next Eleven' and the world economy. Gulf Times https://www.gulf-times.com/story/590011/The-Next-Eleven-and-the-world-economy

Pedroni P (1999) Critical values for cointegration tests in heterogeneous panels with multiple regressors. Oxf Bull Econ Stat 61(S1):653–670

Pedroni P (2004) Panel cointegration: asymptotic and finite sample properties of pooled time series tests with an application to the PPP hypothesis. Economet Theor 20(3):597–625

Pesaran MH (2004) General diagnostic tests for cross section dependence in panels. Cambridge Working Papers in Economics, 0435

Pesaran MH, Shin Y, Smith RJ (2001) Bound testing approaches to the analysis of level relationships. J Appl Econ 16(3):289–326

Phillips PC, Hansen BE (1990) Statistical inference in instrumental variables regression with I (1) processes. Rev Econ Stud 57(1):99–125

Ravallion M, Heil M, Jalan J (2000) CO2 emissions and income inequality. Oxf Econ Pap 52(4):651–669

Raza S, Bozhevolnyi SI, Wubs M, Mortensen NA (2015) Nonlocal optical response in metallic nanostructures. J Phys Condens Matter 27(18):183–204

Saboori B, Sulaiman J (2013a) Environmental degradation, economic growth and energy consumption: evidence of the environmental Kuznets curve in Malaysia. Energy Policy 60:892–905

Saboori B, Sulaiman J (2013b) CO2 emissions, energy consumption and economic growth in Association of Southeast Asian Nations (ASEAN) countries: a cointegration approach. Energy 55:813–822

Sachs JD (2015) The age of sustainable development. Columbia University Press, New York

Sachs RK, Wolfe AM, Ellis G, Ehlers J, Krasiński A (2007) Republication of: perturbations of a cosmological model and angular variations of the microwave background (by RK Sachs and AM Wolfe). Gen Relativ Gravit 39(11):1929–1961

Sadorsky P (2009) Renewable energy consumption and income in emerging economies. Energy Policy 37(10):4021–4028

Salahuddin M, Gow J (2014) Economic growth, energy consumption and CO2 emissions in Gulf Cooperation Council countries. Energy 73:44–58

Schmalensee R, Stoker T, Judson R (2006) World carbon dioxide emissions: 1950–2050. Rev Econ Stat 80(1):15–27

Schor J (1998) The overspent American: Upscaling, downshifting and the new consumer

Schor J (1999) The overspent American: Why we want what we don't need. New York: HarperPerennial

Scruggs LA (1998) Political and economic inequality and the environment. Ecol Econ 26:259–275

Shahbaz M, Sbia R, Hamdi H, Ozturk I (2014) Economic growth, electricity consumption, urbanization and environmental degradation relationship in United Arab Emirates. Ecol Indic 45:622–631

Sim N, Zhou H (2015) Oil prices, US stock return, and the dependence between their quantities. J Bank Financ 55(C):1–8

Stock JH, Watson MW (1993) A simple estimator of cointegrating vectors in higher order integrated systems. Econometrica 61(4):783–820

Stokey NL (1998) Are there limits to growth? Int Econ Rev 39:1–31

Torras M, Boyce J (1998) Income, inequality, and pollution: a reassessment of the environmental Kuznets curve. Ecol Econ 25(2):147–160

Veblen T (2009) The theory of the leisure class. Oxford University Press

Vo D, Nguyen T, Tran N, Vo A (2019) What factors affect income inequality and economic growth in middle-income countries? Journal of Risk and Financial Management 12(40):1–12

Wahiba N, Weriemmi M (2014) The relationship between economic growth and income inequality. Int J Econ Financ Issues 4(1):135–143

Wang C (2013) Differential output growth across regions and carbon dioxide emissions: evidence from US and China. Energy 53:230–236

Westerlund J (2006) Testing for panel cointegration with multiple structural breaks. Oxf Bull Econ Stat 68(1):101–132

Westerlund J (2007) Testing for error correction in panel data. Oxf Bull Econ Stat 69(6):709–748

Wolde-Rufael Y, Idowu S (2017) Income distribution and CO2 emission: a comparative analysis for China and India. Renew Sust Energ Rev 4:1336–1345

Wolfram C, Shelef O, Gertler P (2012) How will energy demand develop in the developing world? J Econ Perspect 26(1):119–138

Yıldırım E, Sukruoglu D, Aslan A (2014) Energy consumption and economic growth in the next 11 countries: the bootstrapped autoregressive metric causality approach. Energy Econ 44:14–21

Yoo T, Goldsmith A (2006) On the optimality of multiantenna broadcast scheduling using zero-forcing beamforming. IEEE J Sel Areas Commun 24(3):528–541
Acknowledgments
The authors are grateful for comments and suggestions by three anonymous referees and an editor of the journal on earlier versions of the manuscript.
Additional information
Publisher's note
Springer Nature remains neutral with regard to jurisdictional claims in published maps and institutional affiliations.
Responsible editor: Philippe Garrigues
Electronic supplementary material
About this article
Cite this article
Padhan, H., Haouas, I., Sahoo, B. et al. What matters for environmental quality in the Next Eleven Countries: economic growth or income inequality?. Environ Sci Pollut Res 26, 23129–23148 (2019). https://doi.org/10.1007/s11356-019-05568-2
Received:

Accepted:

Published:

Issue Date:
Keywords
CO2 emissions

Income inequality

Panel cointegration

Next-11 countries
JEL classification codes