Abstract
The Thymus vulgaris (T. vulgaris) has been used in foods for the flavor, aroma, and preservation and in folk medicines. The objective of the present work was to determine the antioxidant and protective effects of T. vulgaris extract against lead (Pb)-intoxicated rats. A thirty-two male Sprague-Dawley were randomly assigned into 4 equal groups and treated for six weeks as follows: group I (GP-I), served as negative control; GP-II, -III, and -IV received either Pb acetate in drinking water (500 mg/L), T. vulgaris extract (500 mg/kg/day) by oral gavage or Pb acetate with T. vulgaris extract, respectively. Blood samples were collected at the end of the study week 6 to measure the hepatic and renal biochemical markers, complete blood count alongside the serum levels of interleukin (IL)-1β, IL-6, IL-10, tumor necrosis (TNF)-α, and interferon (IFN)-γ. Additionally, liver and kidney tissue specimens were collected for histopathology as well as to measure the antioxidant-reduced glutathione (GSH), glutathione peroxidase (GPx), catalase (CAT), and superoxide dismutase (SOD) alongside the lipid peroxidation marker, malonaldehyde (MDA). The results indicated that Pb toxicity increased the serum levels of IL-1β, IL-6, and TNF-α, whereas IL-10 and IFN-γ were reduced. The results showed disturbed liver and renal functions; increased serum levels of ALT, AST, ALP, total bilirubin, creatinine, and urea; and decreased total protein, albumin, and calcium. The GSH, Gpx, and CAT levels were significantly decreased in the Pb-administrated group, while MDA was increased. However, regarding the hepatorenal markers, those animals treated with T. vulgaris alone did not induce any significant changes. Moreover, the combined treatment with T. vulgaris extract together with Pb showed significant improvement in Pb-induced toxicity in all the tested parameters compared to the negative control group. We investigated the potential protective effects of the medicinal plant T. vulgaris in vivo, since there are no publications that address the potential protective effect of this leaf extract against Pb-induced hepatorenal toxicity. Our studies concluded that the T. vulgaris extract reduces Pb overload in hepatorenal tissues, and that this has a potential immunomodulatory role, antioxidant activity, and a protective effect against Pb toxicity.
Access options
Buy single article
Instant access to the full article PDF.
USD 39.95
Price includes VAT (USA)
Tax calculation will be finalised during checkout.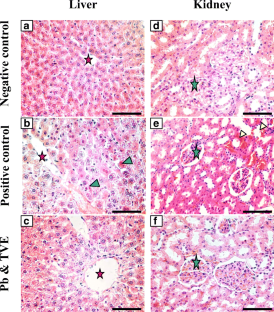 References
Abdel-Moneim AM, El-Toweissy MY, Ali AM et al (2015) Curcumin ameliorates Lead (Pb(2+))-induced hemato-biochemical alterations and renal oxidative damage in a rat model. Biol Trace Elem Res 168:206–220

Adham KG, Al-Eisa NA, Farhood MH (2011) Impact of heavy metal pollution on the hemogram and serum biochemistry of the Libyan jird, Meriones libycus. Chemosphere 84:1408–1415

Adhikari A, Darbar S, Chatterjee T, Das M, Polley N, Bhattacharyya M, Bhattacharya S, Pal D, Pal SK (2018) Spectroscopic studies on dual role of natural flavonoids in detoxification of lead poisoning: bench-to-bedside preclinical trial. ACS Omega 3:15975–15987

Almaimani RA, Almasmoum H, Ghaith MM, el-Boshy M, Idris S, Ahmad J, Abdelghany AH, BaSalamah MA, Mahbub A, Refaat B (2019) Enhanced remedial effects for vitamin D3 and calcium co-supplementation against pre-existing lead nephrotoxicity in mice: the roles of renal calcium homeostatic molecules. Biochim Biophys Acta Mol basis Dis 1865:512–524

Andjelkovic M, Buha Djordjevic A, Antonijevic E, Antonijevic B, Stanic M, Kotur-Stevuljevic J, Spasojevic-Kalimanovska V, Jovanovic M, Boricic N, Wallace D, Bulat Z (2019) Toxic effect of acute cadmium and Lead exposure in rat blood, liver, and kidney. Int J Environ Res Public Health 16(2):274

BaSalamah MA, Abdelghany AH, El-Boshy M et al (2018) Vitamin D alleviates lead induced renal and testicular injuries by immunomodulatory and antioxidant mechanisms in rats. Sci Rep 8:4853

Berrahal AA, Lasram M, El Elj N et al (2011) Effect of age-dependent exposure to lead on hepatotoxicity and nephrotoxicity in male rats. Environ Toxicol 26:68–78

Cheng YJ, Yang BC, Liu MY (2006) Lead increases lipopolysaccharide-induced liver-injury through tumor necrosis factor-alpha overexpression by monocytes/macrophages: role of protein kinase C and P42/44 mitogen-activated protein kinase. Environ Health Perspect 114:507–513

Cherrak SA, Mokhtari-Soulimane N, Berroukeche F, Bensenane B, Cherbonnel A, Merzouk H, Elhabiri M (2016) In vitro antioxidant versus metal ion chelating properties of flavonoids: a structure-activity investigation. PLoS One 11:e0165575

Dobrakowski M, Pawlas N, Kasperczyk A, Kozłowska A, Olewińska E, Machoń-Grecka A, Kasperczyk S (2017) Oxidative DNA damage and oxidative stress in lead-exposed workers. Hum Exp Toxicol 36:744–754

El-Nekeety AA, Mohamed SR, Hathout AS et al (2011) Antioxidant properties of Thymus vulgaris oil against aflatoxin-induce oxidative stress in male rats. Toxicon 57:984–991

El-Newary SA, Shaffie NM, Omer EA (2017) The protection of Thymus vulgaris leaves alcoholic extract against hepatotoxicity of alcohol in rats. Asian Pac J Trop Med 10:361–371

Farasat M, Khavari-Nejad RA, Nabavi SM, Namjooyan F (2014) Antioxidant activity, total phenolics and flavonoid contents of some edible green seaweeds from northern coasts of the Persian Gulf. Iran J Pharm Res 13:163–170

Flora G, Gupta D, Tiwari A (2012) Toxicity of lead: a review with recent updates. Interdiscip Toxicol 5:47–58

Gargouri M, Hamed H, Akrouti A, Christian M, Ksouri R, el Feki A (2017) Immunomodulatory and antioxidant protective effect of Sarcocornia perennis L. (swampfire) in lead intoxicated rat. Toxicol Mech Methods 27:697–706

Goyer RA (1993) Lead toxicity: current concerns. Environ Health Perspect 100:177–187

Habashy NH, Abu Serie MM, Attia WE, Abdelgaleil SAM (2018) Chemical characterization, antioxidant and anti-inflammatory properties of Greek Thymus vulgaris extracts and their possible synergism with Egyptian Chlorella vulgaris. J Funct Foods 40:317–328

Hayashi T, Sudo J (1992) Thrombocytopenia and leukocytosis induced by single intravenous injections of cadmium-saturated metallothioneins-I and -II in rats. J Toxicol Sci 17:31–39

Horvathova E, Srancikova A, Regendova-Sedlackova E et al (2016) Enriching the drinking water of rats with extracts of Salvia officinalis and Thymus vulgaris increases their resistance to oxidative stress. Mutagenesis 31:51–59

Hossain MA, AL-R KA, AL-M ZH et al (2013) Study of total phenol, flavonoids contents and phytochemical screening of various leaves crude extracts of locally grown Thymus vulgaris. Asian Pac J Trop Biomed 3:705–710

Jia Q, Ha X, Yang Z et al (2012) Oxidative stress: a possible mechanism for lead-induced apoptosis and nephrotoxicity. Toxicol Mech Methods 22:705–710

Kozics K, Klusova V, Srancikova A et al (2013) Effects of Salvia officinalis and Thymus vulgaris on oxidant-induced DNA damage and antioxidant status in HepG2 cells. Food Chem 141:2198–2206

Lag M, Rodionov D, Ovrevik J et al (2010) Cadmium-induced inflammatory responses in cells relevant for lung toxicity: expression and release of cytokines in fibroblasts, epithelial cells and macrophages. Toxicol Lett 193:252–260

Lakshmi BV, Sudhakar M, Aparna M (2013) Protective potential of black grapes against lead induced oxidative stress in rats. Environ Toxicol Pharmacol 35:361–368

Liao DY, Chai YC, Wang SH, Chen CW, Tsai MS (2015) Antioxidant activities and contents of flavonoids and phenolic acids of Talinum triangulare extracts and their immunomodulatory effects. J Food Drug Anal 23:294–302

Lidsky TI, Schneider JS (2003) Lead neurotoxicity in children: basic mechanisms and clinical correlates. Brain J Neurol 126:5–19

Liu CM, Yang HX, Ma JQ, Yang W, Feng ZJ, Sun JM, Cheng C, Li J, Jiang H (2018) Role of AMPK pathway in lead-induced endoplasmic reticulum stress in kidney and in paeonol-induced protection in mice. Food Chem Toxicol 122:87–94

Manoj Kumar V, Henley AK, Nelson CJ, Indumati O, Prabhakara Rao Y, Rajanna S, Rajanna B (2017) Protective effect of Allium sativum (garlic) aqueous extract against lead-induced oxidative stress in the rat brain, liver, and kidney. Environ Sci Pollut Res Int 24:1544–1552

Metryka E, Chibowska K, Gutowska I, Falkowska A, Kupnicka P, Barczak K, Chlubek D, Baranowska-Bosiacka I (2018) Lead (Pb) exposure enhances expression of factors associated with inflammation. Int J Mol Sci 19(6):1813

Myhrstad MC, Carlsen H, Nordstrom O et al (2002) Flavonoids increase the intracellular glutathione level by transactivation of the gamma-glutamylcysteine synthetase catalytical subunit promoter. Free Radic Biol Med 32:386–393

Nikolić M, Glamočlija J, Ferreira ICFR, Calhelha RC, Fernandes Â, Marković T, Marković D, Giweli A, Soković M (2014) Chemical composition, antimicrobial, antioxidant and antitumor activity of Thymus serpyllum L., Thymus algeriensis Boiss. and Reut and Thymus vulgaris L. essential oils. Ind Crop Prod 52:183–190

Ocana A, Reglero G (2012) Effects of thyme extract oils (from Thymus vulgaris, Thymus zygis, and Thymus hyemalis) on cytokine production and gene expression of oxLDL-stimulated THP-1-macrophages. J Obes 2012:104706

Patrick L (2006) Lead toxicity, a review of the literature. Part 1: exposure, evaluation, and treatment. Altern Med Rev 11:2–22

Romero D, Hernandez-Garcia A, Tagliati CA et al (2009) Cadmium- and lead-induced apoptosis in mallard erythrocytes (Anas platyrhynchos). Ecotoxicol Environ Saf 72:37–44

Serrani RE, Gioia IA, Corchs JL (1997) Lead effects on structural and functional cellular parameters in human red cells from a prenatal hematopoiesis stage. Biometals 10:331–335

Shalan MG, Mostafa MS, Hassouna MM, el-Nabi SEH, el-Refaie A (2005) Amelioration of lead toxicity on rat liver with vitamin C and silymarin supplements. Toxicology 206:1–15

van der Kuijp TJ, Huang L, Cherry CR (2013) Health hazards of China's lead-acid battery industry: a review of its market drivers, production processes, and health impacts. Environ Health 12:61

Wang J, Zhu H, Yang Z, Liu Z (2013) Antioxidative effects of hesperetin against lead acetate-induced oxidative stress in rats. Indian J Pharm 45:395–398

Wu X, Cobbina SJ, Mao G, Xu H, Zhang Z, Yang L (2016) A review of toxicity and mechanisms of individual and mixtures of heavy metals in the environment. Environ Sci Pollut Res Int 23:8244–8259

Zhang Z, Gao X, Guo M, Jiang H, Cao Y, Zhang N (2017) The protective effect of baicalin against lead-induced renal oxidative damage in mice. Biol Trace Elem Res 175:129–135
Acknowledgments
The authors would like to thank Dr. Akhmed Aslam, Assistant Professor of immunology, Laboratory Medicine Department, Faculty of Applied Medical Sciences, Umm Al-Qura University, for proof-editing the manuscript.
Ethics declarations
Conflict of interest
The authors declare that they have no conflict of interest.
Additional information
Publisher's note
Springer Nature remains neutral with regard to jurisdictional claims in published maps and institutional affiliations.
Responsible editor: Philippe Garrigues
About this article
Cite this article
El-Boshy, M.E., Refaat, B., Qasem, A.H. et al. The remedial effect of Thymus vulgaris extract against lead toxicity-induced oxidative stress, hepatorenal damage, immunosuppression, and hematological disorders in rats. Environ Sci Pollut Res 26, 22736–22746 (2019). https://doi.org/10.1007/s11356-019-05562-8
Received:

Accepted:

Published:

Issue Date:
Keywords
Thymus vulgaris

Immunomodulatory

Antioxidants

Hepatorenal

Hematology

Lead

Rats