Abstract
The current study observes the input/output energy quantities and its associated financial value, in vegetable greenhouses on Crete, Greece, for the 2015–2016 cropping seasons. The utilized data was taken in regular direct basis for the implementation of energy input-output analysis and data envelopment analysis. For input data analysis, four crop practices were used tomato, pepper, cucumber, and eggplant. The outcomes of the expended majority of energy input-output analysis showed that fertilizers count for 53%, fossil fuel counts for 16%, and electricity counts for 12%. The mean crop and energy consumption for each crop practice were estimated as 94,036 MJ/ha and 171,950 kg/ha, 115,473 MJ/ha and 173,000 kg/ha, 81,196 MJ/ha and 128,893 kg/ha, and 146,067 MJ/ha and 209,501 kg/ha, respectively. Inputs with the biggest shares in total inputs were manpower counts for 30%, fertilizers count for 22%, and crop protection counts for 16%. DEA method showed that the mean values of technical efficiency, pure technical efficiency, and scale efficiency were 0.90193, 0.97272, and 0.80322, respectively. The mean scale efficiencies were set as 0.80. The findings of this research would be valuable to the inefficient producers undertaking into consideration the recommendations made by this method, where the overall input in Euro could be meaningfully condensed without any reduction on the current overall output.
Access options
Buy single article
Instant access to the full article PDF.
US$ 39.95
Tax calculation will be finalised during checkout.
Subscribe to journal
Immediate online access to all issues from 2019. Subscription will auto renew annually.
US$ 79
Tax calculation will be finalised during checkout.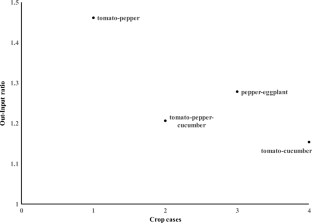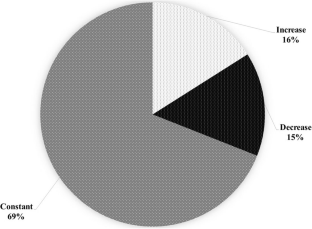 References
Bahrawi JA, Elhag M (2019) Consideration of seasonal variations of water radiometric indices for the estimation of soil moisture content in Arid Environment in Saudi Arabia. Appl Ecol Environ Res 17(1):285–303

Banker RD, Charnes A, Cooper WW (1984) Some models for estimating technical and scale inefficiencies in data envelopment analysis. Manag Sci 30:1078–1092

Canakci M, Akinci I (2006) Energy use pattern analyses of greenhouse vegetable production. Energy 31:1243–1256

Charnes A, Cooper WW, Rhodes E (1978) Measuring the efficiency of decision making units. Eur J Oper Res 2:429–444

Cook WD, Seiford LM (2009) Data envelopment analysis (DEA)–thirty years on. Eur J Oper Res 192:1–17

Ehrenberg RG, Smith RS (2017) Modern labor economics: theory and public policy. Routledge

Elhag M (2017a) Efficiency concept under stochastic consideration of water value in irrigated agricultural land in Crete, Greece. Water Sci Technol Water Supply 17:1185–1192

Elhag M (2017b) Efficiency concept under stochastic consideration of water value in irrigated agriculture land in Crete, Greece. Water Sci Technol Water Supply ws2017019

Elhag M, Bahrawi JA (2016) Deliberation of hilly areas for water harvesting application in Western Crete, Greece. Global Nest J 18:621–629

Elhag M, Bahrawi JA (2017) Spatial assessment of landfill sites based on remote sensing and GIS techniques in Tagarades, Greece. Desalin Water Treat 91:395–401

Elhag M, Bahrawi J (2019) Economic evaluation of a passive solar greenhouse heating system in Crete, Greece. Appl Ecol Environ Res 17:4431–4446

Elhag M, Bahrawi JA, Galal HK, Aldhebiani A, Al-Ghamdi AA (2017) Stream network pollution by olive oil wastewater risk assessment in Crete, Greece. Environ Earth Sci 76:278

Elhag M, Yilmaz N, Dumitrache A (2018) Post-fire fuel and vegetation dynamics in an ungrazed phryganic community of Crete, Greece. Appl Ecol Environ Res 16:3289–3303

Farrell MJ (1957) The measurement of productive efficiency. J R Stat Soc Ser A 120:253–290

Gunasekaran A, Spalanzani A (2012) Sustainability of manufacturing and services: investigations for research and applications. Int J Prod Econ 140:35–47

Hanan JJ (2017) Greenhouses: advanced technology for protected horticulture. CRC press

Hatirli SA, Ozkan B, Fert C (2006) Energy inputs and crop yield relationship in greenhouse tomato production. Renew Energy 31:427–438

Heidari M, Omid M (2011) Energy use patterns and econometric models of major greenhouse vegetable productions in Iran. Energy 36:220–225

Heidari MD, Omid M, Mohammadi A (2012) Measuring productive efficiency of horticultural greenhouses in Iran: a data envelopment analysis approach. Expert Syst Appl 39:1040–1045

Johnson P (2012) The economics of small firms: an introduction. Routledge

Khoshnevisan B, Shariati HM, Rafiee S, Mousazadeh H (2014) Comparison of energy consumption and GHG emissions of open field and greenhouse strawberry production. Renew Sust Energ Rev 29:316–324

Liu JS, Lu LY, Lu W-M, Lin BJ (2013) A survey of DEA applications. Omega 41:893–902

Mandal K, Saha K, Ghosh P, Hati K, Bandyopadhyay K (2002) Bioenergy and economic analysis of soybean-based crop production systems in central India. Biomass Bioenergy 23:337–345

Marszal AJ, Heiselberg P, Bourrelle JS, Musall E, Voss K, Sartori I, Napolitano A (2011) Zero energy building–a review of definitions and calculation methodologies. Energ Buildings 43:971–979

Omid M, Ghojabeige F, Delshad M, Ahmadi H (2011) Energy use pattern and benchmarking of selected greenhouses in Iran using data envelopment analysis. Energy Convers Manag 52:153–162

Ozkan B, Kurklu A, Akcaoz H (2004) An input–output energy analysis in greenhouse vegetable production: a case study for Antalya region of Turkey. Biomass Bioenergy 26:89–95

Pishgar-Komleh S, Sefeedpari P, Rafiee S (2011) Energy and economic analysis of rice production under different farm levels in Guilan province of Iran. Energy 36:5824–5831

Singh H, Mishra D, Nahar N, Ranjan M (2003) Energy use pattern in production agriculture of a typical village in arid zone India: part II. Energy Convers Manag 44:1053–1067

Sloman J, Garratt D (2010) Essentials of economics. Pearson Education

Tittonell P (2014) Ecological intensification of agriculture—sustainable by nature. Curr Opin Environ Sustain 8:53–61

Wasiak AL (2017) Effect of biofuel production on sustainability of agriculture. Procedia Eng 182:739–746
Additional information
Publisher's note
Springer Nature remains neutral with regard to jurisdictional claims in published maps and institutional affiliations.
Responsible editor: Philippe Garrigues
About this article
Cite this article
Elhag, M., Boteva, S. Conceptual assessment of energy input-output analysis and data envelopment analysis of greenhouse crops in Crete Island, Greece. Environ Sci Pollut Res 26, 35377–35386 (2019). https://doi.org/10.1007/s11356-019-05544-w
Received:

Accepted:

Published:

Issue Date:
Keywords
Data envelopment analysis

Energy input-output analysis

Greenhouse crops